This blueberry smoothie is bursting with blueberry flavor! It's only three ingredients and takes 2 minutes to make. Enjoy it as-is or customize it with healthy add-ins.
Why You'll Love it:
Finally, a blueberry smoothie recipe that's ALL about the bluebs! Plump, juicy blueberries. Is there anything better? I have fond memories of devouring fresh blueberries from my nana's garden.
Since I wanted this blueberry smoothie to be simple, I only used three ingredients. That being said, it's customizable! There's SO many variations that I devoted an entire section to it at the bottom of this post.
On top of their cold-hard deliciousness, blueberries are nutrient-dense powerhouses! Don't be fooled by their tinsy size. They pack in fiber, vitamin C, vitamin K, and loads of antioxidants.
Key Ingredients:
Banana – A banana works twofold. It creates a creamy texture without overpowering the flavor of the blueberries AND adds sweetness. I recommend a ripe, yellow banana for the best results. When a banana ripens, its starch converts to sugar. Underripe bananas taste chalky and bitter.
Frozen blueberries – Frozen blueberries are crucial to this recipe. Blueberries are 85 percent water! If you use fresh blueberries, the end result is pulpy juice. For a thick, frosty texture, use frozen blueberries!
Juice – I chose white grape juice for the liquid base. Apple juice works great too! Both add enough sweetness without overtaking the blueberry flavor.
Equipment:
You only need one piece of equipment, and that's a blender! There are SO many options for all budgets.
There are three types of blenders – regular, high-speed, and portable. I highly recommend a high-speed blender with a powerful motor, at least 900 watts. Most brands carry a high-speed model.
These are the two brands I use and love:
Vitamix – A Vitamix is the crème de la crème of blenders. It's an investment, but it's durable and creates a super smooth texture – even with greens!
Ninja – If you can't afford a Vitamix, a Ninja is a good option. While not as effective as the Vitamix, it pulverizes effectively for a delicious smoothie. I've had mine for 10+ years and have no regrets!
How to Make a Blueberry Smoothie:
A blueberry smoothie is easy to make! You basically dump and blend, but for those who prefer more guidance:
Combine ingredients: In the pitcher of your blender, combine the banana, frozen blueberries, and juice.
TIP: Place the soft ingredients closest to the blades! It gives them something to catch and prevents stalling. In this case, the banana goes in first.
Blend: It's best to start the blender on low speed, then gradually increase it to high. This prevents the mixture from getting stuck. You can use a tamper if your blender has one. Use it to push the fruit toward the blades. Blend until smooth.
Taste: Taste your smoothie. If you like it, you're done! If not, adjust the taste or consistency so you do. To make it thinner, add a little bit more juice. To make it sweeter, add stevia, maple syrup, or honey.
Serve: Pour into a glass and enjoy immediately!
Smoothie Making Tips:
Use frozen fruit. For a thick but pourable consistency, use frozen fruit! Fresh fruit won't provide the same texture.
Order matters. Make it a habit to add the soft ingredients first. Frozen fruit should be on top. It's easier for the blades to catch the soft ingredients and get moving. Liquid can go in anytime. It sinks to the bottom!
Adjust the consistency as desired. For a thinner smoothie, add more liquid, a little bit at a time. For a thicker smoothie, add more frozen fruit or ice. Follow the recipe as-is, then adjust as needed.
Use a quality blender. If you're dusting off your blender from the 60's, it may be time for a new one! Look for a blender with at least a 900 watt base.
Storage:
Smoothies are BEST enjoyed immediately, fresh and frosty!
However, you can store it in the fridge for up to 24 hours. Pour it into a vacuum insulated cup first, then chill until you're ready to drink it.
I prefer to store my smoothies as popsicles! I pour the blueberry smoothie into a popsicle mold, add popsicle sticks, and freeze overnight.
Optional Add-ins & Variations:
This berry smoothie is a perfect base for more ingredients! Try one of these simple variations:
Yogurt – Add 1/3 cup of Greek yogurt for high-quality protein. Unsweetened Greek yogurt adds a slight tang.
Oats – Add 1/4 cup of rolled oats for whole grains and a subtle oatey flavor.
Nut butter – Add 1 1/2 tablespoons of peanut or almond butter for plant-based protein and a nutty aftertaste.
Sweetener – For more sweetness, add a teaspoon of stevia in the raw, honey, or maple syrup.
Liquid base – For less sweetness, swap half of the juice with water or plant-based milk.
Protein powder – Add a scoop of vanilla protein powder for a boost of protein!
Greens – Add a handful of baby spinach for a boost of iron and manganese.
Blueberry Smoothie FAQs:
What fruits blend well with blueberries?
Blueberries are a versatile berry! They blend well with raspberries, strawberries, mango, pineapple, cherries, bananas, and peaches. I have yet to find a fruit they don't taste great with!
Is a blueberry smoothie good for you?
Yes! Blueberries are a rich source of nutrients, plant compounds, and antioxidants. This is why they're deemed a superfood by marketers.
Blueberry Smoothie Recipes: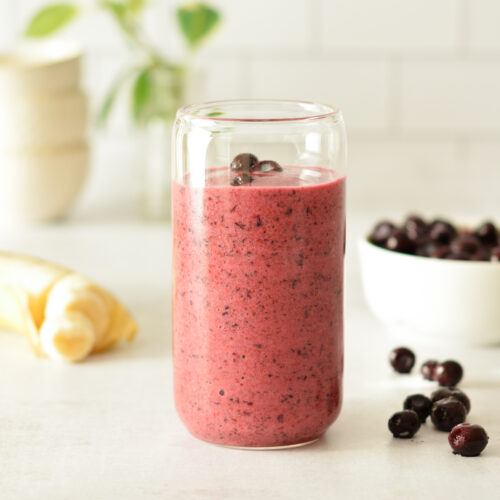 Blueberry Smoothie
This blueberry smoothie is bursting with blueberry flavor! It's only three ingredients and takes 2 minutes to make. Enjoy it as-is or customize it with healthy add-ins.
Ingredients
1

banana

peeled

1½

cups

frozen blueberries

½

cup

apple or white grape juice
Instructions
In the pitcher of your blender, add the banana, frozen blueberries, and juice – in that order.

Start the blender on low speed, then increase the speed to high. Blend until smooth.

Pour into a glass and enjoy immediately!
Nutrition
Calories:
307
kcal
Carbohydrates:
78
g
Protein:
3
g
Fat:
1
g
Saturated Fat:
0.2
g
Polyunsaturated Fat:
0.4
g
Monounsaturated Fat:
0.1
g
Sodium:
10
mg
Potassium:
725
mg
Fiber:
9
g
Sugar:
54
g
Vitamin A:
206
IU
Vitamin C:
32
mg
Calcium:
33
mg
Iron:
1
mg