15 Best Superfoods for Smoothies
Make the most of your smoothies with these nutrient-dense superfoods! The best superfoods for smoothies contain disease-fighting antioxidants and plenty of vitamins and minerals.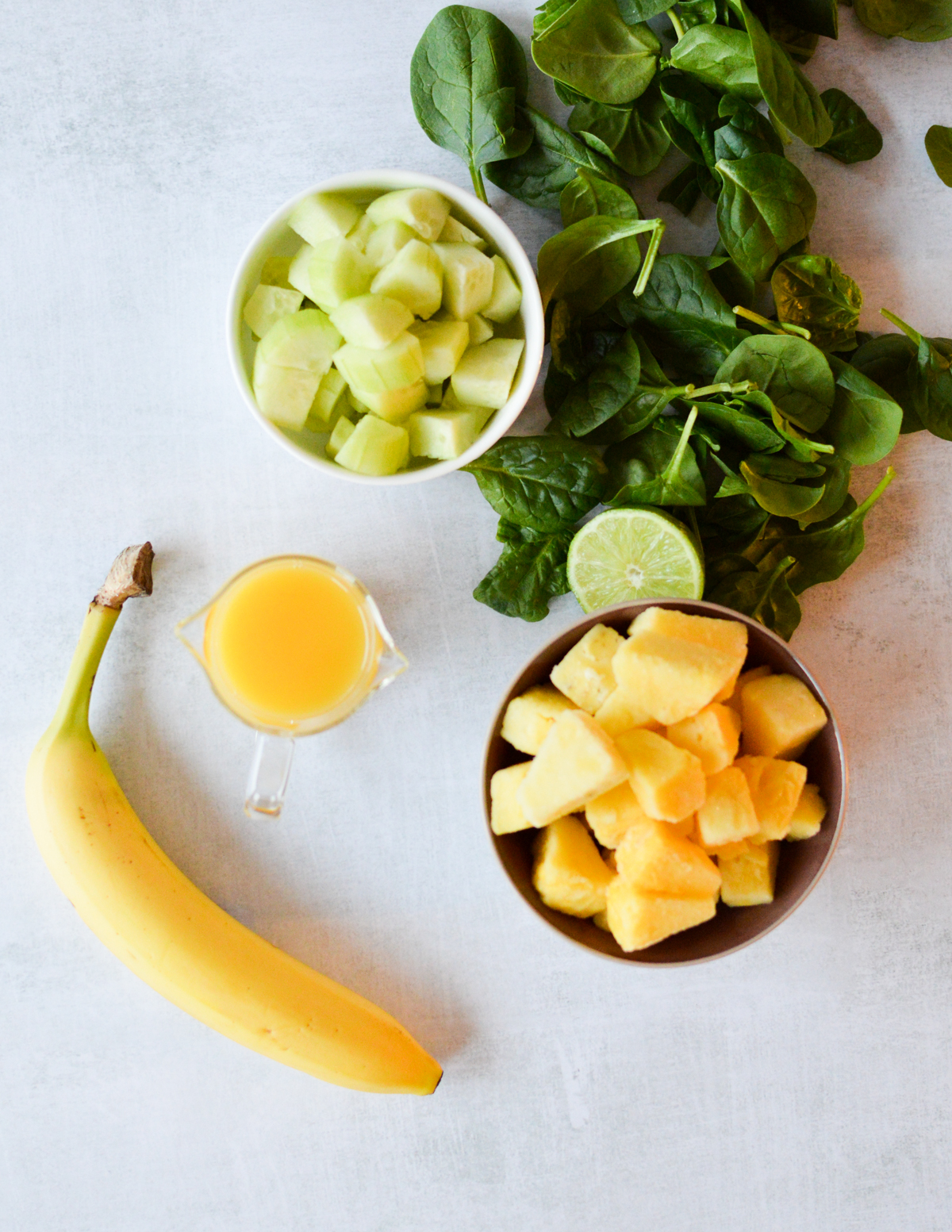 What is a superfood?
Technically, superfood isn't a scientifically recognized term, which means there's no list of criteria a food has to meet to be considered one.
Instead, a superfood is a name for a whole food that is nutrient-dense and great for your health! Superfoods boost immune health, reduce inflammation, and decrease your chances of certain diseases.
Superfoods are typically packed with one or more of the following:
Antioxidants – They reduce oxidative stress caused by an excess of free radicals in the body! In laymen's terms, they prevent cell damage.
Vitamins – Organic compounds found in food that help maintain our health and bodily functions.
Minerals – Minerals boost the immune system and help our cells do their job!
Fiber – Promotes good digestion and a healthy gut.
Healthy fats – Fat is crucial for good health. It gives your body energy, manages blood pressure, and protects your organs!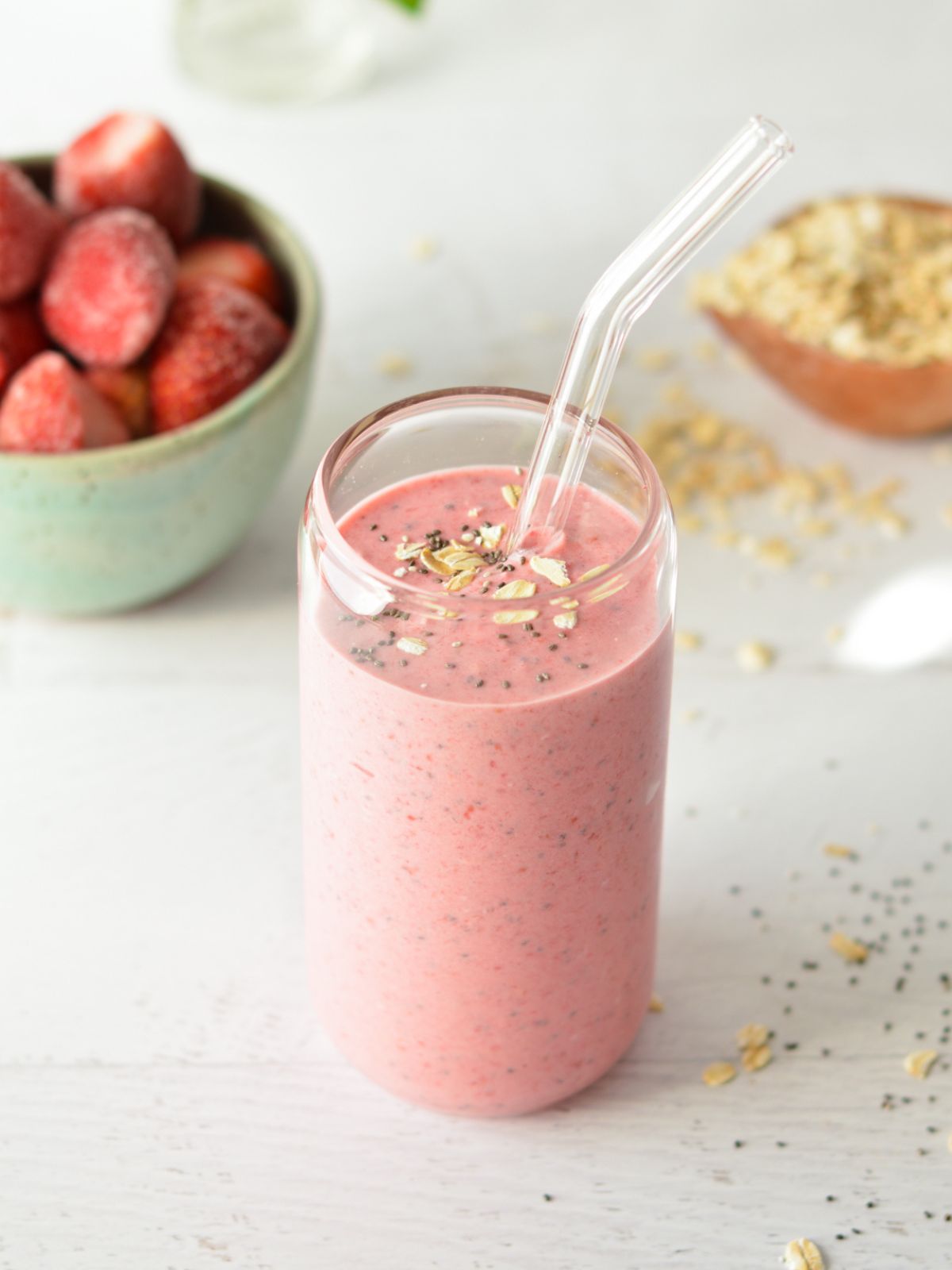 Why should I add superfoods to smoothies?
Smoothies work double duty – they taste great AND they're an easy way to pack in nutrient-dense ingredients.
When you're intentional about the ingredients you add to smoothies, you can boost your immunity, energy, and health.
On the opposite note, if you aren't careful, smoothies can morph into high-calorie, unhealthy, sugar-laden bombs.
When you add superfoods to smoothies, you increase the nutritional value of your smoothie!
Best Superfoods for Smoothies
These plant-based ingredients are nutrient-dense and taste great in smoothies!
1. Blueberries
Blueberries are naturally sweet, versatile, and tasty! They boast a bright blue hue and small poppable shape. But don't be fooled by their tiny size, these berries pack a nutritional punch!
Fiber – One cup of blueberries provides 3.6 grams of fiber.
Low-calorie – One cup is only 84 calories.
Antioxidants – Blueberries boast a high level of antioxidants in comparison to other fruits and veggies! Studies suggest that blueberries reduce DNA damage, one of the leading causes of cancer.
How to add to smoothies: Blueberries play well with others! By this I mean they taste good with any fruit you throw at them. I prefer to use frozen blueberries to thicken my smoothie. You can also add Greek yogurt, banana, and chia seeds for an extra boost of nutrients.
Blueberries do have skins, so if you don't like texture in your smoothies, I'd pair them with another berry or fruit.
Smoothie to try: Strawberry Blueberry Banana Smoothie
2. Avocado
I love the creaminess avocadoes add to smoothies! They're a great swap if you're allergic to bananas. You can't taste the avocado in the smoothie, but it does create a luscious texture.
Avocadoes are highly nutritious! They might not be low in calories, but the calories they do provide are filling and keep you full for a long time.
Fiber – One medium avocado provides a whopping 14 grams of fiber! Fiber is essential for a healthy gut and good digestion.
Healthy fats – Most of the fats are monounsaturated which help maintain cholesterol levels and keep you full!
Vitamins – They're a good source of magnesium, B6, vitamins E and C, and folate. B6 reduces inflammation and protects against oxidative damage.
Antioxidants – Avocadoes are rich in bioactive compounds like carotenoids that prevent cell damage.
How to use avocadoes in smoothies: Be sure to use Hass avocadoes. Green avocadoes contain less fat and more water, which gives them a firm texture.
Pair avocadoes with fruit for sweetness! Or you can pair them with cocoa powder, frozen banana, and dates for an ultra-decadent chocolate smoothie. They taste great with blueberries, pineapple, mango, strawberries, spinach, yogurt, or protein powder.
It's hard to go wrong with avocadoes in smoothies!
3. Spinach
My favorite green for smoothies! Spinach has a mild flavor and delicate leaves that blend easily, even without a high-speed blender like a Vitamix.
Spinach gives smoothies a light or bright green hue in conjunction with lighter fruits like pineapple and mango.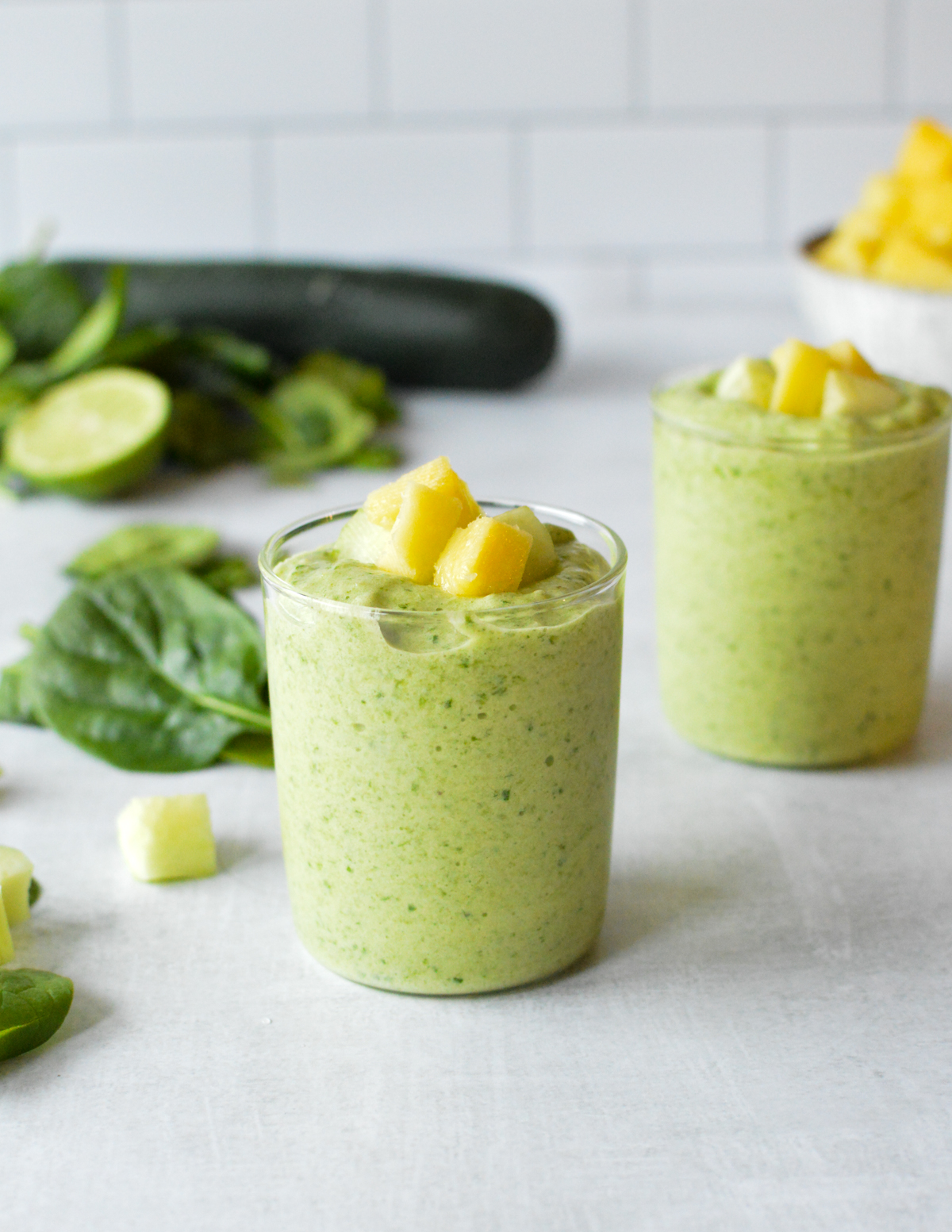 This leafy green vegetable is a nutrient powerhouse. It's low in calories, but packed with nutrients.
Fiber – Spinach is high in insoluble fiber. Insoluble fiber prevents constipation and reduces your risk of diverticulitis.
Folic acid – Also known as folate, this essential vitamin helps your tissues grow and cells function correctly.
Iron – Your body uses this mineral to make hemoglobin, a protein in red blood cells that transports oxygen from the lungs to the rest of your body.
Antioxidants – Plenty of antioxidants to fight oxidative stress and prevent cell damage!
How to use spinach in smoothies: Since spinach is so mild, it goes well in all types of smoothies! Start with a 1/4 cup to see if you like the taste and texture, then increase the amount next time if you do.
Unfortunately, spinach turns berry smoothies in unsightly brownish color. It won't affect the taste much though!
If you can't stand a brown smoothie, use spinach with light-colored, tropical fruits like pineapple and mango. The combo is delicious and the color is a bright green!
4. Kale
Kale is another dark leafy green with loads of health benefits. Unfortunately, the leaves are coarser than spinach and thus harder to blend.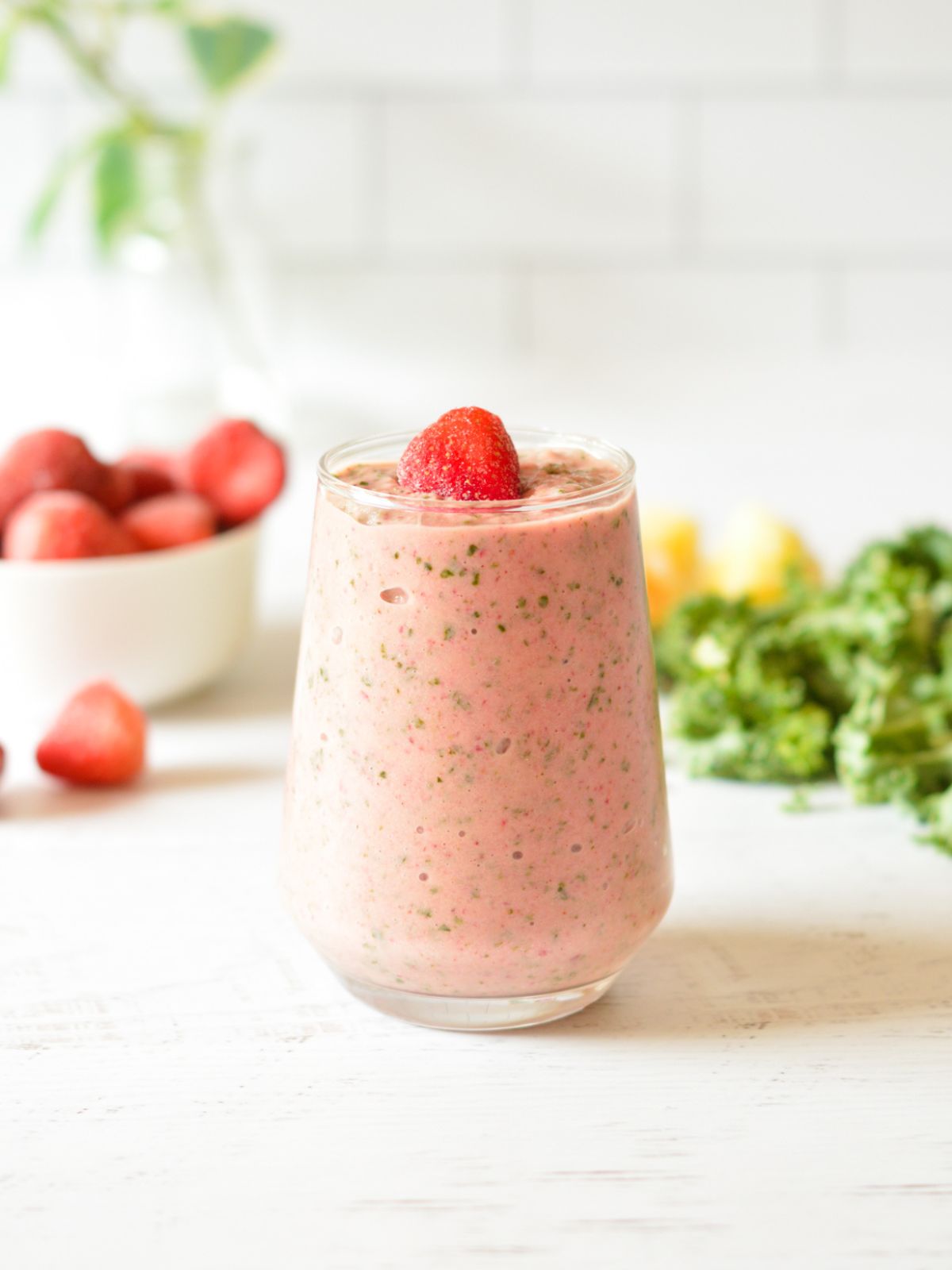 If you don't have a high-speed blender like a Vitamix, I recommend using spinach instead. Regular blenders won't blend the kale leaves all the way and you'll end up with bits of kale throughout your smoothie.
Kale is a nutrient-dense green:
Vitamin K – This vitamin is crucial for blood clotting! One cup of kale contains almost 70 percent of the recommended daily amount.
Antioxidants – Kale is rich in beta-carotene and vitamin C, among other flavonoids and polyphenols. Studies suggest flavonoids decrease inflammation throughout the body.
Vitamin C – Kale contains almost three times as much as spinach!
Fights cancer – Studies suggest kale can significantly lower the risk of several kinds of cancer.
How to add kale to smoothies: I find kale to be a bit more particular than spinach! It has firmer leaves that don't blend as easy and a slightly stronger flavor.
For this reason, I find it best to pair kale with sweet fruits like:
banana
berries
pineapple
mango
peaches
Be sure to remove the stems before you add the kale to the blender. Also add the kale and liquid first, then add the remaining ingredients.
If using kale, it's best to use a high-speed blender with a powerful motor like a Vitamix. It will give you the smoothest blend.
5. Raspberries
One of my favorite berries for smoothies, mainly because they have a sweet-tart flavor. I love a good pucker! These bright red berries are a good way to add a bright pop to any fruit smoothie.
They're also full of antioxidants and vitamin C, just like the other superfoods on this list. But they also boast:
Flavonoids – They contain anthocyanins, which research has shown suppresses inflammation.
Low in sugar – A 100 gram serving contains only 2.7 grams of sugar! This makes them a great option if you're looking to reduce your sugar consumption.
Fiber – Raspberries contain an exceptionally high amount of fiber with 8 grams per cup!
How to use raspberries in smoothies: Raspberries go well with any fruit, but especially well with strawberries and bananas. Try pairing them with berries, pineapple, peaches, or mango!
You can also add chia seeds, yogurt, oats, or vanilla protein powder.
6. Chia Seeds
I love a smoothie with texture! Oats and chia seeds are my go-to smoothie add-ins for texture, often together. Chia seeds are tiny black or white seeds from the desert plant Salvia hispanica.
A little goes a long way and you get loads of health benefits too! They're a great source of antioxidants and:
Protein – One ounce of chia seeds contains 4.7 grams of high-quality, plant-based protein.
Fat – A good source of omega-3 fatty acids, which help prevent heart disease.
Fiber – One ounce of chia seeds contains 10 grams of dietary fiber! Studies suggest that eating fiber can help you lose weight and reduce your risk of heart disease.
Bone health – Chia seeds are high in magnesium, calcium, and phosphorus which are important for strong bones.
How to add chia seeds in smoothies: Add one tablespoon of chia seeds to your favorite smoothies! You don't need to hydrate them first. Just add them straight to the blender.
I prefer to enjoy chia seed smoothies right away, when the seeds are still firm. If you want them to expand and soften, you can let the smoothie sit for a few minutes before you drink it.
7. Cacao Powder
Cacao powder turns a smoothie into an ultra chocolatey drink! For the most health benefits, use cacao powder which is minimally processed and retains more nutrients.
Cacao powder is full of antioxidants and important minerals:
Polyphenols – This type of antioxidant has been linked to reduced inflammation and improved blood flow.
Minerals – Cacao contains zinc, iron, and selenium, which help your body function efficiently.
Flavonoids – Flavanols help reduce the risk of heart disease by lowering blood pressure, preventing cell damage, and improving blood flow.
How to use cacao powder in smoothies: Pair cacao with bananas, peanut butter, chia seeds, oats, protein powder, almond butter, avocado, dates, or Greek yogurt.
Cacao is bitter so it's best to pair it with at least one sweet ingredient like frozen bananas or dates. Start with one tablespoon, then add another if you want it richer!
8. Grapes
Grapes are super juicy and sweet so it's no surprise they taste amazing in smoothies! They act as both a sweetener and a liquid base. Fresh grapes are 82 percent water which means you need less liquid to blend a grape smoothie.
Grapes are full of important vitamins, minerals, and antioxidants:
Copper – Copper is important for making energy, blood vessels, and connective tissue! It's also essential for brain development.
Vitamin K – Crucial for strong, healthy bones and blood clotting.
Antioxidants – Grapes are high in anthocyanins and resveratrol, which may protect against cancer and heart disease.
How to use grapes in smoothies: You can either use fresh or frozen grapes. If using fresh, be sure to pair them with frozen fruits to thicken the smoothie. Use less liquid than you normally would since grapes are mostly water!
Pair grapes with banana, strawberries, blueberries, yogurt, spinach, pineapple, oranges, or oats!
Smoothie to try: Strawberry Grape Smoothie
9. Limes
It's amazing what a squeeze of fresh lime juice does for a fruit smoothie! If a smoothie feels like it's missing something, I often add fresh lime juice. It's bright, citrusy, and enhances other fruit flavors.
Antioxidants – Limes are packed with active compounds that act as antioxidants and defend your cells against free radicals.
Vitamin C – They're also a good source of immune-boosting vitamin C. Vitamin C encourages collagen production, an essential protein that helps your body heal wounds.
Glowing skin – Collagen also keeps your skin strong and firm! It may even prevent wrinkles.
How to use limes in smoothies: Add a squeeze of fresh lime juice to fruit smoothies for a bright, citrusy pop! Start with a squeeze, then add more if desired.
Try adding limes to tropical flavored smoothies with pineapple, mango, orange, and bananas!
10. Carrots
Carrots seem like an odd choice for smoothies, but they're actually not! Carrots are on the sweeter side for a veg and they pair well with orange juice or pineapple. Plus they're loaded with feel-good nutrients.
If you don't have a high-powered blender, steam and cool them first. This extra step will give you a smooth texture.
This sweet, crunchy root vegetable boasts:
Beta-carotene – Orange carrots get their bright hue from this antioxidant. It's been linked to a reduced risk of cancer, good eye health, and a healthy immune system.
Low-calorie but high in fiber – 100 grams of carrots (about 2 medium ones) contain about 40 calories and 2.8 grams of fiber!
Vitamins and minerals – Carrots are a good source of vitamin A, biotin, vitamin K1, potassium, and vitamin B6.
How to add carrots to smoothies: If you have a high-speed blender like a Vitamix, slice the carrot into thin rounds before you add it to the blender. You can also use frozen carrots!
If you have a regular blender, steam and cool the carrots first. Pair carrots with pineapple, orange, mango, banana, or strawberries!
11. Strawberries
I always keep two giant size bags of frozen strawberries in my freezer. We go through them lightning fast, because they taste good in ANY smoothie. Even peanut butter or chocolate!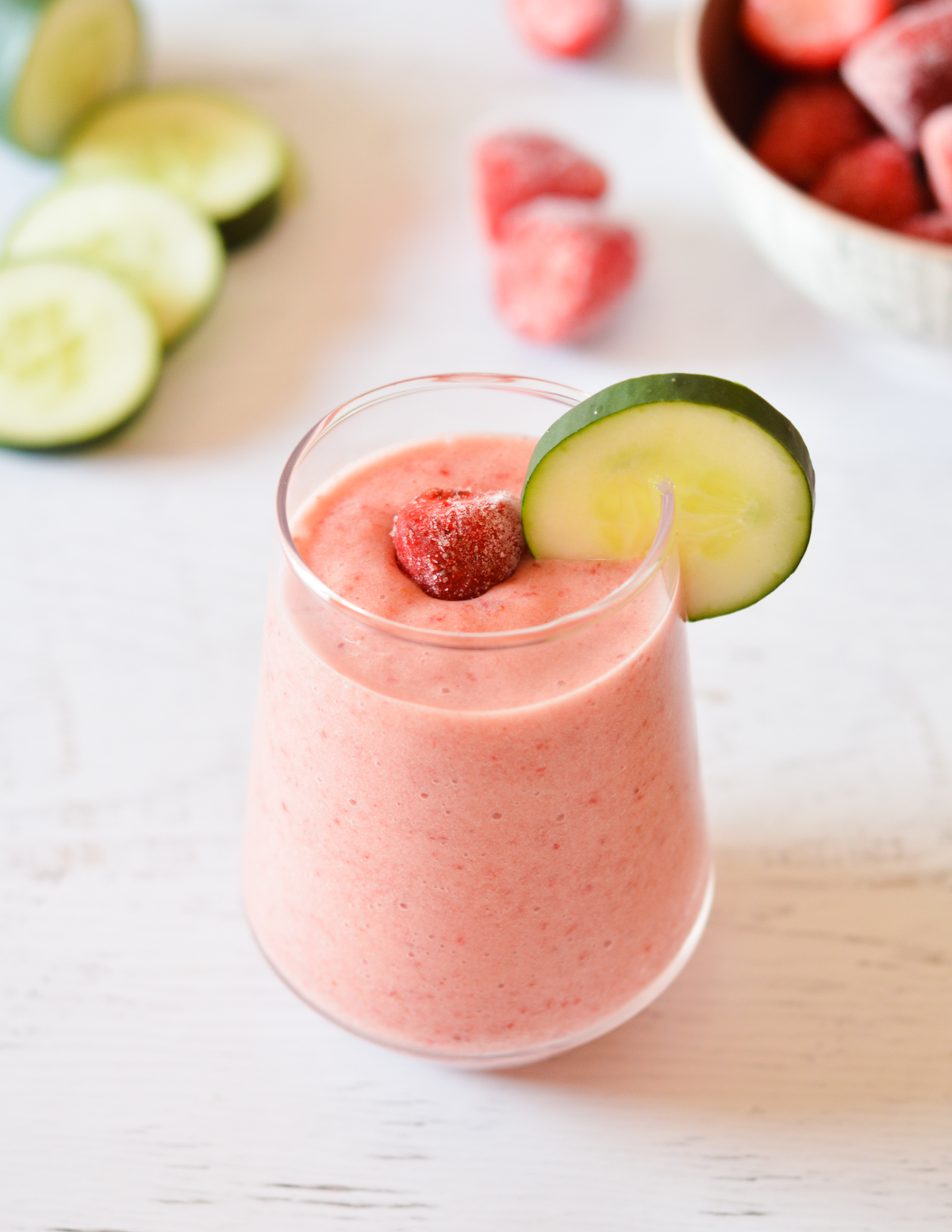 Strawberries are versatile and sweet, with a bright red color. They're low in calories, only 60 calories per cup, but nutrient-dense!
They're a good source of antioxidants, plant compounds, fiber, vitamin C, manganese, and folate!
How to add strawberries to smoothies: I always use frozen strawberries to thicken my smoothie without the need for ice! If you have fresh, peak-season strawberries, you can hull and freeze them on a sheet pan to go in smoothies.
Pair strawberries with berries, pineapple, mango, cucumber, yogurt, cherries, protein powder, banana, peanut butter, chia seeds, oats, nuts, or any other ingredient (just not all at once!).
Smoothie to try: Strawberry Cucumber Smoothie
12. Hemp Seeds
I bought a big bag of hemp hearts at Costco and I use them in and on top of my smoothies! They have a slightly nutty flavor and soft texture.
Healthy fats – Rich in essential fatty acids including omega-6 and omega-3's.
Protein – 25% of their calories come from high-quality, plant-based protein. They're a complete protein, meaning they contain all the essential amino acids.
Minerals – A good source of phosphorus, sodium, potassium, sulfur, magnesium, calcium, iron, and zinc!
How to add hemp hearts to smoothies: Start with one tablespoon of hemp hearts to see if you like it, then increase the amount up to 1/4 cup.
Hemp hearts pair well with fruit, chocolate, or green smoothies! You can't go wrong. They're hardly noticeable once blended with all the other ingredients in your smoothie.
13. Almonds
It's safe to say nuts in general are a good source of healthy fats and plant-based protein, but almonds are one of my faves! I was first introduced to almonds in smoothies at Smoothie King. They use almonds in their lean1 smoothies.
Almonds add a slight nutty flavor to smoothies and plenty of feel-good nutrients!
Fiber – Fiber keeps you full for longer and is essential for healthy gut bacteria.
Protein – One ounce of almonds boasts 6 grams of high-quality protein.
Fat – Mostly monounsaturated.
Vitamin E – One of the world's best sources of vitamin E! This antioxidant reduces your risk of heart disease and cancer.
How to add almonds to smoothies: Add two tablespoons of almonds to your next smoothie. If you don't have a high-speed blender, try a scoop of almond butter instead.
Almonds pair well with berry, fruit, chocolate, and green smoothies!
14. Flax Seeds
Flax seeds are full of protein, fiber, and omega-3 fatty acids! Flax seeds are such an easy way to boost the health benefits of your morning smoothie.
ALA – They're rich in ALA, an omega-3 fatty acid that's been linked to a lower risk of stroke and heart disease.
Fiber – One tablespoon of ground flax seed contains 3 grams of fiber. Soluble fiber helps lower cholesterol levels and balance your blood sugar.
Lignans – A compound found in plants that may help lower the risk of cancer.
How to add flax seed to smoothies: Use ground flax or flax meal. Add 2 tablespoons of ground flax seeds to your next smoothie.
Flax seed is slightly nutty and versatile, meaning it goes great in any kind of smoothie.
15. Sweet Potato
Sweet potato tastes great in pie-spiced smoothies! You can use cooked and mashed sweet potatoes or frozen sweet potatoes. Whenever I bake sweet potatoes, I bake an extra for a smoothie.
They're highly nutritious with plenty of fiber, antioxidants, vitamins, and minerals!
Fiber – Sweet potatoes contain both soluble and insoluble fiber, which is important for gut health but also decreases your risk of colon cancer.
Beta-carotene – Another good source of this antioxidant! Beta-carotene is transformed into vitamin A in the body, which is good for your eyes and immune system!
Vitamins & minerals – A good source of vitamin C, manganese, copper, pantothenic acid, vitamin B6, potassium, and niacin!
How to add sweet potato to smoothies: You can bake one and cool it down first, or you can add frozen sweet potatoes.
Pair sweet potato with frozen bananas, peanut butter, fall spices, dates, hemp hearts, chia seeds, oats, almond butter, or vanilla protein powder.
Superfood Powders for Smoothies:
Superfood powders are another option to add nutrients to your smoothies. Superfood powders are dehydrated whole foods from fruits, vegetables, botanicals, or herbs.
The dehydration process reduces some of the vitamins and nutrients in the powders and the research behind them is limited.
It's better to get a diverse amount of nutrient-dense whole foods in your diet, then to use superfood powders but it can be a good option if you can't get all the vitamins you need in your daily diet.
Speak to your doctor or healthcare professional before using them to see if they're right for you and what dosage to use. I am NOT a doctor and nothing in this article is medical advice.
Here's a few options to try:
Acai powder
Matcha powder
Maca powder
Beet powder
Camu camu powder
Moringa powder
Goji berry powder
Superfood Toppings:
I love to top virtually all my smoothies and smoothie bowls with toppings! It's a great way to add textural contrast and a boost of flavor.
These are my favorite superfood toppings:
Cacao nibs
Rolled oats
Almonds
Cashews
Fresh berries
Chia seeds
Flax seeds
Pepitas
Nut butter
Dark chocolate
Pomegranate Seeds
FAQs:
What is the healthiest thing to add to a smoothie?
The healthiest ingredient for smoothies are nutrient-dense whole foods and ideally a combination for plenty of protein, fiber, and vitamins! Try berries, leafy greens like spinach, nut butter, chia seeds, apples, cucumber, pineapple, or banana.
What are the benefits of superfood smoothies?
Superfood smoothies are a great way to pack in immune-boosting vitamins, high-quality protein, and dietary fiber.
What are the most nutritious vegetables for smoothies?
Leafy greens are the best vegetable for smoothies! I highly recommend nutrient-dense spinach. It has a mild flavor and delicate leaves that blend well and taste great in any type of smoothie. You don't even need a high-speed blender.
What protein should I add to smoothies?
Protein keeps a smoothie well balanced and filling. There are plenty of options to add it to a smoothie. Try nut butter, Greek yogurt, chia seeds, flax meal, cottage cheese, tofu, milk, almonds, or protein powder.
Superfood Smoothies
This list of superfoods for smoothies is not all inclusive, meaning there are plenty more nutrient-dense ingredients to add! Here's a few honorable mentions:
Cucumber
Pineapple
Kiwi
Apples
Beets
Pomegranate seeds
Arugula
Mango
Rolled oats
Cashews
Nut butter
When making a smoothie, focus on adding plant-based whole food ingredients! Be sure to throw a sweet fruit in the mix, so you don't need to add any sugar.