Nuts in Smoothies – The Ultimate Guide
Nuts add a boost of nutrients and plant-based protein to your smoothies! Don't let all the options overwhelm you. This ultimate guide to nuts in smoothies covers all the basics.
Health Benefits:
Most smoothies are packed with antioxidants from berries or fruit, but can lack satiating protein to keep you full. Nuts are a great way to round out your smoothie with protein and healthy fats!
Most nuts have similar macronutrient profiles (protein, carbs, and fat), so to prevent sounding repetitive, we won't dive into each nut's nutrition.
Here's a list of reasons to add nuts to your smoothies and diet:
Rich in healthy fats: Mainly monounsaturated fats, which can help reduce cholesterol levels.
Plant-based protein: One ounce of mixed nuts boasts 5 grams of protein!
Fiber: Fiber helps keep you full and improves gut health.
Antioxidants: To fight oxidative stress in the body! Nuts are a good source of polyphenols, a compound that protects against certain cancers and heart disease.
Vitamins & minerals: Vitamin E, magnesium, phosphorus, and copper to name a few!
Weight loss: Studies suggest nuts can help you lose weight!
Ways to Add Nuts & Seeds to Smoothies:
There's a handful of ways to add nuts to your smoothies!
Topping – Crush them on top of your smoothie (or smoothie bowl) for some nutty crunch! I do this ALL the time! 10/10 – highly recommend. Pecans are a fave!
Nut butter: If you prefer a smooth texture, opt for nut butter instead. It won't alter the texture, but it provides the health benefits and nutty flavor. Add one tablespoon per serving.
Whole nuts/seeds – My favorite method. Throw a handful of roasted nuts into your smoothies and blend! They add a subtle yet crave-worthy taste and texture.
Soaked nuts – If you prefer raw nuts, it's best to soak them first. Otherwise the smoothie tastes too gritty.
Nut milk – Nut milk makes a great vegan and dairy-free option for a liquid base. That being said, some contain as little as 3% nuts! If you want all the health benefits from nuts, whole nuts are the way to go.
Nuts for Smoothies:
You can add any nut you like to smoothies! Just make sure they're de-shelled first. Roasted nuts pulverize more effectively than raw nuts AND add more flavor.
Here's several of my favorites:
1. Almonds
Studies show almonds promote weight loss, NOT weight gain. They can help lower LDL or "bad" cholesterol too! I buy a big bag of sliced almonds at Costco, so that's typically what I use in my smoothies.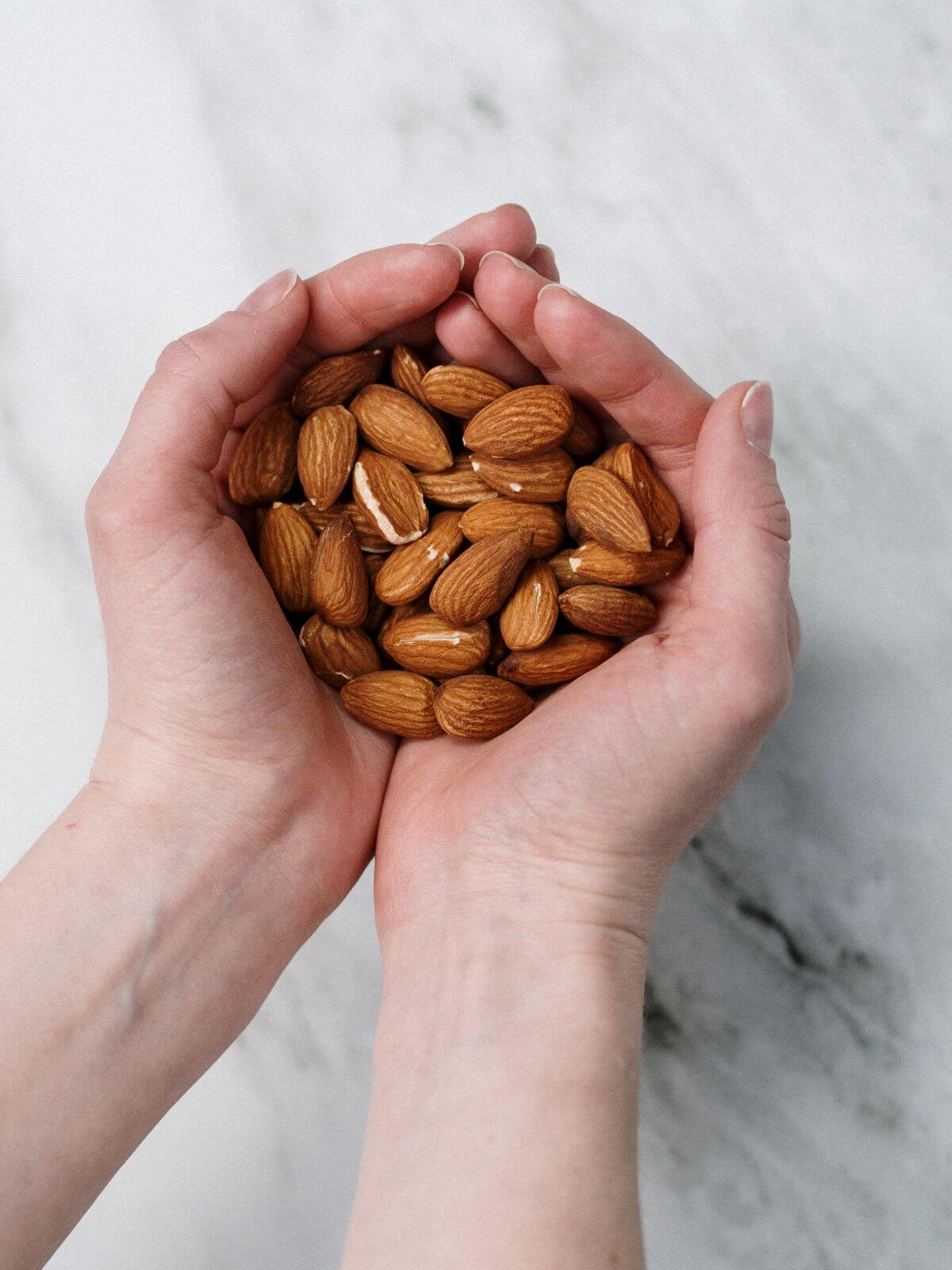 If using whole roasted almonds, opt for unsalted or lightly salted. Less salt is better for you and it won't make your smoothie too salty.
2. Cashews
You can use roasted or raw cashews, but raw cashews benefit from soaking. I prefer roasted because they add more flavor and taste less gritty. Plus it's less work!
We buy a big bag of roasted cashews with sea salt from Costco. They have a mild and neutral flavor so they won't overpower the smoothie. And they're not too salty either.
3. Walnuts
Walnuts are slightly bitter and I don't mean that as a slam. The bitterness complements the sweetness of a chocolate or fruit smoothie nicely.
If you don't like any bitterness in your nuts or smoothies, move on to pecans!
4. Pecans
One of my favorites! Pecans taste slightly sweet, rich, and buttery. I like to pair them with strawberries, but you really can't go wrong. I love the subtle texture they add to smoothies.
Look for unsalted or lightly salted pecans. A little bit of salt tastes great, but too much is off-putting.
5. Pistachios
Pistachios are a good source of lutein and zeaxanthin, antioxidants that improve eye health. They taste great in smoothies too!
Just like the nuts above, roasted pistachios blend better than raw. They add a bit more texture than pecans or cashews though.
How to Add Nuts to Smoothies:
It's as simple as throwing a handful of nuts in your next smoothie! But for those who prefer a bit more guidance:
Add 1/4 cup of roasted, unsalted nuts to your smoothie per serving. I find this to be a good amount for optimal flavor and texture. So, if the smoothie makes two servings, add 1/2 cup of nuts. If you prefer more, go for it!
Add remaining ingredients. Add your frozen fruit, liquid, etc.
Blend until smooth. Depending on your blender, they may not pulverize fully. I like the added texture! A quality, high-speed blender will give the smoothest results.
Pour and enjoy immediately. Smoothies are best enjoyed immediately!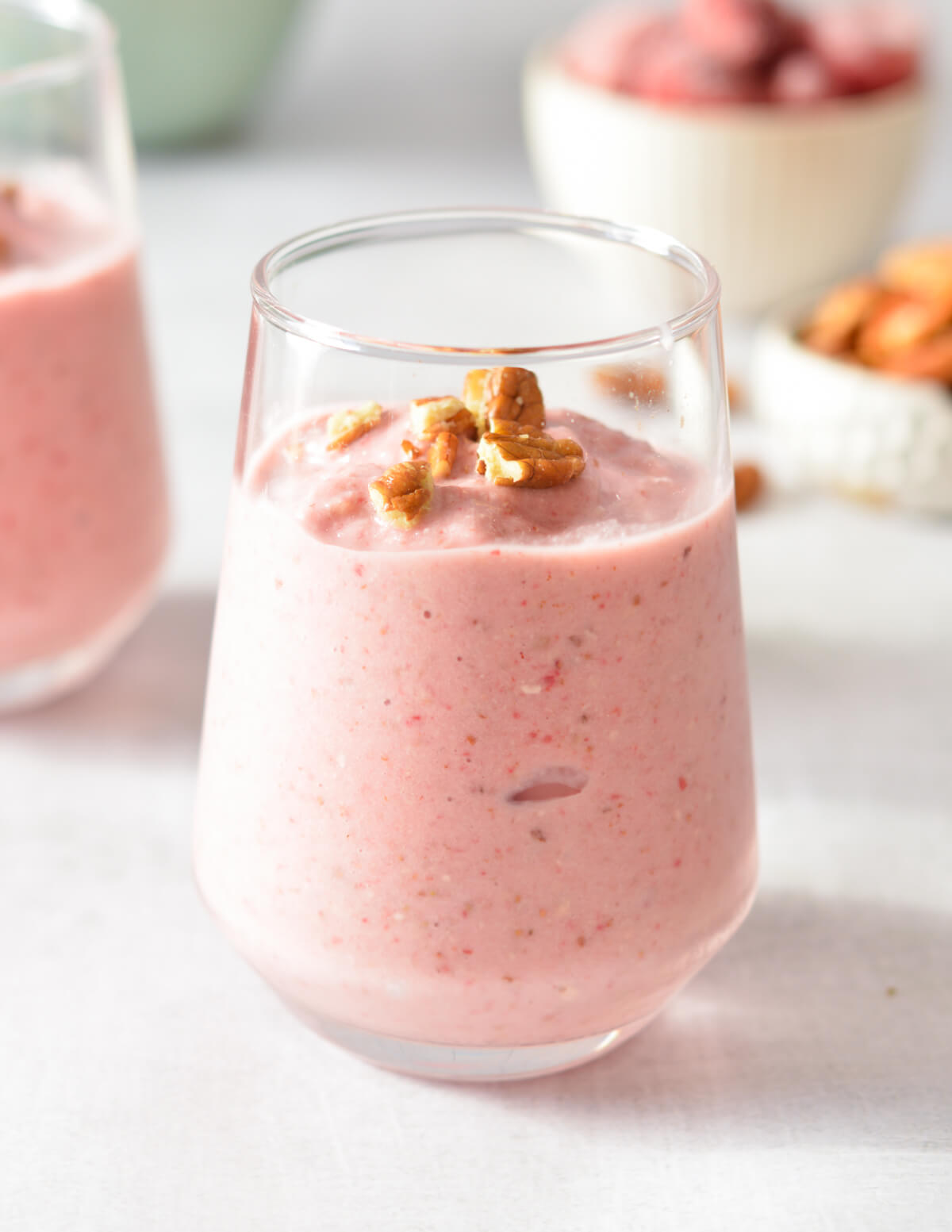 Expert Tips:
For best results, use a high-speed blender. A high-powered blender has a powerful motor that pulverize greens, nuts, and frozen ingredients effectively. You don't have to spend an arm and a leg. Even budget brands carry high-speed models.
For a smoother texture, use roasted nuts. In my experience, roasted nuts blend easier than raw nuts and taste less gritty. If you prefer raw nuts, soak them first to soften them.
Start with less, then add more. I prefer 1/4 cup of nuts per serving. If you haven't tried nuts in your smoothies yet, start with less. See how you like the taste and texture, then add more next time if desired.
If you don't like ANY texture in your smoothies, use nut butter instead. You still get health benefits and flavor without any texture.
More Smoothie Guides & Recipes:
Strawberry Pecan Smoothie
This strawberry pecan smoothie is the perfect combo of fruity and nutty! It's only four ingredients and it's easy to customize with what you have on hand.
Ingredients
1

banana

peeled

½

cup

pecan halves

or nut of choice

2

cups

frozen strawberries

¾

cup

unsweetened almond milk

or milk of choice
Instructions
In the pitcher of a high-speed blender, combine the banana, pecans, frozen strawberries, and almond milk.

Blend until smooth. Add more almond milk, a little bit at a time, until you reach a thick but pourable consistency.

Pour into glasses and enjoy immediately.
Notes
Nuts: You can swap the pecans with roasted cashews, walnuts, or almonds. 
Protein: For more protein, add 3 tablespoons of vanilla protein powder or 1/3 cup Greek yogurt. 
Milk: Use any plant-based milk you prefer. 
Nutrition
Calories:
283
kcal
Carbohydrates:
28
g
Protein:
4
g
Fat:
20
g
Saturated Fat:
2
g
Polyunsaturated Fat:
6
g
Monounsaturated Fat:
11
g
Sodium:
124
mg
Potassium:
533
mg
Fiber:
7
g
Sugar:
15
g
Vitamin A:
69
IU
Vitamin C:
90
mg
Calcium:
156
mg
Iron:
1
mg