10 Best Milks for Smoothies (with a Recipe)
What are the best milks for smoothies? Learn about all your options in this ultimate guide! From dairy and almond to cashew and oat, we've got you covered.
There are two essential components of a smoothie – fruit and a liquid base. While the liquid options are plentiful, for this article we're going to zero in on milk and milk alternatives.
Gone are the days when whole milk was the only option! Nowadays, the plant-based milk options are borderline overwhelming. So I'm here to break it down for you and how each milk tastes in your smoothies!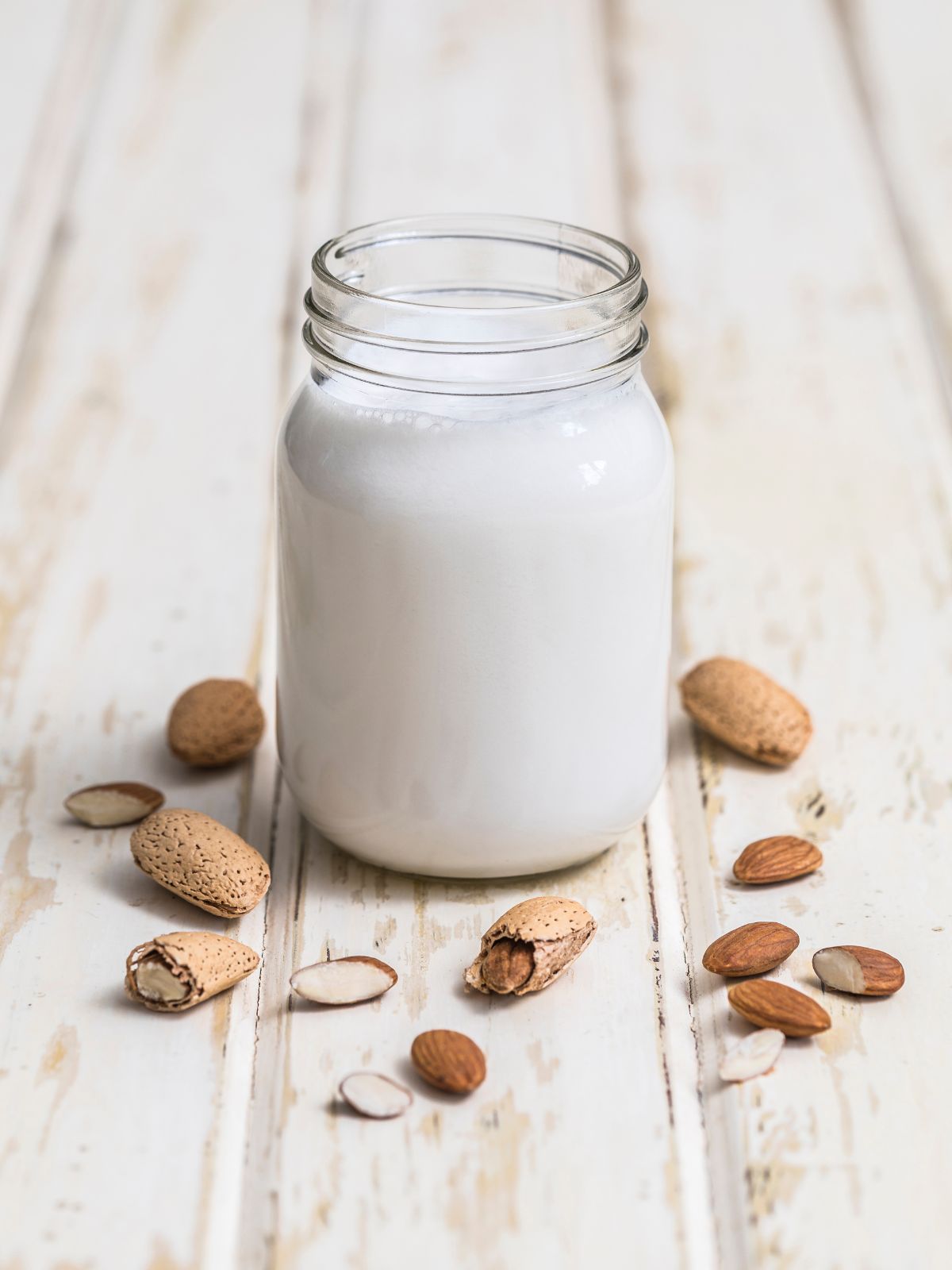 Milk Comparison Chart:
The nutrition of milk alternatives vary depending on the brand and whether it's been sweetened. Always check the label to find out exact nutritional info.
Here is a chart to help you pick out which milk for your next smoothie! For the healthiest option, buy the unsweetened version to avoid added sugar. Use fruit to naturally sweeten your smoothie instead.
Best Milk for Smoothies:
Here are the ten best milk for smoothies and why you'll love them.
1. Dairy Milk
Dairy milk comes from a cow and includes whole, reduced-fat, and skim milk. Skim milk has the least fat and calories, while whole has the most.
Whole milk gives your smoothie an ultra-creamy consistency! It's a good option if you tolerate dairy milk. The results are thick, rich, and creamy.
Dairy milk is a good source of protein, vitamins, and minerals, including calcium, vitamin D, riboflavin, and phosphorus. One cup boasts 8 grams of protein and includes all nine of the essential amino acids your body needs to function.
Try it with: Berry, chocolate, pineapple, peach, peanut butter, banana
2. Almond Milk
This is my favorite plant-based milk for smoothies! I use it 80 percent of the time. It has a mild, neutral flavor and creamy consistency. Plus it's low in calories, carbs, and fat, which makes it an ideal option for weight loss smoothies.
It's typically fortified with essential vitamins like A, E, and D, plus calcium.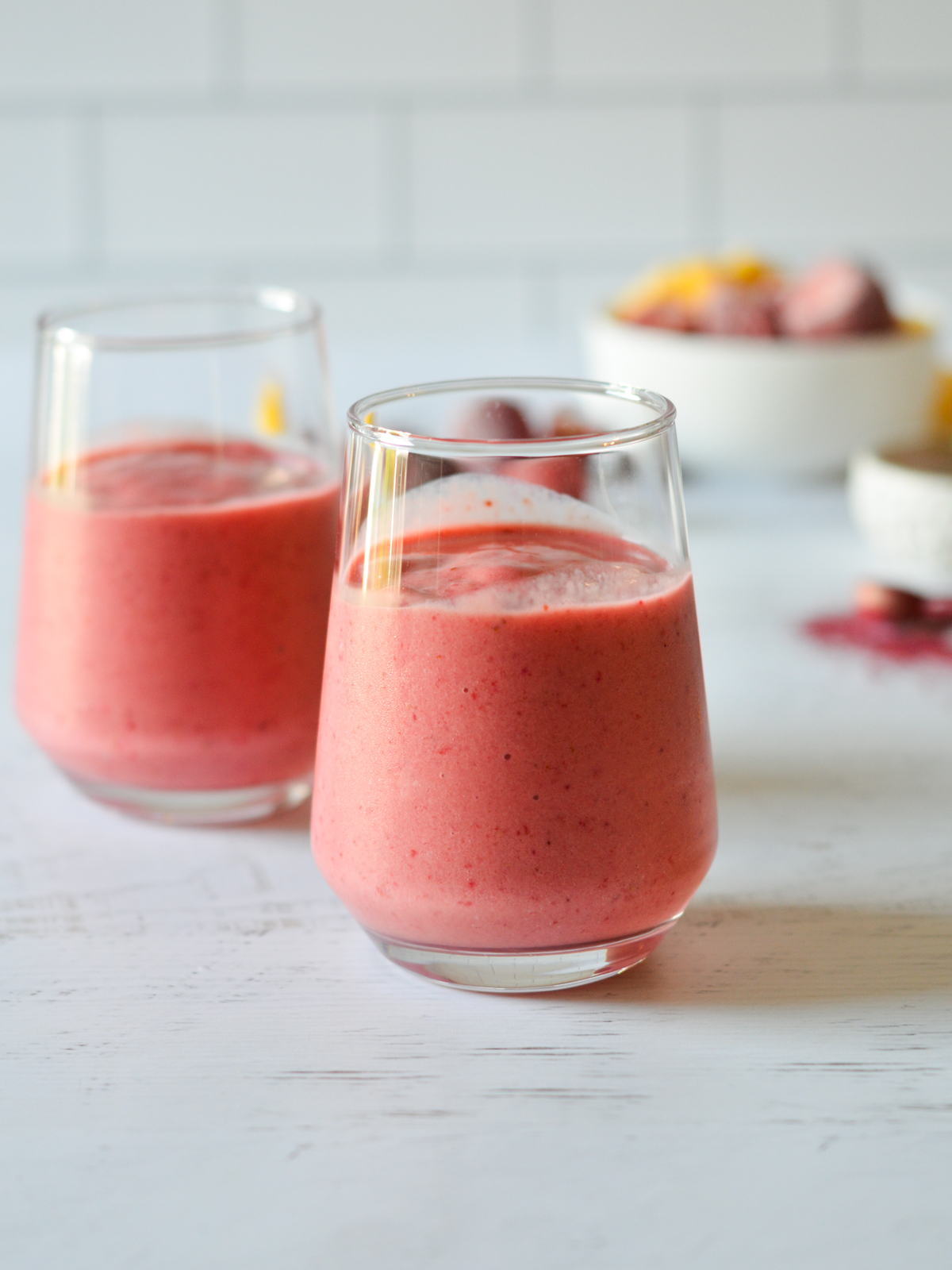 Each brand tastes different and some are stronger than others. My favorite brand is Almond Breeze and I always reach for unsweetened vanilla. It's best to avoid sweetened versions, which contain added sugar.
Try it with: All kinds of smoothies! I've never found a smoothie that doesn't taste great with almond milk. Berry, cherry, peach, pineapple, chocolate, green, peanut butter, etc.
3. Soy Milk
Soy milk is a great vegan-friendly option for smoothies! It's made from soaked soybeans and it has as much protein as whole milk.
Soymilk has a slightly stronger flavor than almond milk. The flavor varies with each brand, so it's best to try a few until you land on one you like.
Always reach for unsweetened soy milk to avoid an excess amount of sugar. Soy milk goes well in any kind of smoothie, but especially ones with strong flavors!
Try it with: Berries, fruit, peanut butter, chocolate, bananas, greens, peaches, pineapple, and cherries.
4. Oat Milk
Oat milk is a great cholesterol-free option if you like the creamy consistency of regular milk. It's slightly sweeter with an oatey aftertaste. Calories vary by brand, with 45 calories on the low end, and 120 calories on the higher side.
Oat milk is allergy-friendly, since it's dairy-free, vegan, nut-free, and soy-free. Store-bought versions are typically fortified with calcium, riboflavin, and b vitamins.
Stick to unsweetened oat milk to avoid added sugar and calories. And if you're celiac or gluten-intolerant, look for brands labeled as gluten-free.
Try it with: Berries, fruit, cocoa powder, peanut butter, banana, oats, chia seeds, protein powder
5. Rice Milk
Rice milk isn't my favorite choice for smoothies, but it is widely available and a dairy-free option. The upside is it has a mild flavor similar to milk and it's allergen friendly with no dairy, nuts, or soy.
The downside is it's high in sugar and carbs, but low in protein. It's also a high glycemic food, meaning it's quickly digested which causes a rapid rise in blood sugar.
It is a good source of calcium and vitamins A, B12, and D though.
Try it with: Strawberries, banana, peanut butter, raspberries, cocoa powder, or blueberries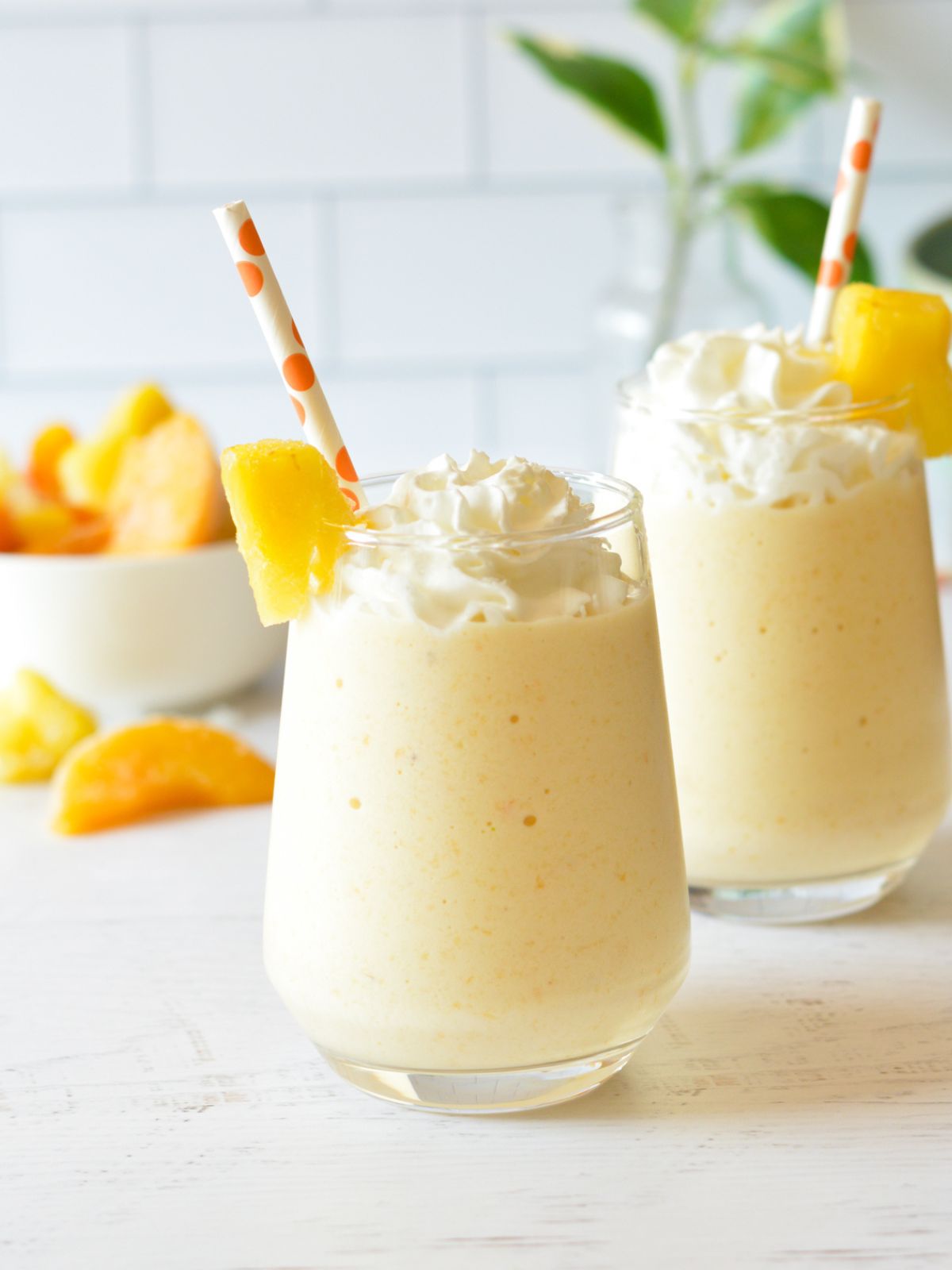 6. Cashew Milk
Cashew milk is similar to almond milk in flavor and mouthfeel. It's slightly sweet and mild with a creamy consistency. It's the lowest calorie milk alternative at just 25 calories per cup!
Cashew milk is a good source of antioxidants and typically fortified with calcium and vitamin D. It's a solid dairy-free option AND it tastes good in all smoothies!
It provides little to no protein though, so it's best to add a protein source to your smoothie to make it complete. Try Greek yogurt, oats, protein powder, or nut butter!
Try it with: ALL kinds of smoothies – chocolate, peanut butter, green, fruit, berry, cucumber, etc.
7. Coconut Milk
There are two kinds of coconut milk – the one from the carton and the one from the can. Canned coconut milk is a good option if you need to gain weight quickly as it packs in a lot of calories.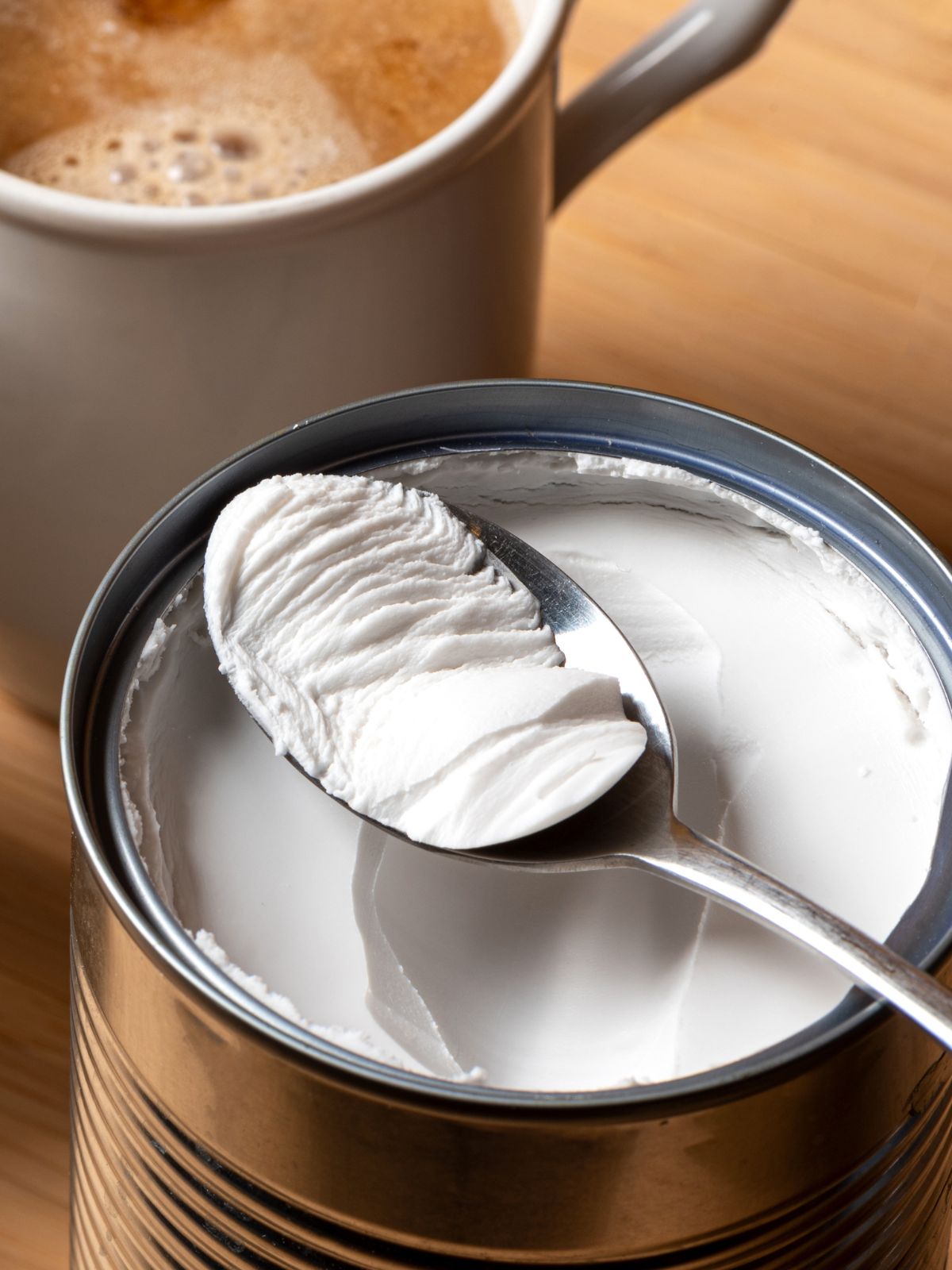 Both types add a coconutty aftertaste which is great in tropical smoothies, but not so great in others.
Coconut milk from the carton is low in calories with 4.5 grams of fat per one cup serving. It's a good dairy-free option, but it doesn't provide any protein. You can add other forms of protein to your smoothie instead.
Try it with: Pineapple, mango, greens, banana, strawberries, orange, and peaches.
8. Pea Milk
Pea milk is newer to the market than other plant-based milk alternatives. The most common brand is Ripple pea milk. It's made from yellow peas and boasts 8 grams of protein per cup – the equivalent to a cup of cow's milk.
Pea milk is a good choice if you want to create a meal replacement smoothie, or one that fills you up for a long period of time. Ripple milk is a good source of calcium, potassium, vitamin D, vitamin A, and iron.
Pea milk has a stronger flavor than cashew and almond milk, closer to soy milk. For this reason, it's best to pair it with sweet ingredients and strong flavors like chocolate or fruit smoothies.
Try it with: Banana, berries, pineapple, mango, peanut butter, almond butter, cocoa powder, protein powder, oats, and chia seeds.
9. Hemp Milk
Hemp milk is a vegan milk alternative made by blending water and hemp seeds. It has an earthy taste that's reminiscent of sunflower seeds. It has a stronger flavor than almond milk, but it largely depends on the brand.
Try out a few different brands until you find one you like. The consistency is far creamier than almond or cashew milk! The best way to know if you'll like it in your smoothies is to try it first.
One cup of hemp milk features 3-4 grams of protein and up to 7 grams of fat, mostly heart-healthy unsaturated essential fatty acids.
Try it with: Chocolate, blueberries, almond butter, peanut butter, protein powder, oats, banana, strawberries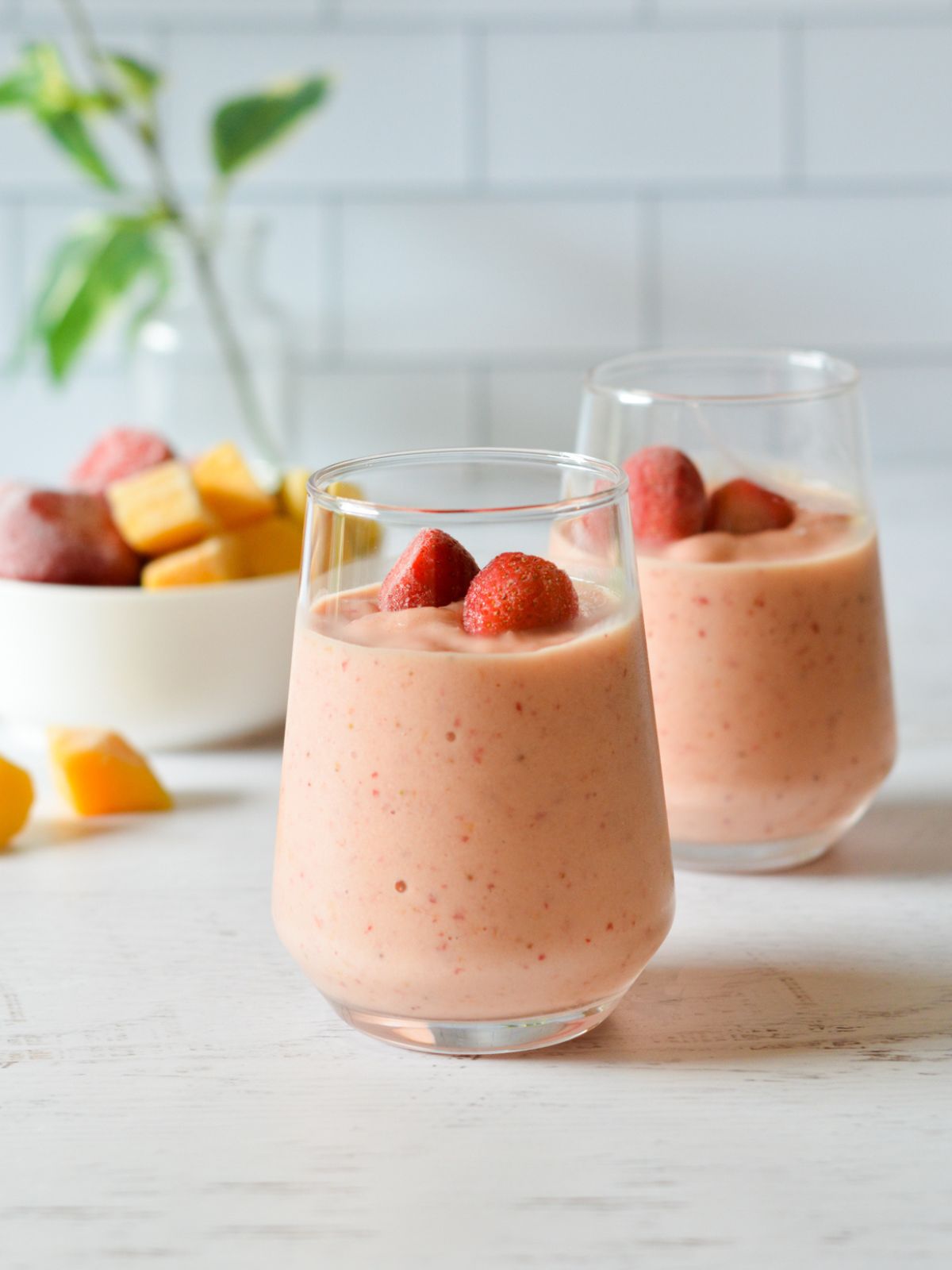 10. Lactose Free Milk
Lactose-free milk is made by adding the lactase enzyme to regular milk. This breaks down the lactose and makes it easier to digest. It is NOT dairy-free!
If regular milk gives you indigestion or stomach pains, this is a good one to try. My sister had a hard time with regular milk, but tolerated lactose-free milk just fine.
It tastes very close to regular milk and you can buy it in fat-free, reduced-fat, or whole versions. It provides 8 grams of protein per one cup serving and creates a creamy smoothie, just like real milk.
Try it with: Peaches, pineapple, mango, berries, chocolate, peanut butter, protein powder, bananas, oats, chia seeds
More Milk Alternatives:
The list of milk alternatives is truly endless, as more products hit the market each year. Always check the label for nutritional information to see if it fits your dietary preferences.
Here are a few more options I've seen at grocery stores:
Macadamia milk
Quinoa milk
Peanut milk
Hazelnut milk
Walnut milk
Pecan milk
Flax milk
Chia seed milk
How to Choose the Right Milk:
Choosing the right milk depends on your desired outcome. For example, you would likely choose a different milk for weight loss than you would for weight gain.
Everyone's taste buds are different and so are their goals and dietary preferences. Consider the nutritional information first, then try different brands to find one you like the taste of.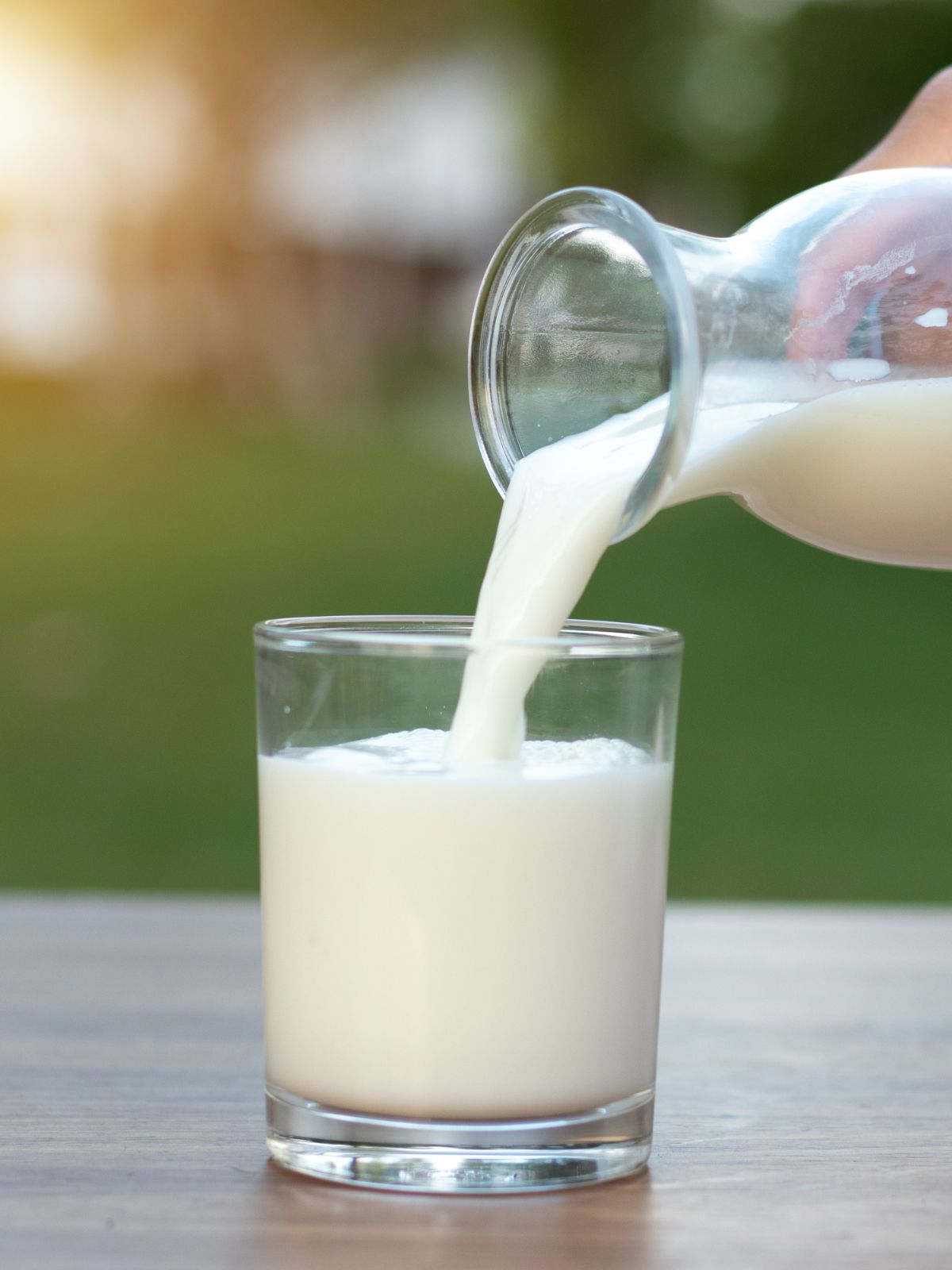 The same kind of milk tastes different depending on the brand. For example, I love Almond Breeze almond milk, but I dislike the flavor of Califia almond milk. Once you find one you love, keep it in your fridge and try it in different kinds of smoothies.
I find almond milk to be a good all-purpose choice because it tastes great with a variety of fruits, veggies, and mix-ins.
Best Milk for Weight Loss Smoothies:
Skim milk: When it comes to dairy milk, skim milk is your best bet. It's lower in fat and calories than whole milk, but with more protein!
Almond or cashew milk: If you're looking to cut calories, almond/cashew milk is a good choice! It tastes great in ALL smoothies and it's only 30 calories per cup. It doesn't provide filling protein though.
Soy milk: Soy milk has a stronger flavor than almond milk, but if you can get past that, soy milk is an excellent option! One cup of soymilk is only 80 calories with 8 grams of protein.
Pea milk: Pea milk is less common than soymilk but boasts the same amount of protein! It's a good choice because it adds filling protein to your smoothies without too many calories.
Keto Milk for Smoothies:
Making smoothies on a ketogenic diet can be tricky! Too many carbs can ruin your diet and push you out of ketosis.
The unsweetened versions of the milk alternatives listed below are low in carbs!
Almond milk
Coconut milk
Pea milk
Flax milk
Hemp milk
Heavy cream
On top of a low-carb liquid base, you should stick to low-carb fruits and veggies, including strawberries, avocado, raspberries, spinach, cucumbers, or peanut butter.
High Protein Milk for Smoothies:
It's always a good idea to add protein to your smoothies! Protein is crucial for a healthy body and keeps you full while maintaining muscle mass. It also promotes strong bones and a decreased risk of osteoporosis.
There are plenty of ways to add protein to smoothies and the liquid base is one of them! Try one of these to up the protein content of your smoothie:
Dairy milk (8 grams per cup)
Pea milk (8 grams per cup)
Soy milk (8 grams per cup)
Flax milk (3-8 grams per cup)
Milk for Smoothie FAQs:
What milk is best in smoothies?
It depends on what you're going for. Almond milk is my favorite liquid base for smoothies, because it's healthy, low-calorie, and delicious. Dairy milk is also a good option and creates a lusciously creamy consistency!
Is soy milk or almond milk better for smoothies?
Almond milk has a neutral flavor that doesn't overpower the flavor of a smoothie. It's creamy and blends well with a variety of fruits, veggies, and mix-ins. Soymilk has a stronger taste but it provides more protein.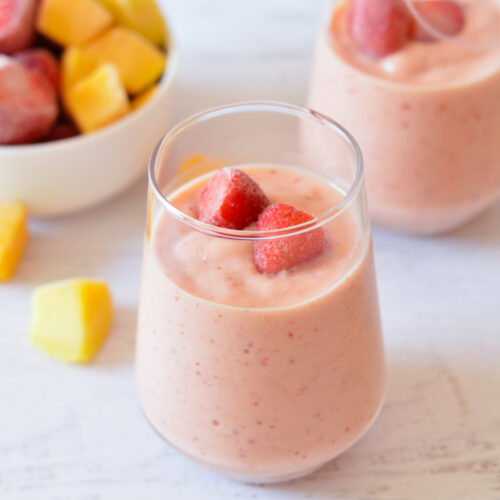 Fruit Smoothie with Milk
This fruit smoothie with milk features strawberries, mango, Greek yogurt, and milk. It's naturally sweet, ultra creamy, and so delicious! Perfect for an afternoon pick-me-up.
Ingredients
1

banana

peeled

1

cup

frozen mango chunks

1

cup

frozen strawberries

⅓

cup

Greek yogurt

⅔

cup

milk

or milk of choice (almond, cashew, soy, etc.)
Instructions
In the pitcher of a high-speed blender, combine the banana, frozen mango, frozen strawberries, Greek yogurt, and milk.

Blend until thick and smooth. The smoothie will be very thick at this point. Gradually add more milk, a little bit at a time, until you reach a pourable consistency.

Pour into two glasses (or one large one) and enjoy immediately!
Nutrition
Calories:
194
kcal
Carbohydrates:
36
g
Protein:
8
g
Fat:
3
g
Saturated Fat:
2
g
Polyunsaturated Fat:
0.3
g
Monounsaturated Fat:
1
g
Cholesterol:
11
mg
Sodium:
45
mg
Potassium:
629
mg
Fiber:
4
g
Sugar:
27
g
Vitamin A:
1072
IU
Vitamin C:
78
mg
Calcium:
161
mg
Iron:
1
mg