15 Smoothies to Lose Belly Fat Fast
These fat burner smoothies are full of nutrient-dense ingredients to help you lose belly fat quickly for a flat stomach! As an added bonus, they taste great too!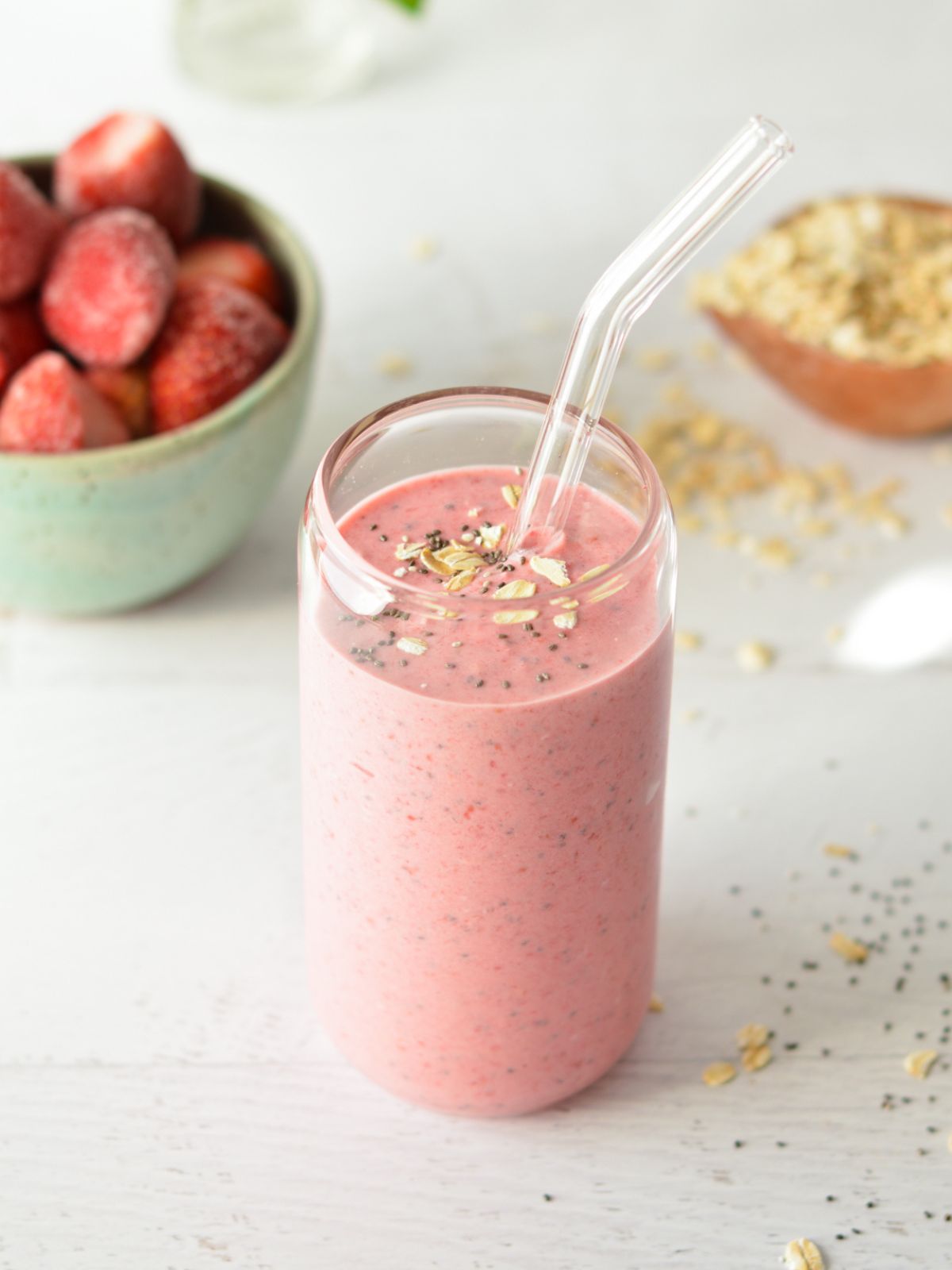 Fat Burning Foods
Smoothies are a great way to consume nutrient-dense fruits and vegetables, instead of unhealthy snacks/meals with empty calories!
All of these flat tummy smoothie recipes contain whole plant-based ingredients to help you lose weight. Here are some examples of wholesome, fat-busting ingredients to add to your smoothies:
Berries – Berries have a high water content and plenty of fiber and important vitamins!
Avocadoes – Avocadoes are low in carbs and high in heart-healthy fats and fiber. This makes them super filling, which means less snacking!
Nuts or nut butter – Nuts are loaded with antioxidants and high-quality protein! Antioxidants protect your cells from damage caused by oxidation.
Oats – A well rounded ingredient with complex carbs, fiber, high-quality protein, and essential amino acids. As an added bonus, oats taste delicious in weight loss smoothies!
Carrots – Carrots taste great with tropical flavors! They're nutrient powerhouses that promote good vision, balance your blood sugar, and help with weight loss.
Yogurt – Greek yogurt is a great way to add filling protein! Use unsweetened Greek yogurt to avoid added sugars.
Flax and chia seeds – Both are packed with nutrients, including protein, fiber, and omega-3's. A little goes a long way!
Bananas – Bananas naturally sweeten a smoothie without the need for added sugar! They're a good source of soluble fiber and potassium too.
Grapes – A good source of powerful antioxidants and important vitamins and minerals like copper and vitamin K.
Greens – Spinach and kale are good options! Spinach has a mild flavor and delicate leaves that blend up nicely.
How to Lose Belly Fat
While a weight loss smoothie can help you lose belly fat, it's no cure-all. It must be a part of a healthy diet and regular exercise.
According to health.com there are specific things you can do to lose belly fat and fat overall.
Avoid Added Sugar
There are two types of sugar – added and natural sugar. Natural sugar is sugar that occurs naturally in the food you're eating. Added sugar is sugar that's added to foods during preparation.
Here are a few examples of added sugar:
White sugar
Turbinado sugar
Brown sugar
Honey
Maple syrup
Agave
Look for smoothies that use only fruit to sweeten them. Avoid smoothies with turbinado sugar, honey, fruit juice from concentrate, or other added sugars. They just increase the calorie count with little to no nutritional benefit.
Eat More Protein
Research shows this macronutrient can reduce cravings, boost your metabolism, and help you eat less calories during the day!
There is a study that suggests protein may be linked to lower levels of abdominal fat. You can increase the amount of high-quality protein you consume by eating eggs, fish, legumes, meat, nuts, and dairy products.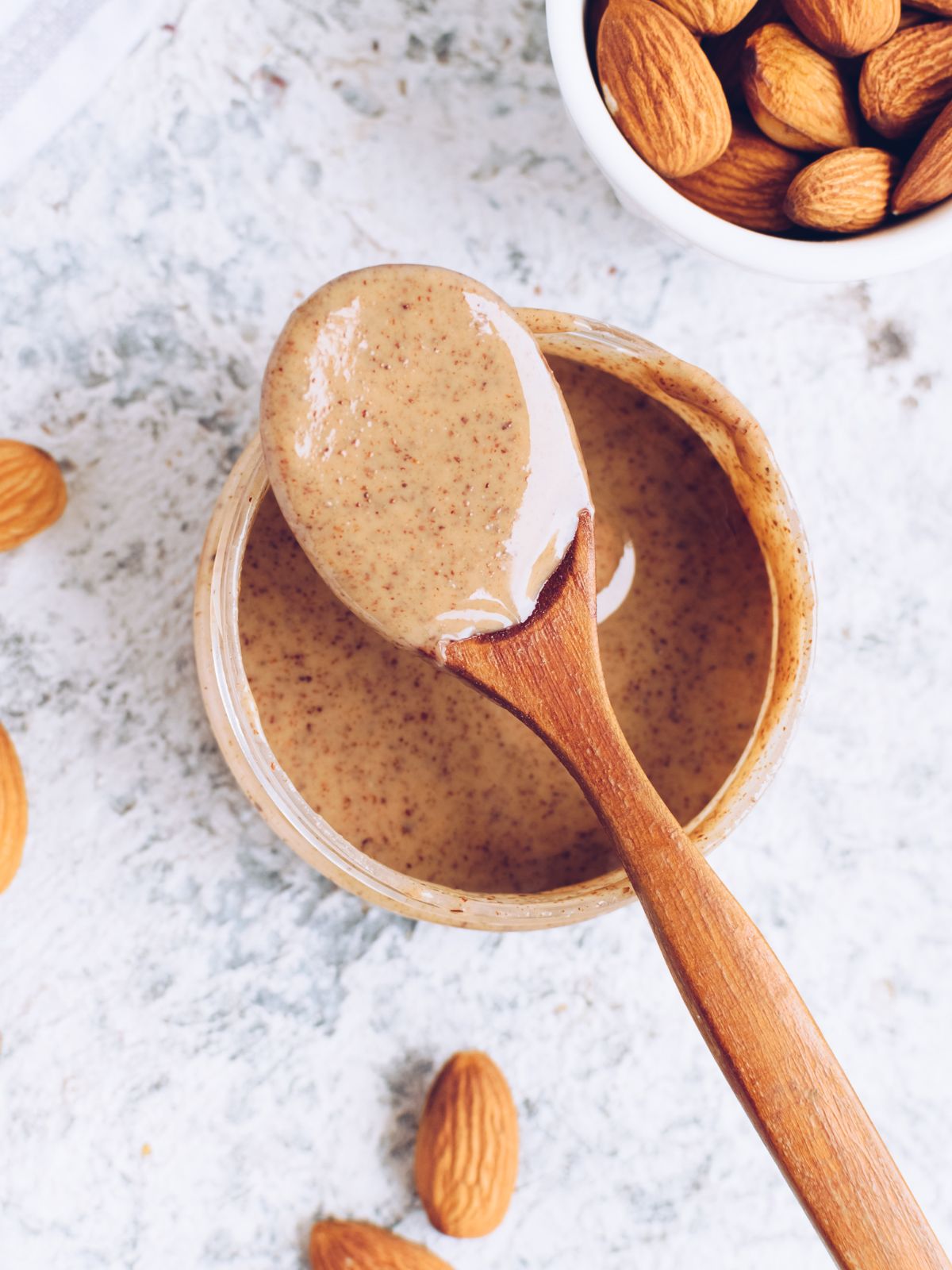 Look for smoothies with Greek yogurt, nut butter, cashews, cottage cheese, or high-quality protein powder without additives.
Eat More Fiber
Look for smoothies with plenty of soluble fiber! The best way to get fiber is to eat more plant-based foods, specifically vegetables and fruit.
Soluble fiber slows the migration of food through your digestive system, helping you feel full for a longer period of time.
These foods are high in soluble fiber:
Oats
Apples
Avocadoes
Pears
Sweet potatoes
Carrots
Flax seeds
Raspberries
Exercise Regularly
Flat belly smoothies are a great way to up your nutrients, but exercise is an important part of losing weight!
Try to fit aerobic exercise into your daily routine! Aerobic exercise like running, brisk walking, swimming, or jump roping can permit major reductions in visceral fat. Visceral fat is the fat in your stomach that wraps around your internal organs.
The best way to make the most of weight loss smoothies is to enjoy them in conjunction with a healthy exercise routine and well-balanced diet.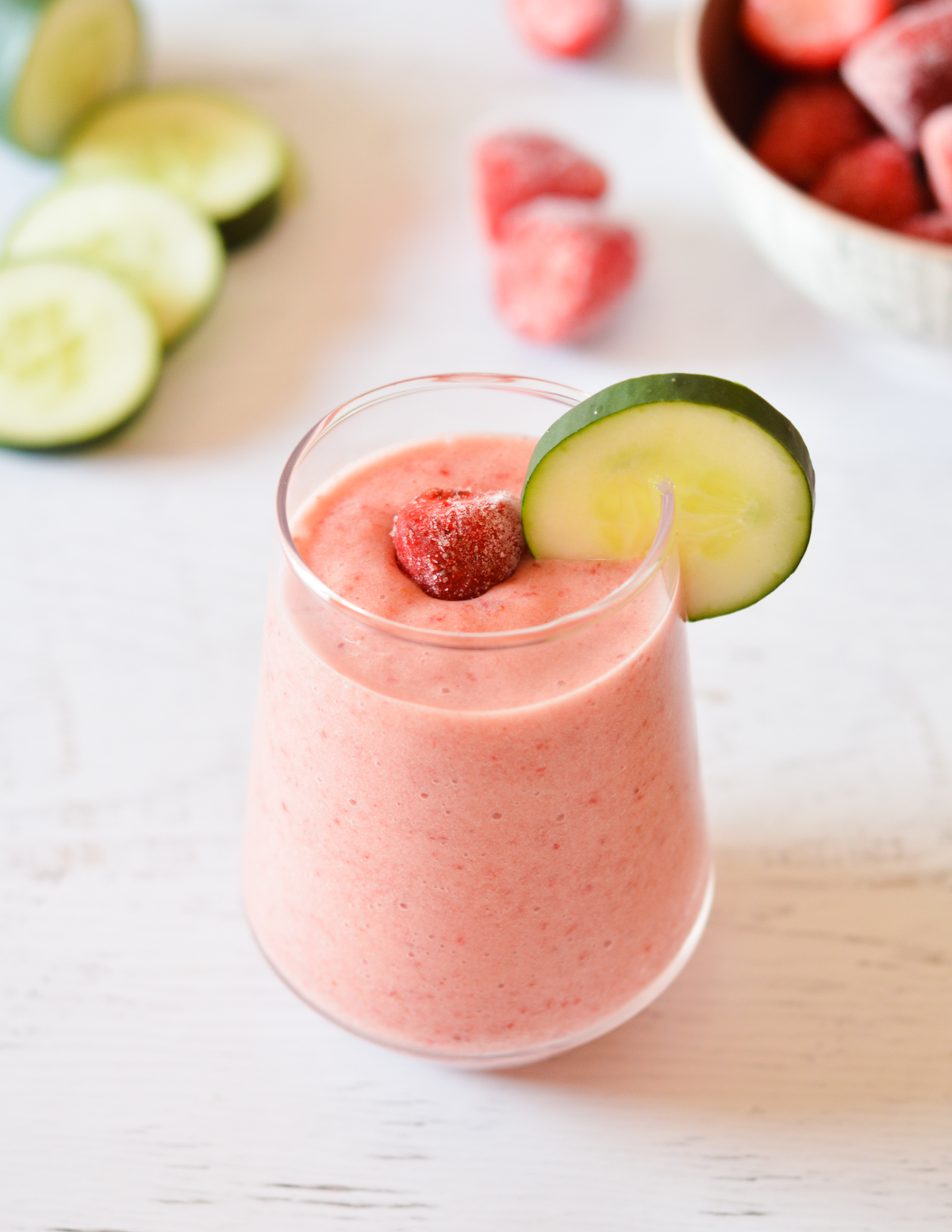 Tips for Weight Loss Smoothies:
Avoid added sugar like turbinado, sugar, maple syrup, fruit juice concentrate, canned fruit in syrup, or honey.
Instead, use fruit to naturally sweeten your smoothies. Bananas, mango, pineapple, apples, and berries are great options.
Add leafy greens whenever possible! Spinach is the best option if you don't want to taste it too much. Greens add tons of nutrients and antioxidants to a smoothie.
Add protein to smoothies to keep you full for longer. Nut butter, chia seeds, Greek yogurt, cottage cheese, oats, flax seeds, and protein powder are all good options.
Include fiber for a healthy gut and good digestion. Raspberries, avocado, oats, apples, almonds, and pears are all rich in fiber.
Avoid sugary liquid bases and opt for plant-based milk instead. Unsweetened almond milk is my favorite liquid base. Whenever I add juice, I always use juice that's not from concentrate and I add it in small quantities.
Flat Stomach Smoothies
Here's 15 smoothies to lose belly fat fast! They're full of nutrient-dense fruits, vegetables, seeds, nuts, and more.
1. Tropical Spinach Cucumber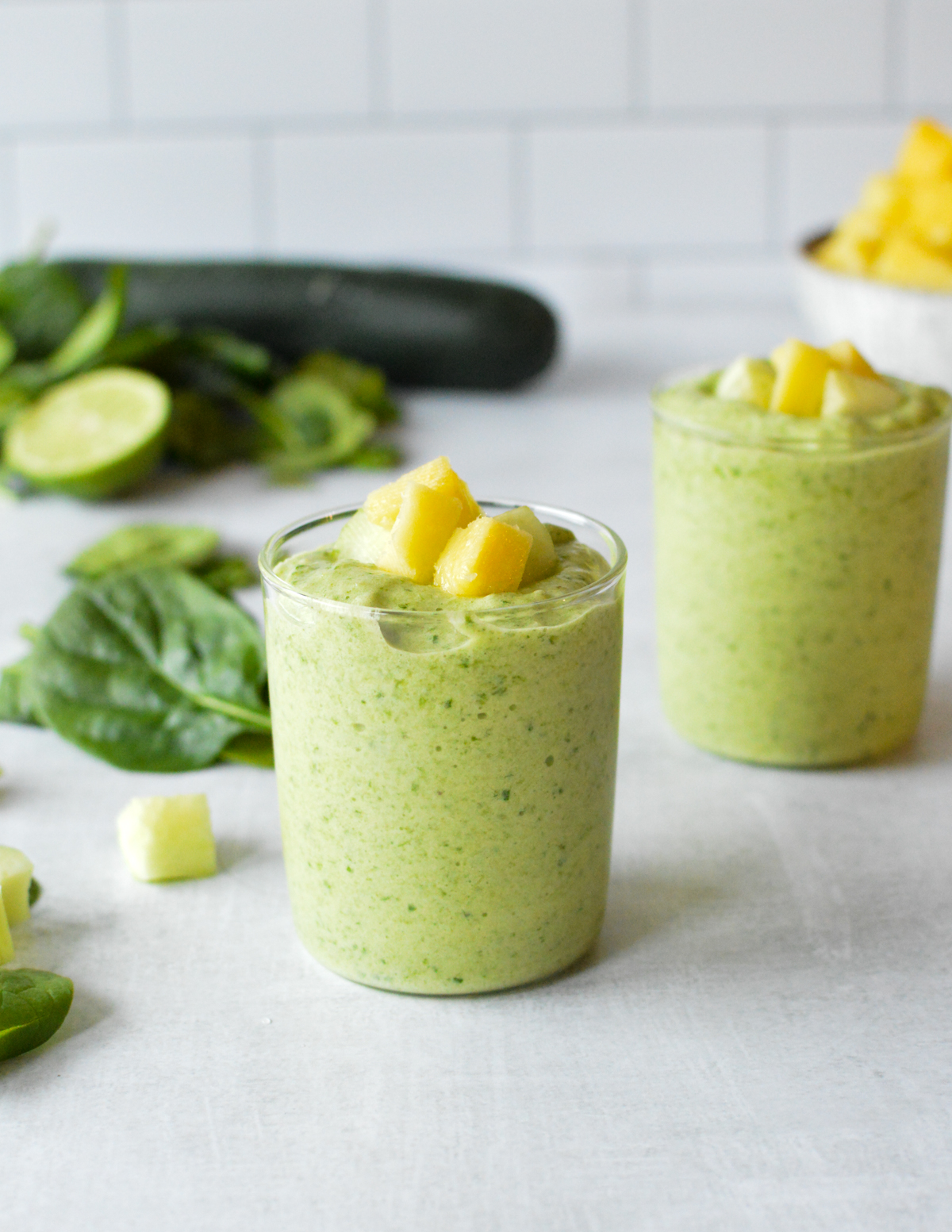 This tropical smoothie features sweet pineapple, hydrating cucumber, and nutrient-dense spinach! It's low calorie but packed with antioxidants, immune-boosting vitamin C, and plenty of fiber.
But just as importantly, if not more, this smoothie tastes so fresh and delicious! It's naturally sweet from the banana and pineapple, which means it needs no added or refined sugar to sweeten it up.
It's my favorite fat belly detox smoothie, which is why it's number one on this list.
2. High Fiber Smoothie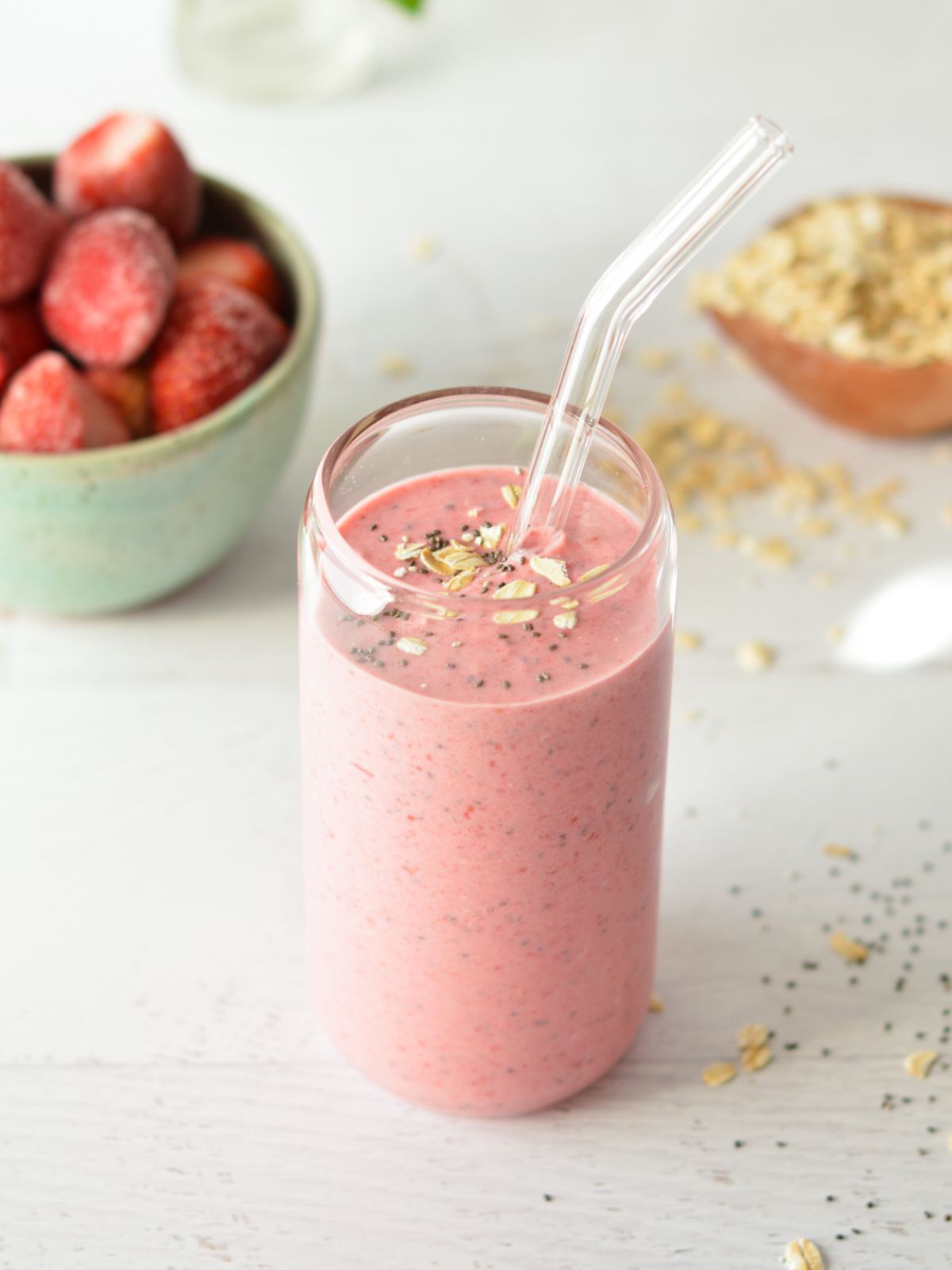 This is my second favorite weight loss smoothie and the one I most make often! Raspberries and strawberries give it a sweet-tart flavor, while oats and chia seeds add texture.
This well balanced smoothie has it all! It's full of whole grains, high-quality protein, whole grains, healthy fats, and essential vitamins.
This smoothie is great if you like a bit of oatey texture! I like to top it with more oats and cacao nibs for some extra crunch and antioxidants.
3. Pear Banana Protein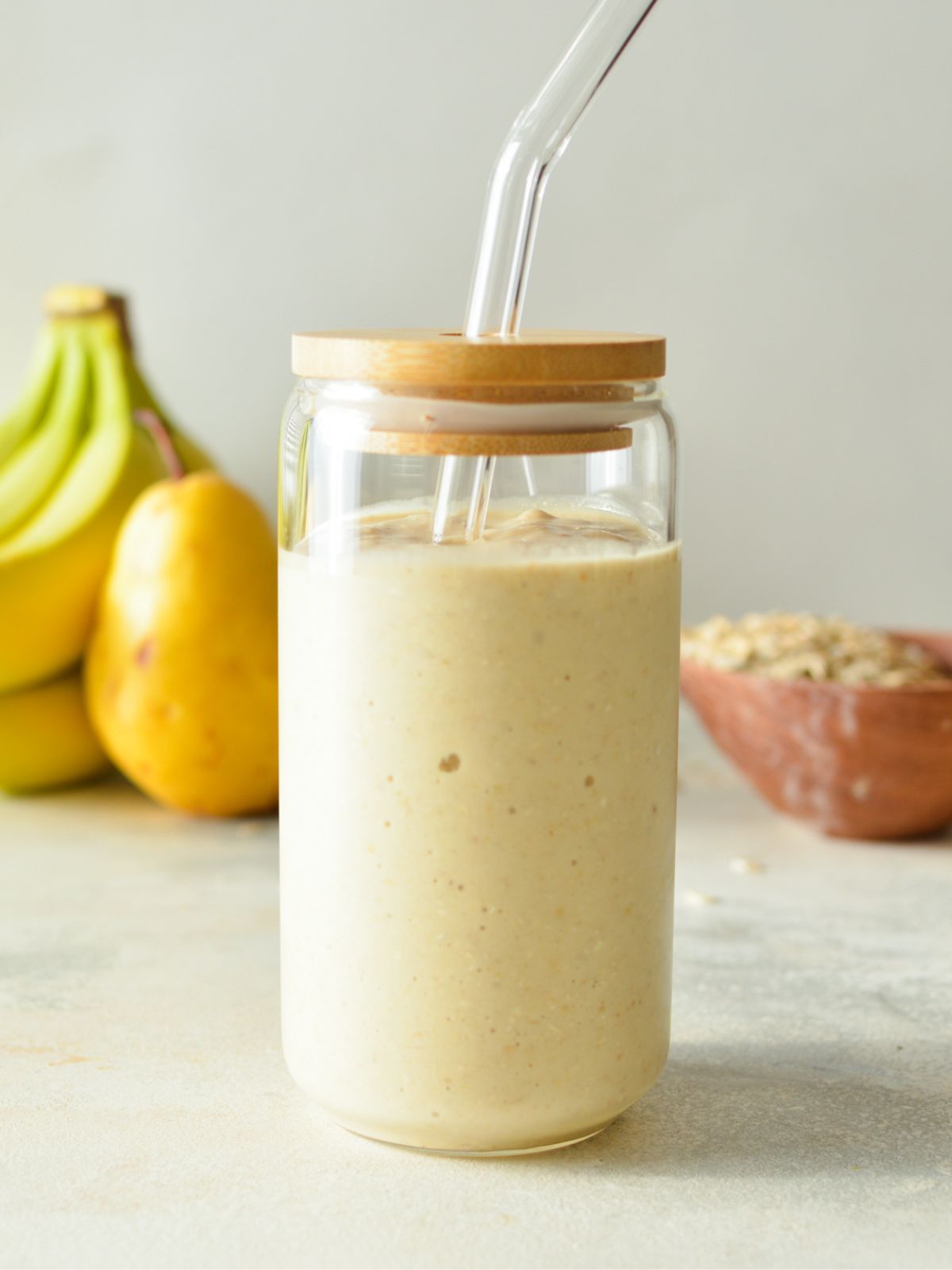 This pear banana smoothie makes a filling and sweet breakfast! It tastes like a vanilla pear milkshake, but it's healthy for you.
It packs in 33 grams of protein, 13 grams of fiber, and 6 grams of fat. Banana and vanilla protein powder sweeten it, while oats add texture and whole grains.
Just be sure to use a high-quality protein powder without additives and minimal added sugar!
4. Watermelon Smoothie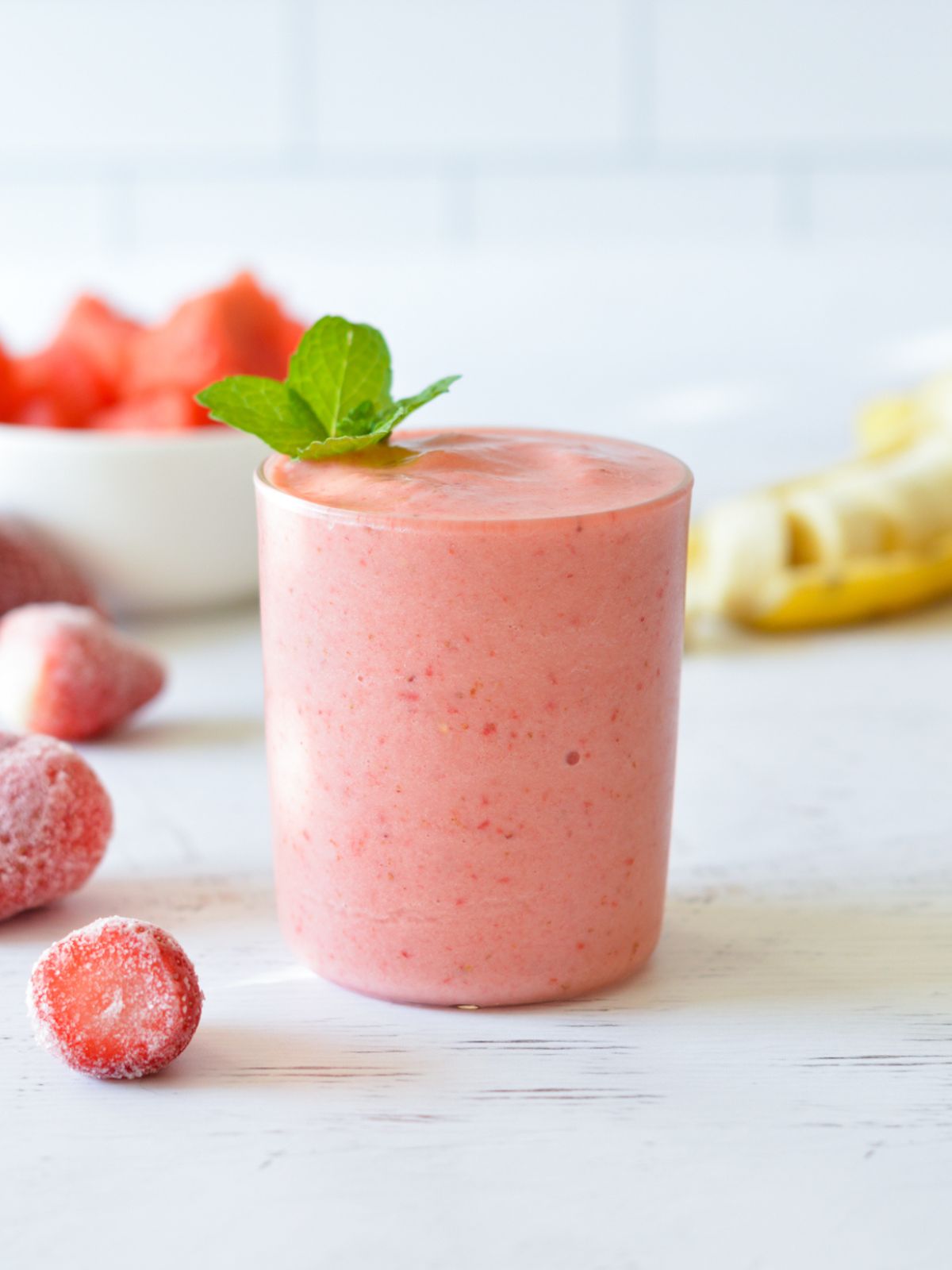 Come summer, I'm always looking for new ways to enjoy juicy peak-season watermelon! It makes a great addition to smoothies because it's super sweet and juicy, which means you don't need a liquid base.
This watermelon smoothie is a refreshing treat with healthy ingredients and no refined sugar! It features watermelon, strawberries, lime, banana, and Greek yogurt.
The Greek yogurt adds protein and gives it a creamy consistency. This one is perfect for summer!
5. Beet & Pomegranate Smoothie
Beets in a smoothie? Oh yeah! Not only are they rich in folate and other essential vitamins, but they give the smoothie a bright red hue.
This beet smoothie features tart raspberries, earthy beets, juicy pomegranate arils, and sweet apple! If you don't have a high-speed blender, go for cooked beets instead of raw ones.
6. Banana Avocado Smoothie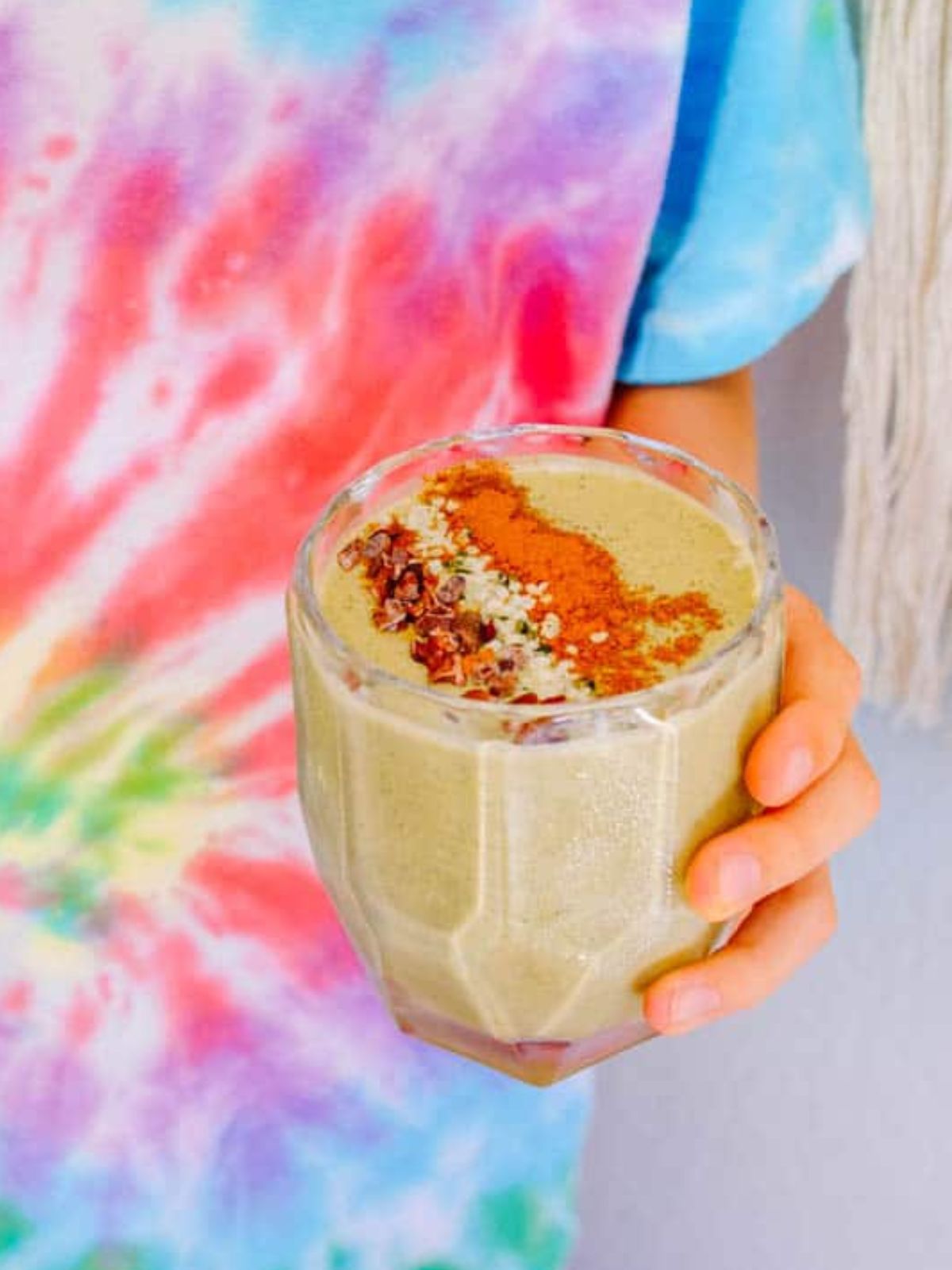 Avocadoes are rich in monounsaturated fat, specifically oleic acid, which has been linked to decreased inflammation and a lower risk of heart disease!
Since avocadoes are full of fat and fiber, they keep you feeling full longer which is good for weight management.
This banana avocado smoothie is a delicious way to add avocadoes to your smoothies. It has nutrient-dense spinach, almond butter, banana, and avocado in it, plus it tastes delicious!
7. Chunky Monkey Smoothie
This chunky monkey smoothie is so rich and creamy! It has 12 grams of plant-based protein from the peanut butter, but you could easily change it into a chunky monkey protein shake with a scoop of chocolate protein powder.
It's only four ingredients and super filling. It makes a good breakfast replacement.
8. Strawberry Protein Smoothie
This strawberry smoothie tastes like a creamy milkshake! It's made with a combo of Greek yogurt and vanilla protein powder which gives it 34+ grams of protein!
It's simple and easy to customize too! You can make it dairy-free, add a handful of greens, or add some chia seeds.
I like to make this smoothie when I want to indulge, but I don't want an unhealthy, sugary treat.
9. Spinach, Apple, and Kiwi Smoothie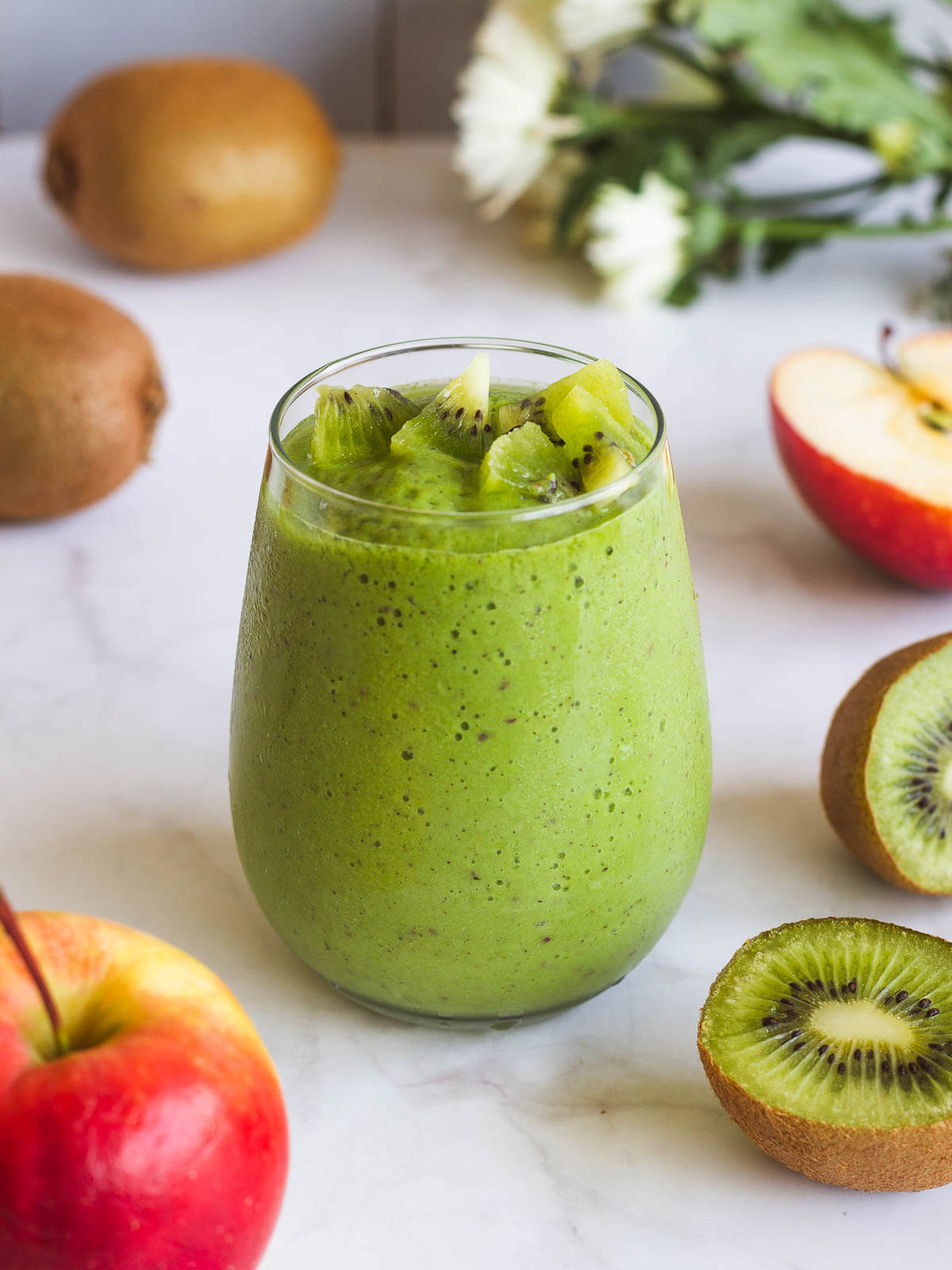 A green smoothie to write home about! This kiwi apple smoothie is refreshingly sweet and healthy too.
It's made with apple, kiwis, oat milk, spinach, and dates. Spinach is a nutrient powerhouse and it's full of essential vitamins, including vitamins A, C, and K. It's also rich in folic acid and iron.
It has a mild flavor and delicate leaves which lends itself well to smoothies. It blends easily and doesn't overpower any other flavors!
10. Strawberry Oatmeal Smoothie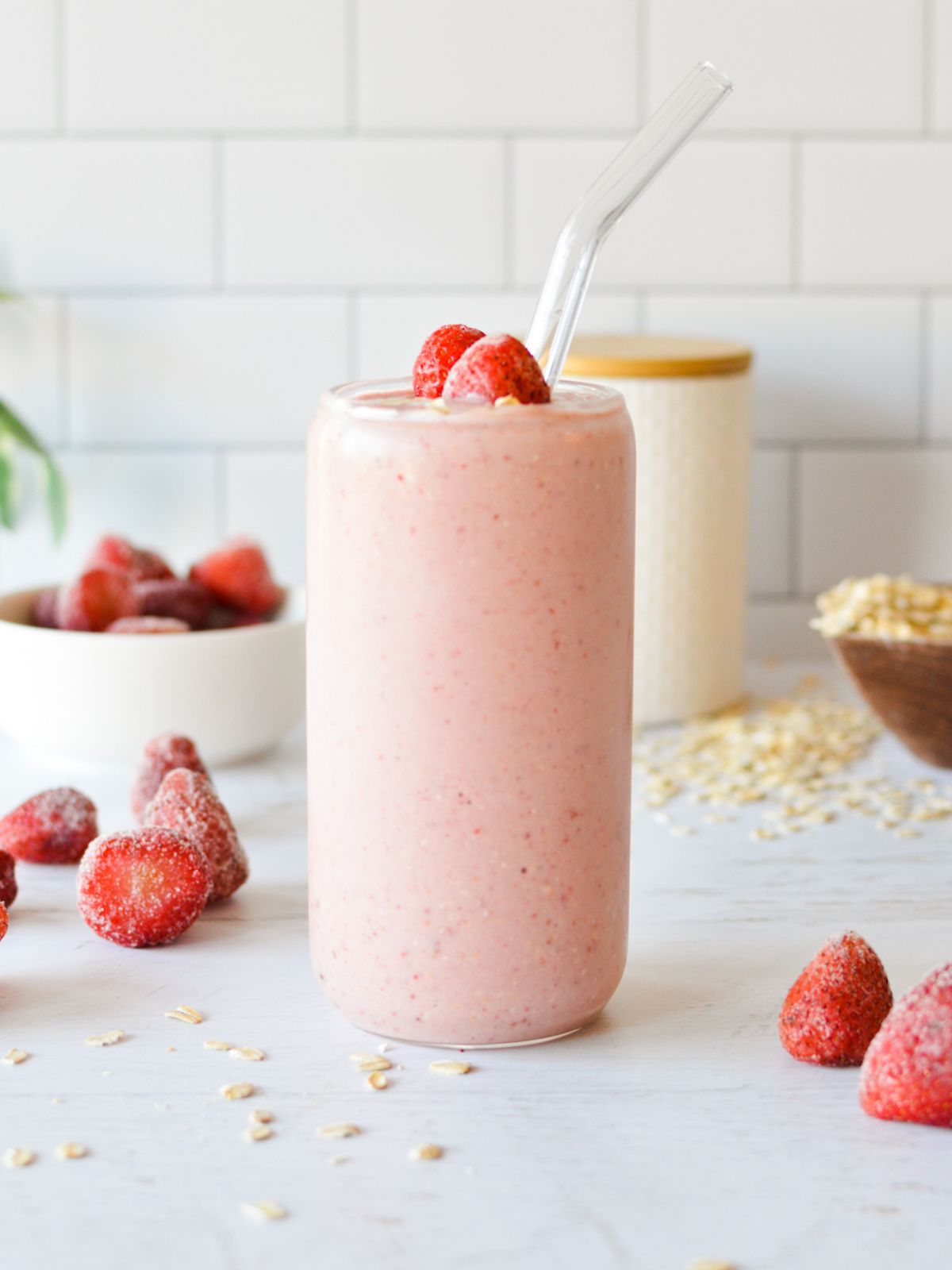 Oats are one of my favorite smoothie additions! They add a subtle oatey flavor and plenty of nutrients like soluble fiber, plant-based protein, and whole grains.
This strawberry oatmeal smoothie is sweet, creamy, and easy to customize. Strawberries are the star of the show, but oats add some texture. Greek yogurt makes it ultra creamy and gives it a boost of high-quality protein.
For even more protein, add a scoop of vanilla protein powder. One serving of this smoothie is only 179 calories!
11. Tropical Carrot Banana Smoothie
This tropical smoothie has a sunny orange hue and it's packed with beta-carotene from the carrots. Carrots are high in fiber and low in calories, which makes them great for smoothies!
If you have a high-speed blender, you can chop them and add them raw. If you don't, it's best to steam them first to achieve a smooth texture.
This nutritious smoothie features sweet pineapple, mango, carrots, and vanilla protein powder!
12. Healthy Gut Peanut Butter Smoothie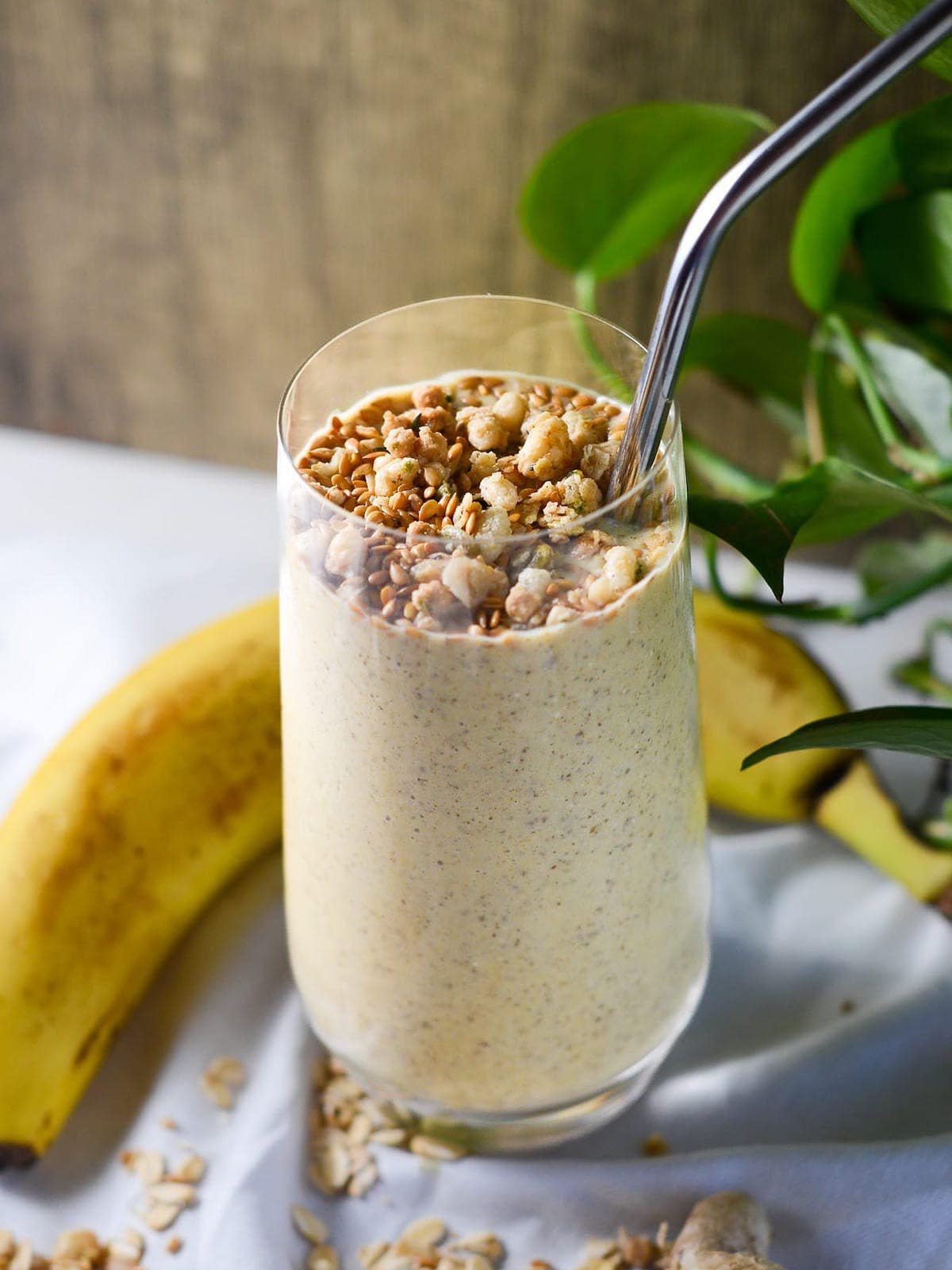 This gut health smoothie boasts oats, peanut butter, flaxseed, chia seeds, turmeric, and ginger! It's naturally sweet, but not overly so, with a creamy texture.
It's full of healthy fats with no added sugar and 23 grams of plant-based protein. It's vegan, dairy-free, and gluten-free, plus it's super filling.
13. Peach Green Smoothie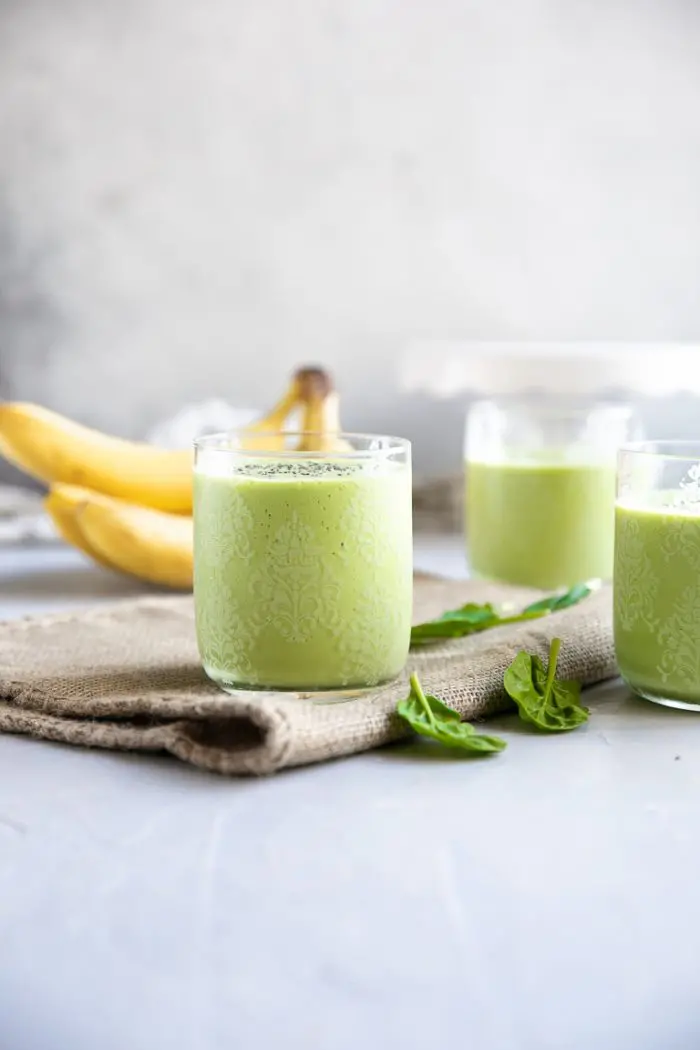 Green smoothies are super versatile, so I wanted to include more than one in this list! Spinach has a mild flavor that blends into the background of any smoothie you make.
This green smoothie is naturally sweet and refreshing with peaches, mango, banana, and yogurt. It calls for vanilla yogurt, but you can swap it with unsweetened Greek yogurt to avoid added sugars.
14. Peach Cobbler Smoothie
This smoothie is a perfect way to use all your peak-season peaches! Or if you're out of peach season, just use frozen peaches from the store.
It tastes like peach cobbler in a glass, only it's made with healthy ingredients like banana, oats, almond milk, and vanilla protein powder.
It's only 223 calories per serving, with 6 grams of protein and 7 grams of fiber! You could easily add more protein powder if desired.
15. Peanut Butter Avocado Chocolate Smoothie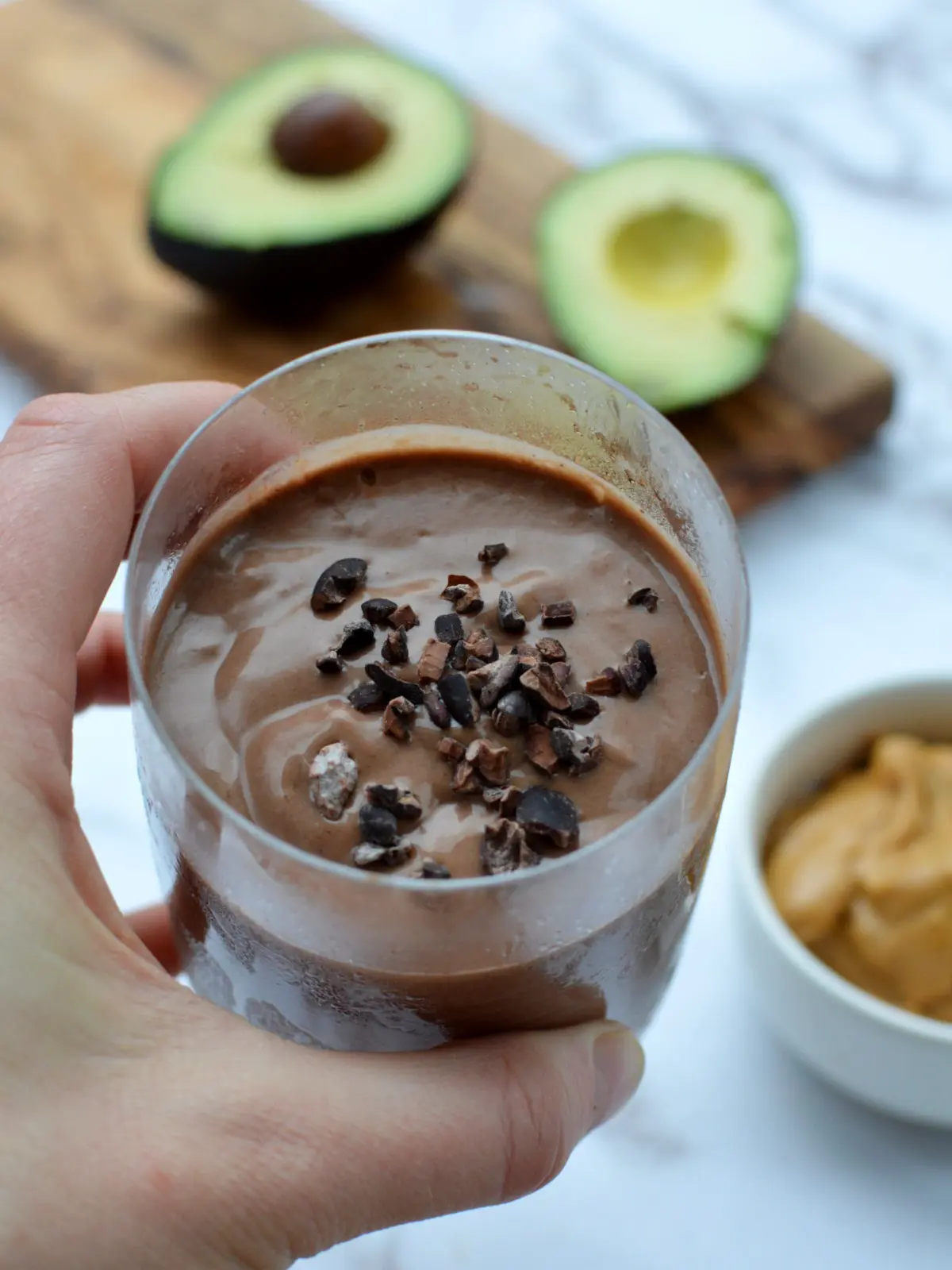 This indulgent chocolate smoothie is silky smooth and decadent! It's made with banana, avocado, peanut butter, cocoa powder, and cottage cheese for added creaminess and protein.
You could easily add a scoop of protein powder to this one too!
FAQs
What are the healthiest things to add to smoothies?
The healthiest ingredients to add to smoothies are plant-based whole foods with no additives or refined sugar. It's best to use a combination of ingredients that provide high-quality protein, fiber, and complex carbohydrates. Berries, leafy greens, nuts, oats, cucumber, avocado, chia seeds, pineapple, and nut butter all great options!
Which fruits burn belly fat?
There is no cure-all fruit that gives you a flat stomach right away. There are fruits that are packed with antioxidants, fiber, and nutrients that help promote weight loss though. Raspberries are high in flavonoids and fiber, plus low in calories! Apples, berries, oranges, and avocadoes are great options too!
Can you lose weight by just drinking smoothies?
While smoothies can help you lose weight, it really depends on a variety of factors. Weight loss is a long term habit that includes regular exercise, healthy eating, and a decrease in calorie consumption. Smoothies are a great way to consume antioxidants, fiber, and protein all in one drink.
What smoothies should I avoid when trying to lose weight?
Avoid smoothies that contain lots of added or refined sugar and unhealthy fats. Takeout smoothies often have added sugar, ice cream, fruit juice concentrate, or other added sugars in them. It's best to make smoothies at home so you can control what goes in them. Fill them with healthy fats (like nuts and avocadoes), leafy greens, frozen fruit, and other whole foods.
More Smoothie Recipes: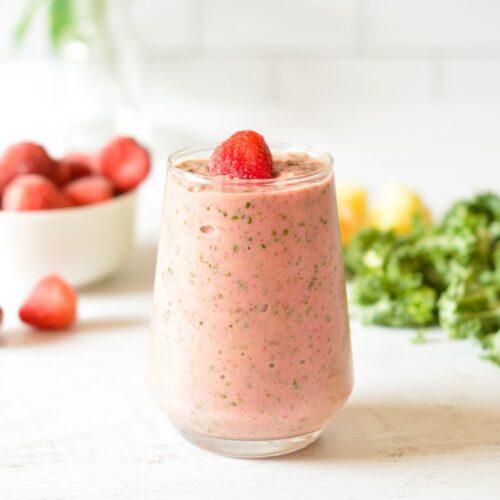 Flat Stomach Smoothie
This flat belly detox smoothie is packed with nutrient-dense spinach, strawberries, pineapple, almond butter, and almond milk! Nut butter adds protein and spinach adds antioxidants and fiber!
Ingredients
1

banana

peeled

1

cup

baby spinach

loosely packed

1

cup

frozen strawberries

1

cup

frozen pineapple

1

tablespoon

almond butter

⅔

cup

unsweetened almond milk
Instructions
In the pitcher of a high-speed blender, combine the banana, spinach, frozen strawberries, frozen pineapple, almond butter, and almond milk.

Blend until smooth and creamy. Adjust the consistency as needed. Add a splash more almond milk to thin it out and blend to incorporate.

Pour into a glass and enjoy immediately. Smoothies are best enjoyed cold and fresh.
Nutrition
Calories:
362
kcal
Carbohydrates:
64
g
Protein:
8
g
Fat:
12
g
Saturated Fat:
1
g
Polyunsaturated Fat:
4
g
Monounsaturated Fat:
6
g
Sodium:
246
mg
Potassium:
1110
mg
Fiber:
11
g
Sugar:
39
g
Vitamin A:
3002
IU
Vitamin C:
182
mg
Calcium:
336
mg
Iron:
3
mg