How to Add Raw Oats to Smoothies (with a recipe!)
Raw oats are a healthy and filling addition to smoothies! They add texture, a subtle oat flavor, and plenty of fiber and nutrients. Learn how to add oats to all your favorite smoothies in this ultimate guide.
Can you put raw oats in a smoothie?
Absolutely! Not only do oats taste delicious in smoothies, but they add soluble fiber, plant-based protein, and whole grains. Oats add a subtle oatmeal taste and pleasant texture to a smoothie and taste surprisingly good with all kinds of smoothies! If it tastes good with a bowl of oatmeal, it tastes good with oats in a smoothie.
But before you break out your blender, there are a few things you should consider. For example, there are at least 5 different types of oats. Which one is the best for smoothies? How much do I add? What ingredients go best with oats? Read on to find out the answers to all your oat-related questions!
What kind of oats are best for smoothies?
It seems obvious until you realize how many kinds of oats line the grocery store shelves. Old fashioned oats, quick-cooking oats, instant oats, Scottish oats, steel-cut oats, and oat groats, oh my! You have plenty of options. Here are the pros and cons of each.
Old Fashioned Oats:
My favorite addition for smoothies!
Also known as rolled oats, old fashioned oats are oat groats that have been steamed and flattened.
While they cook much quicker than steel cut oats, they take more time than quick-cooking oats. Why does that matter in a smoothie? It means they absorb liquid slowly which means they add a subtle texture and chew to smoothies without thickening it too much.
Since there's still bits of oats throughout the smoothie, you taste the flavor of the oats more than with quick-cooking oats.
Pros: They add texture, whole grains, antioxidants, and a subtle oatmeal flavor.
Cons: If you like a smooth texture, old fashioned oats won't achieve that!
Quick-Cooking Oats:
Quick oats or quick-cooking oats are rolled oats that have been cut into smaller pieces and rolled very thin. This means they absorb liquid quickly, cook faster than old fashioned oats, and have a mushier texture in oatmeal.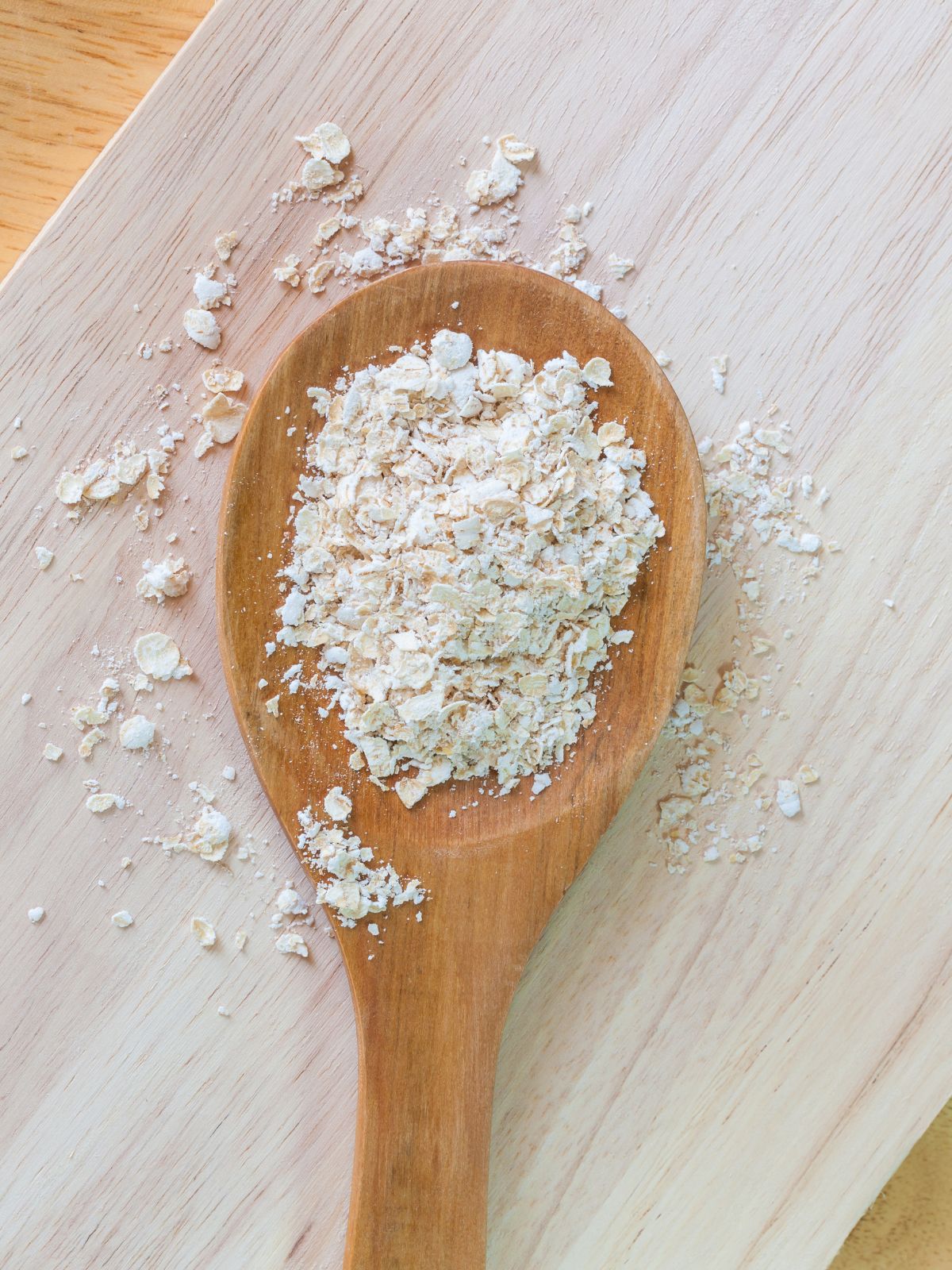 What does this mean for your morning smoothie? It means the oats won't add as much texture to the smoothie, but will thicken it.
Since the oat bits are smaller and less obvious, you won't notice the oat flavor as much. You may need slightly more liquid to compensate for the liquid absorption of the oats.
Pros: Less texture (if you like that).
Cons: Less oatmeal flavor and thickens the smoothie.
Instant Oats:
Technically instant oats is another term for quick oats. But for the sake of this article, when I refer to instant oats I mean the sweetened oatmeal packets you grew up on. They come in a ton of flavors, from apple cinnamon to peaches and cream.
I don't recommend adding instant oatmeal to smoothies. They are presweetened with added sugar that you don't really need in a smoothie. Smoothies are easy to naturally sweeten with bananas and fruit!
If you do want to add instant oatmeal, opt for brands with less added sugar. Also make sure to combine it with complementary fruits and ingredients so your smoothie doesn't taste gross!
Pros: Adds flavor and sweetness to your smoothie.
Cons: Too much and you've got a refined sugar bomb instead of a smoothie!
Steel Cut Oats:
Steel cut oats aren't rolled. Instead the oat groat is chopped into pieces with steel blades. Of all the varieties, steel-cut oats are processed the least which makes them slightly more nutritious. Steel cut oats contain slightly more fiber than the others.
Steel cut oats have a strong flavor, coarse texture, and absorb liquid very slowly. This means they don't soften at all when you blend them in a smoothie.
Technically, you can add them to smoothies, but I highly recommend rolled oats instead.
If you do want to use steel cut oats, a good way to soften them first is to soak them in liquid overnight. Drain the liquid out in the morning and add the oats to your smoothie.
Pros: Slightly more fiber than rolled oats.
Cons: Add too much texture and don't break down at all. Far too chewy.
How to add oats to smoothies:
It's so easy! Just throw the oats into the blender with the remaining ingredients and blend until thick and creamy.
If you like more texture, use old fashioned oats. If you like less texture, use quick-cooking oats.
If you plan to use old fashioned oats, you can soak them beforehand so they don't add as much texture, but the easier route is just swapping the old fashioned oats with quick oats.
If the smoothie is too thick from the oats, just add a splash more liquid to compensate.
How much oats to add to your smoothie
To start with, I recommend adding between 1/4 and 1/2 cup to a smoothie. If it's your first time adding oats to a smoothie, go with a 1/4 cup. It will give you a feel for how they taste without overpowering the smoothie.
If you really like it, increase the amount next time you make a smoothie. A half cup will give you a strong oatmeal taste without altering the texture too much.
Ingredients for Oatmeal Smoothies
Oats taste surprisingly good with plenty of fruits, nut butters, and greens! Here are a list of ingredients to help get you started and flavor pairings too!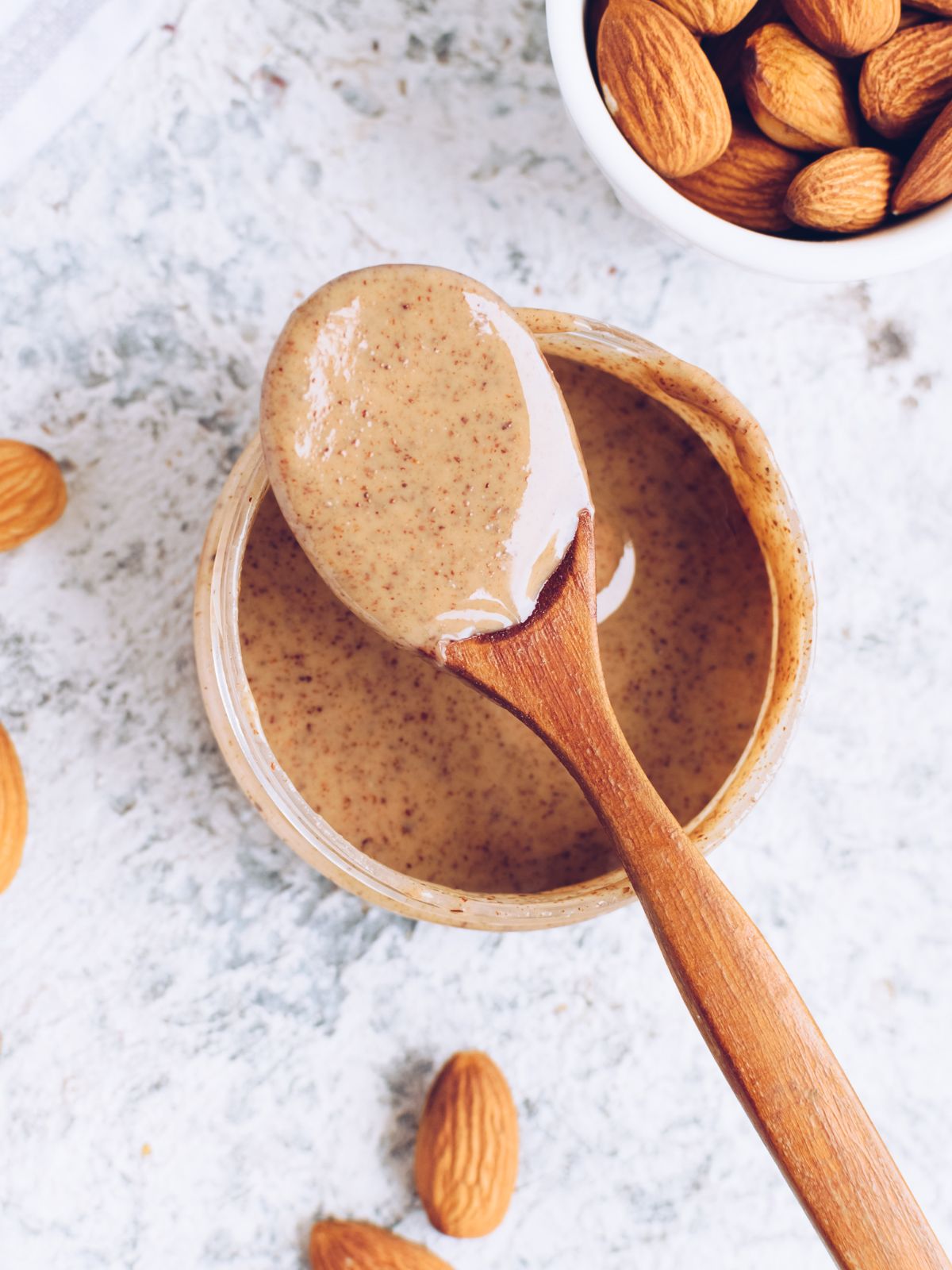 Nut butter – Almond butter, peanut butter, and cashew butter are great options!
Cocoa powder
Bananas
Berries – Try frozen strawberries, blueberries, or raspberries.
Fruit – Frozen peaches, pears, pineapple, and mangoes are good options.
Protein powder – Chocolate, vanilla, or any flavor you like!
Yogurt – Yogurt helps give you a creamier texture.
Oatmeal Smoothie Ideas
Frozen Banana + Peanut Butter + Oats + Milk of choice
Frozen Blueberries + Oats + Banana + Milk of choice
Frozen Strawberries + Oats + Yogurt + Milk of choice + Banana
Pear + Vanilla Protein + Frozen Banana + Oats + Milk of choice
Health Benefits of Raw Oats in Smoothies
Oats are a nutritious choice for smoothies and are jam-packed with health benefits, including but not limited to:
Oats are loaded with minerals. They're a good source of Manganese, Phosphorus, Magnesium, Copper, and Iron. Minerals are crucial for a healthy body including your bones, heart, and muscles.
They're rich in antioxidants. Antioxidants help prevent cell damage and thus fight certain cancers, inflammation, and diseases.
They're high in soluble fiber. Oats contain a decent amount of beta-glucan which can help reduces cholesterol levels and increase the good bacteria in your gut.
FAQs:
Do you have to cook oats before putting them into a smoothie?
There's no need to cook oats before you add them to smoothies! It's an unnecessary step that doesn't add any nutritional value. If you want to help increase nutrient absorption, you can soak the oats first. I prefer the texture of raw oats in smoothies.
How much raw oats can I put in a smoothie?
I recommend adding between 1/4 to 1/2 cup of raw oats to a smoothie. If you've never tried oats in a smoothie before, start with 1/4 cup. If you like the taste and texture, you can increase the amount next time.
What kind of oats should I put in my smoothie?
If you want to taste the oats and add a bit of texture, use old-fashioned oats. If you want a smoother blend with a subtle oat taste, use quick-cooking oats. Just remember, quick-cooking oats absorb more liquid, so you may need to compensate with a little extra milk or liquid.
Can I put raw oats in a smoothie?
Yes! Raw oats taste delicious in smoothies! They add fiber, plant-based quality protein, and whole grains. You don't need to cook them before you add them. Just throw them in the blender with the other ingredients and blend.
Crave-Worthy Smoothie Recipes: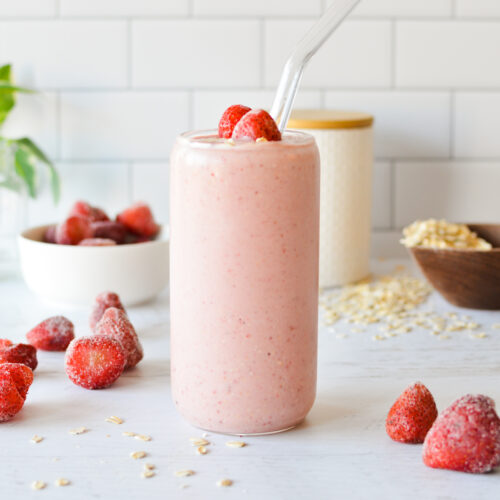 Strawberry Oatmeal Smoothie
A strawberry oatmeal smoothie makes a quick on-the-go breakfast or filling snack! Oats add texture and a subtle oatey flavor to this delicious strawberry smoothie.
Ingredients
1

banana

peeled

2

cups

frozen strawberries

⅓

cup

old fashioned oats

⅔

cup

almond milk

or milk of choice

⅓

cup

unsweetened Greek yogurt

or yogurt of choice
Instructions
In the base of a high-speed blender, combine banana, frozen strawberries, oats, milk, and yogurt.

Blend until thick, creamy, and pourable. If the smoothie is too thick, add a splash more milk and blend again. Pour into a glass (or two) and enjoy!
Nutrition
Calories:
179
kcal
Carbohydrates:
35
g
Protein:
7
g
Fat:
2
g
Saturated Fat:
0.3
g
Polyunsaturated Fat:
1
g
Monounsaturated Fat:
1
g
Cholesterol:
2
mg
Sodium:
96
mg
Potassium:
527
mg
Fiber:
6
g
Sugar:
16
g
Vitamin A:
56
IU
Vitamin C:
90
mg
Calcium:
145
mg
Iron:
1
mg