Steel Cut Oats in Smoothies: The Ultimate Guide
You can add steel cut oats to smoothies, but it's not as simple as dumping them into the blender. Steel cut oats are tough and chewy, which means they need a little TLC first.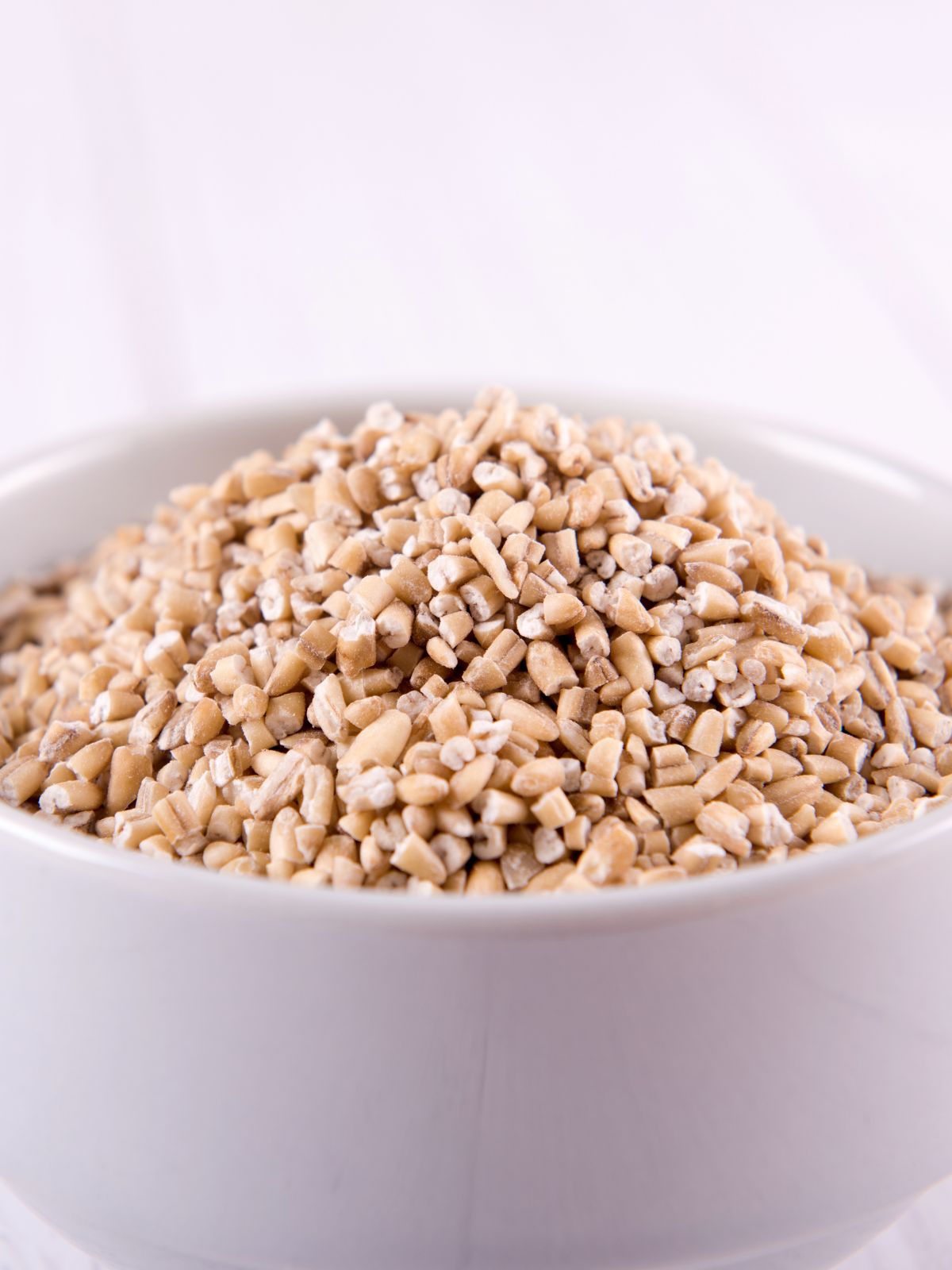 Technically yes, steel cut oats can be used in smoothies, however I highly recommend rolled oats instead! They are almost equally as nutritious and rolled oats taste better and need no prep.
That being said, if you're bound and determined to add steel cut oats to smoothies, I've tried all the methods for you! Here's what you need to know:
What are steel cut oats?
You may have noticed the wealth of oat-related options lining the grocery store shelves. Rolled, instant, quick, Scottish, steel-cut, the list goes on! For the sake of this article we are going to focus mainly on steel cut oats.
All oat varieties start from whole oat groats that have been roasted. Steel cut oats are oat groats that have been chopped into pieces with steel blades (hence the name!). Instead of looking flat and flaky, they look like small pieces of rice or grains.
Since steel cut oats are minimally processed, they take the longest to cook and have the chewiest texture. They don't absorb as much moisture as rolled or quick-cooking oats.
What do steel cut oats taste like?
Steel cut oats have a strong, robust flavor compared to other oat varieties. They have an earthy nutty flavor and a distinctly chewy texture. Rolled oats are steamed and flattened, which gives them a softer texture and mild flavor.
The best way to know if you like them is to try them! Make a bowl of cooked steel cut oats and see what you think. The longer you cook them, the softer and creamier they will be.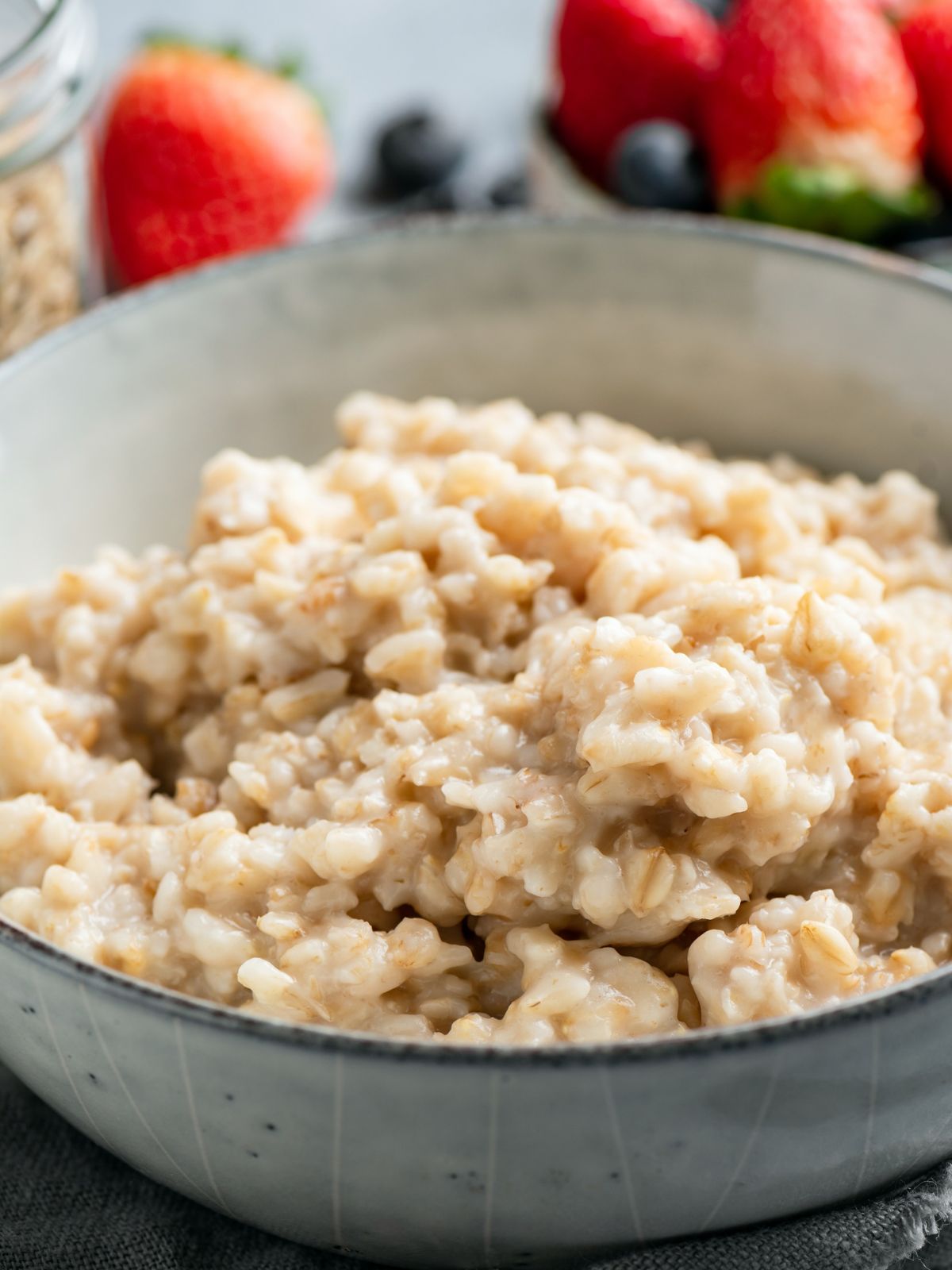 Can I use steel cut oats in smoothies?
Yes, you can! But if I'm being honest, they aren't my favorite addition. They add too much texture, get stuck in your teeth, and overwhelm the flavor of the smoothie.
However, I am one person and we all have different taste buds! If you want to try it out, here are the differing methods and the pros and cons of each. I've included a smoothie recipe at the bottom of this post to get you started.
If you want to skip steel cut oats, try out this strawberry oatmeal smoothie with rolled oats!
Ways to Add Steel Cut Oats to Smoothies:
Here are four ways to add steel cut oats to your smoothie. I highly recommend soaking, grinding, or cooking the oats before you add them to a smoothie. Raw steel cut oats don't taste great in a smoothie.
Add them raw: My least favorite option
It had to be done! I had to try them raw just to see. The results? Less than tempting! Tough bits of oats consumed the taste of the otherwise delicious smoothie. They were borderline crunchy and got stuck in my teeth.
I don't recommend this method!
Soak them first: In my opinion, the best option
While soaking them for 12 hours first helped a ton, I still found the texture far too gritty. If you don't want to use rolled oats, this is a good option to soften the raw taste and extremely chewy texture. But it's far from smooth with plenty of texture!
It didn't take much extra work either, just a little forethought. Cover the oats in milk or water and refrigerate overnight. Drain the oats before you add them to your smoothie.
Grind them first: Worked okay, but not great.
You can grind the oats into oat flour first. The problem with this method is twofold:
If you don't grind enough oats, they won't gain traction in the food processor or blend finely.
They take a while to grind into flour! If you don't have a high-speed blender or food processor, they may not grind well at all.
The work seemed unnecessary and not worth the end result, which is a smoothie with slightly more fiber than one with rolled oats.
Cook them first: My second favorite method
Another option is to cook the steel cut oats first. This method is time consuming, because it can take up to 30 minutes to cook them, then you have to let them cool down.
If you do it ahead of time, I suppose it wouldn't be too much extra work. However, the texture is okay but slightly different than the first three. It's not as gritty but it tastes like you have cooked oatmeal in your smoothie. I didn't mind it, but this is a preference thing!
How much should I add?
It's best to start out with less to see how you like the taste and texture. Start with two tablespoons in your first oatmeal smoothie. If you like the gritty texture, you can up the amount to 1/4 cup.
The strawberry smoothie below serves two small smoothies so it has 1/4 cup. You can defenitely lessen the amount to start if you like.
Health Benefits of Steel Cut Oats
Steel cut oats are a nutritious addition to smoothies! I will say that all types of oats are healthy and great options for your morning smoothie. My favorite are old fashioned oats. They have just the right amount of texture and subtle oatey flavor!
Full of high-quality protein! A quarter cup of steel cut oats contains 5 grams of plant-based protein.
A good source of vitamins and minerals, including vitamin E, iron, folate, zinc, and selenium. Vitamins help your body work efficiently!
Promote a healthy gut! The fiber in steel cut oats promote a healthy digestive tract and good bacteria.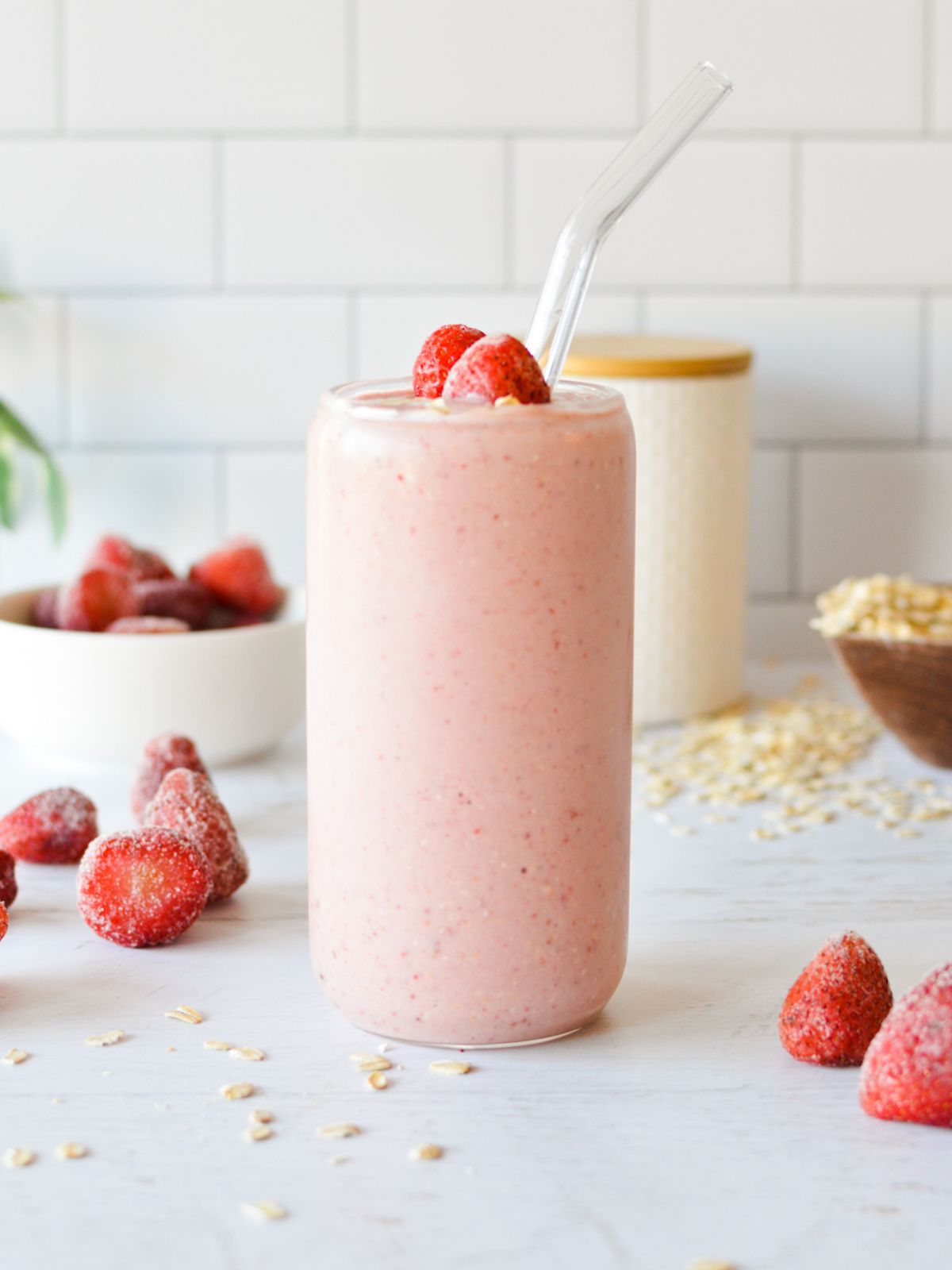 FAQs:
Can you put raw steel cut oats in a smoothie?
Yes, you can put raw steel cut oats in a smoothie. However, just because you can doesn't mean you should. Raw steel cut oats have a strong flavor and gritty texture that overwhelms the flavors in a smoothie. I highly recommend using rolled oats, or soaking the steel cut oats overnight first.
Are steel cut oats better for smoothies?
No, rolled oats are virtually just as nutritious and they blend much better in your smoothie. They provide a subtle oat flavor without tasting off-putting or taking over the taste of the smoothie.
More Smoothie Recipes:
Strawberry Smoothie with Steel Cut Oats
This sweet and filling strawberry smoothie makes a nutritious on-the-go breakfast or snack. Strawberries and banana naturally sweeten it and steel cut oats add texture and plenty of fiber.
Ingredients
1

banana

2

cups

strawberries

¼

cup

steel cut oats

soaked in water for at least 12 hours, then drained

⅔

cup

almond milk

or milk of choice

⅓

cup

unsweetened Greek yogurt
Instructions
In the base of a high-speed blender, combine all the ingredients and blend until thick and smooth.

If necessary, dd a splash of almond milk to thin it out and blend again. Pour into glasses and enjoy!
Nutrition
Calories:
234
kcal
Carbohydrates:
44
g
Protein:
10
g
Fat:
4
g
Saturated Fat:
0.4
g
Polyunsaturated Fat:
1
g
Monounsaturated Fat:
1
g
Cholesterol:
2
mg
Sodium:
122
mg
Potassium:
479
mg
Fiber:
8
g
Sugar:
15
g
Vitamin A:
56
IU
Vitamin C:
90
mg
Calcium:
176
mg
Iron:
2
mg