21 Best Ninja Blender Smoothie Recipes
If you picked up a Ninja blender and you're dying to give it a spin, these 25 ninja blender recipes won't disappoint! All of these smoothies are irresistibly good, healthy, and super simple.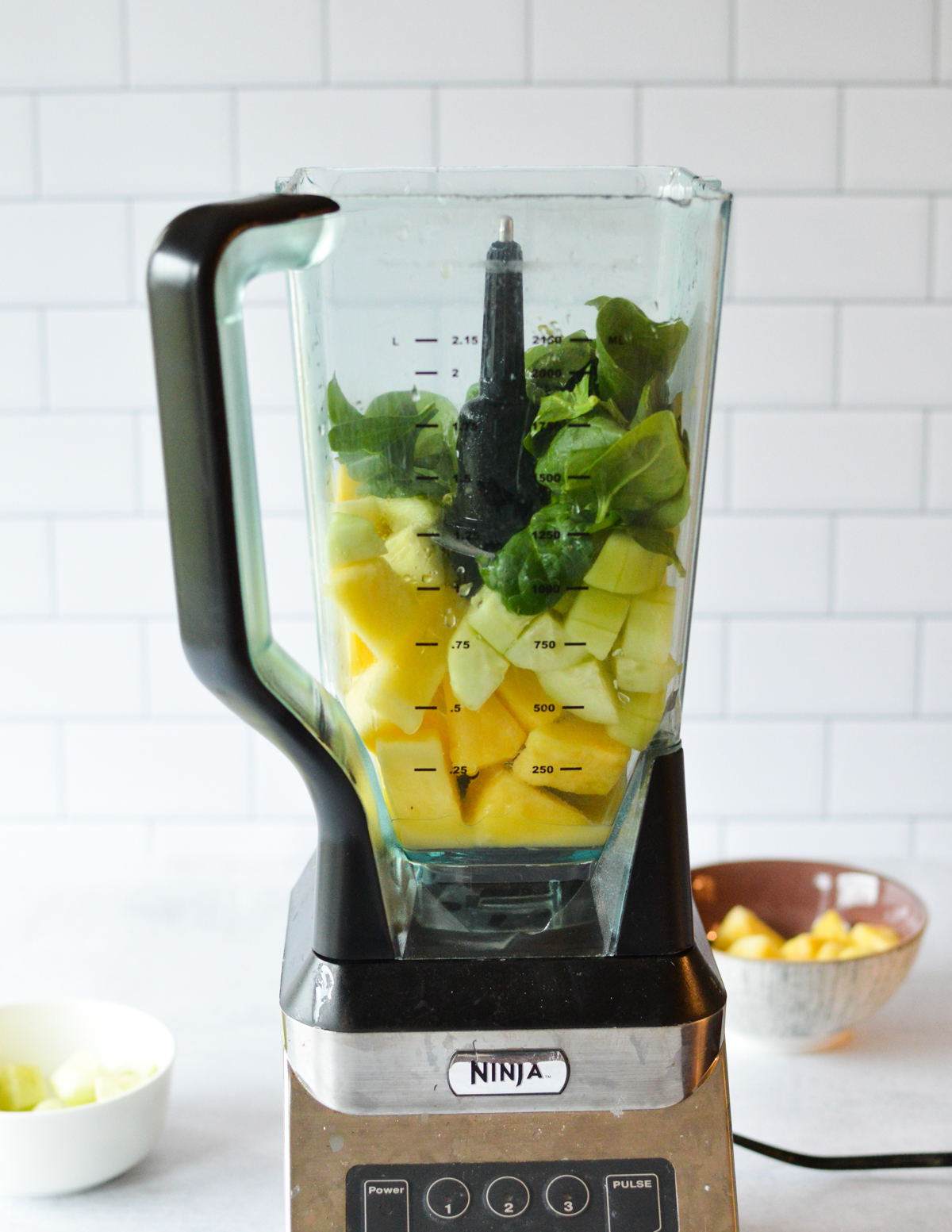 I LOVE my Ninja blender! It's lasted for 6 plus years with minimal issues. A few years in, the pitcher cracked and they sent us a new one. I have no complaints!
And compared to other high-powered blenders on the market, it's a steal. If you can't afford a Vitamix, I highly recommend a Ninja. We use it daily (if not twice daily) for our smoothie habit.
It does a great job at blitzing frozen fruit into a silky smooth blend, which is crucial for green smoothies and smoothie bowls.
If you just bought one or plan to soon, these Ninja blender recipes are a great place to start. All these smoothies are sweet, refreshing, and nutritious.
If you don't have a Ninja, don't worry! These smoothie recipes taste great in any high-speed blender.
Ninja Smoothie Recipes
1. Strawberry Banana Smoothie
There's nothing like the classics! This strawberry banana smoothie is only three ingredients and it's refreshing and full of strawberry flavor.
It's refined-sugar-free and packed with vitamin C and antioxidants. This is one of my kid's favorite smoothies (and we make a lot!). You only need water for the liquid base, but you can use milk or plant based milk if you like.
2. Tropical Spinach Cucumber Smoothie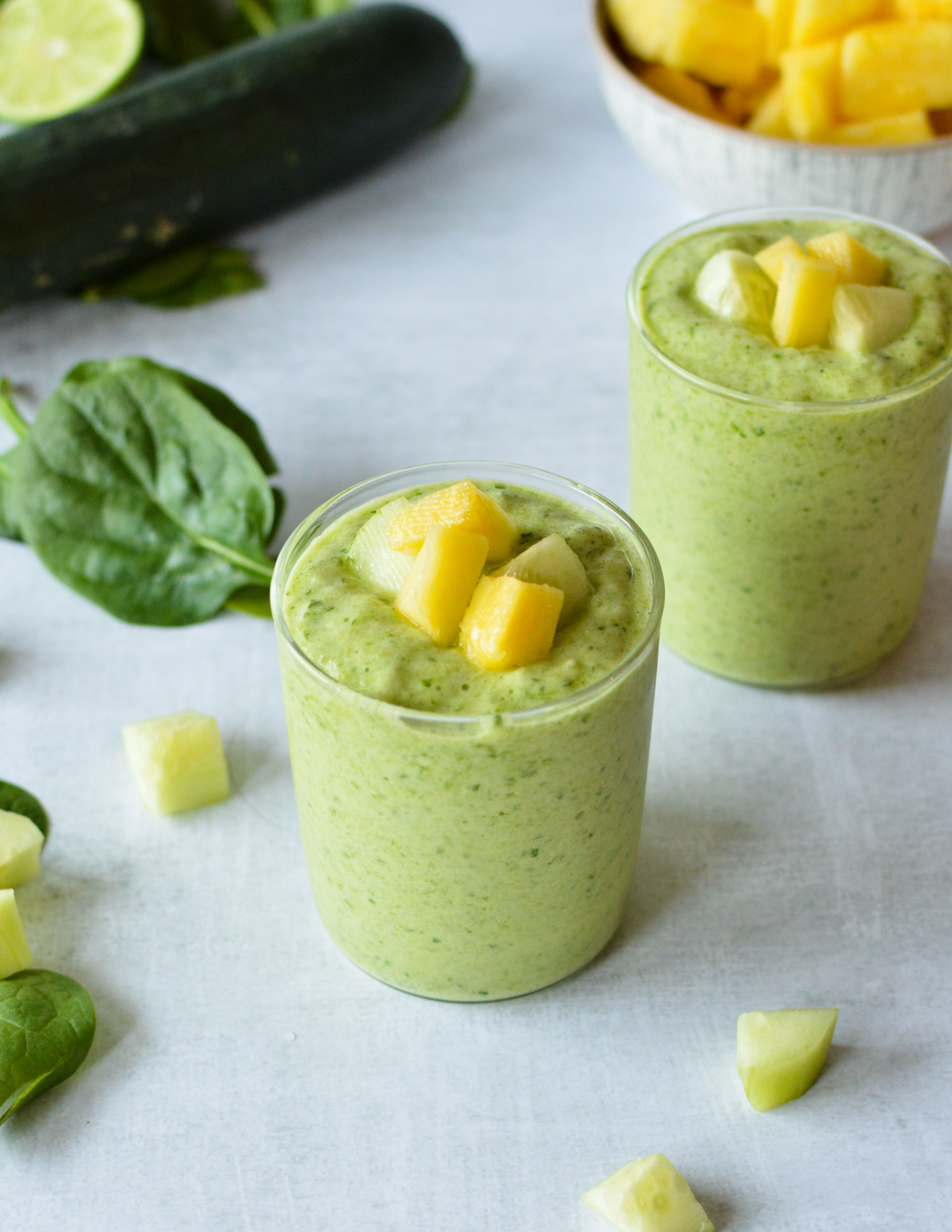 Cucumber in a smoothie?! Oh yeah! And it's so crisp, subtly sweet, and cucumber-y. The flavors of this green smoothie are spot on. Pineapple, cucumber, spinach, and lime taste great together.
And thanks to the Ninja blender's powerful motor, it comes out creamy and smooth!
3. Mixed Berry Smoothie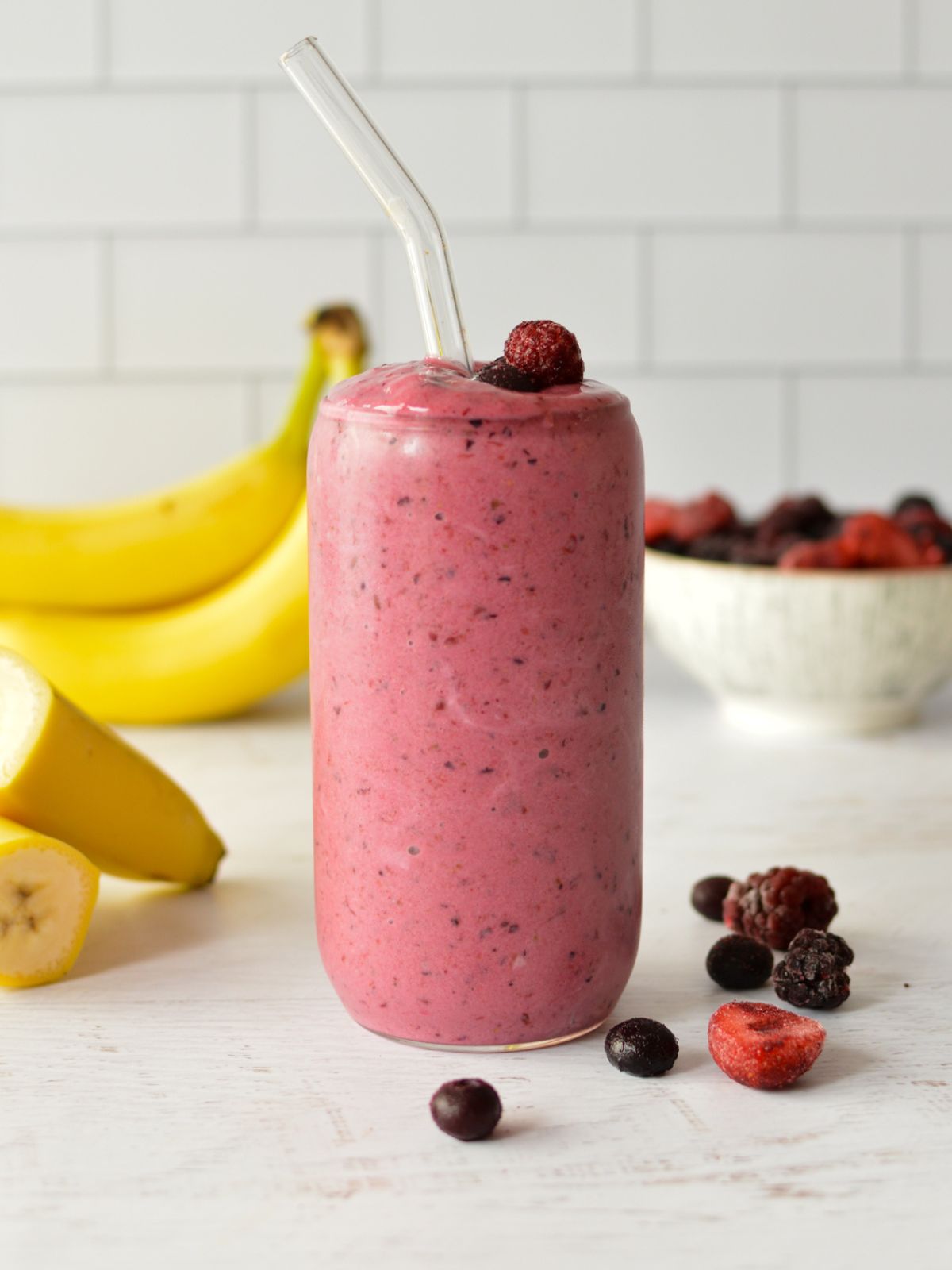 Mixed berries are so versatile and nutrient-dense. They're packed with disease-fighting antioxidants and plant compounds. This mixed berry smoothie is simple and delicious, plus it includes 3 variations.
4. High Calorie Chocolate Smoothie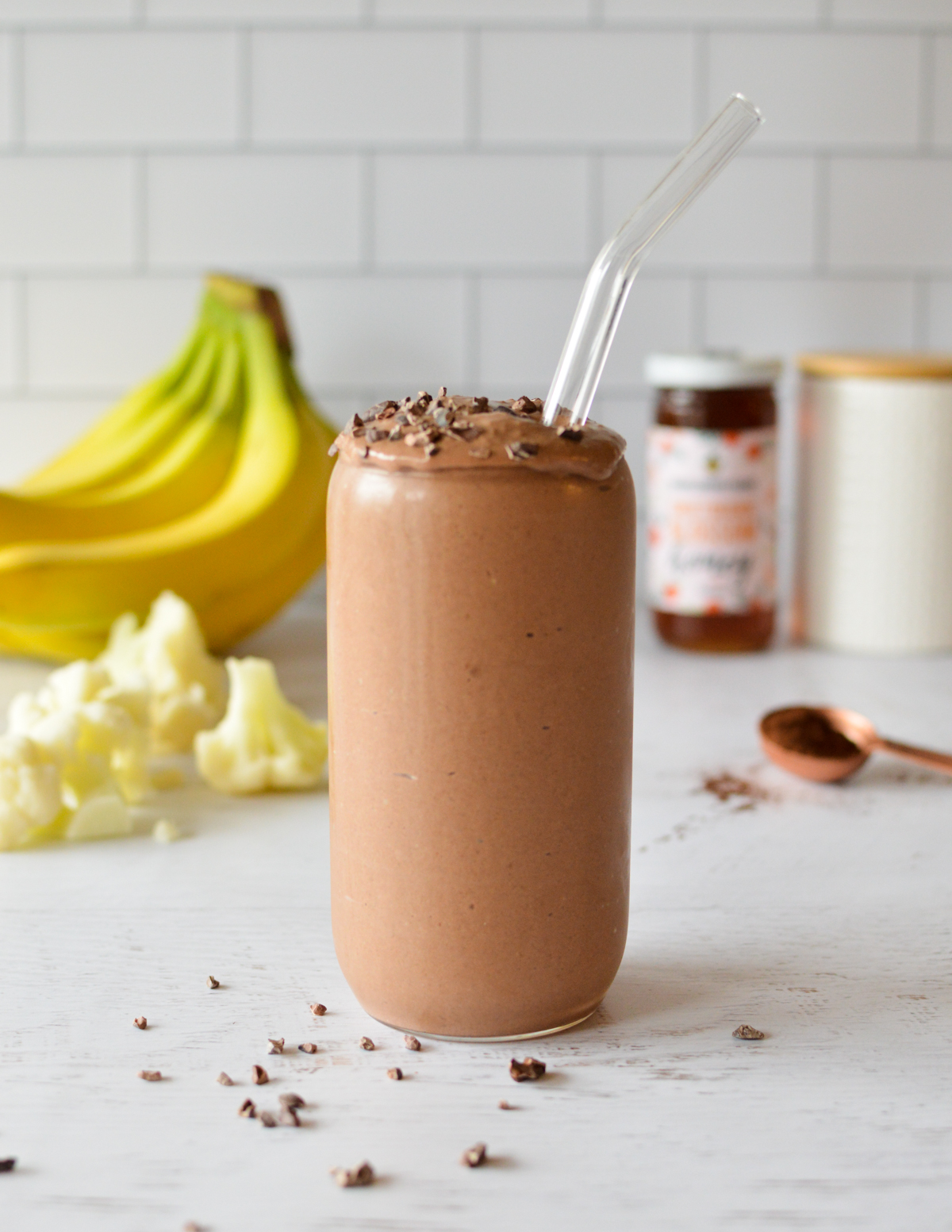 This chocolate smoothie is luscious, creamy, and healthy too! It packs in a whopping 1000 calories and 39 grams of protein into one regular-sized portion. It tastes like a treat but it's made with healthy ingredients like banana, peanut butter, and coconut milk.
I love using frozen bananas in chocolate and peanut butter smoothies! My ninja blends them up into a super smooth consistency. And this smoothie is heavenly!
5. Pineapple Mango Smoothie
Pineapple and mango belong together! This smoothie is super simple, with just four basic ingredients: pineapple, mango, milk and Greek yogurt.
It's easy to customize! If you want to make it dairy-free or vegan, just swap the milk with plant-based milk and the yogurt with a vegan brand.
6. Chunky Monkey Smoothie
This Chunky Monkey Smoothie will give you an energy boost in the most delicious way. It's like having a decadent dessert for breakfast. I can get on board with that.
It's ultra creamy from the frozen bananas, intensely chocolatey, and nutritious too! It requires five ingredients and whips up in minutes. Plus it's refined-sugar-free. The frozen bananas add all the sweetness.
7. Pineapple Smoothie
If pineapple is your jam, this smoothie is for you! This smoothie is all about pineapple and it makes you feel like you just landed in sunny Tahiti. It's made with pineapple juice, banana, frozen pineapple, and Greek yogurt.
For a true island-vacation feel, garnish with fresh pineapple wedges and colorful paper straws. This one's perfect for summer!!
8. Creamy Strawberry Smoothie Bowl
The Ninja blender is great for smoothie bowls. Smoothie bowls call for less liquid so they achieve a thick sorbet texture! This strawberry smoothie bowl is super dreamy and only 4 ingredients.
It's refined-sugar-free, nut-free, dairy-free, and gluten-free, BUT it's super delicious! All you need are frozen bananas, frozen strawberries, plant-based milk, and chia seeds.
Top with granola, fresh fruit, cacao nibs, or crushed nuts. Yum!
9. Mango Peach Green Smoothie
Green smoothies are a great way to pack in nutrients. And since spinach has a subtle flavor and tender leaves, it blends up smooth and doesn't overpower the fruit. There's a million and one ways to make a delicious green smoothie!
This version combines sweet mango, peaches, and banana with spinach and Greek yogurt. The results are naturally sweet and refreshing. Even my kiddos love it!
10. Strawberry Oatmeal Smoothie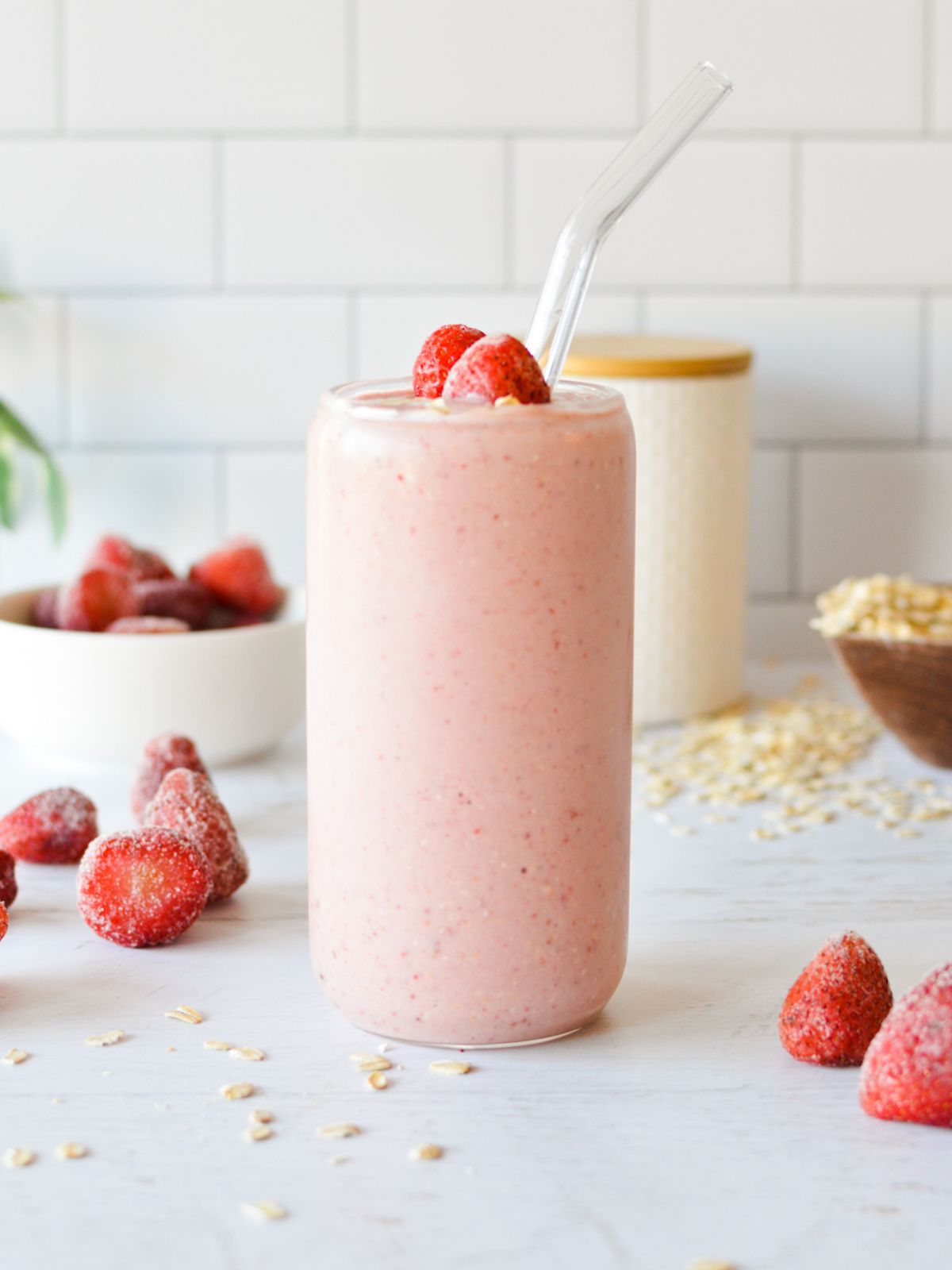 Rolled oats provide whole grains, soluble fiber, and plant-based protein! They're a nutritious addition to smoothies and they taste great too. I love the slight chew and subtle oatiness they give.
This strawberry oatmeal smoothie is my fave, but I haven't found a smoothie I don't like with oats in it. Add 1/3 cup to any smoothie recipe you like!
11. Cherry Mango Carrot Smoothie
Raw carrots are surprisingly sweet and taste delicious with cherries and mango! It is crucial you have a high-powered blender like a Ninja or Vitamix to make a smoothie with carrots. Otherwise they won't blend up smooth!
If you have a cheap blender from the 90's, don't worry! Just steam the carrots until tender and let them cool down, then follow the recipe as directed.
12. Kale Pineapple Smoothie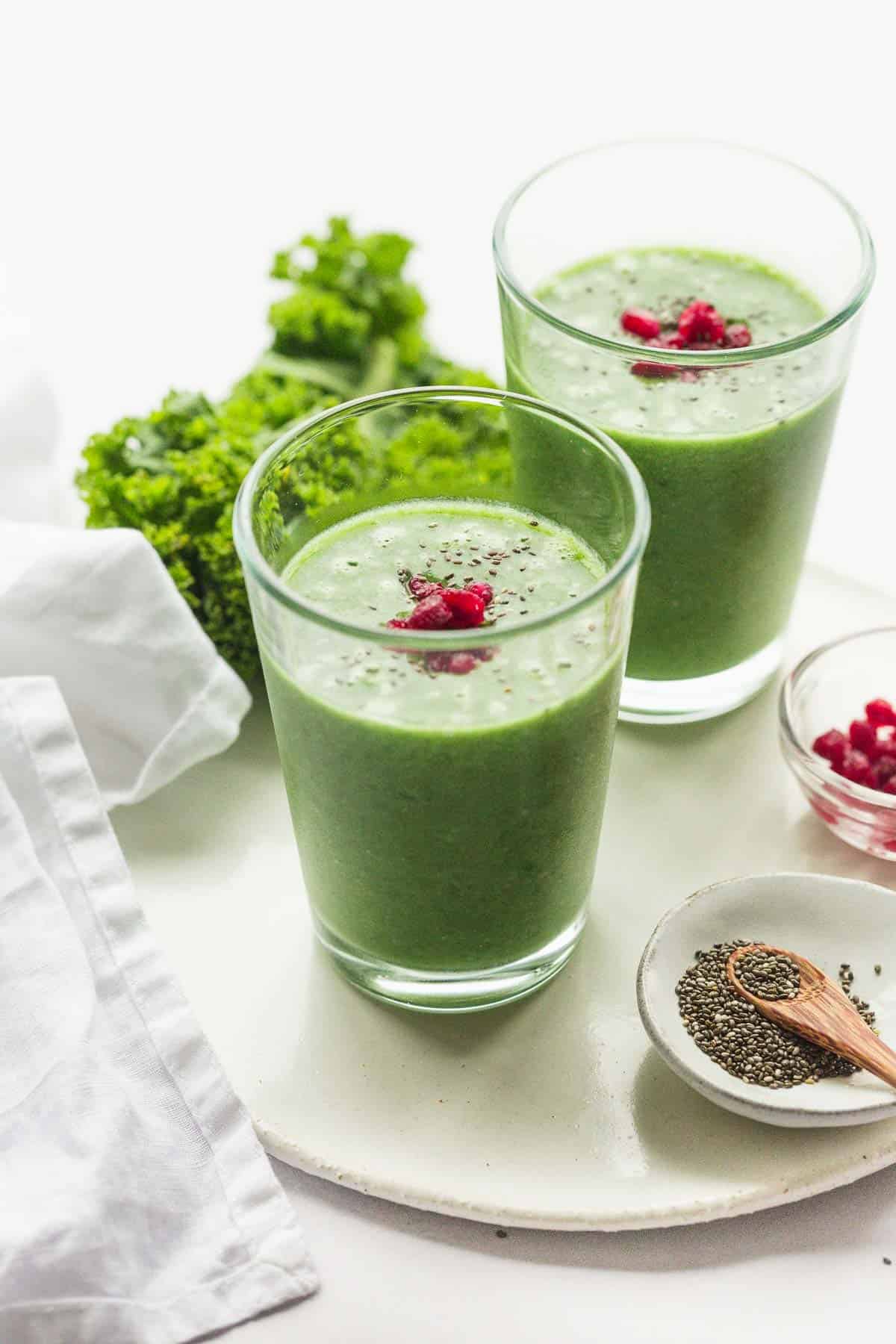 Kale is great in smoothies too, but has a stronger flavor and thicker leaves than spinach. This is why it pairs so well with sweet tropical flavors like pineapple and bananas!
This smoothie has a vibrant green hue and refreshingly sweet taste. It's a nutritious way to kickstart the day.
13. Watermelon Banana Smoothie
Watermelon is naturally sweet and juicy! It's made up of 92 percent water which means its hydrating and super refreshing. It doubles in a smoothie as a liquid base and a natural sweetener.
This watermelon banana smoothie is perfect for the summer months! I like to use frozen banana for a thick but pourable texture. It's only three ingredients and comes together in a snap.
14. Pineapple Raspberry Smoothie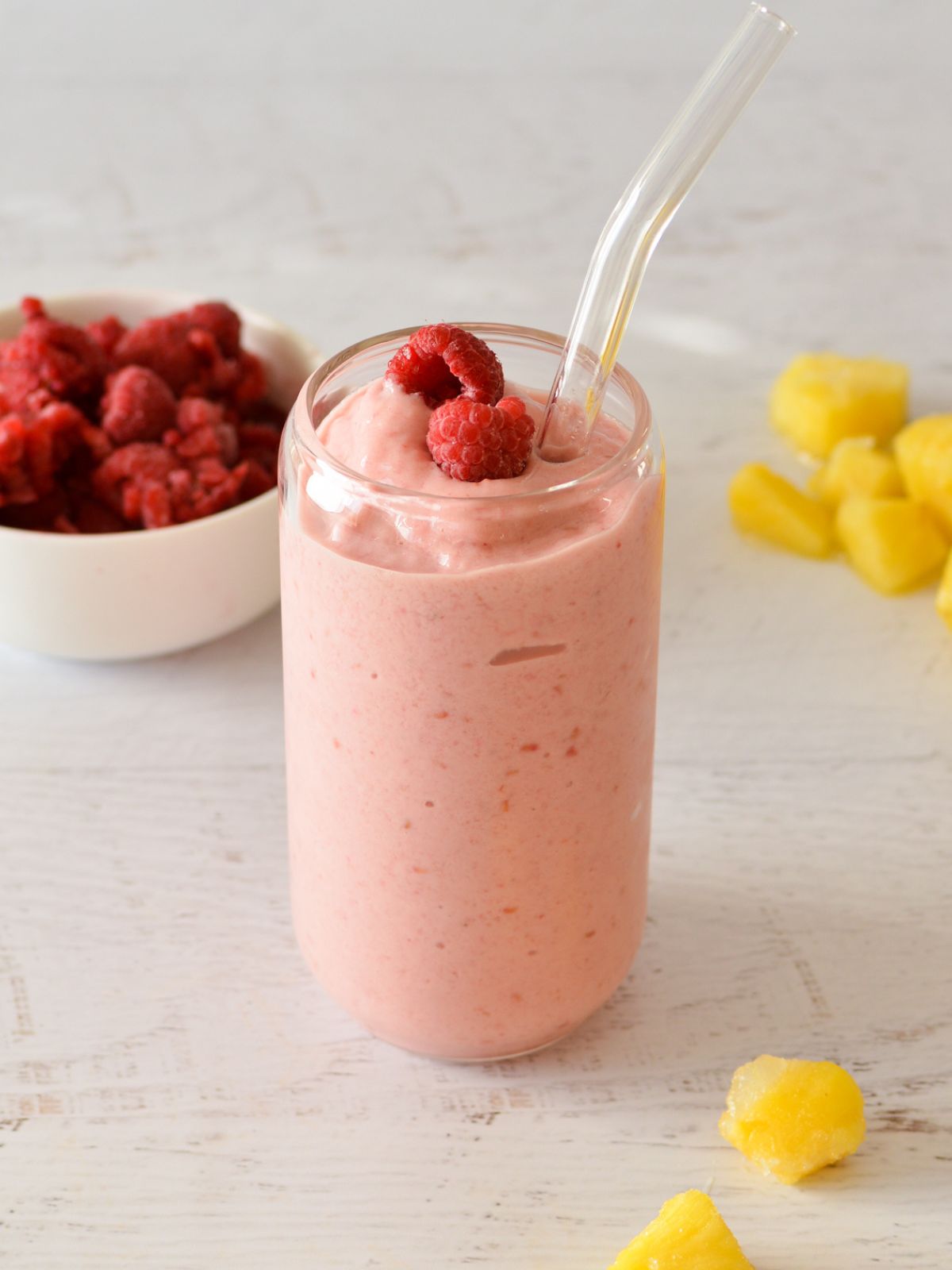 When I was pregnant and sick as a dog, pineapple was my go-to snack. It was the only thing that didn't make me want to ralph, and I still LOVE it to this day. It's tropical flavor and bright sunny hue always lifts my spirits.
Pineapple is like an outgoing child who doesn't know a stranger. It goes well with all the fruits! I haven't found one yet it clashes with. And this pineapple raspberry smoothie is the perfect combo of sweet and tart.
15. Blackberry Strawberry Banana Smoothie Bowls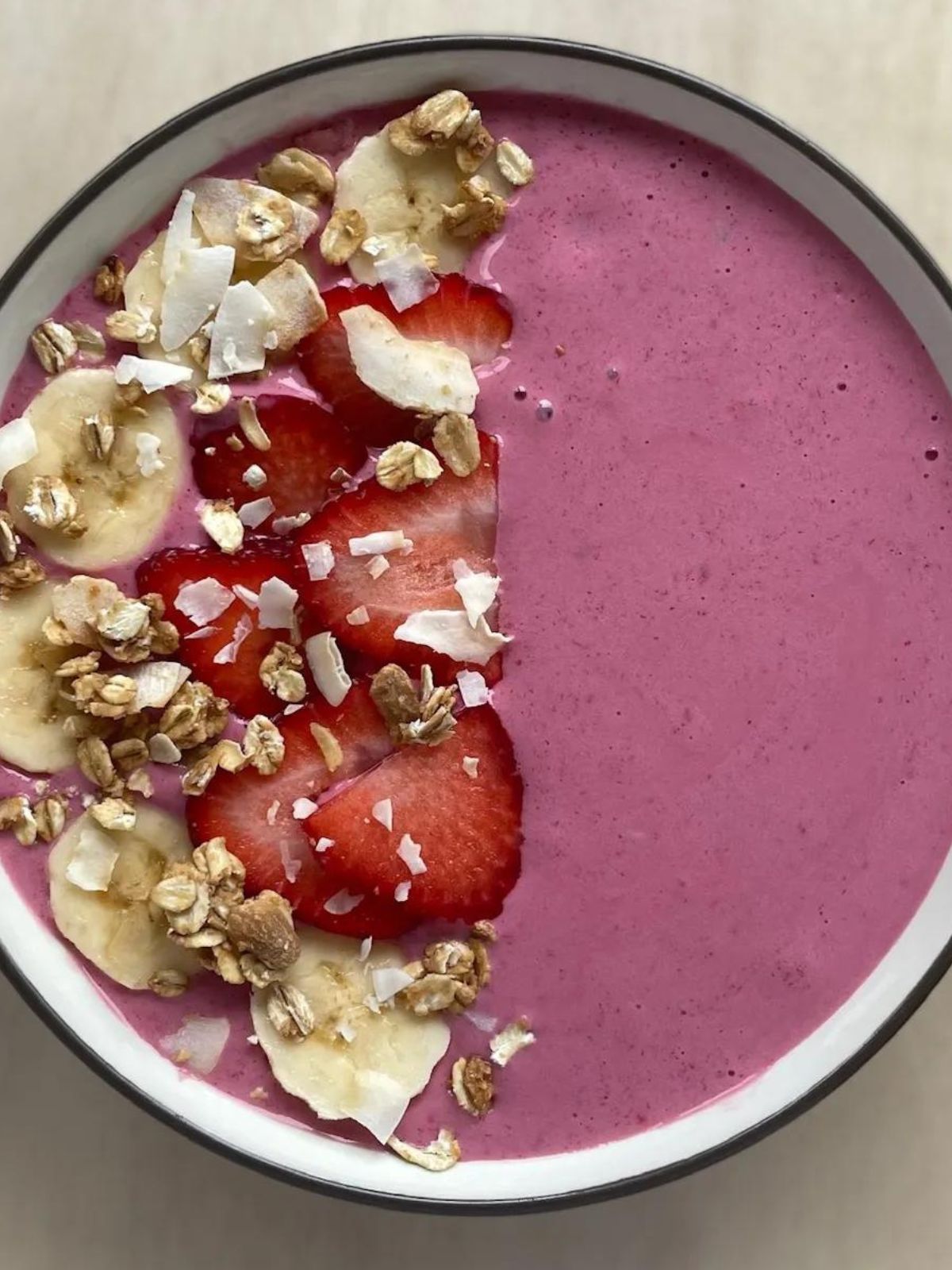 Smoothie bowls are just thicker versions of smoothies that you eat with a spoon and toppings! And since I'm a huge fan of toppings, I love them. You can add granola, coconut, berries, sliced banana, nut butter, or chia seeds.
This version is made with frozen banana, blackberries, and strawberries which give it a vibrant purple hue and Greek yogurt for a boost of protein.
16. Peanut Butter Powder Smoothie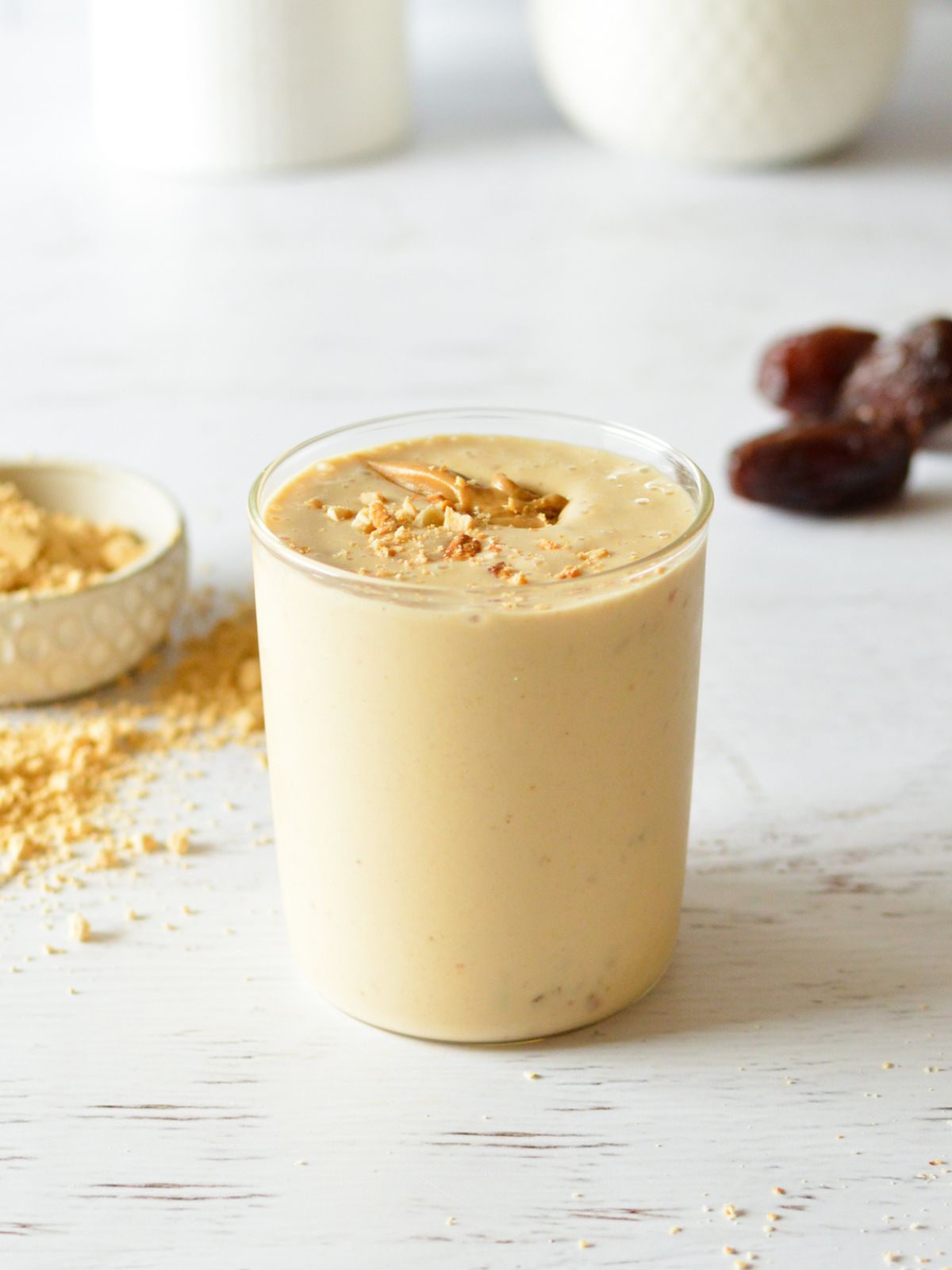 Peanut butter is many things, but it's NOT low calorie. If you're craving a rich and decadent smoothie without all the calories, this powdered peanut butter smoothie is a perfect choice.
It's only five ingredients and it's naturally sweetened with a date. You can buy a big container of peanut butter powder at Costco for a steal. This is my favorite way to use it!
17. Pineapple Apple Smoothie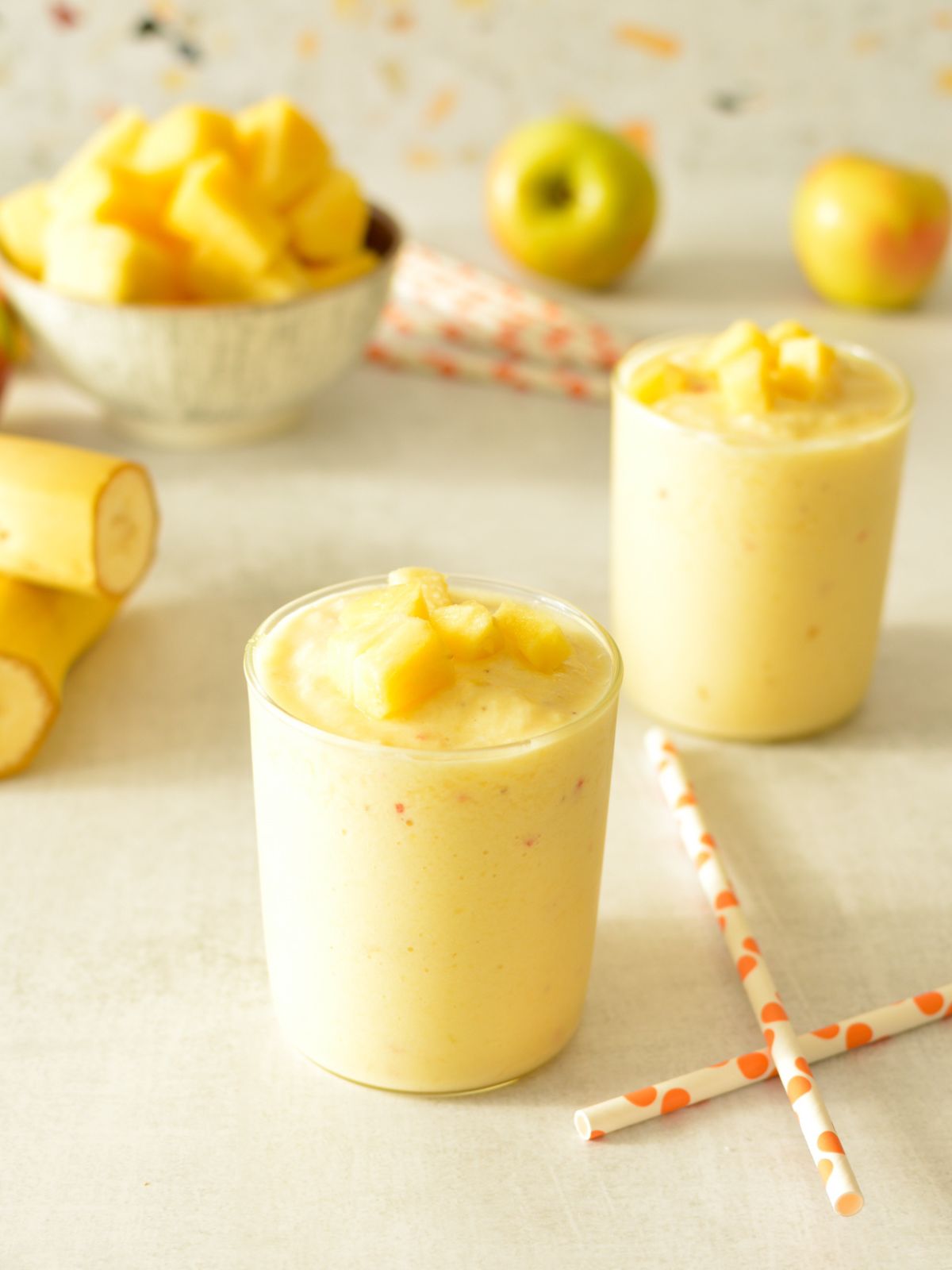 When it comes to smoothies, apples should not be overlooked. They're naturally sweet, nutrient-dense, and low in calories. One medium apple contains a measly 105 calories plus 5 grams of fiber!
I prefer sweet-tart apples to snack on, so those are the kind I put in my smoothies. Honeycrisp and Pink Lady are my go-to apples of choice, but any kind can be used. My ninja does a great job blending up the skins, so I don't bother peeling them.
This pineapple apple smoothie is a refreshing and nutritious treat!
18. Creamy Coffee Chocolate Smoothie
Early mornings call for coffee! Or if you're me, ALL mornings do. Occasionally I'll skip my morning coffee and opt for a caffeinated smoothie instead.
Frozen bananas, espresso, and cocoa powder are a dreamy combination. For coffee lovers everywhere!
19. Green Goddess Smoothie (Paleo)
This green smoothie packs a nutritious punch! It's made with spinach, mango, pineapple, avocado, nut butter, flax seed meal, and collagen powder. It's a good source of vitamins, minerals, and plant-based protein from the flaxseed and almond butter.
It's also paleo, vegan, and gluten-free!
20. Pear Banana Protein Smoothie
This high-protein pear smoothie tastes more like a milkshake! A frozen banana makes it ultra creamy, oats add a bit of texture, and vanilla protein powder adds a whopping 30 grams of protein and plenty of sweetness.
This is a delicious way to utilize vanilla protein powder. It's great for a post-workout snack.
21. 5 Ingredient Chocolate Smoothie
Oh my chocolatey goodness. This smoothie is decadent, rich, and ultra creamy from frozen bananas. It's only five ingredients and tastes more like a treat than what it is – a smoothie made of plant-based ingredients.
A must-try if you love chocolate!
Ninja Blender FAQs:
How do you make a smoothie with a Ninja blender?
In the pitcher, combine frozen fruit, banana, yogurt, and a liquid base. Blend until thick, creamy, and smooth. If the smoothie is too thick to pour, add a splash more liquid and blend for 5 more seconds. Pour into glasses and enjoy!
What can you cook with the Ninja blender?
Ninja blenders can make more than just smoothies! You can make dips, soups, hummus, salad dressings, and sauces in it too.
Is a Ninja blender worth it?
Yes, a Ninja is worth the price tag! I love my Ninja blender and I've had it for 6+ years. It's still going strong and makes smooth delicious smoothies for me everyday.