15 Green Smoothies for Weight Loss
Leafy greens are jam-packed with antioxidants and immune-boosting vitamins! Here's 15 sweet and satisfying weight loss smoothies to help you get your greens.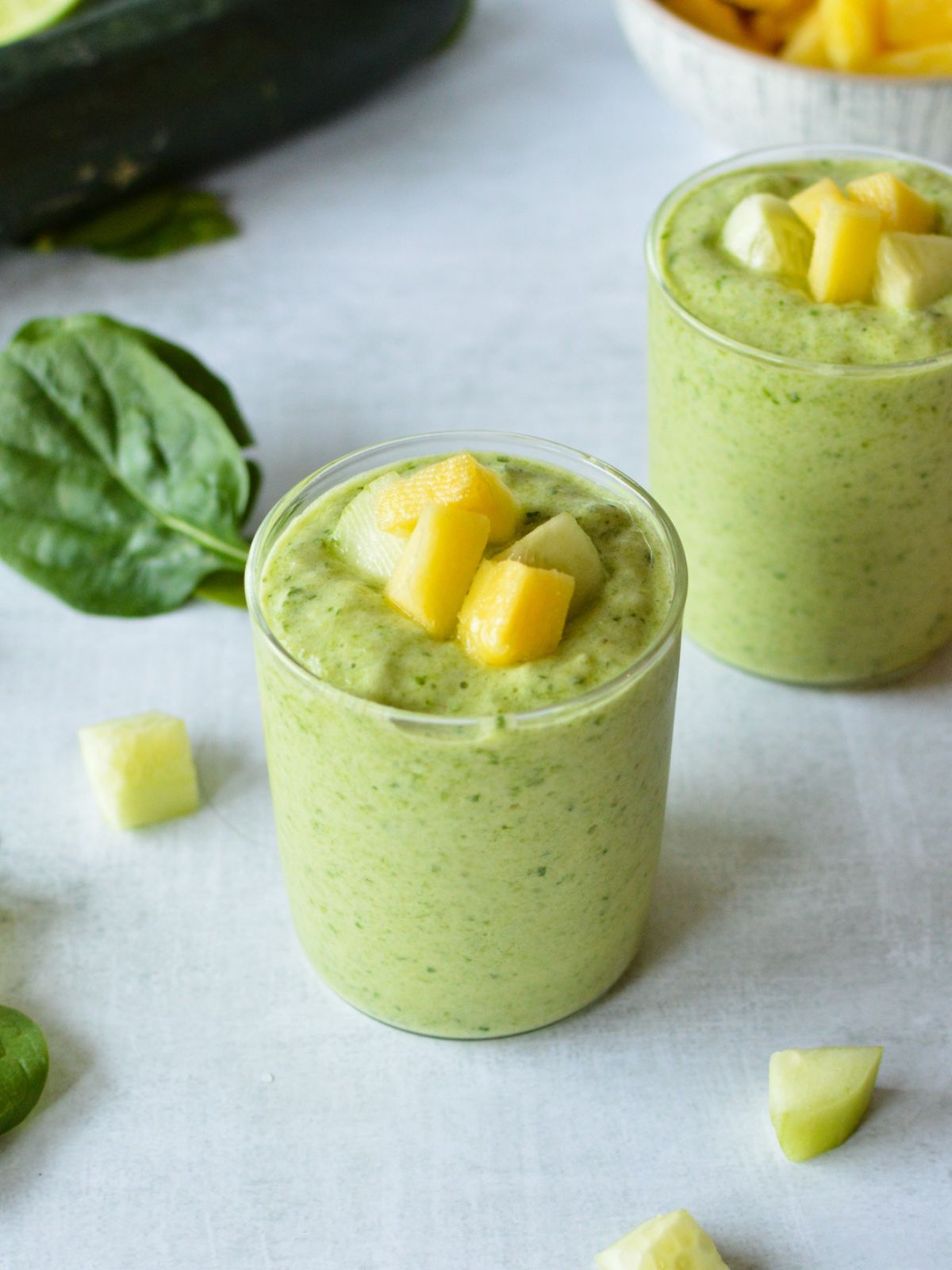 Smoothies and Weight Loss:
If you're looking to burn body fat, eat healthier, and lose weight, green smoothies are a great option! When you choose the right ingredients, they can fuel your metabolism, hydrate your cells, and keep you full and satisfied.
Dark leafy greens like spinach, kale, swiss chard, and arugula are nutrient-dense, low-calorie, and packed with disease-fighting antioxidants.
What is a green smoothie?
A green smoothie is a thick, blended drink made with dark leafy greens, fruit, and a liquid. Frozen fruit adds sweetness and antioxidants, while the liquid creates a drinkable consistency.
Green smoothies boast a bright green hue from the mixture of greens and fruit, but sometimes they're dark green or even brownish. Don't let the color fool you. Green smoothies are sweet, delicious, and crave-worthy.
They're a great way to consume gut-healthy fiber, immune-boosting antioxidants, and essential vitamins!
How to Make a Green Smoothie:
Green smoothies are a breeze to make! If you're new to them, I highly recommend baby spinach. It has a mild taste and delicate leaves so it's easily pulverized by the blades. It's less noticeable than stronger flavored greens, like kale and swiss chard.
For the best tasting smoothie, combine greens with sweet fruits like banana, pineapple, mango, peaches, or berries. They add a boost of plant compounds, antioxidants, AND they make the smoothie taste great!
Place the greens and soft ingredients closest to the blades. Doing so gives you a smoother texture in the end.
Add the frozen fruit and veggies next. Frozen fruit (and veggies) thicken the smoothie without the need for ice.
Add your liquid of choice. The liquid sinks to the bottom anyway so it doesn't matter when you add it. Almond milk is my favorite plant-based milk.
Blend until smooth. If the smoothie is too thick, add a splash more liquid and blend again to incorporate.
Taste and serve. Taste the smoothie before you pour it so you can adjust the flavor if you like.
Fat Burning Ingredients:
If you want to make a fat burning smoothie, the ingredients you use are key! Ideally, you want to include a combination of protein, fiber, and healthy fats to keep you satiated.
Avoid refined sugar, saturated fat, and processed ingredients. In order to lose weight, you need to burn more calories than you take in, so be mindful of portion sizes.
Leafy greens – Baby kale, baby spinach, collard greens, swiss chard, or fresh herbs! Leafy greens have thylakoids, plant compounds linked to increased satiety.
Veggies – Broccoli, carrots, and cauliflower are good options! Try buying them frozen since they've been blanched, which makes them easier to break down.
Avocadoes – A good source of fiber and heart-healthy fats. Add some avocado for extra creaminess! Avocadoes are high in calories, so be mindful of portion size if weight loss is your goal.
Fruit – Fruit allows you to sweeten your smoothie with zero added sugar! Plus they're packed with antioxidants. Try pineapple, mango, berries, apples, cucumber, or peaches. My favorite is mango.
Protein – Nuts, nut butter, protein powder, chia seeds, flax seeds, and unsweetened Greek yogurt are all good protein options.
Liquids – Avoid sweetened milk beverages and opt for unsweetened instead. Almond and cashew milk are both low in calories.
Green Weight Loss Smoothies:
All of the green smoothies listed below are utterly delicious!
1. Detox Island Green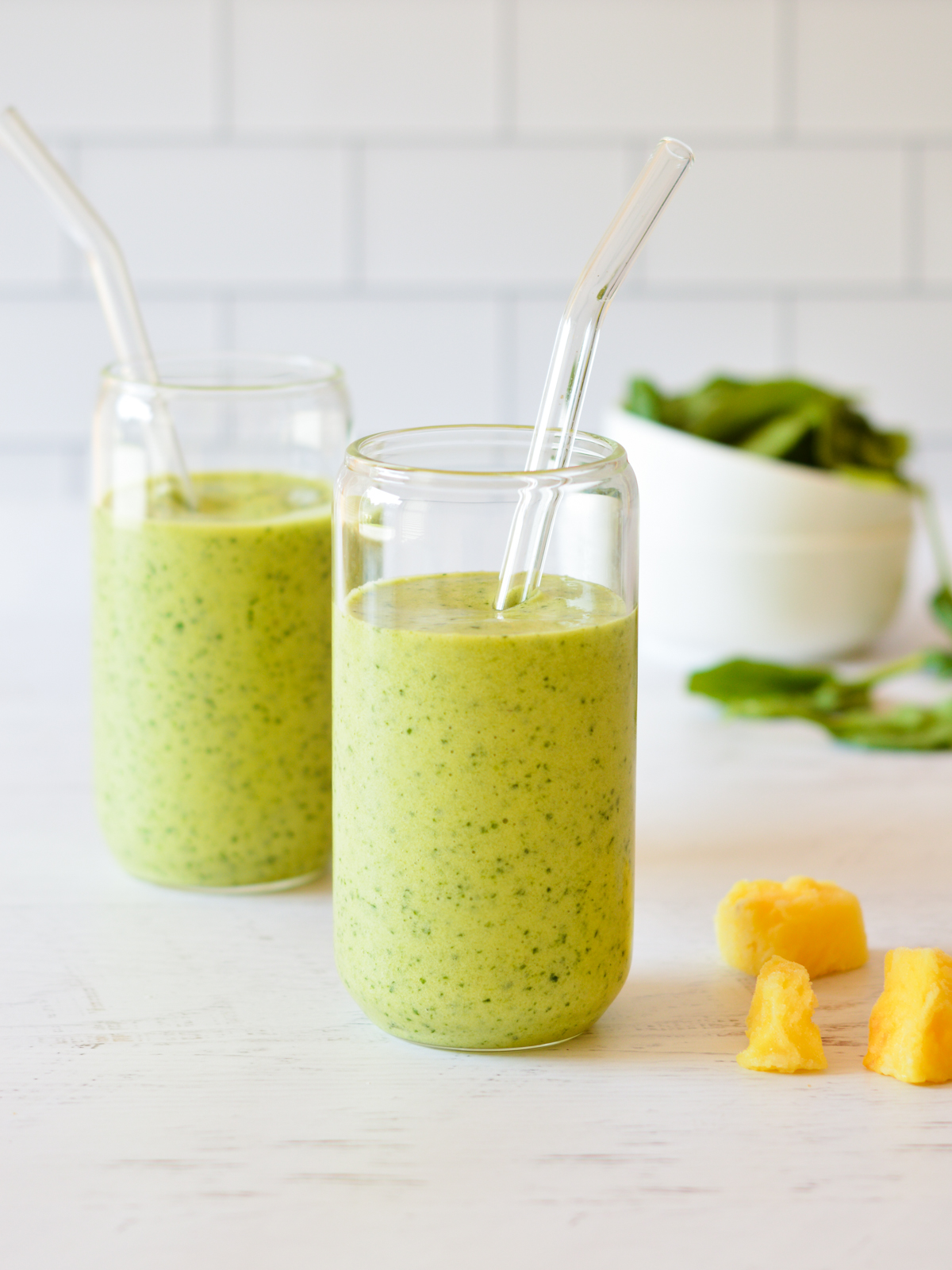 One serving of this tropical detox smoothie is only 184 calories and it features sweet pineapple, spicy ginger, and a mix of spinach and kale.
I added a small amount of pineapple juice for sweetness, but that can be swapped for cold water or almond milk for even less calories.
This recipe is a copycat of Tropical Smoothie Cafe's Detox Island Green smoothie. Make it at home for a fraction of the price!
2. Mango Apple Smoothie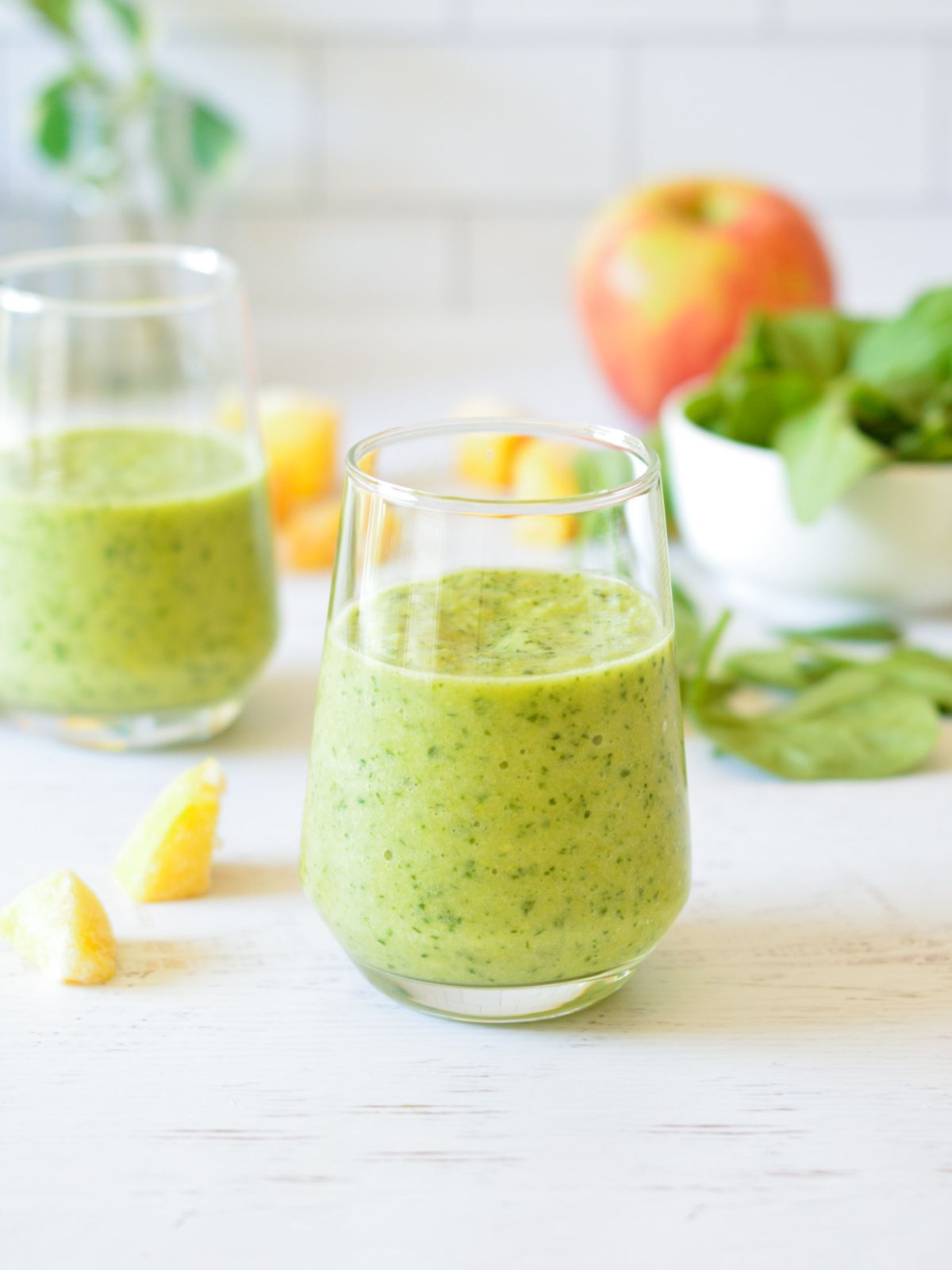 This green smoothie for weight loss features Honeycrisp apple, spinach, and mango! It's naturally sweet and super fresh. One serving only sets you back 177 calories.
Spinach is a rich source of vitamins, minerals, and antioxidants, including:
Vitamins A, C, and K1
Folic acid, iron, and calcium
Plant compounds that may reduce your risk of certain cancers
You could add a scoop of Greek yogurt to this one for a boost of protein.
3. Tropical Spinach Cucumber
Cucumber is one of my favorite additions to green smoothies! It's fresh, crisp, and light, plus it doubles as a liquid base since it's 96% water. It's a good source of beneficial antioxidants and adds very little calories.
This cucumber spinach smoothie features pineapple, cucumber, spinach, lime, and orange juice. It's refreshingly light and perfect for a low calorie snack when you're craving something sweet.
4. Mango Spinach Smoothie
If you tolerate dairy, this green smoothie provides 10 grams of protein! It's only four ingredients and blends into a smooth texture.
If you can't have dairy, swap regular milk with soy milk for the same amount of protein. It has sweet tropical vibes and it's easy to make. A winner for sure.
5. Broccoli Smoothie
No, this smoothie doesn't taste like broccoli. But it does taste delicious! If you have a high-speed blender like a Vitamix, broccoli is a great addition to smoothies.
Broccoli is a rich source of vitamin C, among other vitamins, minerals, and bioactive compounds. And it's low in calories and perfect for weight loss.
This broccoli smoothie features pineapple, honeydew melon, and vegan yogurt. Swap the vegan yogurt with Greek yogurt for added protein.
6. Kale Pineapple Smoothie
This refreshing green smoothie features kale instead of spinach. I highly recommend baby kale. It's just as nutrient dense as regular kale, but it has a milder flavor and softer leaves. And it blends easier.
It features kale, pineapple, chia seeds, and spirulina powder. You could easily add a scoop of protein powder or nut butter for some satisfying protein.
7. Low Carb Green Smoothie
This drink is nutrient-packed, friends! It's got avocado, spinach, cucumber, parsley, peaches, and ginger. It's a little bit sweet and a little bit spicy (from the ginger and parsley!).
It's also dairy-free, vegan, gluten-free, and low-carb! Instead of bananas, it utilizes peaches for sweetness and avocado for creaminess.
8. Vegan Spinach Banana Smoothie
This green smoothie is vegan and perfect for weight loss. Soy milk and flax seeds provide filling protein, spinach and parsley add a boatload of antioxidants, and banana sweetens it.
I recommend using a frozen banana for a super creamy, cold drink!
9. Strawberry Kale Smoothie
A well-rounded green smoothie! This one boasts 15 grams of protein, 17 grams of fiber, and 16 grams of fat, mostly poly and monounsaturated fats.
Pumpkin and flax seeds provide protein and healthy fats, while strawberries, dates, and banana sweeten it. You could add a scoop of protein powder for even more protein.
This one fills me up until lunch and gives me plenty of energy to tackle the day.
10. Green Detox Smoothie
I love a good detox smoothie! They help me recover after the holidays, when my normal healthy self is replaced with a crazed gingerbread-eating monster.
This healthy drink is low in calories and carbs, but high in healthy fats and fiber. One serving boasts 7.5 grams of fiber and 11 grams of fat. The avocado keeps me full and the spinach packs in nutrients.
It tastes delish too. A real win win.
11. Kale Avocado Smoothie
This is a great option if you prefer smoothies that aren't as sweet. This smoothie doesn't contain any banana, pineapple, or mango. Instead it's lightly sweetened with an apple and has a spicy kick from the ginger.
Hemp hearts add protein and avocado provides heart healthy fats! It makes a filling breakfast and is WAY more nutritious than carb-heavy favorites like pancakes or waffles.
12. Cucumber Celery Smoothie
Did you know you can add celery to smoothies?! Celery has strong anti-inflammatory properties and it's rich in vitamins A, K, and C.
This cucumber celery smoothie is sweetened and thickened with a frozen banana. It's ultra-refreshing and naturally sweet, with a hint of cucumber flavor.
It will set you back only 160 calories and it contains 5 grams of protein. If you want to up the protein content, use soy milk for your liquid.
13. Green Smoothie (No banana!)
This is a quick and simple green smoothie that's great for beginners. If you're new to green smoothies, it's easy to make and you can barely taste the spinach.
Vanilla Greek yogurt adds sweetness and protein! Pineapple and mango hide the flavor of the spinach effectively. It's only 152 calories per serving and it includes 10 grams of protein.
14. Green Ginger Smoothie
This green smoothie has it all – healthy fats, protein, fiber, and it's low in sugar. Did I mention it tastes great too?!
This weight loss green smoothie keeps me full for a long time. Hemp hearts, chia seeds, and flax seeds provide plant-based protein and omega 3 fatty acids. Orange and pineapple give it a tropical flair and ginger adds a spicy kick.
15. Mango Kale Smoothie with Collagen
This kale smoothie features kale, pineapple, mango, flax seeds, and collagen peptides. Collagen may improve skin health, relieve joint pain, and prevent bone loss.
It's a delicious and healthy way to kickstart your morning and fuel a workout.
16. Morning Boost Green Smoothie
This energizing smoothie contains matcha, a natural stimulant that boosts your energy levels without causing a caffeine crash later on.
Vanilla protein powder adds sweetness and 23 grams of protein per serving. It's creamy, sweet, and delicious!
17. Arugula Pineapple Smoothie
I love the peppery bite of arugula! It gives this green smoothie a spicy kick. It's sweet and peppery and filled with nutrient-dense ingredients like apple, pineapple, and Greek yogurt.
Each serving has 6 grams of protein and 7 grams of fiber.
Weight Loss Smoothie FAQs:
Are smoothies a good way to lose weight?
They can be! A smoothie is only as healthy as the ingredients you add to it. If you add nutrient-dense whole foods that are scientifically shown to aid weight loss, they can help you lose weight!
Will two smoothies a day help you lose weight?
Smoothies aren't a cure-all for weight loss. They must be part of a balanced diet where you burn more calories than you consume. Two smoothies can help you lose weight if you drink them instead of an unhealthy option – like fries or ice cream.
Green Smoothie for Weight Loss
This green smoothie provides protein, heart-healthy fats and fiber to help you feel full and satisfied. It's a perfect way to start your morning and help you lose weight.
Ingredients
½

banana

peeled

½

avocado

¾

cup

frozen spinach

or fresh baby spinach

⅓

cup

Greek yogurt

½

cup

orange juice

⅔

cup

unsweetened almond milk

1

cup

frozen pineapple

1

cup

frozen mango
Instructions
In the pitcher of your high-speed blender, combine the banana, avocado, spinach, Greek yogurt, orange juice, almond milk, pineapple, and mango.

Place the soft ingredients closest to the blades. Blend until smooth and creamy! The smoothie will be thick at this point. Add a splash more almond milk until you reach a pourable consistency.

Pour into glasses and serve immediately!
Nutrition
Calories:
261
kcal
Carbohydrates:
43
g
Protein:
7
g
Fat:
9
g
Saturated Fat:
1
g
Polyunsaturated Fat:
2
g
Monounsaturated Fat:
6
g
Cholesterol:
2
mg
Sodium:
138
mg
Potassium:
833
mg
Fiber:
7
g
Sugar:
30
g
Vitamin A:
2565
IU
Vitamin C:
112
mg
Calcium:
186
mg
Iron:
1
mg