This alkaline smoothie is perfectly sweet and refreshing! It boasts a bright green hue and features spinach, cucumber, peaches, and mango.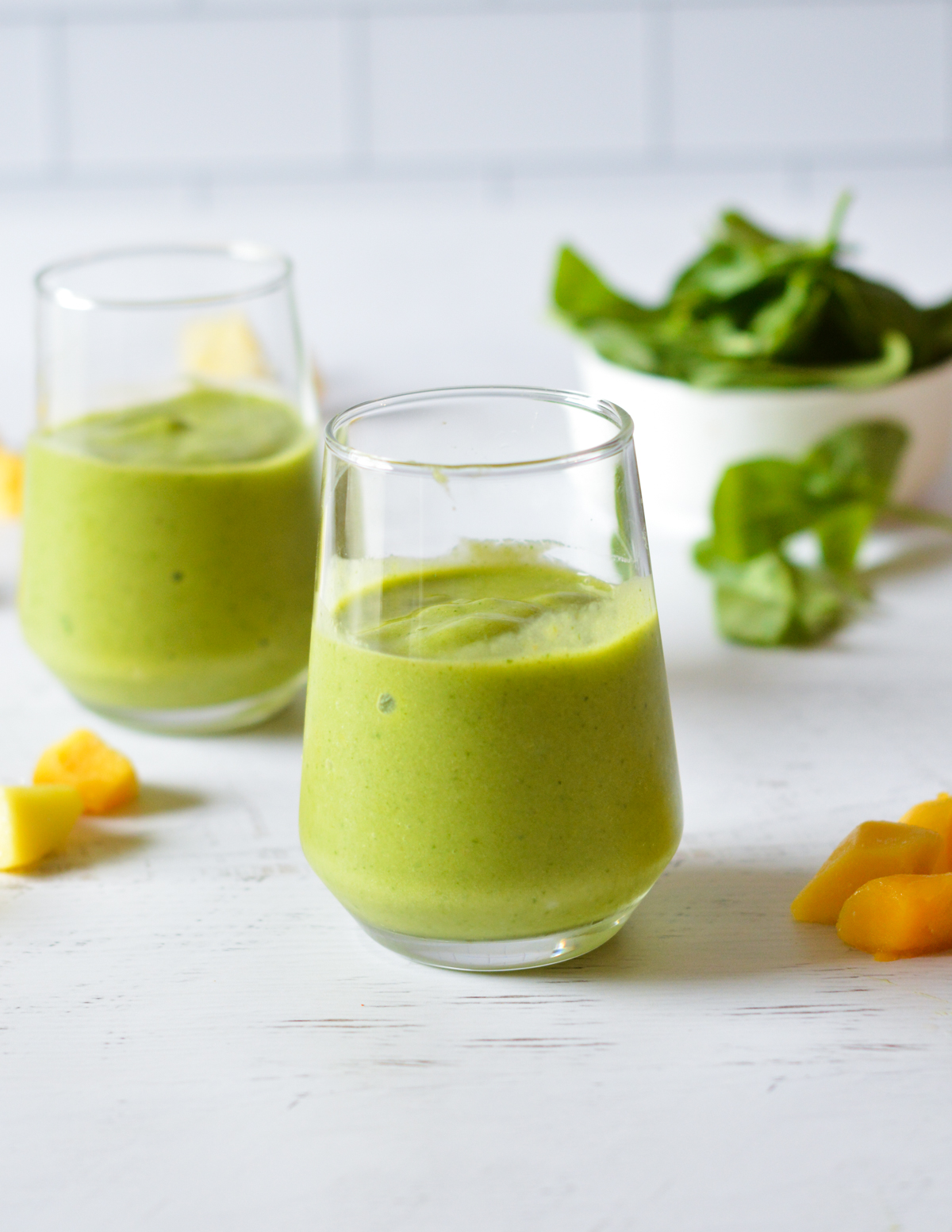 This alkaline smoothie recipe is one of my new favorite green smoothies! It's simple, refreshing, and easy to customize. It also doubles as an acid reflux smoothie. Alkaline water has been shown to help with symptoms of acid reflux.
What is the Alkaline Diet?
The alkaline diet relies on the theory that the food we enjoy affects our blood's PH balance.
Certain foods produce acid once digested and others don't. Advocates of the alkaline diet believe that if you consume a diet high in alkaline-forming foods, you can raise your body's PH levels, creating an insufficient environment for cancer.
There isn't scientific evidence to support this hypothesis. But the alkaline diet encourages eating healthy, unprocessed foods like vegetables and fruit, so it can improve your overall health!
Alkaline Forming Foods:
The alkaline diet indexes foods based on how much acid they produce once digested, which isn't the same as their raw state. For example, a lemon is considered very acidic with a PH of 2, but once it's digested it becomes alkaline!
According to the alkaline diet, you should avoid these acid forming foods:
Meat
Dairy
Fish
Eggs
Grains
Alcohol
And consume these alkaline forming foods:
Fruits like lemon, watermelon, mango, avocado, apples, bananas, peaches, blueberries, etc.
Vegetables like leafy greens, cruciferous vegetables, carrots, beets, etc.
Nuts
Legumes
The alkaline diet focuses primarily on a plant-based diet, avoiding processed sugar and alcohol.
Key Ingredients:
This alkaline smoothie has six main ingredients: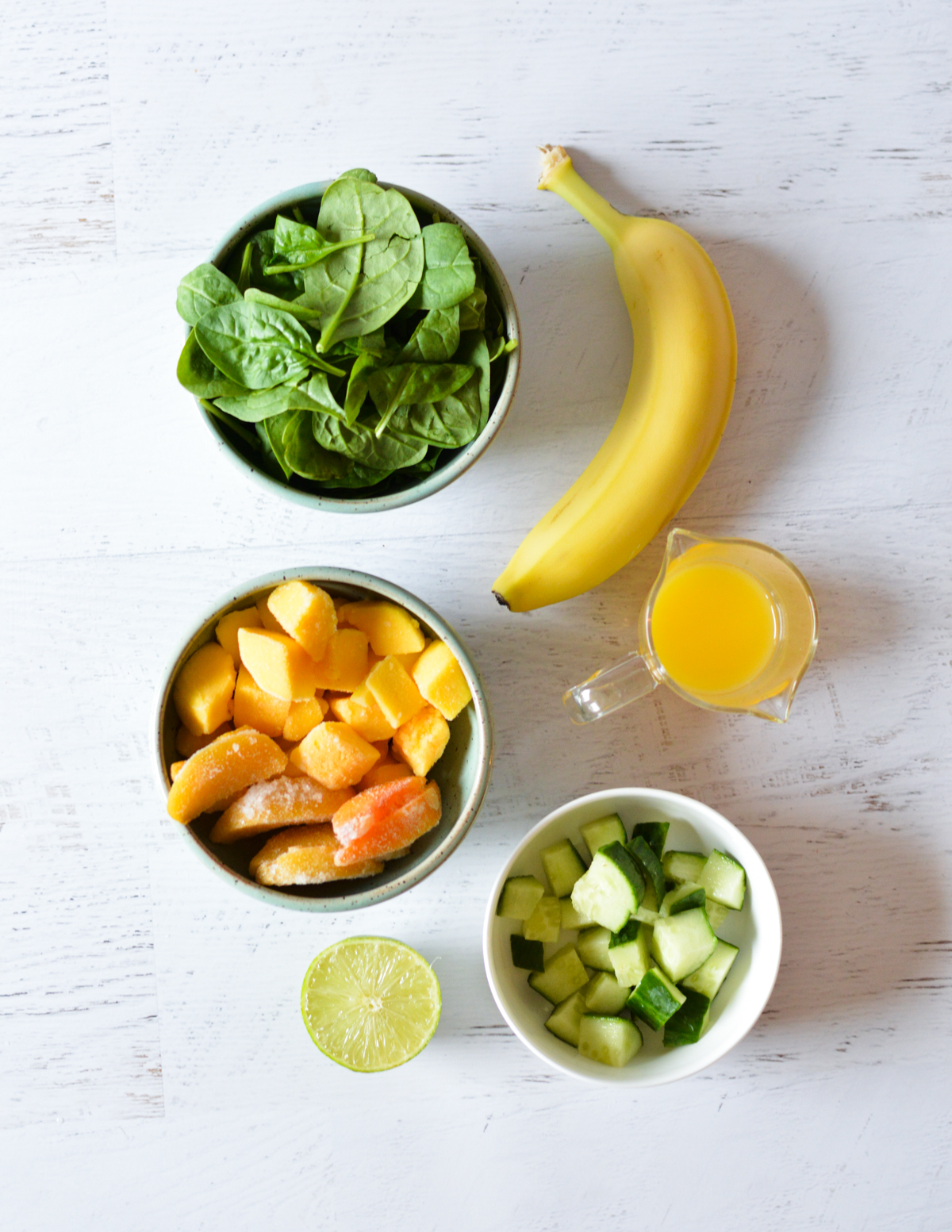 Baby spinach – Baby spinach has a mild flavor with tender leaves. It's also low in calories and nutrient-dense, so it makes a great addition to smoothies! It's a good source of insoluble fiber, essential vitamins like A, C, and K1, and disease-fighting plant compounds.
Banana – Bananas create a super creamy texture and add plenty of sweetness. For best results, use a ripe, yellow banana. If you can't have bananas, try one of these banana substitutes.
Cucumber – I love cucumber in smoothies! It adds a crisp, cool cucumber aftertaste. Cucumbers are an alkaline-forming food AND they're a good source of antioxidants.
Frozen peaches & mango – For extra sweetness and nutrients! Mangoes are a great source of immune-boosting vitamin C and polyphenols, plant compounds that act as antioxidants.
Alkaline water – Alkaline water has a PH of 8 or 9 and can help relieve acid reflux symptoms. You can find it at any well-stocked grocery store.
Lime (optional) – Fresh lime juice adds a zippy pucker that complements the sweetness of the fruit. Avoid lime juice if you have acid reflux. It may worsen symptoms if your throat is sore.
How to Make this Alkaline Smoothie:
This alkaline green smoothie is a breeze to make!
Combine ingredients: In the pitcher of your blender, combine the ingredients. Start with the spinach, cucumber, and banana. It's important to place the softest ingredients closest to the blades. This creates the smoothest texture in the end.
Blend: Blend until smooth and creamy. The smoothie should be very thick at this point. Add a little bit more water until you reach the desired consistency. I like mine on the thicker side.
Serve: Pour into glasses and enjoy immediately. Green smoothies are best enjoyed immediately.
Recipe Tips:
If possible, use a high-speed blender like a Vitamix or Ninja. I have both. The Ninja is a great budget-friendly option, but won't give you the same results as a Vitamix. High-speed blenders are great for green smoothies, because they pulverize the greens effectively.
Adjust the consistency as desired. I prefer my smoothies on the thicker side! I personally don't like a watery smoothie. If the smoothie is too thick, the simple solution is to add more liquid. Add it gradually until you reach the right consistency.
This green smoothie recipe makes two small or one regular smoothie. You can double it for more servings.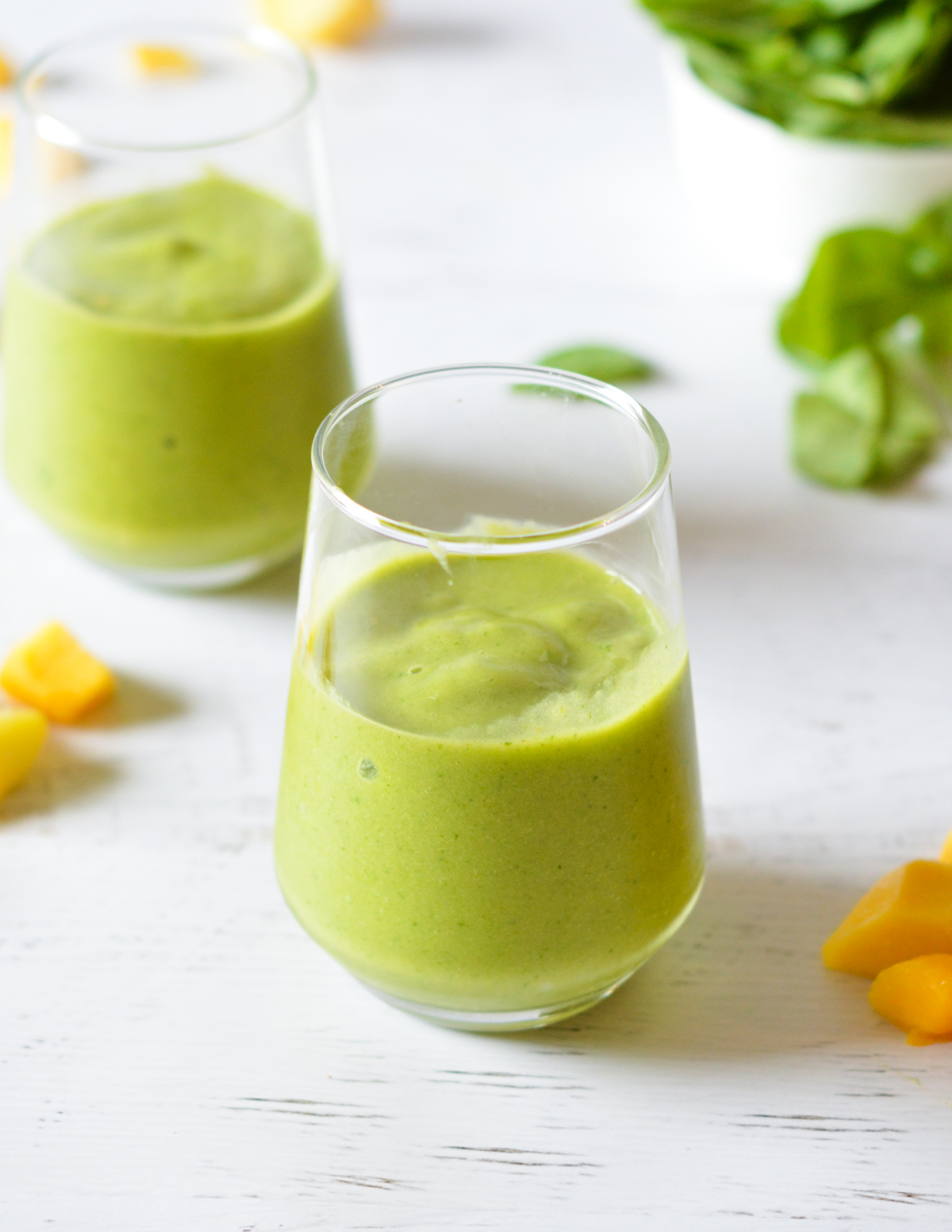 Storage:
Green smoothies are best enjoyed fresh. I don't recommend storing it in the fridge for longer than 4 hours. Pour the smoothie into an insulated cup or thermos and refrigerate.
You can also make leftover smoothie into smoothie pops! My kiddos love them. Just pour it into popsicle molds, add popsicle sticks, and freeze overnight.
Variations:
Avocado – Add a boost of healthy fats with half an avocado.
Chia seeds – Add a tablespoon of chia seeds for plant-based protein and omega-3 fatty acids.
Fruit – Swap the frozen peaches with pineapple, strawberries, or blueberries.
Liquid – If you don't have alkaline water, you can use almond milk. You can also swap part of the liquid with orange juice.
More Smoothie Recipes: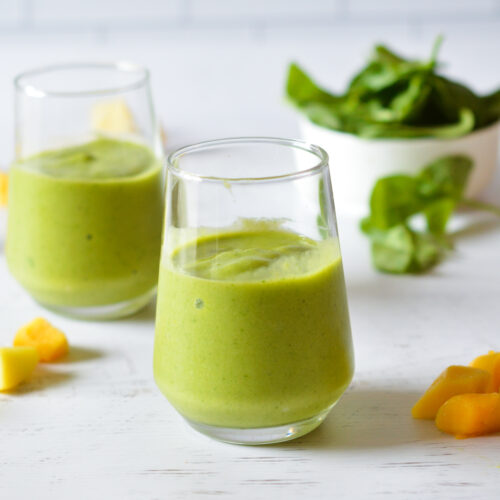 Alkaline Smoothie
This alkaline smoothie is perfectly sweet and refreshing! It boasts a bright green hue and features spinach, cucumber, peaches, and mango.
Ingredients
1

cup

baby spinach

1

banana

peeled

½

cup

diced english cucumber

1

cup

frozen mango chunks

1

cup

frozen peaches

¾

cup

alkaline water

½

lime, juiced (optional)

Do NOT use if you have acid reflux
Instructions
In the pitcher of your high-speed blender, combine the baby spinach, cucumber, banana, frozen mango, frozen peaches, alkaline water, and lime juice (if using) – in that order.

Blend until creamy and smooth. The smoothie will be thick at this point. Add a splash more alkaline water if necessary.

Pour into glasses and enjoy immediately!
Nutrition
Calories:
142
kcal
Carbohydrates:
35
g
Protein:
3
g
Fat:
1
g
Saturated Fat:
0.2
g
Polyunsaturated Fat:
0.2
g
Monounsaturated Fat:
0.2
g
Sodium:
24
mg
Potassium:
573
mg
Fiber:
5
g
Sugar:
25
g
Vitamin A:
2612
IU
Vitamin C:
44
mg
Calcium:
35
mg
Iron:
1
mg