15 Best Greens for Smoothies
Green smoothies are all the rage and for good reason! Leafy greens are nutrient-dense and easy to blend. Here's 15+ best greens for smoothies you should try ASAP!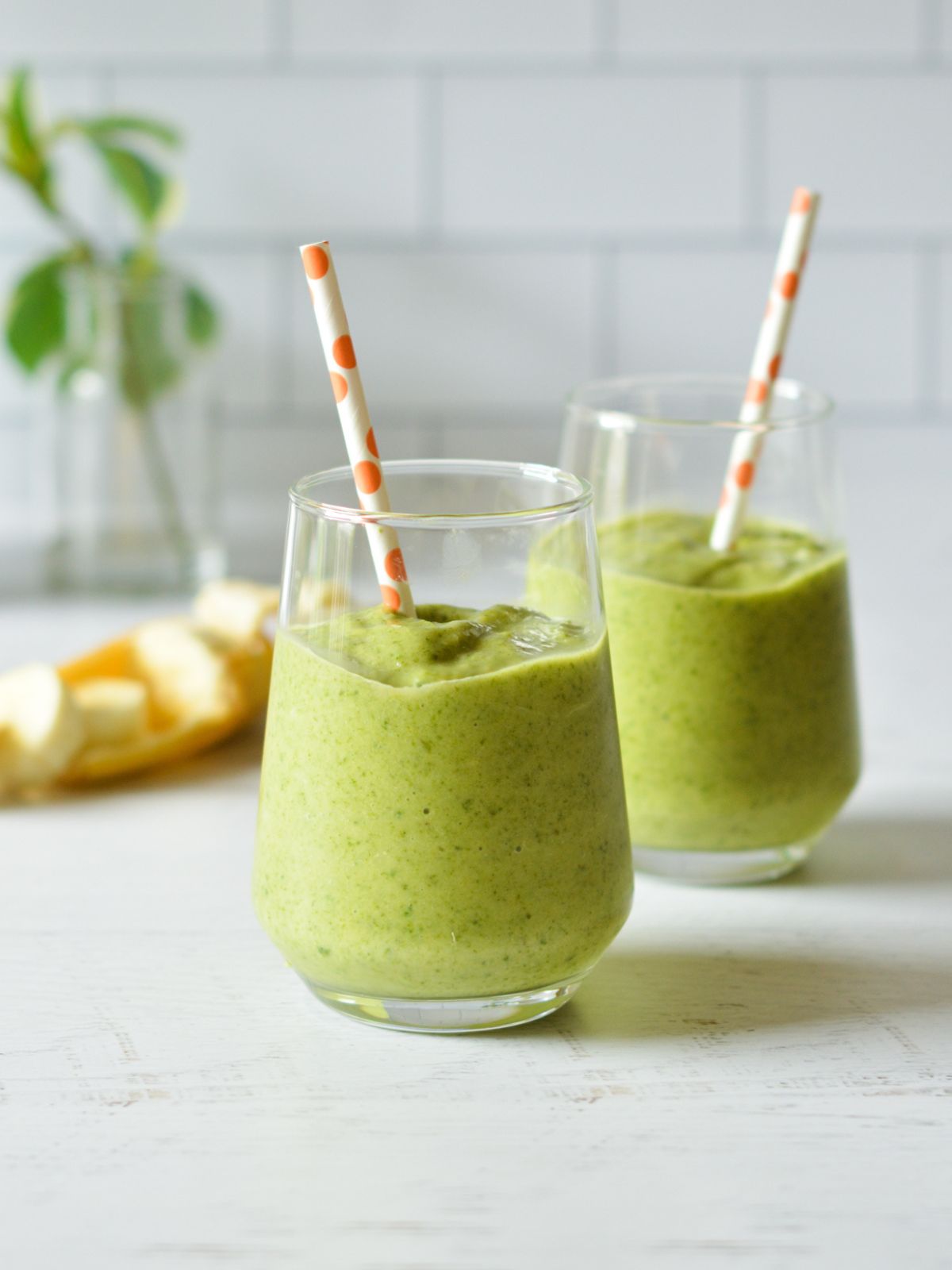 What is a Green Smoothie?
A green smoothie is any smoothie with greens in it, commonly spinach or kale. It's often fruit-based to give it natural sweetness and overpower the flavor of the earthy greens.
Most green smoothies have a vibrant, bright green hue, but not all of them. If the smoothie has darker ingredients like red berries, it may sport a brownish color.
Although spinach and kale are the most popular greens for smoothies, there's plenty of other options! For a change of pace, try my arugula pineapple or cilantro smoothie – both are delish!
Why Should I Add Leafy Greens to Smoothies?
Greens are a great way to boost the nutritional value of your smoothies! They're low in calories, but rich in vitamins, minerals, and antioxidants. Antioxidants protect the healthy cells in your body from damage caused by free radicals.
A healthy diet full of leafy greens offers tons of health benefits, including a reduced risk of obesity, heart disease, and high blood pressure.
If you pair greens like spinach or kale with the right ingredients like sweet pineapple, you won't even mind the spinach flavor! Greens don't overpower the sweet vibes AND they're super good for you. It's a win-win.
How to Make a Green Smoothie:
Green smoothies are easy to make, but there's a few things you should know first. For example, it's best to use a high-powered blender with at least 900 watts, preferably more.
This will give you the smoothest texture! I highly recommend a Vitamix, but if you can't afford one, a Ninja is a good, budget-friendly option.
Order is another factor that matters. Here's what you should do.
Place the greens closest to the blades. Adding the greens first helps them break down and pulverize finely.
Add the soft ingredients. Placing the soft ingredients closest to the blades helps everything get moving.
Add the frozen fruit. The frozen ingredients should be on top.
Add the liquid. Most recipes instruct you to add the liquid first. It doesn't matter when you add it though because it will seep down to the bottom anyway!
Blend until smooth. If the ingredients aren't blending, stop the blender and add more liquid. Blend again.
Greens for Smoothies:
While spinach and kale are the most common, there are tons of options!
1. Baby Spinach
If you've never tried a green smoothie before, I highly recommend starting with baby spinach. It has tender, delicate leaves and a mild flavor that blends right in!
I keep baby spinach in my fridge at all times. It pairs well with any kind of fruit, yogurt, nut butters, juice, protein powder, chia seeds, and more! It's hard to go wrong with this leafy green.
Spinach is a good source of insoluble fiber, carotenoids, vitamin C, folic acid, and iron. Plus it's packed with plant compounds and antioxidants that reduce your risk of certain cancers.
You can use fresh or frozen spinach in your smoothies! Frozen spinach has a slightly stronger flavor than fresh.
2. Kale
Kale is the second most popular green for smoothies! It has a stronger flavor than spinach and hardier leaves. There are multiple kinds of kale at well-stocked grocery stores, including Lacinato, curly, red, or baby kale.
You can use any of them in smoothies, but baby kale is the best option. It has a mild flavor and softer leaves compared to the rest, which makes it great for smoothies. If you can't find baby kale, be sure to remove the stems from other varieties.
One cup of kale has only 7 calories and tons of antioxidants, including vitamin C and beta-carotene.
3. Swiss Chard
For best results, use the leaves and not the stems. The stems impart a bitter flavor and don't blend well.
Swiss chard pairs well with tropical fruits like pineapple, bananas, cucumber, kiwi, and mango. Orange juice makes a great liquid base because the acidity complements the bitterness of the Swiss chard.
Start with one cup of chopped chard leaves with the stems removed. If you like the flavor, add more the next time.
Swiss chard is a rich source of vitamins K, A, and C, plus magnesium, iron, and potassium.
4. Arugula
Also known as rucola, rocket, and Italian cress, arugula has a bitter, peppery taste to it. It tastes overpowering if it's paired with the wrong ingredients.
Pair arugula with strong, sweet-tart fruits like pineapple, green apple, mango, lemon or lime, and orange juice.
You can naturally sweeten arugula smoothies with bananas or pears. Start with 1/2 cup of loosely packed arugula. If you like the flavor, increase the amount to 1 cup. For less bitterness, use 1/2 cup of arugula and 1/2 cup of baby spinach.
Arugula is rich in fiber and phytochemicals, along with calcium, potassium, and folate.
5. Cilantro
This fragrant herb has a fresh, citrusy flavor! I love to bury my face in it and take a huge whiff. It's not just for salsa, rice, and chicken. Cilantro is delicious in smoothies too!
Cilantro pairs well with kiwi, pineapple, mango, green apples, banana, lime, orange juice, strawberries, and cucumbers.
Cilantro can taste bitter on it's own, so pair it with sweet fruits like pineapple or banana if you prefer a sweet smoothie. Cilantro is a good source of antioxidants called polyphenols that protect your body's tissues against oxidative stress.
Start with 1/2 cup of loosely packed cilantro. If you want more greens, add spinach too.
6. Collard Greens
Collards are a great option for smoothies and can be swapped in for recipes calling for kale. It's best to remove the stems first.
Collards work best with high-speed blenders that pulverize effectively. If you use a regular blender, you may have bits of collards all throughout the smoothie.
Collard greens are another great source of vitamin K! Two cups of raw collard greens provides 128% of the recommended daily value.
Just like the other greens in this list, collards pair well with sweet fruits and acidic ingredients like lemon, lime, and orange juice.
7. Basil
We grow basil in our garden and it flourishes! Since we always have a boatload of fresh basil, I like to throw it in smoothies.
Basil is a good source of calcium and vitamin K, plus it's full of antioxidants! Basil has a distinct flavor with notes of mint and anise. This fragrant herb pairs well with blueberries, strawberries, pineapple, mango, bananas, lime, and sweet cherries.
Start small with 1/4 cup of loose basil leaves, then add more as desired.
8. Romaine Lettuce
Ever try a lettuce smoothie? The results may surprise you! Romaine is softer than kale leaves, which means it's easier to blend.
Even more impressive though is its nutritional info! One cup of romaine adds only 8 calories to your smoothie, plus important minerals like calcium, magnesium, phosphorus, and potassium. It's also packed with vitamins C and K and folate.
Since it has a mild flavor, it goes with any fruit smoothie! Simply add a cup (or two) of chopped romaine.
9. Parsley
Another fresh herb for the books! It's best to use Italian flat leaf parsley since the leaves are softer and easier to blend.
Parsley has a clean, earthy flavor with a bitter aftertaste. Citrus helps cut some of the bitterness and brightens it up. You can pair parsley with banana, pear, green apples, cucumber, ginger, lime, mango, or pineapple.
It's best to include a sweet fruit to counteract some of the bitterness. Add 1/2 cup of parsley to your next smoothie.
10. Bok Choy
Bok choy isn't just for stir fry! You can chop up this cruciferous vegetable and add it to your smoothies. If possible, use baby bok choy which is more tender and sweet than regular bok choy.
If you can't find baby bok choy, you can use regular bok choy but the texture won't be as smooth. Be sure to chop it up before you add it. For a smoother texture, you can blanch the greens first.
Bok choy is a good source of vitamin C and K! On top of that, it has potential anti-cancer benefits from isothiocyanates.
11. Dandelion Greens
Dandelion greens have a strong, bitter flavor similar to arugula. It's best to pair them with sweet or acidic fruits like banana, pears, berries, pineapple, mango, green apple, or oranges.
Less is more. Use 1/2 cup of dandelion greens, then supplement with spinach if you want more greens.
Dandelion greens are loaded with vitamins and minerals, including vitamins A, C, and K, folate, iron, and calcium.
12. Beet Greens
We grow beets in our garden and we always have a ton of beet greens. You'd be surprised how many greens one beet has! They have a mild, lightly sweet flavor.
Since I hate to waste garden fresh produce, I had to find a way to use them up. Smoothies seemed like an obvious choice! You can swap them in anytime a smoothie recipe calls for kale or spinach.
Beet greens are high in immune-boosting vitamin C, nitrates that improve blood pressure, and beta-carotene!
13. Microgreens
These adorable little greens pack a nutritional punch! You can use any type of microgreens for smoothies, but some have a stronger flavor than others. Micro pea greens have an herbaceous sweet flavor to them.
Microgreens are baby plants only 1 to 3 inches tall. While each variety's nutrient profile differs slightly, they tend to be rich in iron, potassium, magnesium, zinc, and copper. They're a good source of disease-fighting antioxidants too!
I don't measure when I add microgreens, in less you count handfuls. Start with 1 cup, then add more as desired.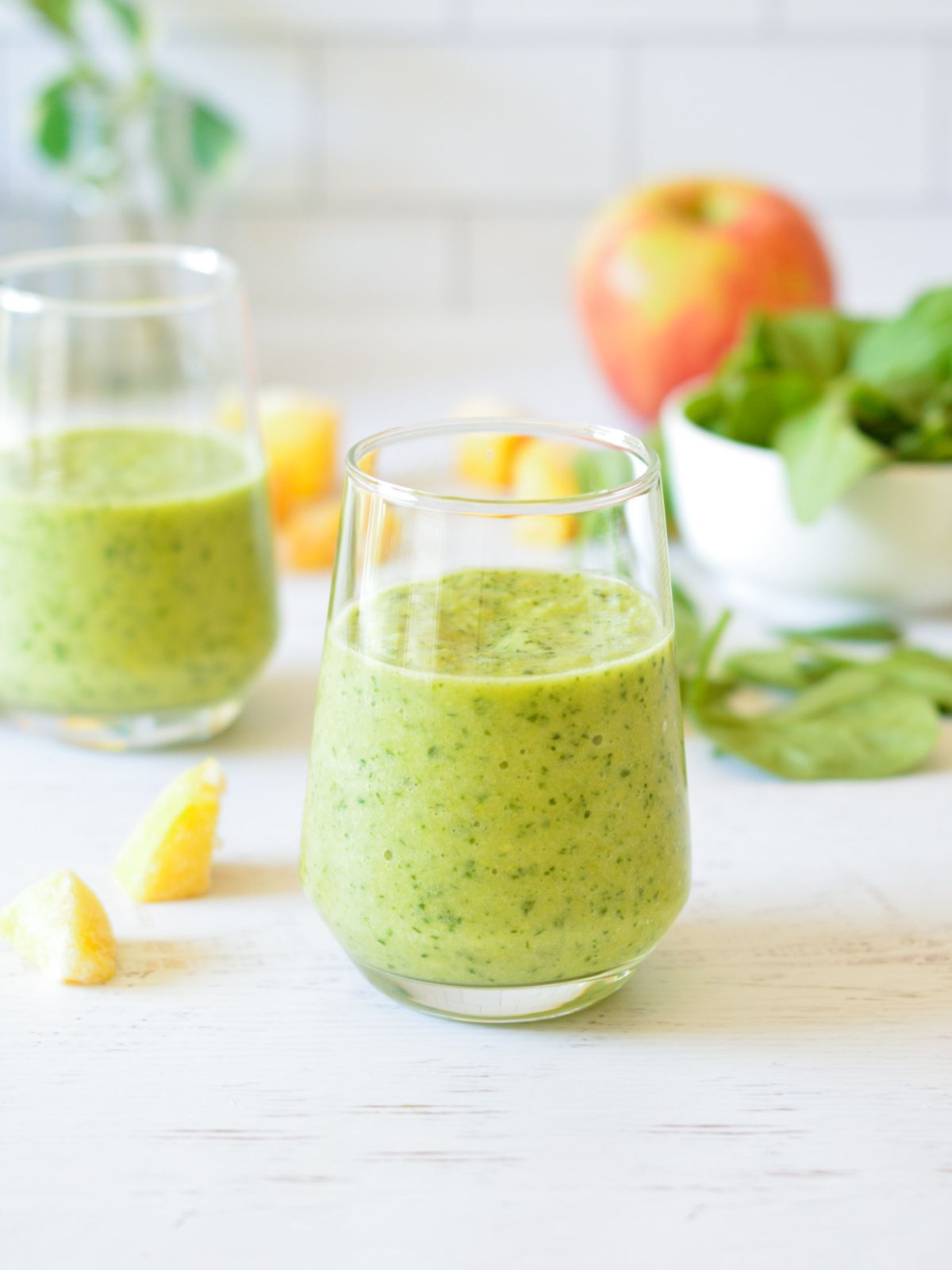 14. Celery
Celery may seem like an odd choice for a smoothie, but it's one of my favorites!
I do recommend a quality, high-speed blender for the best texture. Otherwise the smoothie will taste a bit mealy. You can always add celery juice if you prefer a smoother texture.
Chop the celery up before you add it to the blender. And be sure to pair it with a creamy element like a banana. Celery tastes great with citrus like orange, lemon, or lime and fruits like green apple, strawberries, pineapple, mango, and cucumber.
Celery boasts 25 anti-inflammatory compounds that may protect your body against inflammation, plus it's full of compounds that benefit your digestive tract!
15. Mustard Greens
Last but not least are mustard greens! Mustard greens are the leaves from the mustard plant. They have a peppery flavor similar to arugula, and belong to the same family as broccoli, kale, collards, and cauliflower.
Mustard greens are a good source of antioxidants, specifically flavonoids, beta carotene, lutein, and vitamins E and C.
Since mustard greens are a little spicy, it's best to pair them with acidic ingredients like orange juice and pineapple. A banana adds natural sweetness and creaminess too!
Tips for Adding Greens to Smoothies:
If possible, use a high-speed blender. I have a Vitamix and a Ninja. Both work great, but the Vitamix ultimately gives me the smoothest texture. If you have a low-powered blender, stick to soft greens like baby spinach.
Pair greens with naturally sweet fruits. Fruit will overpower some of the earthy taste of the greens for a sweet flavor! A banana is a good option because it adds creaminess as well.
Use frozen fruit instead of ice. Frozen fruit provides a creamier texture than ice!
Frozen spinach blends easier than fresh. If you're new to green smoothies, frozen spinach is a great option.
For a creamier texture, add Greek yogurt, a banana, or both! A banana is your best bet for an ultra-creamy texture. It's like night and day!
FAQs:
What greens are cheap for smoothies?
If you need a budget-friendly option, try frozen spinach! It won't perish quickly and it gives you the most bang for your buck. I just bought a bag of frozen spinach for under 1.50 at Walmart. Just add 1/2 cup to your next smoothie. You don't need to thaw it first!
Which is better in a smoothie, spinach or kale?
I always recommend baby spinach if you're new to green smoothies. It has a mild, sweet flavor and delicate leaves which makes it easy to blend. It also pairs with all fruit combos so you can't go wrong in terms of flavor.
Green Smoothie Recipes:
Leafy Green Smoothie
This refreshing green smoothie is a great way to add greens into your diet! Feel free to use whatever greens you have on hand.
Ingredients
handful of greens

spinach, baby kale, cilantro, Swiss chard, etc.

1

medium banana

peeled

½

cup

diced cucumbers

peeled

1

cup

frozen pineapple

1

cup

frozen mango

¼

cup

orange juice

¼

cup

unsweetened almond milk
Instructions
In the pitcher of a high-speed blender, combine the greens, banana, cucumbers, pineapple, mango, orange juice, and almond milk – in that order. Placing the soft ingredients closest to the blades helps everything get moving.

Blend until smooth and creamy. If the smoothie is too thick, add a splash more orange juice and blend again until smooth.

Pour into two small glasses and enjoy immediately!
Nutrition
Calories:
166
kcal
Carbohydrates:
41
g
Protein:
2
g
Fat:
1
g
Saturated Fat:
0.2
g
Polyunsaturated Fat:
0.3
g
Monounsaturated Fat:
0.3
g
Sodium:
44
mg
Potassium:
547
mg
Fiber:
4
g
Sugar:
30
g
Vitamin A:
1064
IU
Vitamin C:
91
mg
Calcium:
68
mg
Iron:
1
mg