Do smoothies need ice? The answer may surprise you! When it comes down to it, it depends on the other ingredients in your smoothie. Here's the full breakdown on this common question!
Do you put ice in a smoothie?
You do NOT need ice to make a smoothie! The key to a thick and frosty smoothie is using frozen ingredients. This could be frozen bananas, frozen berries, frozen avocado, or yes, it could be ice.
In most cases, I don't recommend adding ice to a smoothie. It melts faster and creates a gritty texture. I highly recommend frozen fruit to thicken a smoothie and keep it cold. If you're making a smoothie that doesn't use frozen berries, just pop a banana in the freezer. A frozen banana thickens a smoothie nicely!
What you need to make a smoothie:
This is a great question, and it largely depends on what type of smoothie you want to make! However, sometimes it helps to have a flexible guideline to get you started. Here's a helpful baseline for a fruit smoothie:
Banana – A ripe banana is an easy way to thicken and sweeten a smoothie. As bananas ripen, their starch converts to sugar, making them naturally sweet. They have a creamy texture too!
Frozen fruit – Frozen berries, peaches, mangoes, pineapple, blackberries, cherries, raspberries, and strawberries are great options! Just be sure to use FROZEN fruit so the smoothie gets thick and ice cold! If you add frozen fruit, you do NOT need ice.
Thickener – This is optional, but recommended. I like to add a creamy element to get a smooth and creamy texture! Greek yogurt, cottage cheese, nut butter, and ripe avocado are all great options.
Liquid – Plant milk, regular milk, juice, and water all work for this. I opt for unsweetened almond milk 80 percent of the time. Be careful when adding juice, since juice tends to pack in the sugar. I prefer to use fresh squeezed navel oranges when opting for juice!
Greens – Greens are a great way to pack in nutrients, and they're hardly noticeable in a smoothie. Try baby spinach, kale (without the stems), or swiss chard!
How to make a smoothie:
First, gather your supplies and equipment. I recommend a high-speed blender like a Ninja or a Vitamix. They have powerful motors, more speed options, and a smoother blend. It's worth the cost if you make smoothies often.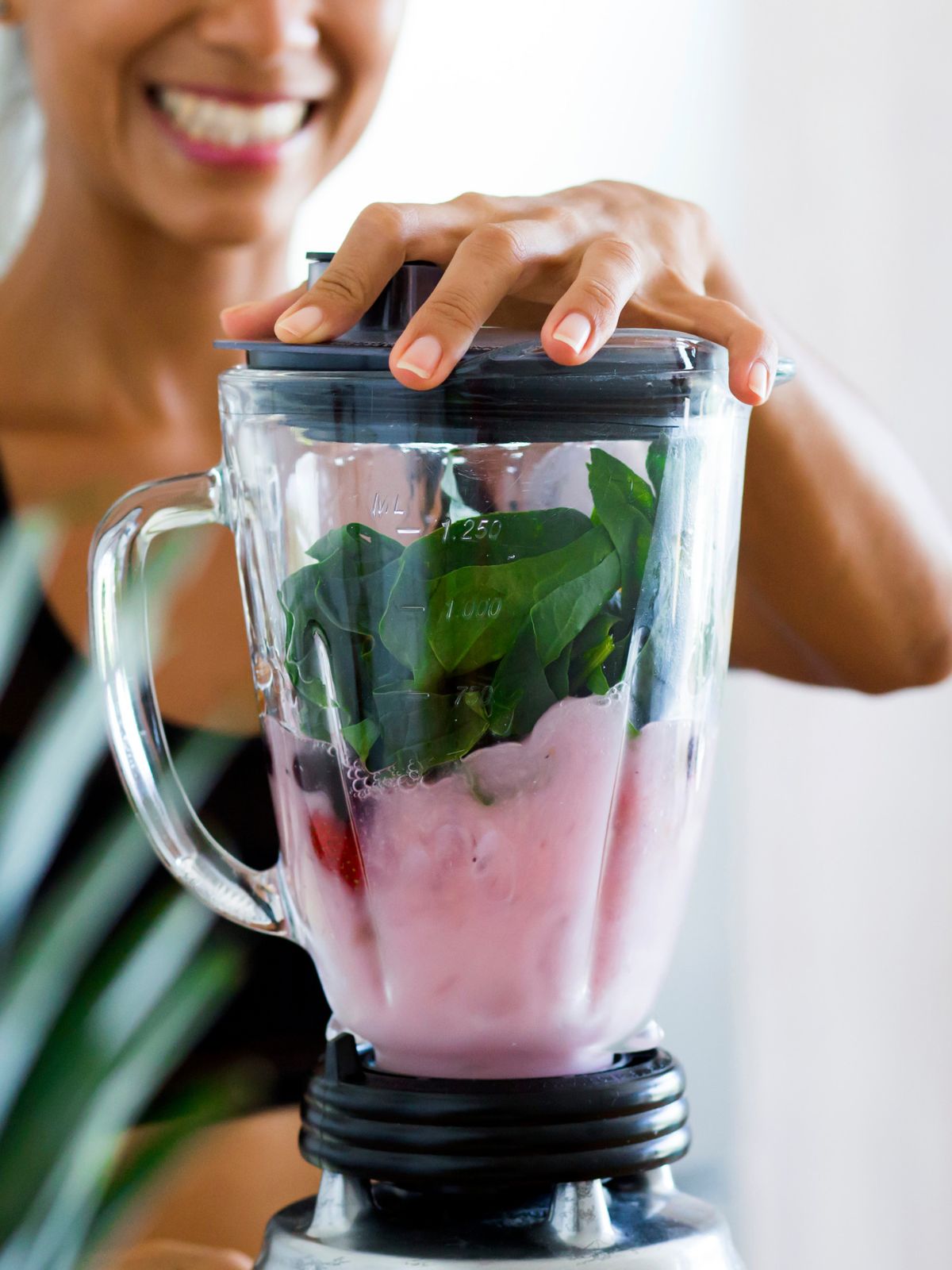 Next, pull out your ingredients. You need a combination of frozen and fresh ingredients, plus a liquid to pull it altogether. For a creamier smoothie, add a thickening agent like Greek yogurt, cottage cheese, nut butter, or ripe avocado.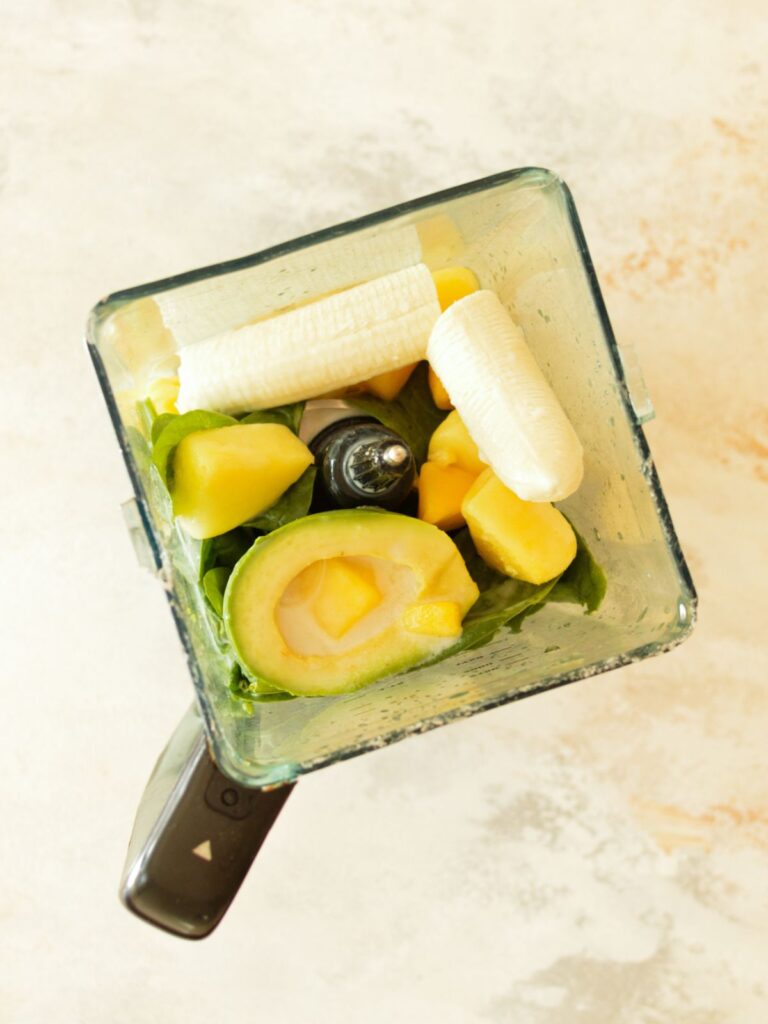 Place all the ingredients into your blender and blend until thick and creamy.
Smoothies are very forgiving! If your smoothie is too thin, add more frozen ingredients like frozen berries. If your smoothie's too thick, add a splash more liquid. Then blend until it looks smooth!
What should I use to thicken a smoothie besides ice?
There are so many options! The most crucial element to a thick and creamy smoothie is a frozen ingredient. If you don't use something frozen, the smoothie won't be cold and thick! Here are a few of my favorite options:
Frozen bananas
Frozen berries or fruit
Frozen avocado
Frozen spinach
Frozen cauliflower
The most important aspect is the ratio of ingredients. If your smoothie is too thin, you didn't use enough frozen ingredients. If your smoothie's too thick, you didn't add enough liquid.
Will ice ruin my smoothie?
Nope! If you decide to use ice in your smoothie, it's not the end of the world. If you use the right combination of ingredients, you should still have a refreshing smoothie to drink. It might have teeny tiny pieces of ice throughout and melt a little faster, but it will still taste great! I sometimes use ice in a pinch.
I will say, the better quality your blender, the less you will notice ice in a smoothie! A Vitamix does a much better job blending ice than a cheap blender.
Ice in Smoothie FAQs:
How do you make a smoothie?
To make a smoothie, place a combination of frozen fruit, banana, and a liquid like almond milk in a high-speed blender. Place the lid on the blender so it clicks in place. Blend until the smoothie is thick and creamy! If your smoothie isn't thick enough, add more frozen fruit or a few ice cubes. If the smoothie is too thick, add a splash more liquid to thin it out.
Does ice make a smoothie thicker?
Ice will thicken a smoothie, but it melts faster than frozen fruit, plus it adds no flavor to the smoothie. In a pinch, you can use ice, but I highly recommend using frozen fruit or a frozen banana to thicken a smoothie!
Do smoothies need ice?
No, smoothies do not need ice! As long as they have a frozen ingredient in them, they will thicken and get ice cold. You can use frozen banana, frozen berries, frozen fruit, frozen avocado, or even frozen cauliflower! I find a combination of frozen ingredients makes the best smoothie.
How do I make a fruit smoothie with ice?
If you do want to use ice in a fruit smoothie, add it last. First blend the fruit until smooth, then add the ice to thicken. This will prevent the ice from melting before you finish blending the smoothie.
Tips for making the best smoothies:
If possible, use a good quality high-speed blender. If you make smoothies often like I do, a nice blender is a worthy investment. If you can't afford a Vitamix, a Ninja is a more affordable option!
Use a creamy element in your smoothies. For a thick and creamy consistency, be sure to add an ingredient that has a creamy texture. Think bananas, greek yogurt, cottage cheese, or avocado. These ingredients have a mild flavor that won't overpower the flavor of your smoothie, but add a smooth texture.
A smoothie will only be as healthy as the ingredients you put in it. Choose whole foods and plant-based ingredients whenever possible. Try to avoid sugar-laden juices. Most fruit and berries are naturally sweet enough you don't need added sweeteners.
Don't add too much liquid. You can always add more to thin it out!
Refreshing Smoothie Recipes