13 Breakfast Foods to Pair with A Smoothie
If you're wondering what to eat with a smoothie for breakfast, you're not alone! Here's 13 breakfast foods that taste great alongside a cold and refreshing smoothie.
Smoothies make a delicious on-the-go breakfast, but they also taste great alongside other common breakfast items! It's a great way to get a boost of antioxidants, vitamins, and fiber to kickstart your day.
What to eat with a smoothie:
1. Scrambled Eggs
Scrambled eggs are a great way to pack in the protein! One large egg contains 6 grams of protein, 5 grams of fat, and roughly 80 calories.
Eggs go great with fruit smoothies that aren't as filling. There's nothing worse than a rumbling stomach less than an hour after breakfast. Scrambled eggs are creamy, delicious, and easy to make!
How to Make Scrambled Eggs
Crack two eggs into a bowl and whisk well with a fork.
Melt a little bit of butter in a nonstick skillet over medium heat, then add the eggs.
Stir occasionally until the eggs are almost set, then remove from the pan and enjoy!
Top with a sprinkle of sea salt and freshly cracked pepper.
2. Peanut Butter Toast
For peanut butter lovers everywhere! It doesn't get much better than peanut butter toast. One two-tablespoon serving of peanut butter packs in 200 calories and 9 grams of plant-based protein!
And it tastes good with virtually every kind of smoothie, green, fruit, protein, or chocolate!
You can use whatever type of bread you like, but I prefer to use a nutrient-dense loaf with whole grains and plenty of fiber. Sprouted whole grain, whole wheat, and oat bread are great options!
If you can't have peanut butter, swap it with another nut butter. Almond butter, cashew butter, and pistachio butter are a few of my faves!
How to Make Nut Butter Toast
Pop a slice of bread in the toaster.
Spread nut butter of choice on top of bread.
Add toppings if desired. A drizzle of honey, sliced bananas, fresh berries, thinly sliced apples, or mini chocolate chips are all delish!
Enjoy with the smoothie of your choice.
3. Greek Yogurt Bowl
A yogurt bowl is just a bowl of yogurt with toppings! It's simple to whip up and oh-so-good. It takes about 2 minutes to put together and it's a great way to clean out the fridge/pantry. Plus a 6-ounce container of Greek yogurt packs 15 grams of filling protein!
I always use unsweetened Greek yogurt for the added protein, but any type of yogurt works. It's best to use unsweetened yogurt so it doesn't morph into a sugar bomb, plus the toppings add plenty of sweetness.
I like to serve it with my strawberry banana smoothie.
How to Make a Yogurt Bowl
Scoop yogurt of choice into a shallow yet wide bowl. (You want plenty of room for toppings.)
Add toppings. Berries, granola, honey, chia seeds, shredded coconut, pineapple, walnuts, nut butter, sliced bananas, dried fruit, pomegranate seeds, and jam are all good options.
Enjoy alongside your favorite smoothie!
4. Cereal
Cereal is not a filling breakfast on its own, but when I pair it with a protein smoothie I'm full until lunch! It's a super quick option for busy mornings and picky kiddos.
Try to avoid cereal with artificial food dyes, a ton of added sugar, and hydrogenated oils. I always check labels and look for whole grains, less than 8 grams of sugar per serving, and ingredients I can pronounce.
There are more than 50 names for sugar, so be on the lookout for sneaky ones like sucrose, high-fructose corn syrup, fruit juice concentrate, barley malt, and brown rice syrup.
Kashi has some great cereal options, and so does Barbara's brand! That being said, I realize life isn't perfect and some days just call for a bowl of Lucky Charms!
5. Overnight Oats
I'm a huge fan of overnight oats, but they're not for everyone. They have a specific texture, like cold oatmeal, only chewier. You can make them virtually in any flavor and they only take 2 minutes to prep.
Oats are a whole grain loaded with vitamins, minerals, and fiber so it's a win-win! One cup of oats contains 13 grams of protein, 8 grams of fiber, and 5 grams of fat.
If you don't like the texture of overnight oats, try adding rolled oats to your smoothies instead! They give any smoothie a little bit of texture and a slightly oatey flavor.
How to Make Overnight Oats:
In a small bowl or jar, combine 1/2 cup of rolled oats and 1/2 cup of milk. You can use regular or plant-based milk.
Add sweetener or mix-ins. Honey, maple syrup, nut butter, jam, and fresh fruit are good options. Stir to combine.
Cover and place in the refrigerator for at least 4 hours or overnight.
Enjoy!
6. Frittata
A frittata sounds fancy, but it's really like a baked omelet, only easier to make! You can make a frittata in a skillet, or mini ones in a muffin pan.
I like to pack in veggies for added nutrients and flavor. Try broccoli florets, spinach, roasted red peppers, zucchini, onions, bell peppers, and tomatoes. Cheese is also a worthy addition. Goat, feta, cheddar, gruyere, and gouda all taste great!
How to Make a Frittata:
Preheat your oven to 400 degrees Fahrenheit.
In a large bowl, whisk 8 eggs with 1/4 cup of milk and 1/4 teaspoon of kosher salt.
In a large nonstick skillet over medium heat with a tablespoon of olive oil, sauté your chopped veggies of choice until crisp-tender.
Add the eggs and any cheese if desired. Give the eggs a stir to evenly distribute the veggies and cheese.
Transfer the skillet to the oven and bake until puffed and nearly set.
7. Breakfast Quinoa
Breakfast quinoa is similar to hot oatmeal, but it's made with cooked quinoa instead of oats. Quinoa has an earthy, nutty taste similar to brown rice, but it's much smaller. My family loves it!
One cup of cooked quinoa contains 220 calories, 8 grams of protein, and 5 grams of fiber. It's also packed with plant compounds and antioxidants that help with inflammation. Fiber-rich foods support a healthy gut and digestive system.
How to Make Breakfast Quinoa:
In a bowl, combine 1/2 cup of warm quinoa with 1/2 cup of warm milk. You can use regular or plant-based milk.
Add sweetener and toppings if desired. Honey, maple syrup, dried fruit, nuts, granola, cinnamon, and shredded coconut are good options.
8. Omelette
An omelette is a bit more involved than scrambled eggs, but worth the extra effort! Beaten eggs are cooked in a skillet until set then topped with cheese, veggies, or meat. The eggs are folded in half then served.
Omelettes are full of protein from the eggs and a perfect slate for nutrient-dense veggies. It's best to sauté the veggies first, then add them to your omelette. Try spinach, bell peppers, onions, broccoli, zucchini, or mushrooms.
Try this simple veggie omelette to start, then get more creative once you've mastered the basics. Omelettes taste great with green or fruit smoothies!
9. Avocado Toast
A simple breakfast full of healthy fats! Avocado toast is so simple yet delicious. There are a million versions, but I like to keep it simple.
One avocado contains 300 calories, 30 grams of fat, and 14 grams of fiber. They're rich in vitamin C, E, folate, and magnesium.
How to Make Avocado Toast:
Mash half a ripe avocado with a squeeze of lime juice and a pinch of kosher salt.
Spread it onto a piece of toast, then top with a fried egg. Breakfast bliss!
Or switch up the toppings as you see fit. Try sliced cherry tomatoes, red onions, Everything Bagel seasoning, sliced cucumbers, crumbled bacon, or feta.
10. Chia Pudding
Chia pudding is a creamy breakfast pudding made of two ingredients: chia seeds and milk. When chia seeds sit in a liquid, they absorb it and turn into a gel like consistency. Chia seeds pack a nutritious punch with plenty of fiber, antioxidants, and omega-3 fatty acids.
One ounce of chia seeds contain 140 calories, 4.5 grams of protein, 8.5 grams of fat, and almost 10 grams of fiber!
How to Make Chia Pudding:
In a small jar with a lid, combine 1/4 cup of chia seeds and 1 cup of milk. You can use regular or plant-based milk.
Add a sweetener like maple syrup, honey, or sugar if desired. Put the lid on the jar and shake to combine. Let the mixture sit for a few minutes and stir to break up any clumps.
Screw on the lid and refrigerate for at least 2 hours or until the pudding is thick and creamy.
11. Protein Bar
If you need a lightning-fast breakfast, a smoothie and a protein bar are the perfect duo. Look for a protein or granola bar that's full of clean ingredients without additives or excess sugar.
Kind brand has protein bars out that I really love. They don't have any weird ingredients and a minimal amount of added sugar. Always check labels to check protein, sugar, fat, and carbs content.
12. Bacon
Bacon and a smoothie? No mistakes here! It's the classic combo of sweet and salty. A sweet refreshing smoothie tastes great next to a plate of crispy, salty bacon.
If possible, opt for nitrate-free bacon. Nitrates are chemicals added to bacon to preserve freshness, but they're linked to health issues.
One slice of cooked bacon provides 3 grams of protein and 3 grams of fat.
13. Breakfast Burrito
If you really need some fuel for your day, a breakfast burrito is the way to go! Pack a tortilla with all your favorite breakfast foods. Eggs make a filling base and the topping opportunities are endless.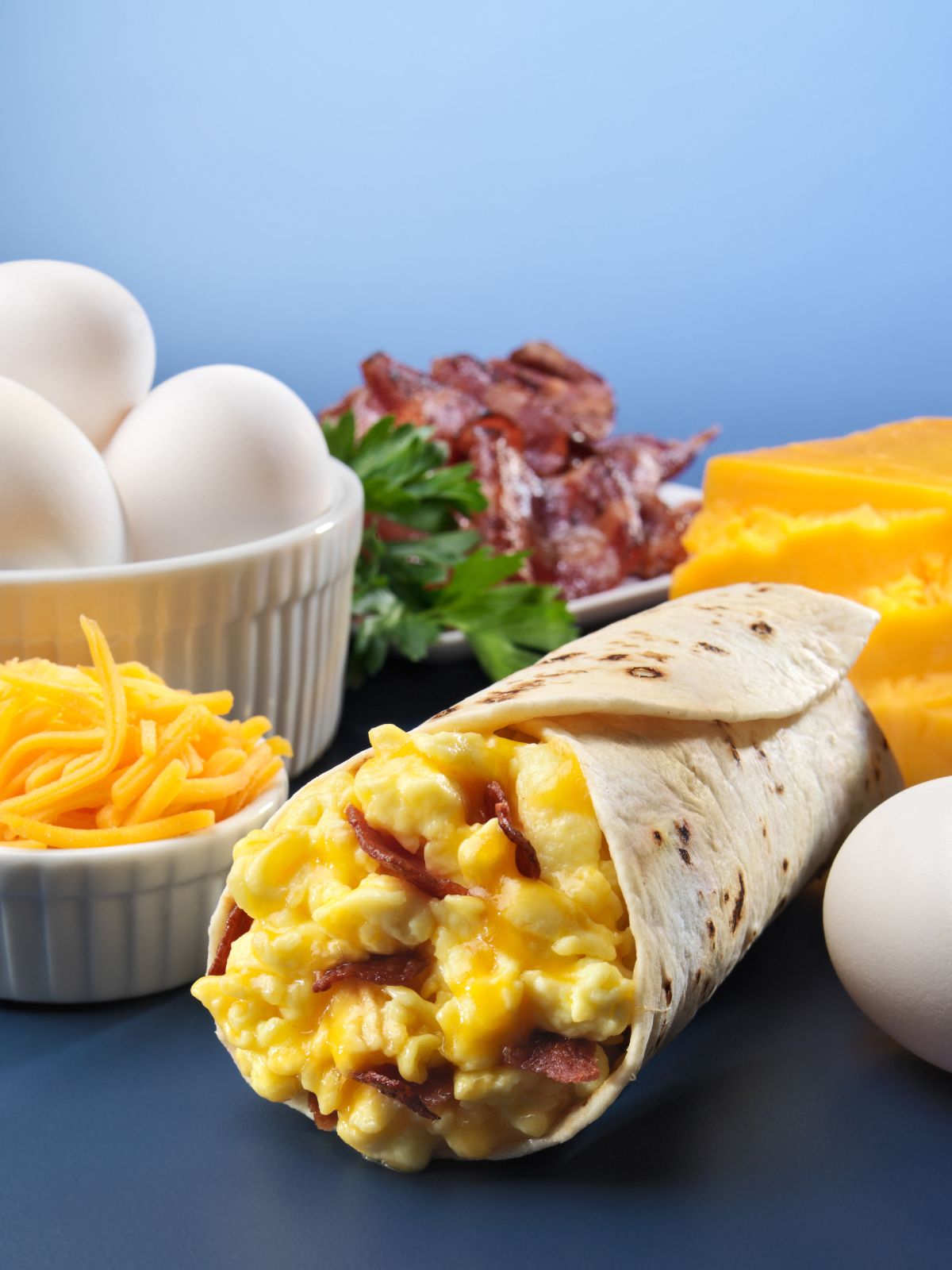 Bacon, cheese, avocado, chorizo, sauteed veggies, diced tomatoes, salsa, spinach, roasted potatoes, black beans, and pico de gallo are all great options!
What to Pair with a Smoothie for Breakfast
The truth is, smoothies are super versatile and go with nearly any breakfast! Sweet and savory is a popular combo for a reason.
If you're looking to stay fuller longer, opt for a pairing with protein and healthy fats! Smoothies already pack in a lot of antioxidants from fruit, but sometimes lack protein to fill you up.
If you want a smoothie that already has protein and healthy fats, try a smoothie made with nut butter, protein powder, or avocado.
More Smoothie Recipes: