All of these BlendJet recipes are easy to make and ultra delicious! From smoothies to shakes and more, you will love every single one.
What is a BlendJet?
A BlendJet is a small portable blender. What does that mean? It means you don't have to plug it in! It makes 13 to 15 smoothies before it dies and then you have to charge it.
It also means you can drink your beverage directly from the blender. It's small and light enough to fit nicely in your hand.
It's easy to clean and portable, which makes it easy to travel with. Most hotels and air bnb's I've stayed at don't provide a blender!
BlendJet VS. Blender:
There are a few key differences between the BlendJet 2 and a regular blender. It's best to know these differences before you buy one.
Size – The pictures don't show just how small this blender is. It's the size of a small water bottle. I was pleasantly surprised by this, but if you're used to big shakes or smoothies, the size might not be a good fit.
Blade – As you can imagine, a small blender has a small blade. This means it doesn't blend frozen ingredients as well as a high-speed blender. It does a good job as long as you add enough liquid, but I wouldn't use it for smoothie bowls or very thick smoothies.
Portable – That being said, who wants to lug a huge Vitamix with them on vacation? Not this girl! So while it's small and less effective then a regular high-speed blender, it makes up for it in its sleek and lightweight design.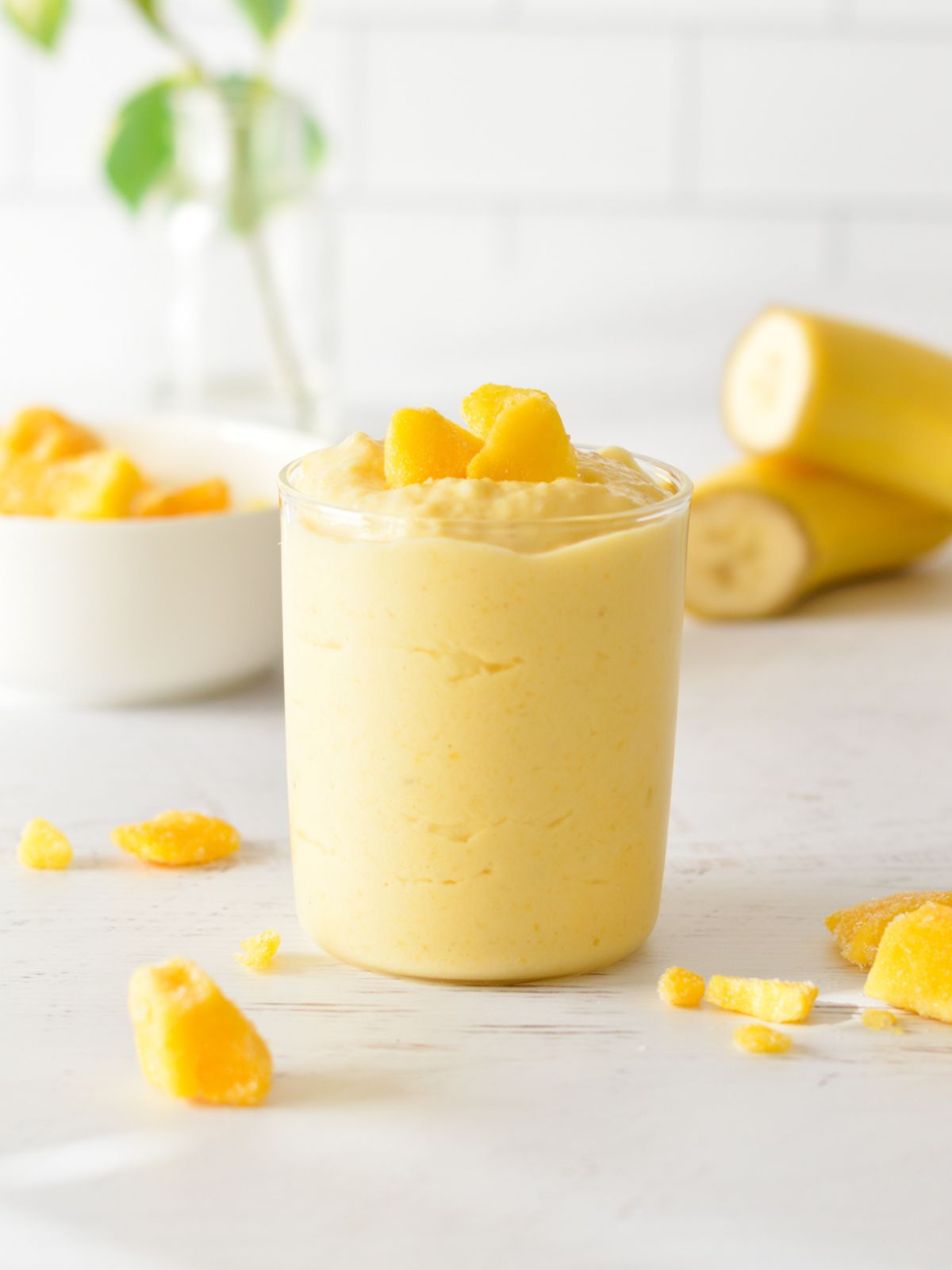 How to make a smoothie with a blendjet:
Since the design is very different then a regular sized blender, there's a few things you need to remember whilst making smoothies.
Add the liquid first. It will blend more effectively this way.
Use more liquid than a regular blender. I typically like my smoothies very thick and so I don't add much liquid to my high-speed blender. This isn't a good idea with the BlendJet. It needs more liquid to give you a smooth blend.
Don't pack it too full. Leave room at the top so the blender can move the ingredients around.
If it's not working, stop and push the ingredients with a spoon toward the blade. I had to stop mine and do this once before it gave me a really smooth blend.
BlendJet Recipes:
The best BlendJet smoothie recipes are going to be ones specifically made for the BlendJet. That being said, it works great for smaller recipes like salad dressings and dips too!
Here's 13 BlendJet Recipes you're sure to love!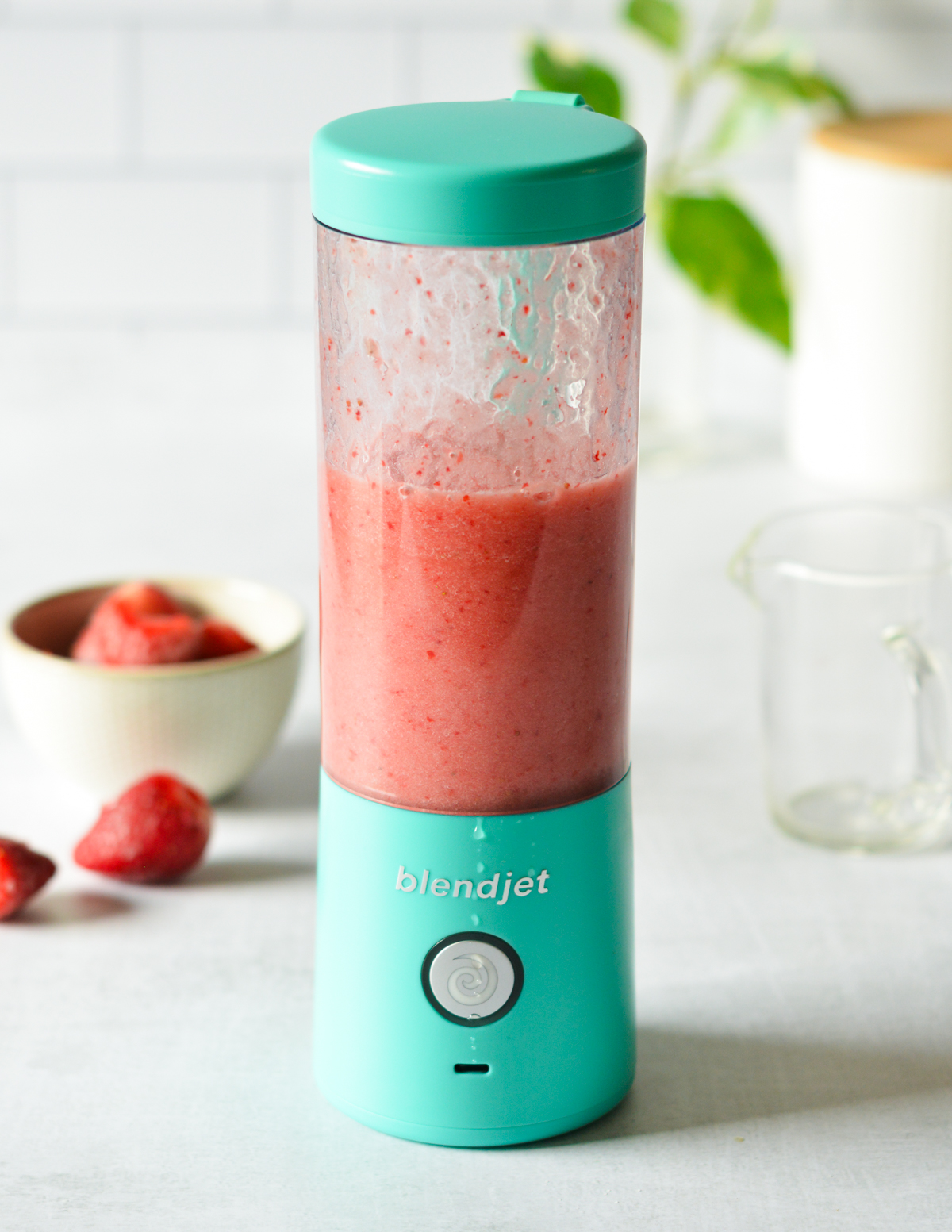 This strawberry smoothie is simple and sweet, with tropical vibes! It's only three ingredients – banana, strawberries, and passion fruit juice.
It's the perfect consistency – pourable yet frosty and thick. Plus it's packed with antioxidants and immune-boosting vitamin C.
This plant-based smoothie is refreshingly sweet and perfect for summer! Orange juice, banana, carrots, and mango are a bright and cheery combo that's sure to boost your mood.
It's a super delicious way to get immune-boosting vitamin C, fiber, and plenty of antioxidants.
It's super simple with just 4 ingredients. This pomegranate smoothie is a refreshing way to enjoy pomegranate season!
It's made with oat milk, pomegranate arils, frozen strawberries, frozen banana, and agave! It tastes great with any plant-based milk though.
I love a good breakfast smoothie! This strawberry smoothie has oats, almond milk, frozen strawberries, and frozen banana.
Just be sure to cut your frozen banana into chunks so it blends effectively. Oats add a slight oatey flavor and keep you full longer. I love adding them to smoothies in general, but they pair especially well with strawberries.
Coffee in a smoothie? Yes, yes yes! You get your morning coffee AND breakfast all in one. The coffee acts as the liquid base while frozen banana thickens it up.
Just be sure to use cold coffee! Don't use hot coffee or it will melt your frozen banana and you will have a drink, not a smoothie!
Citrus and pineapple are always a good pair! This lemon pineapple smoothie is sweet and refreshing, with a burst of fresh lemon.
A lot of the BlendJet recipes call for frozen bananas, so be sure to keep them in your freezer. Just cut a banana into chunks, place them in a zip-top bag, and freeze overnight.
This chocolate shake is decadent, rich, and satisfying! Dates act as a natural sweetener. Be sure to pit them and chop them first.
This recipe only calls for 1/4 teaspoon of cacao powder but I like to add a full teaspoon for an intense chocolatey taste.
Watermelon in smoothies is a game changer! If you live for peak-season watermelon come summer, you've got to try this one.
Don't add more than 1/2 cup of water. Watermelon is more than 90 percent water so it acts like a liquid in this smoothie.
Cherry almond is by far one of my favorite combos! If you hate almond flavoring, skip ahead.
This BlendJet recipe tastes like a dessert! It contains frozen banana, cherries, coconut yogurt, almond extract, protein powder, and maple syrup. Yum!
A post workout smoothie you can feel good about! Ignore the unsightly color, this smoothie is delicious! And it's healthy, low-carb, and packed full of protein.
It has almond milk, almond yogurt, peanut butter, spinach, and a frozen banana in it. The spinach isn't overwhelming in this. In fact, it's hardly noticeable with the sweet banana and nutty peanut butter.
You can make more than just smoothies with your BlendJet, like this crave-worthy pumpkin pasta sauce!
Just sauté some onion and garlic in a hot skillet, then add all your ingredients to the BlendJet. Blend and pour over your favorite noodles.
Perfect for your next workout! Ditch the shaker bottle and make this strawberries and cream protein shake instead.
Strawberries, protein powder, and coconut yogurt make a sweet and creamy shake! Just add everything to your BlendJet and blend.
There's nothing like a frozen lemonade on a hot summer day! Enjoy this frosty drink on the beach, poolside, or anywhere outdoors.
All you need is lemonade, lemon sorbet, lime zest, and ice. This BlendJet recipe is a must-try if you love lemon-lime flavors.
This strawberry cheesecake smoothie has all the flavors of a traditional cheesecake in a sippable smoothie!
It's rich and decadent, but way better for you than a slice of cheesecake. You need strawberries, yogurt, and cream cheese for this one.
White chocolate and raspberries is a divine combo! This one calls for white chocolate chips, but I like to swap them with white chocolate sauce.
Top this sweet dessert smoothie with whipped cream and white chocolate shavings!
This protein shake is all about the berries! Banana, mixed berries, and protein powder pack a delicious punch.
I like to use almond milk as the liquid base because it's creamy and low in calories. Just add everything to your blender and blend.
BlendJet FAQs:
What can I make in my BlendJet?
You can make smoothies, protein shakes, margaritas, pasta sauce, milkshakes, salad dressings, frozen cocktails, Frappuccinos, waffles, pancakes, and more!
Can you put ice in a BlendJet?
Yes, you can put ice in a BlendJet, in fact, many of their recipes call for ice. You just don't want to pack it too full and you want to make sure you add enough liquid.
Can you drink straight from a Blendjet?
Yes, the BlendJet is designed to be a cup to drink out of! It's small and lightweight so it's easy to hold with one hand. Just blend, remove the lid, and enjoy!
BlendJet Smoothie Recipe:
I modified my favorite high fiber smoothie for the BlendJet. It's super delicious, even my picky kiddos love it!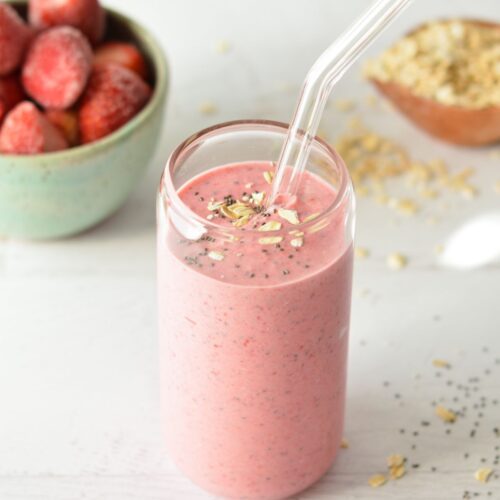 High Fiber BlendJet Smoothie
This high fiber smoothie is designed for your BlendJet. It features strawberries, raspberries, oats, and chia seeds for a filling and sweet breakfast or snack.
Equipment
BlendJet Portable Blender
Ingredients
½

banana

peeled

⅓

cup

frozen raspberries

⅓

cup

frozen strawberries

1

teaspoon

chia seeds

2

tablespoon

oats

½

cup

milk of choice
Instructions
Combine all ingredients in your BlendJet. Blend until smooth.

If the ingredients aren't blending, stop the blender and use a spoon to push the fruit toward the blade. Blend again until smooth.
Nutrition
Calories:
166
kcal
Carbohydrates:
31
g
Protein:
4
g
Fat:
4
g
Saturated Fat:
0.3
g
Polyunsaturated Fat:
2
g
Monounsaturated Fat:
1
g
Trans Fat:
0.01
g
Sodium:
165
mg
Potassium:
390
mg
Fiber:
7
g
Sugar:
11
g
Vitamin A:
56
IU
Vitamin C:
41
mg
Calcium:
200
mg
Iron:
1
mg