BlendJet Strawberry Smoothie
This BlendJet smoothie recipe is just 3 ingredients and tastes like a strawberry daquiri! It's refreshingly sweet and the perfect ratio to fit in your portable blender.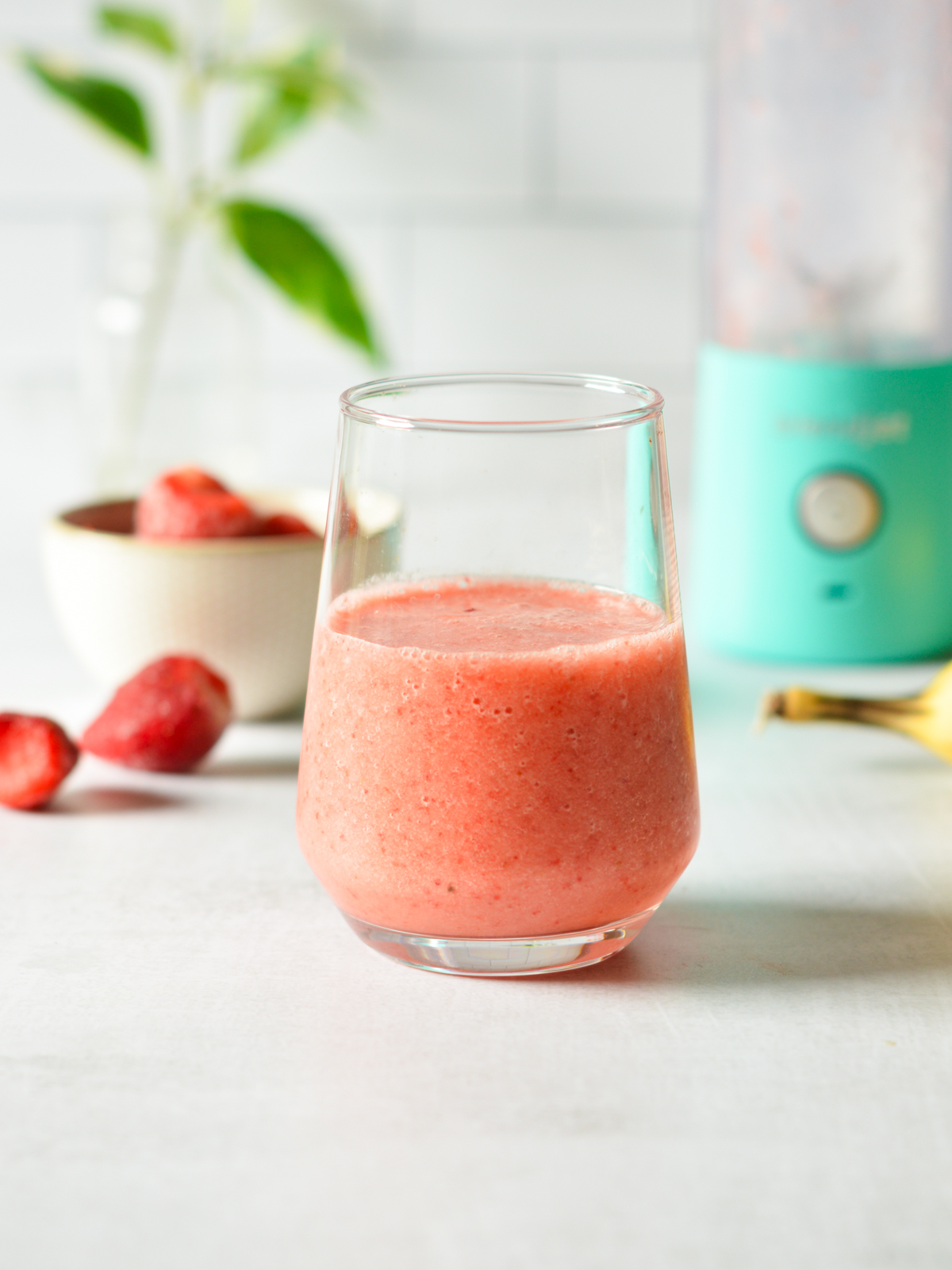 Why You'll Love it:
I'm not going to lie. I didn't have high expectations for my BlendJet 2. How great could a tinsy blender actually be? Truth be told, I'm loving it.
The size alone has my vote. I prefer small smoothie servings and the BlendJet delivers. It can only hold 16 ounces max! Which means I can drink it straight from the blender.
While it takes some finesse, it produces a smooth texture too. This BlendJet smoothie tastes frosty and sweet, with a punch of tropical passion fruit and strawberry!
Key Ingredients:
Banana – I used half a banana, so it wouldn't take up too much space. A banana makes it creamy and sweet! Be sure to cut it into chunks first and place it closest to the blades. Very important step with this portable blender.
Frozen strawberries – For that frosty texture and strawberry flavor. Be sure to use frozen fruit! I didn't thaw mine and my BlendJet pulsed it up just fine.
Passion fruit juice – Passion fruit juice pairs super well with strawberries! You can find it in a carton at a well-stocked grocery store or at World Market. I used Cere's 100% passion fruit juice blend.
Equipment:
BlendJet or portable blender – You will need a BlendJet or small portable blender for this recipe. The ratio of ingredients is small and intentional. I bought mine for 50 bucks at Target.
How to Make a BlendJet Smoothie:
This BlendJet strawberry smoothie is simple! Make sure your BlendJet is charged and ready to go.
Here's what you need to do:
Line up the arrows. If the arrow on the base and the arrow on the pitcher aren't aligned, it won't work. It even has a sign on the back of the base saying so.
First, add the banana. Cut it into small chunks first, then place it closest to the blades. This gives them something to catch, so there's no chunks of fruit in the end.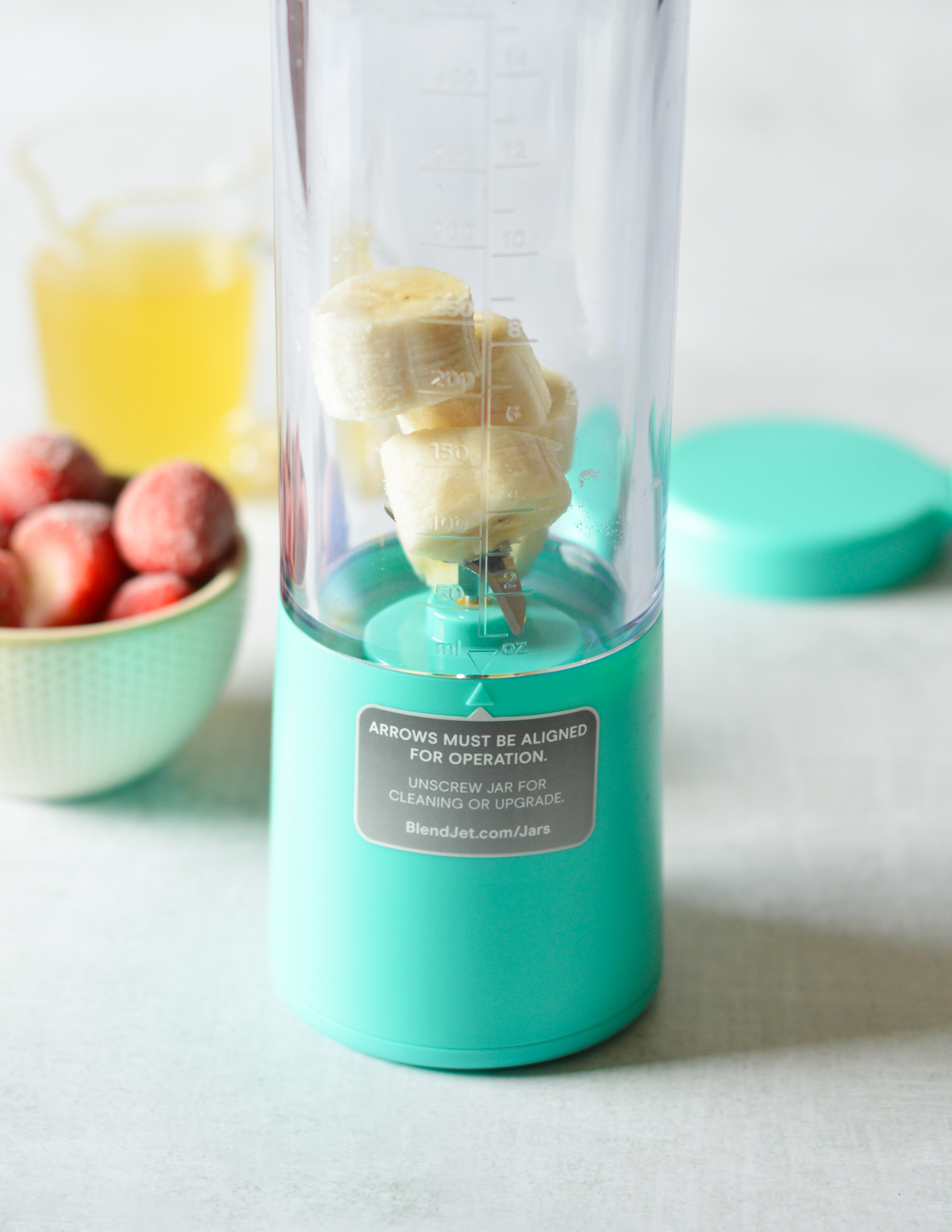 Top with frozen strawberries. I tried different amounts and 3/4 cup gave the best results. Thick enough, but not so thick the BlendJet couldn't handle it.
Add the juice. You don't need to add it first. It sinks to the bottom anyway!
Pulse, then blend. This step is important! I've found that pulsing the mixture repeatedly creates a smoother blend, versus blending continuously. To turn on pulse mode, double press the power button. Then press the button and let go to pulse. Do this several times, until you get a smooth mixture.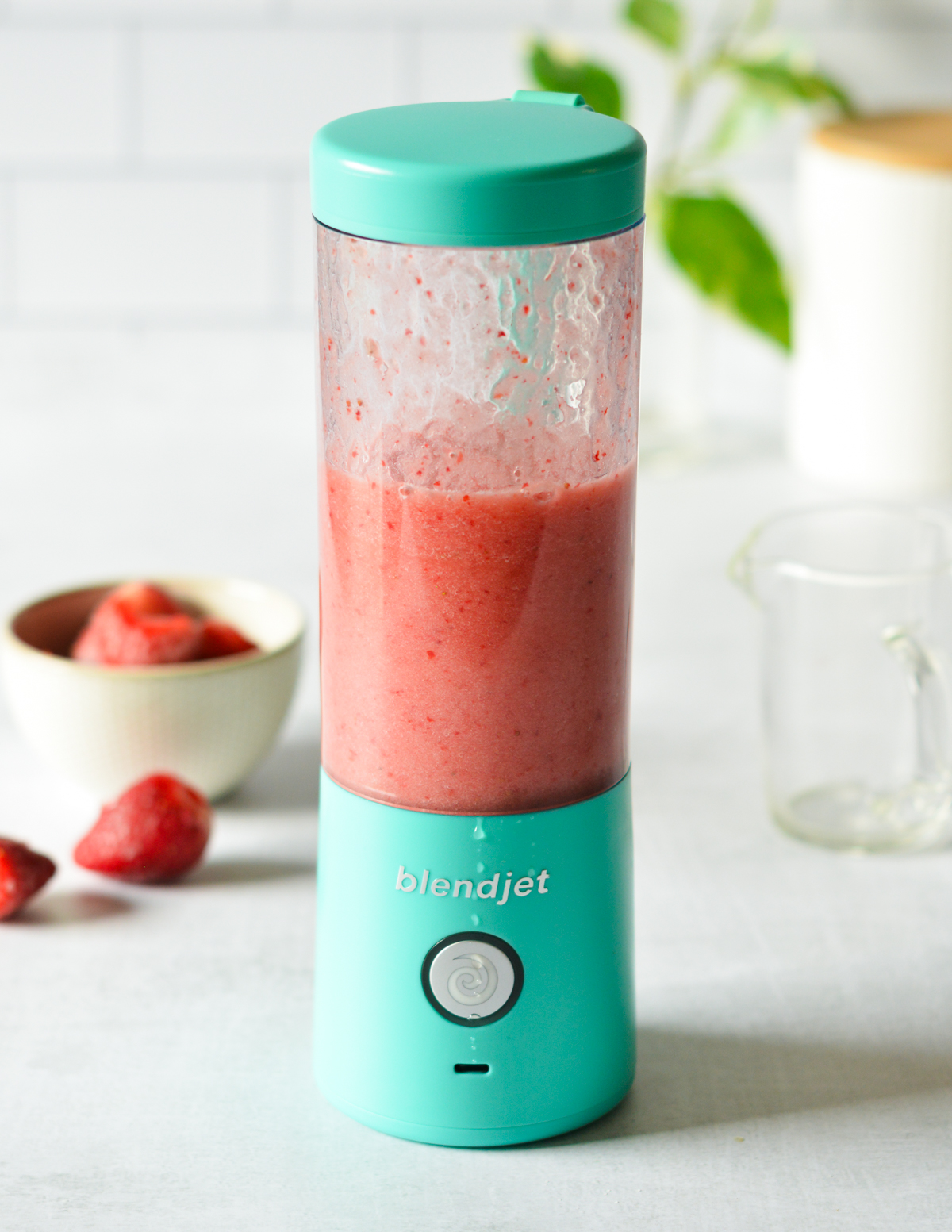 Serve: You can drink it straight from the BlendJet or pour it into a cup first. Enjoy immediately!
Tips for Using a BlendJet:
Make sure the arrows are aligned. The base and the pitcher have an arrow on them. If these arrows aren't aligned, the power button will flash red and it won't work.
If your BlendJet is leaking, check the rubber seals. If they're not in correctly, the blender will leak while you blend.
Go with pulse mode. Pulse mode gives you the option to press the button multiple times for short bursts of blending. This creates a smoother texture without chunks of frozen fruit.
Don't overcrowd the pitcher. I kept the ingredient amounts small for optimal blending!
BlendJet Smoothie Variations:
This strawberry smoothie is easy to customize! Here's a few ideas to get you started:
Liquid base – For less sweetness, swap half of the juice with almond milk. Or you can swap passion fruit juice with apple or white grape juice.
Sweetener – For a sweeter smoothie, add a teaspoon of maple syrup.
Fruit – You can swap the strawberries with mango or use a combination of fruits.
Oats – Add two tablespoons of oats for added whole grains, texture, and a subtle oatmeal flavor.
Yogurt – Add two tablespoons of Greek yogurt for some extra protein.
Storage:
I always recommend enjoying your smoothie right away. It tastes the best when fresh and frosty!
However, you can store it in the fridge for up to 24 hours. I recommend pouring it into a vacuum insulated cup first.
Or my favorite way to store smoothies – smoothie pops! Pour the smoothie into popsicle molds, add popsicle sticks, and freeze overnight.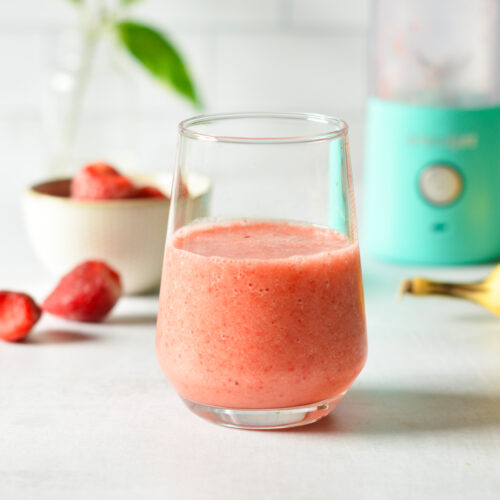 BlendJet Strawberry Smoothie
This BlendJet smoothie recipe is just 3 ingredients and tastes like a strawberry daquiri! It's refreshingly sweet and the perfect ratio to fit in your portable blender.
Ingredients
½

banana

peeled and cut into chunks

¾

cup

frozen strawberries

½

cup

passion fruit juice
Instructions
Place the banana, frozen strawberries, and passion fruit juice into your BlendJet – in that order.

Double-press the power button to enter pulse mode. The blue light will flash 3 times and the swirl will stay lit up while pulse mode is on.

Press the button a few times to pulse the mixture a few times. Pulse until smooth.

Pour into a glass and enjoy immediately!
Nutrition
Calories:
150
kcal
Carbohydrates:
39
g
Protein:
2
g
Fat:
1
g
Saturated Fat:
0.1
g
Polyunsaturated Fat:
0.3
g
Monounsaturated Fat:
0.1
g
Sodium:
9
mg
Potassium:
720
mg
Fiber:
4
g
Sugar:
29
g
Vitamin A:
936
IU
Vitamin C:
105
mg
Calcium:
25
mg
Iron:
1
mg