15 Healthy Smoothies without Yogurt
You don't need yogurt to make a thick, creamy, and delicious smoothie! These 15 smoothie recipes without yogurt will make you swoon. They're quick, delicious, and healthy too.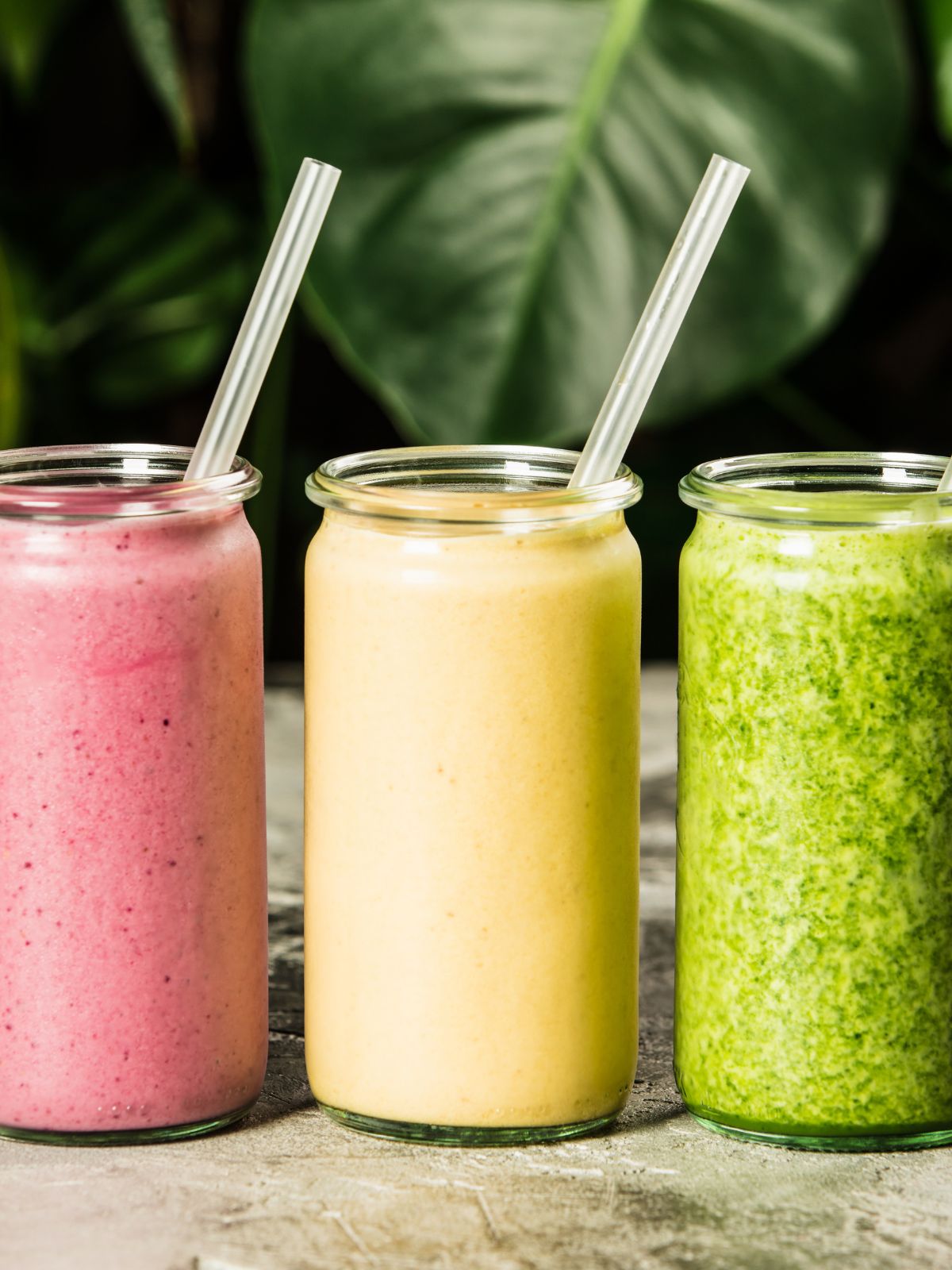 How to make a smoothie without yogurt:
While yogurt does make a delicious smoothie, it's not necessary! You CAN make an amazing, thick, and creamy smoothie without it. I like to swap it with another creamy element. Here are a few winners to get you started:
Nut butter – Peanut butter is a great option, but almond and cashew butter work great too! Don't be afraid to use nut butter in more than just chocolate smoothies. They taste surprisingly delicious with berries too!
Avocado – Whhaaa?! Avocado in a smoothie!? This fruit has a super creamy flesh and mild flavor that blends in with almost any smoothie combo. Plus it's super filling and nutritious. Slam dunk.
Frozen banana – Just cut a banana in half or chunks and freeze in a Ziplock bag. Frozen banana instantly transforms any smoothie into a blissfully dreamy drink! It's uncanny.
Cottage cheese – This ingredient acts just like yogurt, but without the tang! Don't worry if you normally loathe cottage cheese, you won't taste it. It just makes the smoothy creamy and adds a bit of protein.
If you're not sure where to start, I've compiled a list of smoothie recipes with no yogurt that tastes incredible. Everything from spinach cucumber to sweet potato pie.
1. Spinach Cucumber Smoothie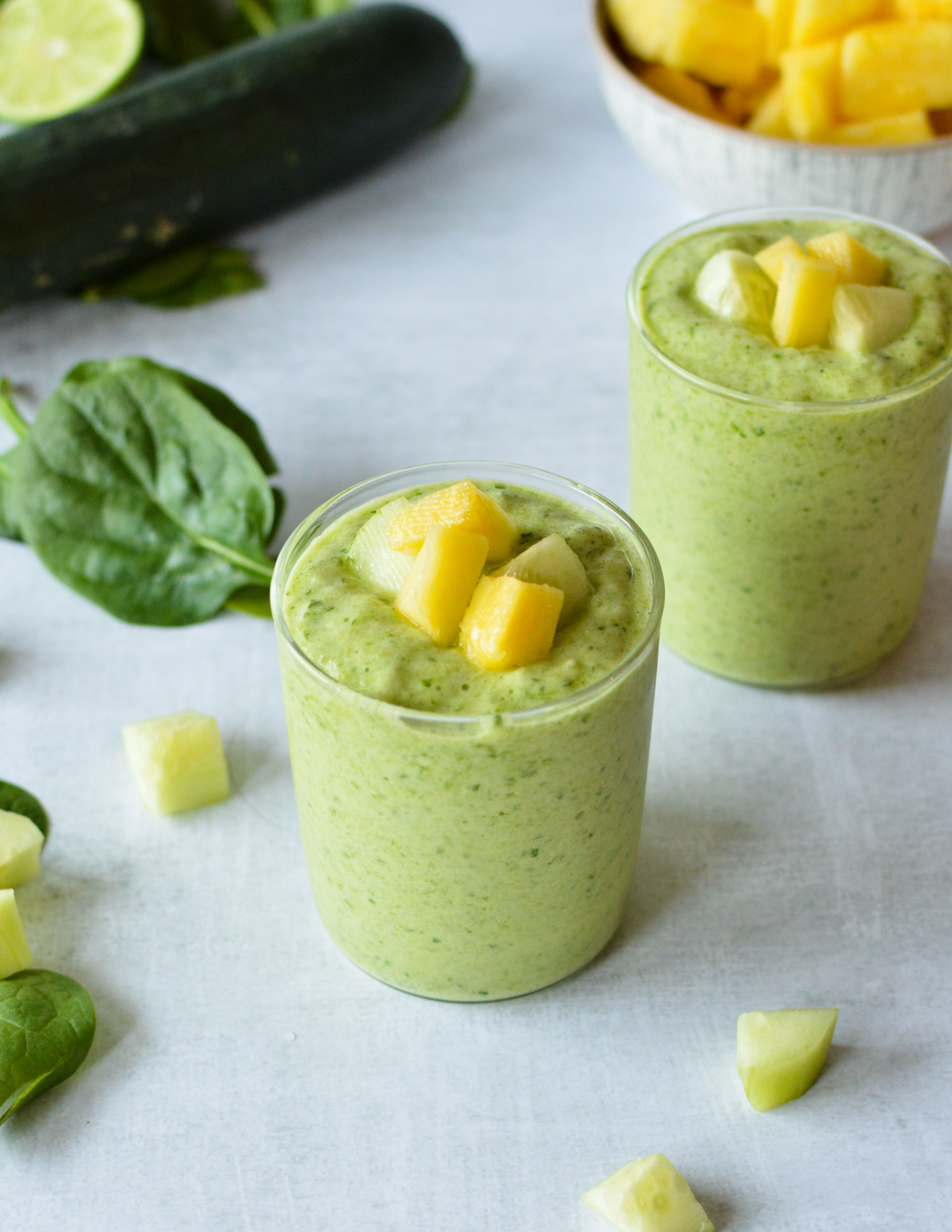 This tropical green smoothie is refreshing, light, and creamy! It's naturally dairy-free and vegan, with no yogurt or milk.
Sweet pineapple, creamy banana, and antioxidant-packed spinach make a delicious and healthy smoothie. I also like to pour this smoothie into a popsicle mold to make pops for my kiddos.
2. Strawberry Apple Smoothie
Apples are a sweet addition to smoothies! This strawberry apple smoothie is naturally sweet and refreshing with no refined sugar, no dairy, and NO yogurt. It's a perfect afternoon snack for a hot summer day.
It boasts a whopping 15 grams of fiber and has plenty of antioxidants, immune-boosting vitamin C, and beneficial plant compounds.
3. Weight Gain Chocolate Smoothie
This chocolate smoothie is evidence smoothies without yogurt can be just as thick and creamy! Canned coconut milk creates a rich and decadent chocolate smoothie that packs in 1000 calories.
It boasts 39 grams of protein in a normal sized glass! Who wants to drink a gallon sized smoothie?! Not this girl!
4. Pear Banana Protein Smoothie
A frozen banana makes this no yogurt smoothie nice and creamy! It tastes like a vanilla pear milkshake and it boasts 33 grams of protein. It doesn't need yogurt or dairy to thicken it because of the frozen nanner.
If you've ever made "nice cream" you know how delicious frozen bananas are! This smoothie also has rolled oats in it, which makes it super filling. It keeps me full all the way to lunch, a difficult feat.
5. Vitamin C Immune Boosting Smoothie
If you're looking for a smoothie packed with Vitamin C, this one is it! Vitamin C is a great way to boost your immune system. It helps your body heal wounds, maintain bone health, and helps prevent iron deficiency.
Orange, strawberries, and goji berries create a vibrant orange smoothie with a refreshingly sweet flavor.
6. Berry Pink Dragon Fruit Smoothie
There's a reason dragon fruit took social media by storm. It's brightly colored flesh turns any drink into a beautiful pink-purple color. Not to mention its mild flavor and impressive amount of antioxidants!
This dragon fruit smoothie without yogurt makes a healthy breakfast or snack. I like to throw in a handful of spinach (you can't even taste it) for a boost of vitamins.
7. Carrot Cake Smoothie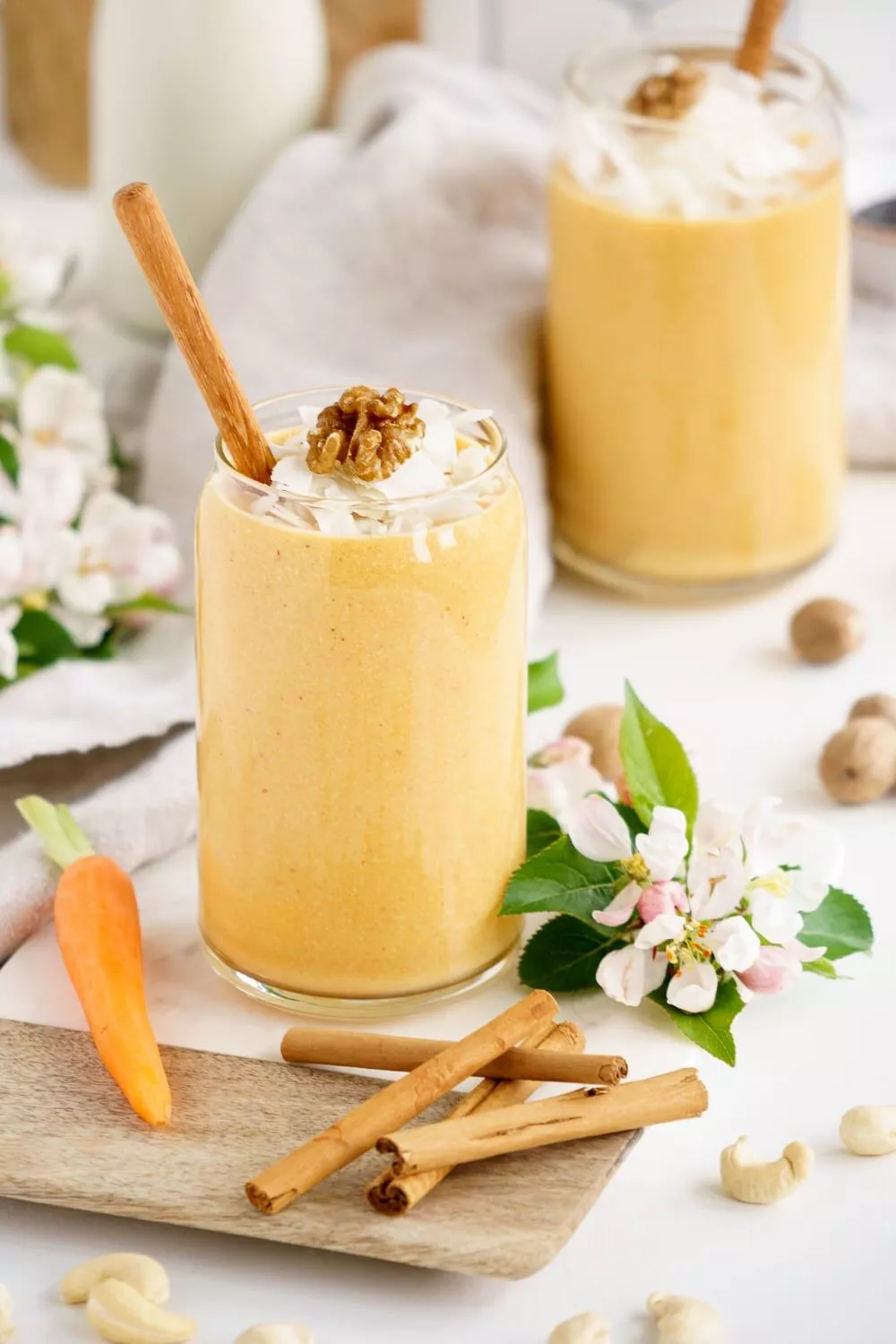 This vegan carrot cake smoothie has all the flavors of carrot cake without any of the guilt! Cashews create a thick and creamy texture, while apple, orange, and dates add sweetness.
It's entirely gluten-free, dairy-free, and vegan! It's a great option if you want something decadent, but not loaded with calories or processed ingredients.
8. Banana Beet Smoothie
Say what?! Beets in a smoothie?! You heard me right! This banana beet smoothie is delicious (and beautiful too!). It's a great way to sneak in veggies, since it's full of naturally sweet fruit like bananas and raspberries.
It's dairy-free (no yogurt) and vegan, plus it's low in calories and high in fiber!
9. Healthy Eggnog Smoothie
Calling all eggnog lovers! This frozen eggnog beverage is a delicious mashup of a smoothie and milkshake. Frozen banana and protein powder add a boost of nutrients, while eggnog gives you that rich, yuletide flavor.
Swap the eggnog with oat-nog or almond-nog to make this one dairy-free! Bottom's up.
10. Pina Colada Collagen Smoothie
This pina colada smoothie is a tropical, coconutty way to enjoy vitamins and collagen. One sip will transport you to an Malibu and leave you feeling refreshed and satisfied. It consists of healthy, everyday ingredients, including pineapple, coconut milk, and collagen powder.
It's naturally dairy-free and gluten-free, with NO yogurt! The frozen banana is what gives it a super creamy texture.
11. Lemon Cheesecake Smoothie
This decadent lemon cheesecake smoothie tastes like a rich dessert, but it's shockingly healthy! Coconut milk and chickpeas give it a creamy texture, while mango and dates add sweetness.
This lemon smoothie is naturally gluten-free, dairy-free, and vegan with NO yogurt needed. You will LOVE it!
12. Fresh Fig Smoothie
I always look forward to when figs are in season! If you're unsure what to do with them, this fresh fig smoothie is a great start. It's ultra creamy, naturally sweet, and a good source of calcium and iron.
Almond butter adds a bit of plant-based protein! If you're craving a sweet treat, skip the brownie and opt for this nutritious yet decadent smoothie instead.
13. Sweet Potato Smoothie
This sweet potato smoothie tastes like a pie! It's quick and simple, and oh-so-creamy. It's a great smoothie to try when you have leftover baked sweet potatoes in the fridge. A frozen banana makes it nice and thick and almond butter adds a boost of plant-based protein.
If you love a slice of sweet potato pie, you will adore this fall-spiced smoothie!
14. Mango Pear Smoothie
This mango pear smoothie is light and fresh yet filling! It contains oats and hemp seeds instead of yogurt. Hemp seeds add plant-based protein and oats provide whole grains and a bit of texture.
It comes together in just 5 minutes for a quick on-the-go breakfast or healthy snack.
15. Berry Booster Smoothie
This berry smoothie is packed with berries, including antioxidant-packed acai berries! Antioxidants fight free radicals in your body and prevent cell damage. It also has chia seeds which thicken the smoothie and provide plant-based protein.
It's naturally dairy-free, vegan, and gluten-free, plus it's kid-friendly.
Smoothie FAQs:
Does a smoothie have to have yogurt?
Nope! A smoothie doesn't need yogurt to be delicious! You can skip it altogether, swap it with another creamy ingredient, or use vegan yogurt instead.
What can replace yogurt in a smoothie?
Yogurt exists to make a smoothie creamier. There are plenty of options to do this besides yogurt! Cottage cheese, nut butter, avocado, frozen banana, and chia seeds all add creaminess to a smoothie. My favorite option is cottage cheese or a frozen banana.
What can I use instead of dairy in a smoothie?
You don't need dairy to make a delicious smoothie! Skip milk as a liquid base and use a dairy-free alternative like almond milk, oat milk, soy milk, or juice instead.
More Smoothie Related Posts