How to Make a Smoothie – The Ultimate Guide
You don't need to be an expert to whip up a delicious smoothie! Learn how to make a smoothie with this easy and complete guide, including a basic smoothie ratio and plenty of tips!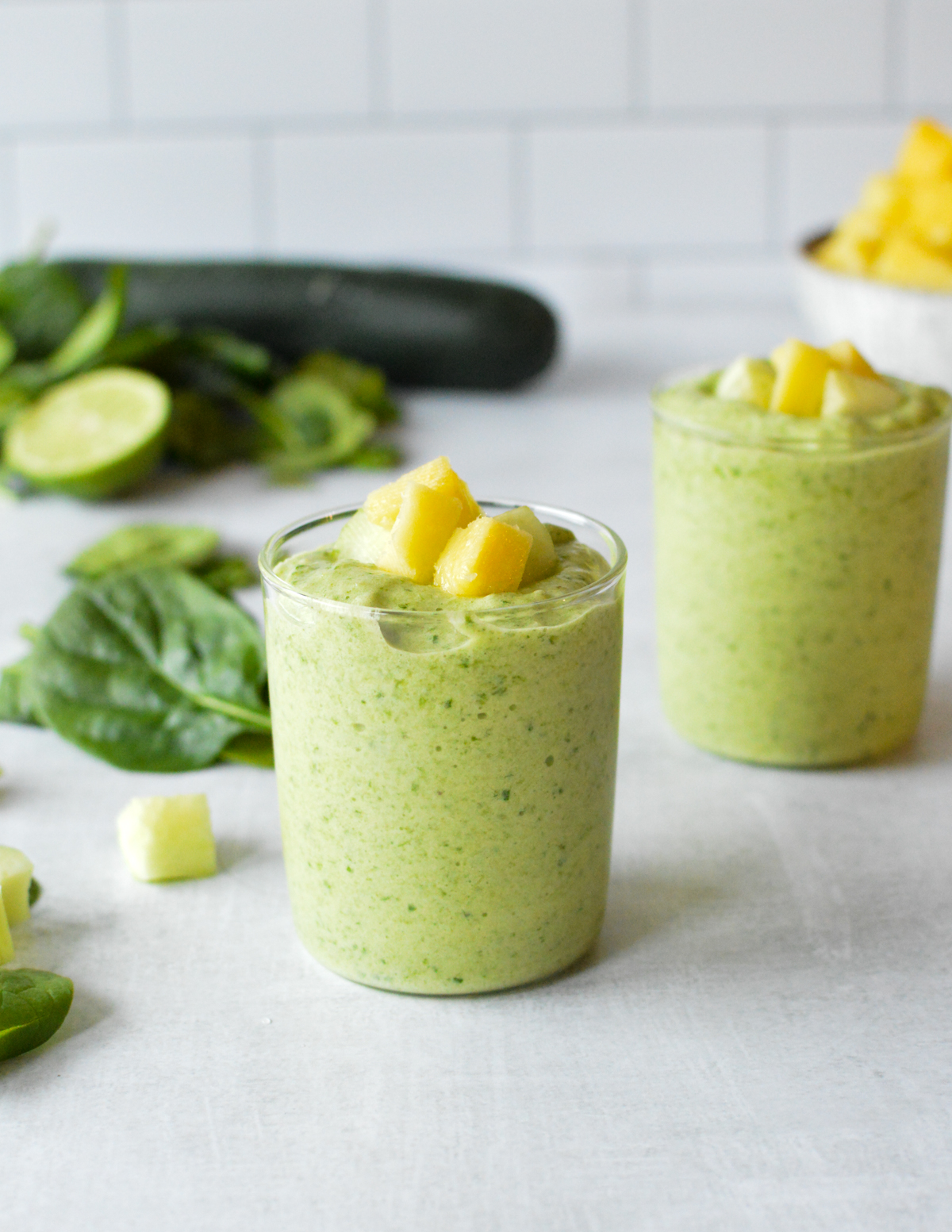 What is a Smoothie?
Chances are, you already know what a smoothie is! But to be thorough, we'll start here. A smoothie is a cold, thick drink made by pureeing ingredients in a blender. The consistency is similar to a shake, but smoothies are meant to be healthy.
A typical smoothie contains frozen or fresh fruit and a liquid base. It often contains additional ingredients, like yogurt, veggies, protein powder, or ice.
The consistency of your smoothie will depend on your ratio of liquid to frozen ingredients. The more liquid you add, the thinner the consistency. The more frozen fruit or ice, the thicker the consistency.
Smoothies come in all kinds of flavors, including:
Fruit
Green
Chocolate
Peanut Butter
Oatmeal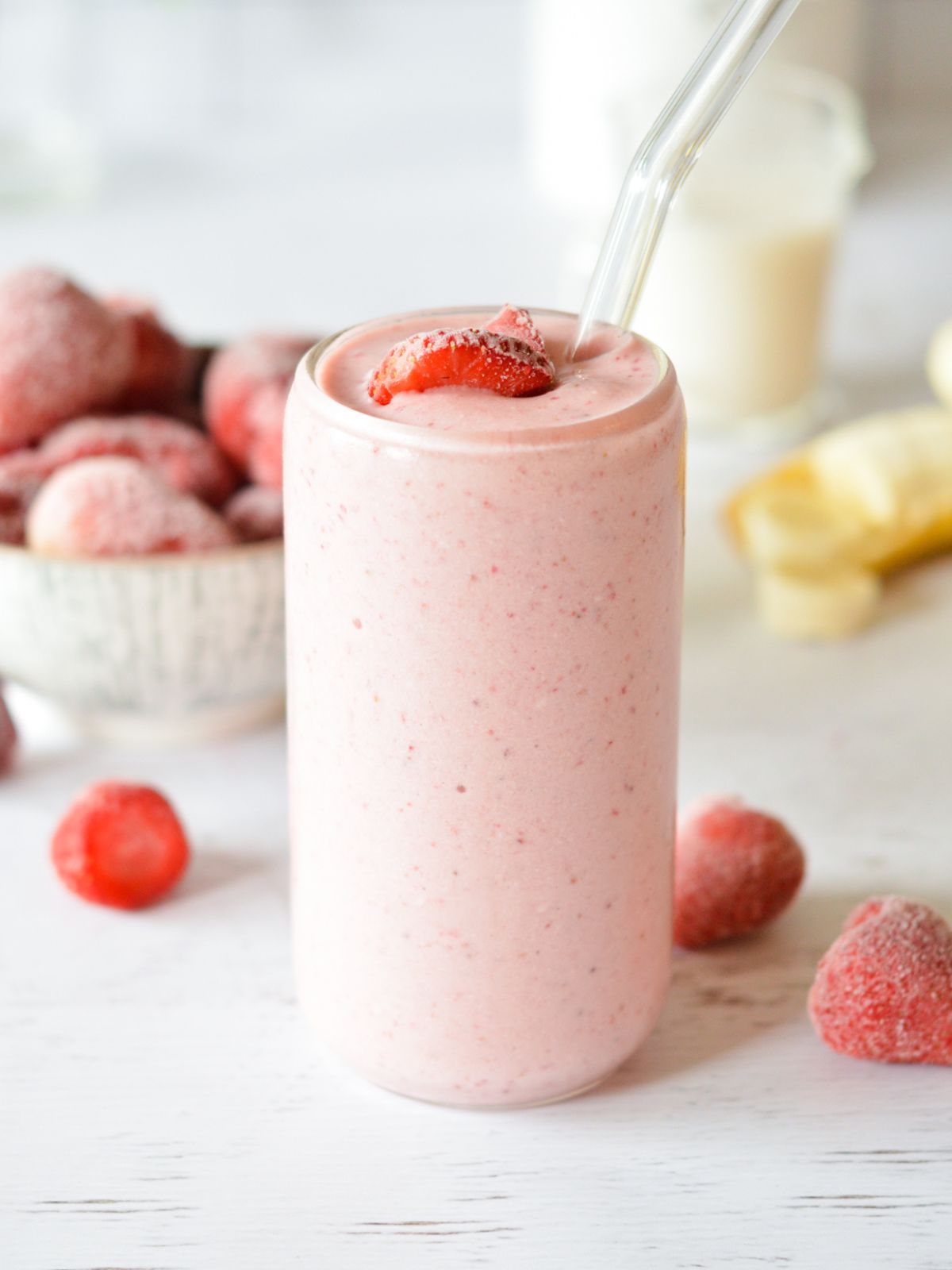 Types of Smoothies:
The types of smoothies you can make are endless! With a high-speed blender, you can puree almost any fruit or veg with good results.
Here's some of the more popular smoothie types you'll find:
Fruit – Centered around fruit flavors like strawberry, blueberry, pineapple, mango, or banana.
Green – Green smoothies contain leafy greens like spinach or kale. This gives them a boost of feel-good nutrients! They often use fruit to sweeten them.
Chocolate – Utilizes cocoa powder or chocolate protein powder to give the smoothie a chocolatey flavor! Chocolate smoothies often contain complementary ingredients like banana, peanut butter, and milk.
Protein – Boasts more protein than your average smoothie. Protein smoothies typically contain high-protein ingredients like protein powder, Greek yogurt, chia seeds, nut butter, cottage cheese, or tofu.
Weight loss – Smoothies intended to help you lose weight! These smoothies typically avoid added and refined sugar. Oftentimes, they include healthy fats and fiber to keep you full for longer.
Smoothie bowls – Smoothie bowls are thicker than smoothies and eaten in a bowl with a spoon! The main difference is the amount of liquid. Smoothie bowls use less to achieve a super thick, scoopable texture.
Dessert – Typically smoothies are intended to be healthy with plenty of vitamins and nutrients. Dessert smoothies are more like shakes and contain ingredients like ice cream, sorbet, and white chocolate.
Smoothie Equipment:
You can't make a smoothie without the right equipment! At the very least, you need a food processor. Ideally, a blender. Both work, but a high-speed blender is the best option and will give you the smoothest blend!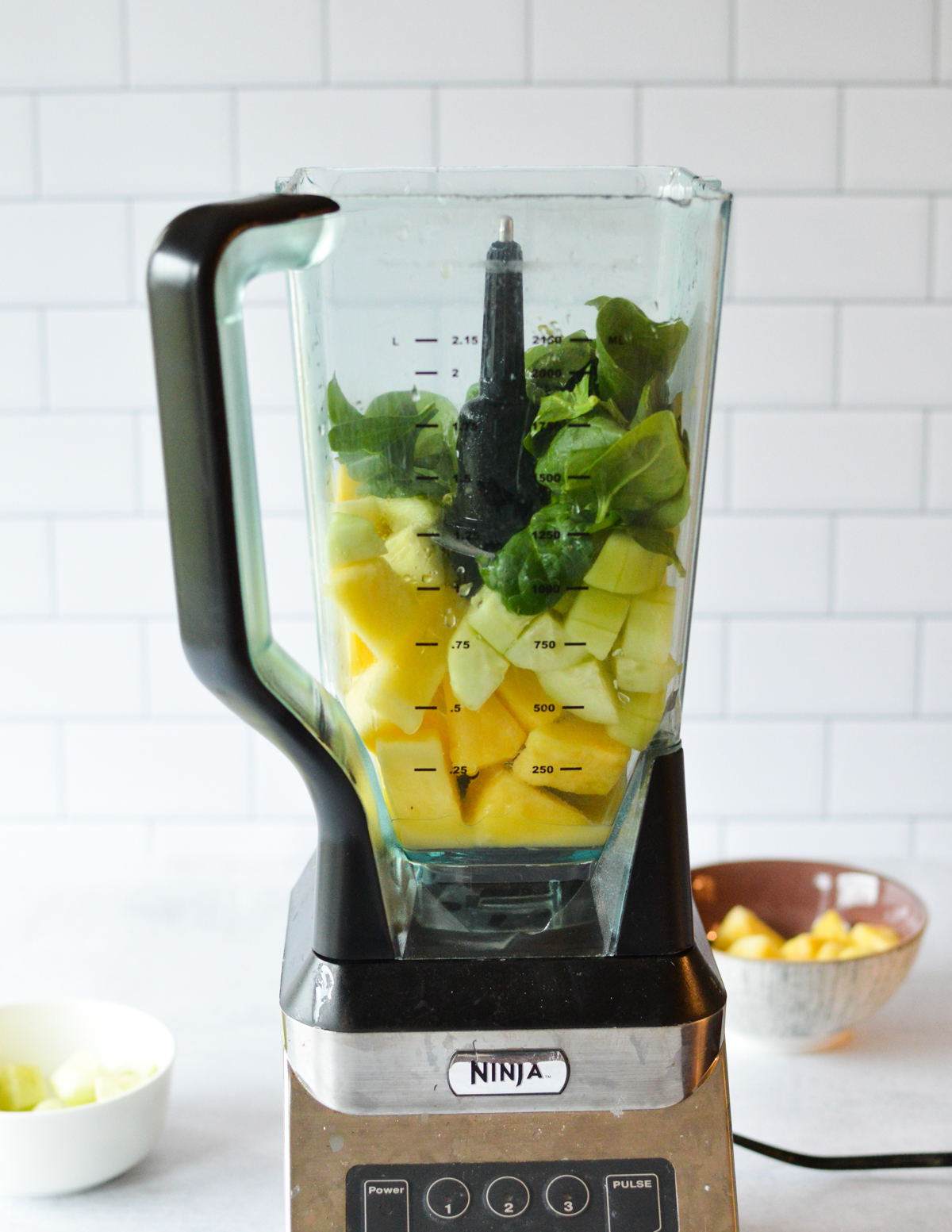 1. Blender
Vitamix – The crème de la crème of blenders! Vitamix blenders are expensive for a reason. They have powerful motors and super-sharp blades that give you the creamiest results with nearly zero grit! The only downside is the price point, which ranges from 300 to 600 dollars.
Ninja – A great budget-friendly option! I love my Ninja blender. It's lasted 10+ years and while not as good as the Vitamix, does a great job. It doesn't give you as smooth a blend with greens or fruit skins though (like apples and blueberries). I avoid kale smoothies in my Ninja.
Regular blender – Low-powered off-brand or cheap blenders remain in this category. A regular blender works fine for a simple fruit smoothie, but isn't ideal for green smoothies or smoothie bowls. It doesn't have the power to blitz the greens finely enough.
2. Food processor
You can use a food processor to make a smoothie! However, the fruit won't break down as finely so the texture won't be as smooth.
The results will largely depend on the quality of your food processor. Just like blenders, the motor wattage varies and so do the capabilities.
Here's a quick rundown on how to use your food processor to make a smoothie:
If adding greens, do that first.
Add both fresh and frozen fruits.
Add your liquid base.
Place the lid on top, then give it a few pulses to get things moving.
If necessary, stop the food processor, remove the lid, and use a spatula to scrape down the sides of the bowl.
Process again until smooth. If your ingredients aren't blending, you didn't add enough liquid. Add a splash more liquid and process again until smooth.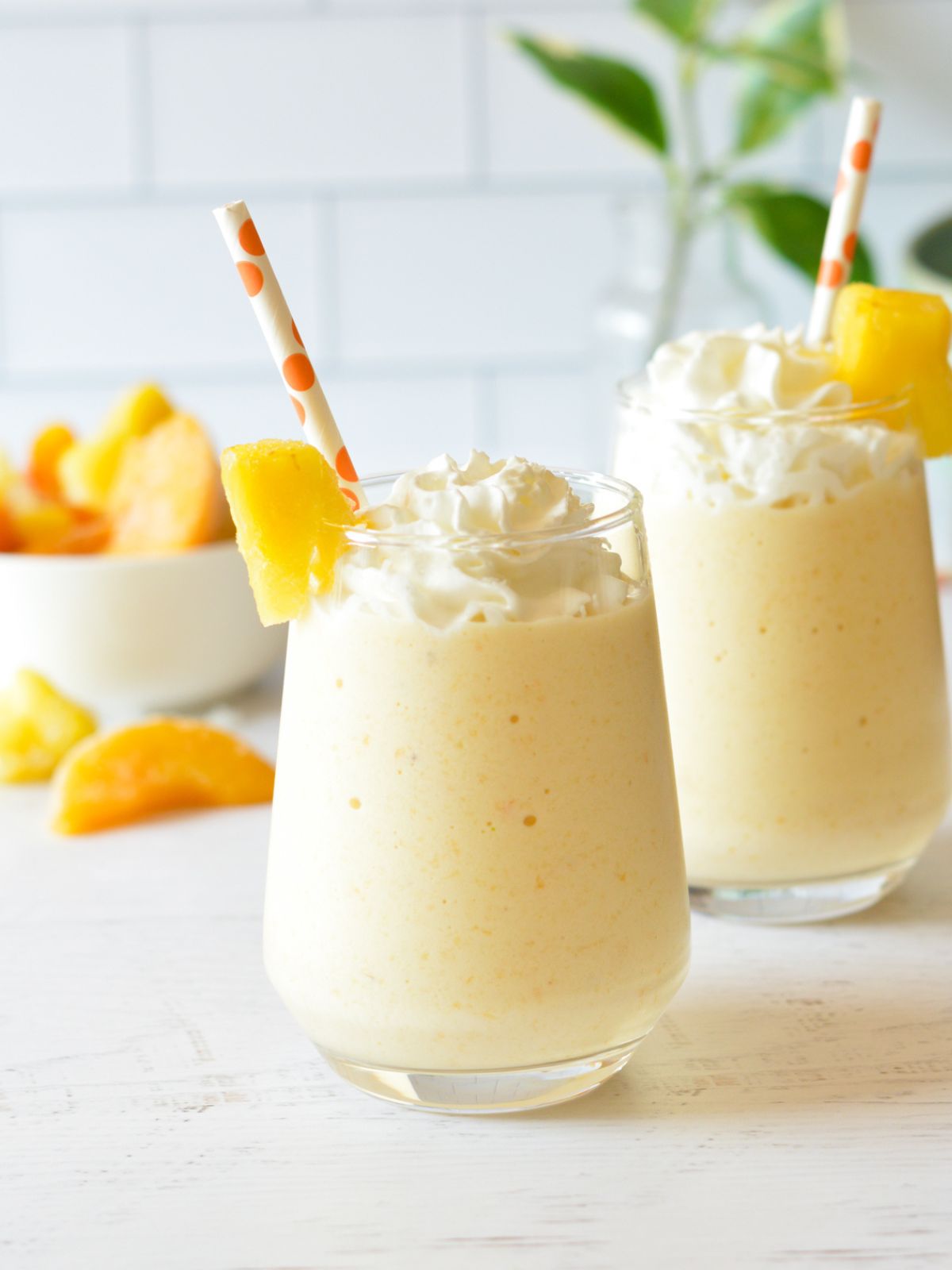 Smoothie Ingredients:
Now for the fun part, the ingredients! You can mix and match with whichever ingredients you have on hand. You don't have to use all four of these elements, but it's a great place to start!
1. Frozen and fresh fruit
Frozen fruit naturally sweetens a smoothie without the need for extra sugar! It also thickens it so you don't have to add ice. Ice creates an icy texture, where frozen fruit makes it lusciously smooth.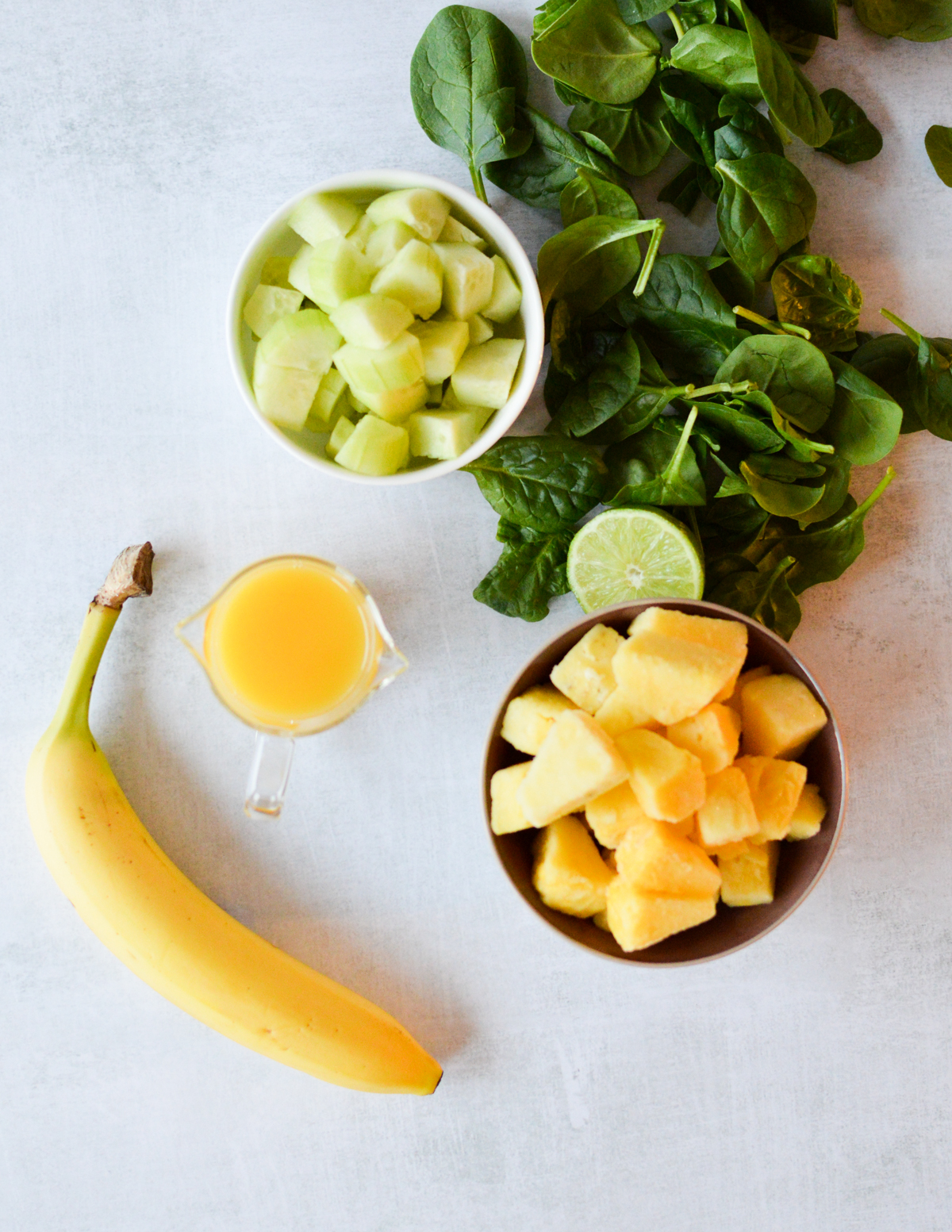 I like to use a combination of fresh and frozen fruit for the right texture! I will go over a smoothie formula with ratios later in this post.
Here's some good options to get you started:
Frozen berries – Blueberries, strawberries, raspberries, or a mix!
Frozen pineapple – Uber sweet and perfect for green smoothies. Pineapple pairs well with any fruit, but especially tropical flavors like mango and banana.
Frozen mango – A great way to sweeten any fruit smoothie!
Frozen cherries – Always use pitted cherries!
Frozen peaches – Versatile and pairs well with any fruit, but tastes amazing with pineapple or strawberry!
Diced cucumbers – Cucumbers add a fresh, crisp backdrop to fruit smoothies. Since cucumbers are 96 percent water, they act like a liquid base!
Diced apples – I use sweet-tart apples like Honeycrisp and Pink Lady.
Fresh watermelon – Another liquid base! Watermelon is super juicy and sweet. It turns straight into a liquid once you start the blender. I relish adding watermelon to smoothies in the summertime!
Bananas – One of my favorite smoothie ingredients. Bananas create a creamy texture every time!
2. Thickener
A thickener is optional, but gives you a thick and creamy consistency! If you only use frozen fruit and a liquid, the smoothie will be fruitier but less creamy. It just depends on what you're going for.
Here's a few ingredients that work great as thickeners:
Yogurt – I use unsweetened Greek yogurt! It adds a boost of protein without added sugar and the texture is spot on.
Banana – My personal favorite! Bananas go with everything. They're naturally sweet and creamy, which makes smoothies luxuriously smooth! You can freeze them and pair them with fresh fruit too.
Nut butter – A scoop of nut butter adds plant-based protein AND creaminess! Plus you get a slight nutty flavor from it.
Avocado – Ripe avocadoes are filling, packed with healthy fats, and ideal for smoothies. It's important to use a ripe, Hass avocado.
Cottage cheese – Works just like yogurt without as much tang. You won't even know it's in there.
3. Liquid base
Smoothies are very forgiving! Just use whichever liquid base sounds good to you. Just try to avoid flavors that don't match, like chocolate and orange juice.
Chocolate smoothies taste best with coffee, milk, or plant-based milk. Fruit and green smoothies taste great with fruit juice, milk, and plant-based milk.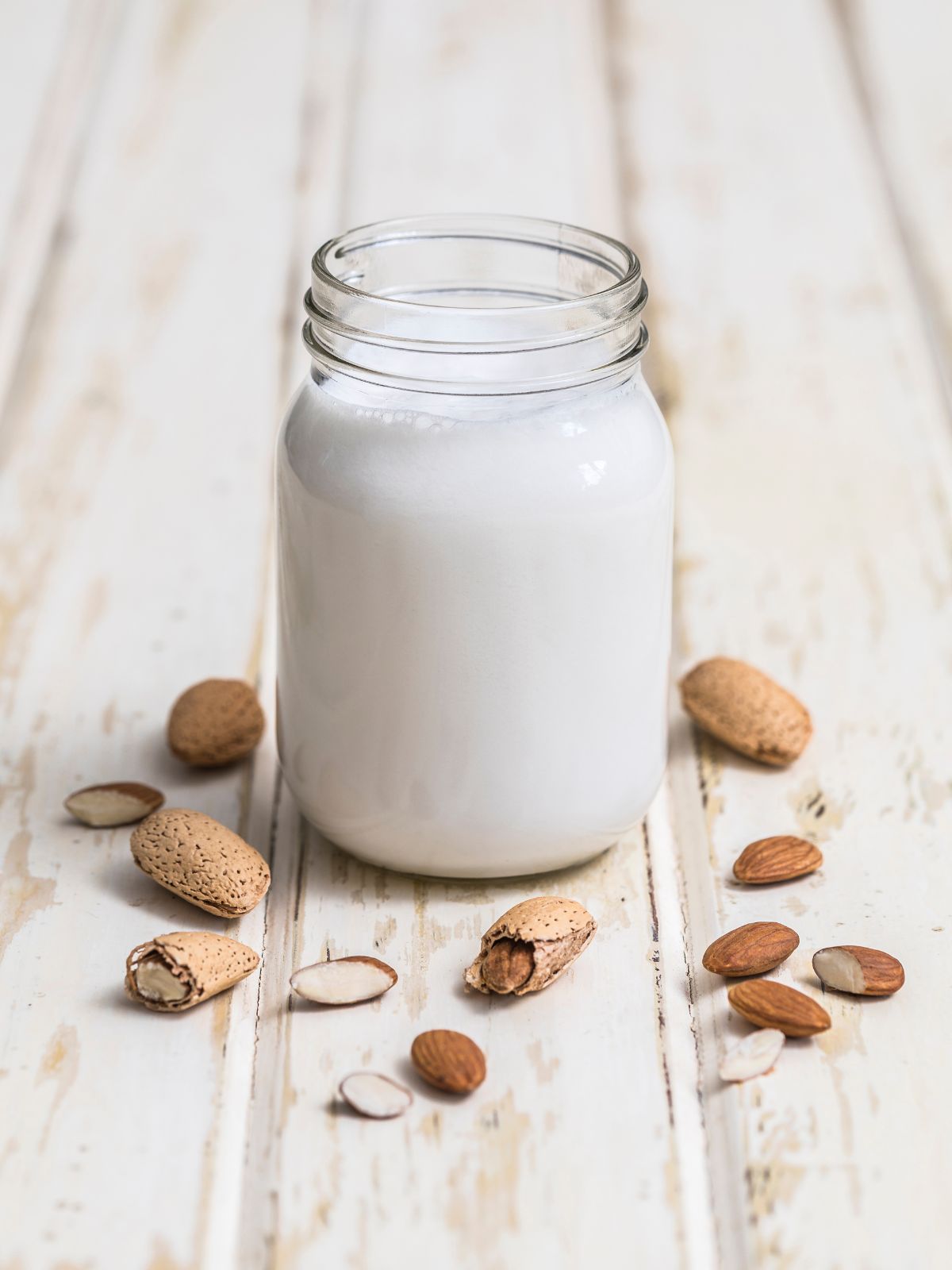 Plant-Based milk – The key here is to use a plant-based milk you already know you like. I love unsweetened almond milk, so I use it the most! Cashew, rice, soy, coconut, and oat milk are great options too.
Regular milk – Dairy milk adds protein and extra creaminess.
Juice – I typically prefer to stick with juice that's not from concentrate. If you want to use fruit juice concentrate, look for ones that are from 100% fruit with no added sugar. Avoid fruit juice with corn syrup, cane sugar, or fructose syrup.
Water – You can make smoothies with water! If you combine the right ingredients, the end result will still be packed with flavor.
Coffee – For a boost of energy and coffee flavor. I like to add cold brew or iced coffee to chocolate smoothies.
Watermelon – Watermelon is 92 percent water. It transforms into a liquid as soon as you blend it. Plus it tastes amazing with pineapple and strawberries!
4. Extras (Optional)
While not essential to a smoothie, extras take a smoothie and make it even better. For example, a strawberry smoothie is delicious as-is, but once you throw in some oats, it adds texture and oatiness.
Sweetener – I prefer to sweeten my smoothies naturally with fruit. If you like your smoothies extra sweet, you can try adding honey, maple syrup, turbinado, or light agave.
Seeds – Chia seeds, hemp hearts, and flax meal all add healthy fats and plant-based protein.
Oats – Rolled oats taste amazing in smoothies! Start with two tablespoons to see if you like the taste and texture. If you do, add 1/4 cup to any of your favorite smoothie recipes.
Nut butter – Try peanut, almond, or cashew butter for a subtle nuttiness and extra protein.
Greens – Dark leafy greens are nutrient-dense superfoods! Spinach is a great option, since it has a mild flavor and delicate leaves that blend well even in low-powered blenders. You can also try kale, swiss chard, or collard greens.
Veggies – Cauliflower, sweet potatoes, beets, butternut squash, carrots, and zucchini are good options.
Protein powder – For extra protein!
Basic Smoothie Ratio:
If you're looking for a basic fruit smoothie formula to get you started, try this:
2 cups of frozen fruit (you can use more than one kind)
1 banana (or 1 cup of fresh fruit)
3/4 cup of liquid
1/3 cup of yogurt (optional)
If you swap the banana with fresh fruit, decrease the liquid to 2/3 cup. Fresh fruit like strawberries, grapes, watermelon, and cucumbers contain a high percentage of water.
For example, to make a strawberry mango smoothie use:
1 cup of frozen strawberries
1 cup of frozen mango
1 banana
1/4 cup of orange juice
1/2 cup of almond milk
1/3 cup of yogurt (if desired)
Smoothies are very forgiving! If you find the smoothie is too thick for your liking, add a splash more liquid and blend to incorporate.
If the smoothie is too thin, add a few more pieces of frozen fruit or a couple ice cubes and blend again.
You can also add a sweetener for an extra sweet smoothie!
How to Make a Smoothie:
Now that you have a basic smoothie formula, you can get to work! Smoothies are super simple.
If you have a Vitamix, the order of ingredients doesn't matter much. If using a regular blender, the order can help you achieve a smoother texture.
If using greens, add them first. The difference is slight, but it does help them blend better when they're closer to the blades.
Next, add yogurt. Soft ingredients help get the other ingredients get moving!
Add your fresh and frozen fruit. Add the fresh first, then the frozen.
Add your liquid base. The liquid will sink to the bottom of the blender no matter when you add it.
Blend until smooth. Turn on the blender and blend until the mixture is super smooth.
Taste and adjust. At this point the smoothie should be thick. If desired, add a splash more liquid to thin it out.
Enjoy immediately! Pour into glasses and enjoy it cold and fresh.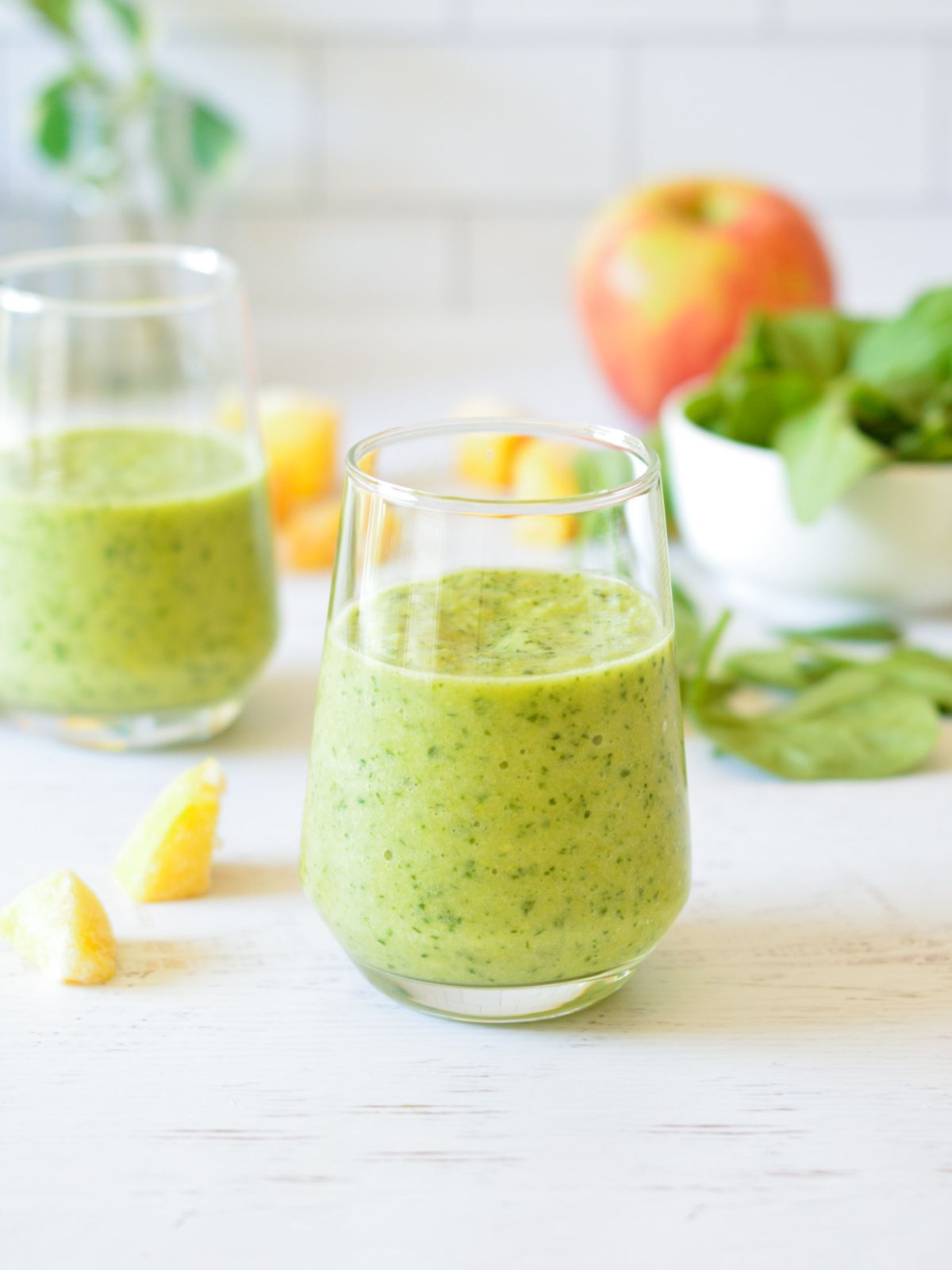 Smoothie Making Tips:
If possible, use a high-powered blender. It's an investment for sure, but if you make smoothies regularly, it's worth it. I highly recommend a Vitamix, which creates a super smooth texture even with greens and fruit skins!
Start with softer ingredients. When you put the soft ingredients closest to the blade, they help get the other ingredients going.
The consistency is easy to adjust! I prefer my smoothies on the thicker side, but you can easily change the consistency. If the smoothie's too thick, add a splash more liquid. If it's too thin, add more frozen fruit.
Taste and sweeten at the end. Fruit is naturally sweet! I find most fruit smoothies don't need added sweeteners. Once it's done, if it's still not sweet enough, then add honey or maple syrup.
Use frozen fruit instead of ice. Frozen fruit creates a smooth texture and doesn't water down the smoothie as it melts.
FAQs:
How do you thicken smoothies?
You can thicken smoothies with ice, frozen fruit, yogurt, oats, and nut butter. The best way to get a shake-like consistency that's creamy and smooth is with frozen fruit. Too much ice can create an icy texture and water down the smoothie as it melts.
What should you not mix in a smoothie?
If your goal is to create a healthy smoothie, avoid ingredients like ice cream, frozen yogurt, canned fruit in syrup, sweetened yogurts, and sugary juices!
How long do I blend a smoothie?
The short answer is until it's smooth! There's no set time. Just keep blending until everything is smooth and creamy. If the ingredients aren't moving in the blender, it needs more liquid. Add more liquid and try again.
Smoothie Recipes: