11 Copycat Smoothie King Recipes
Want to make Smoothie King recipes at home? No problem! All of these copycat recipes were created to taste just like the original. Homemade smoothies cost a fraction of the price!
My kiddos love Smoothie King, so we take special after-school trips there. We don't do it often, because the prices really add up! A Smoothie King smoothie runs upward of 7 dollars.
So now when we pick up smoothies, we take them home and create copycat Smoothie King recipes! We taste them side-by-side so we get the same delicious flavor.
How does Smoothie King make their smoothies?
Smoothie King makes their smoothies in a professional grade high-speed blender that pulverizes fruit and ice into a smooth texture.
You can make Smoothie King smoothies without a professional grade blender, but it's best to use a quality blender with a powerful motor.
Each smoothie differs in flavor and ingredients, but most contain at least some of the following ingredients:
Frozen fruit
Greens
Juice blend, milk, or water
Protein powder
Turbinado or dates
Ice
You can find the exact ingredients of each smoothie on their website.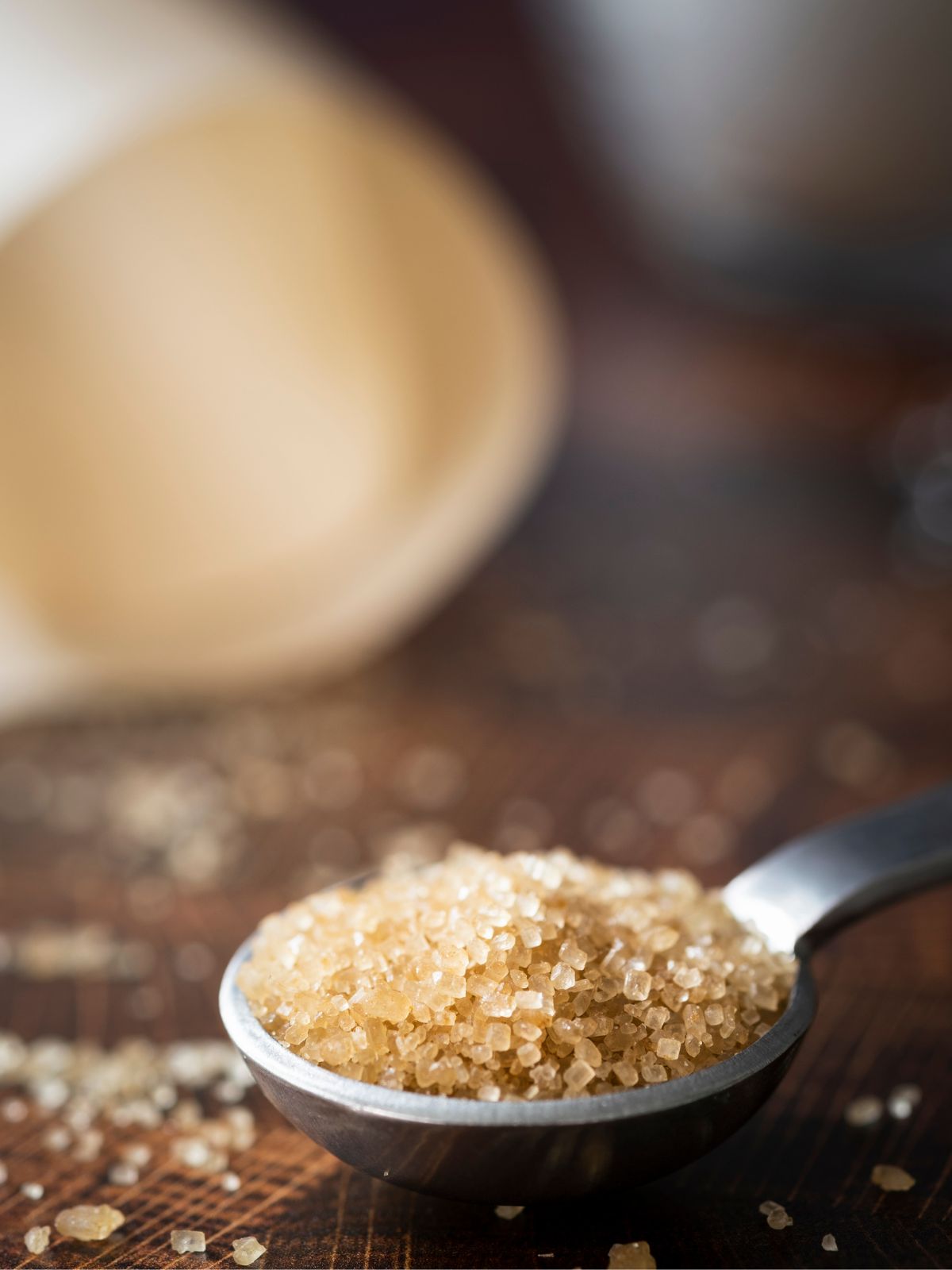 How does Smoothie King sweeten their smoothies?
Each smoothie is sweetened with at least one or a combination of the following:
Turbinado – A form of sugar with large, golden brown crystals and a subtle caramel-like flavor. It has little nutritional value.
Protein powder – They use different brands and blends depending on the smoothie. They use Gladiator brand in their Gladiator & Activator smoothies and Lean1 in their Lean1 smoothies.
Frozen yogurt – Some of their smoothies contain vanilla frozen yogurt.
Fruit – Strawberries, wild blueberries, raspberries, mango, pineapple, etc.
Bananas – The Hulk and some other blends contain banana for sweetness.
Juice blend – White grape juice blend, papaya juice blend, apple pineapple juice blend, etc.
Dates – Some of their healthier smoothies contain dates instead of added sugar like turbinado.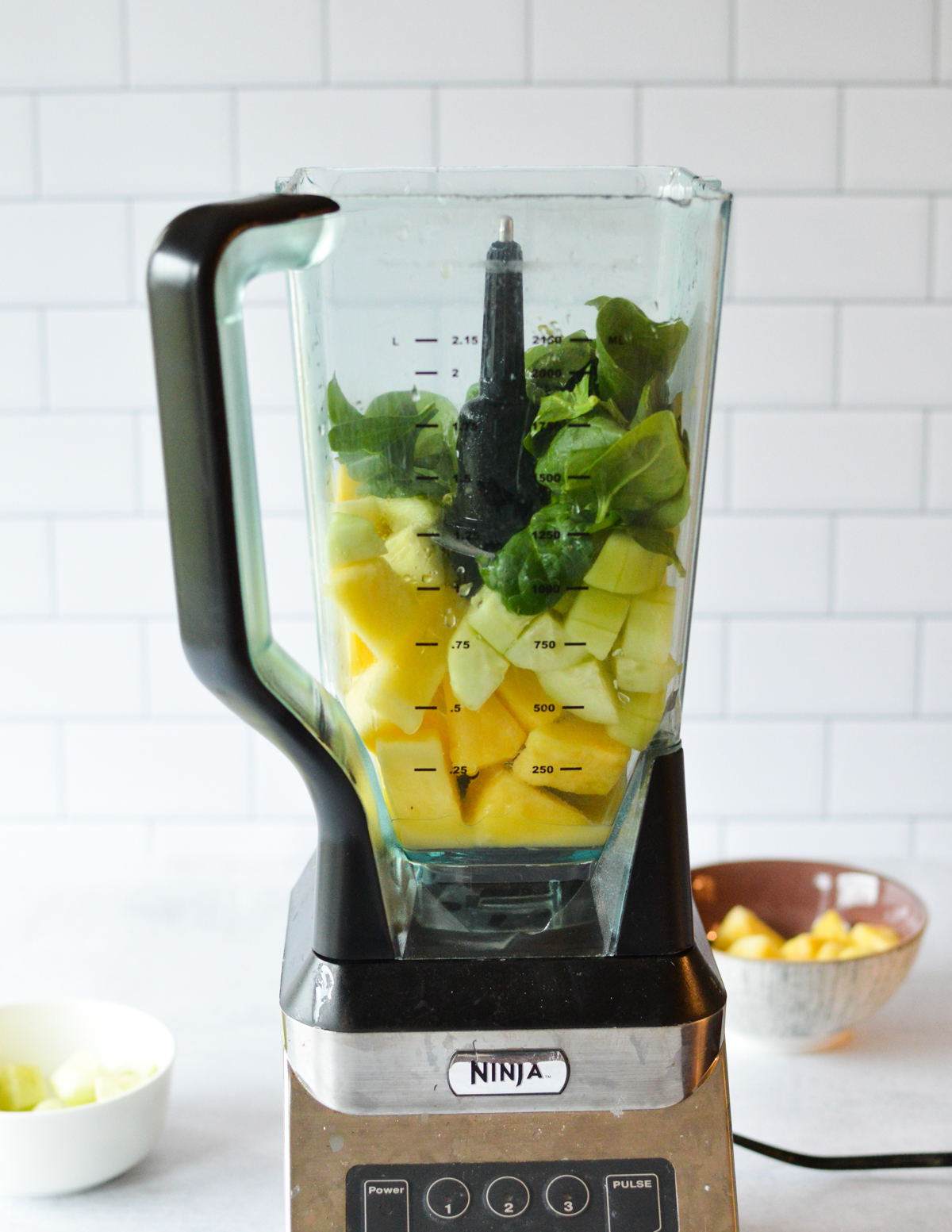 Equipment needed:
You need a blender to make Smoothie King smoothie recipes. There's quite a few options:
Small handheld blenders like the Blend Jet. While I love the BlendJet for its portability, it doesn't hold much. I highly recommend using smoothie recipes specifically made for the BlendJet.
A regular blender with a lower powered motor like a Black and Decker BL20 or a Hamilton Beach. Their motors peak anywhere from 200 to 800 watts. A regular blender works fine, but it won't give you the smoothest texture and lacks durability.
A high-speed blender like a Vitamix or Ninja is the best bang for your buck, especially if you make smoothies daily. I highly recommend a Vitamix because it can pulverize anything, even greens and raw veggies! If you can't afford a Vitamix, a Ninja is a good budget-friendly option.
Smoothie King Copycat Recipes
All of these Smoothie King copycat recipes are delicious!
1. Angel Food
Smoothie King's Angel Food is a mixture of strawberries, bananas, nonfat milk, and turbinado. It belongs to their "Enjoy a Treat" category and tastes like a sweet strawberry shake!
For less sweetness, simply omit the turbinado. I prefer mine without turbinado!
I used nonfat milk powder and water because that's what Smoothie King uses. You can swap the water with nonfat milk and omit the milk powder if you like.
2. Banana Berry Treat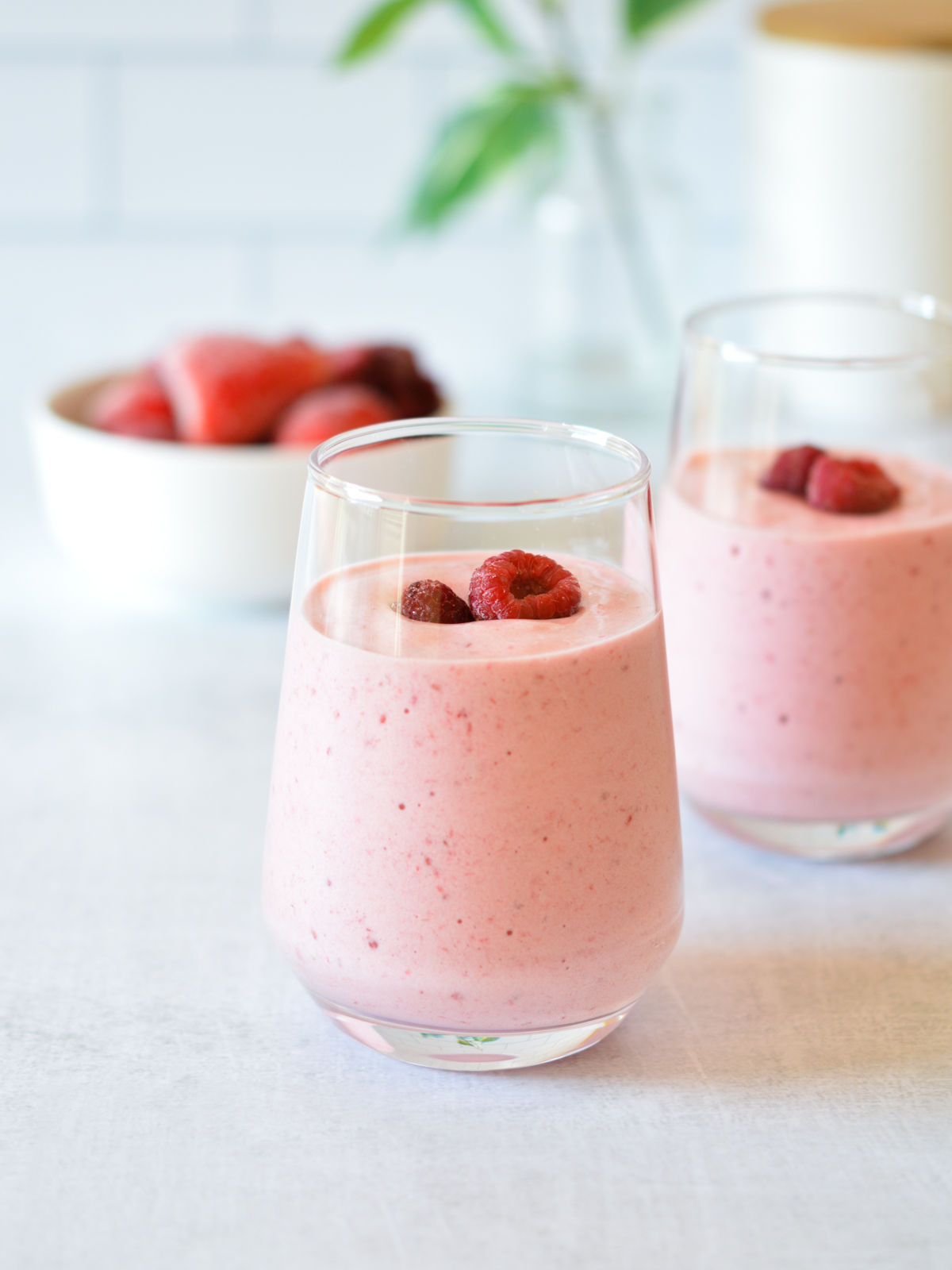 Another smoothie from their "Enjoy a Treat" category, the banana berry treat recipe features strawberries, raspberries, vanilla protein, and juice!
Smoothie King's recipe uses a papaya juice blend, but I had a hard time finding this so I used a passionfruit juice blend in its place. The results are delicious!
For the best results, use a protein blend. 100% whey protein has the tendency to get foamy when blended.
3. Peanut Power Plus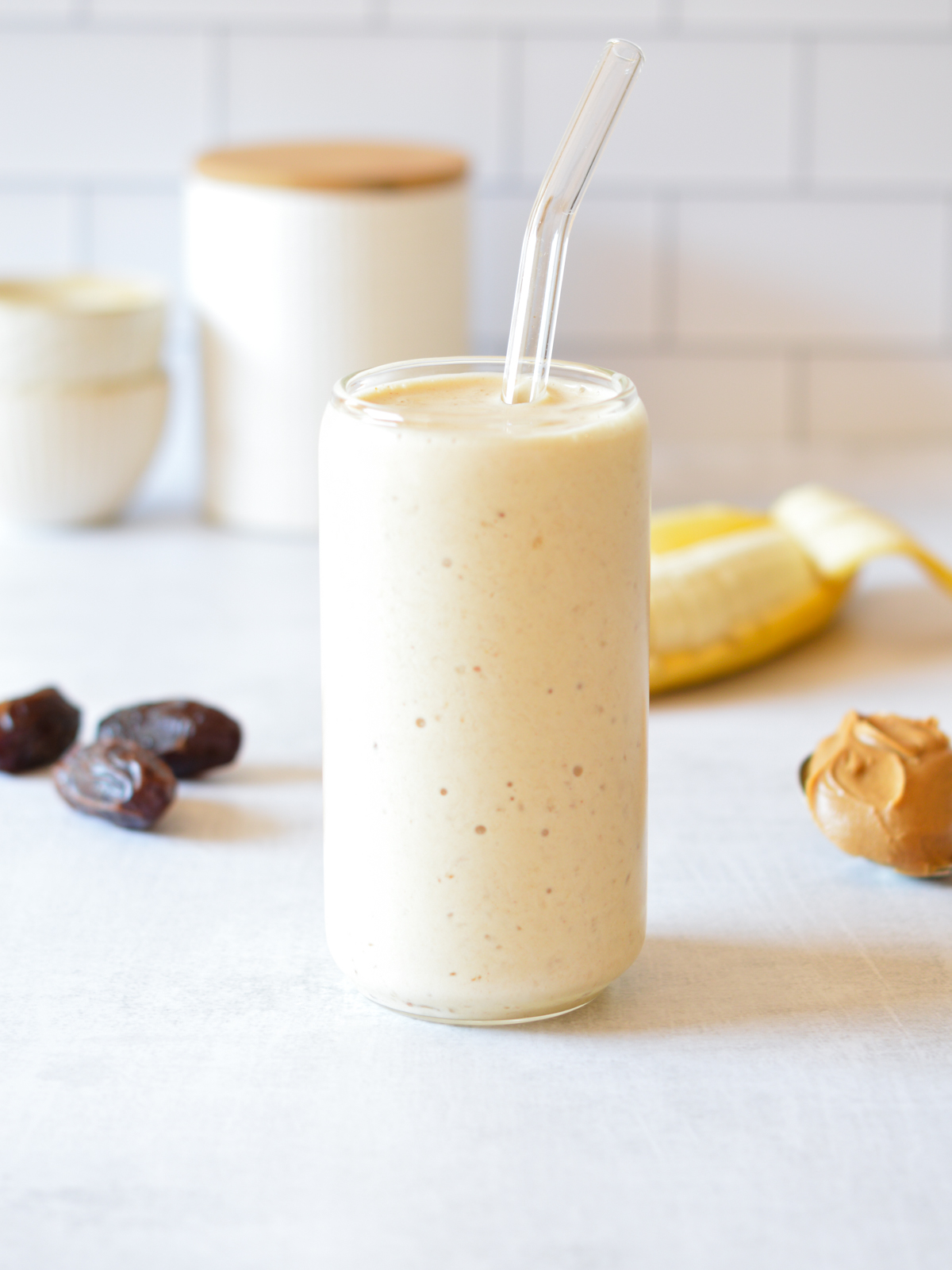 For peanut butter lovers everywhere! This peanut butter smoothie from Smoothie King tastes like a peanut butter milkshake.
It's decadent and rich, but full of protein and healthy ingredients like bananas, dates, and peanut butter.
It's a great option for a quick yet filling breakfast. I like to make this one on busy mornings when I don't have time to sit down and chill.
4. Pumpkin D-Lite (Seasonal)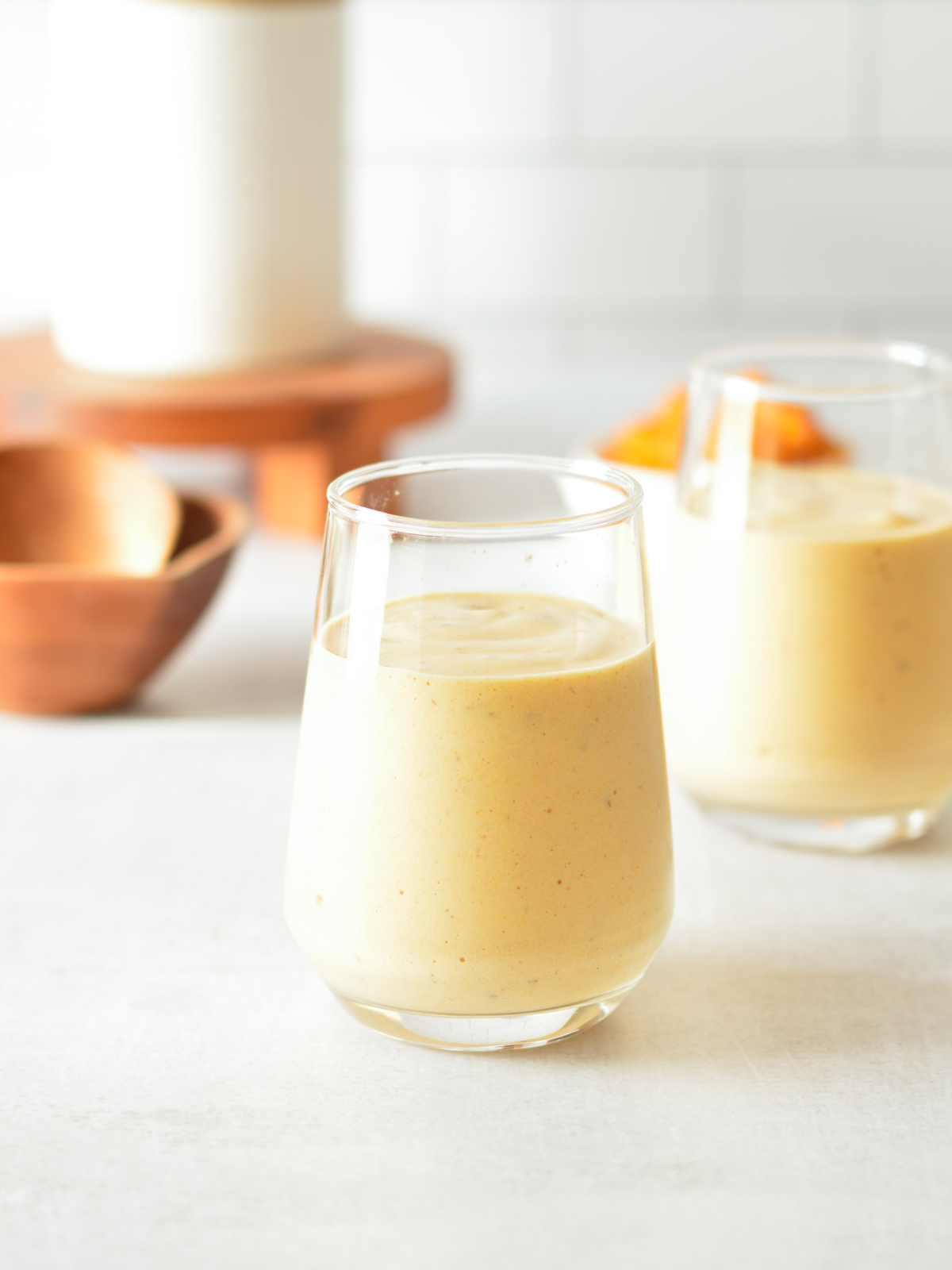 Every year Smoothie King comes out with their seasonal smoothies! They always have a pumpkin category for the pumpkin-obsessed (me!).
This pumpkin smoothie is a copycat version of their Pumpkin D-Lite. It tastes like a slice of pumpkin pie, but it's full of satisfying protein.
It contains bananas, dates, pumpkin, spices, yogurt, and vanilla protein. It's a tasty on-the-go treat for fall.
5. Island Impact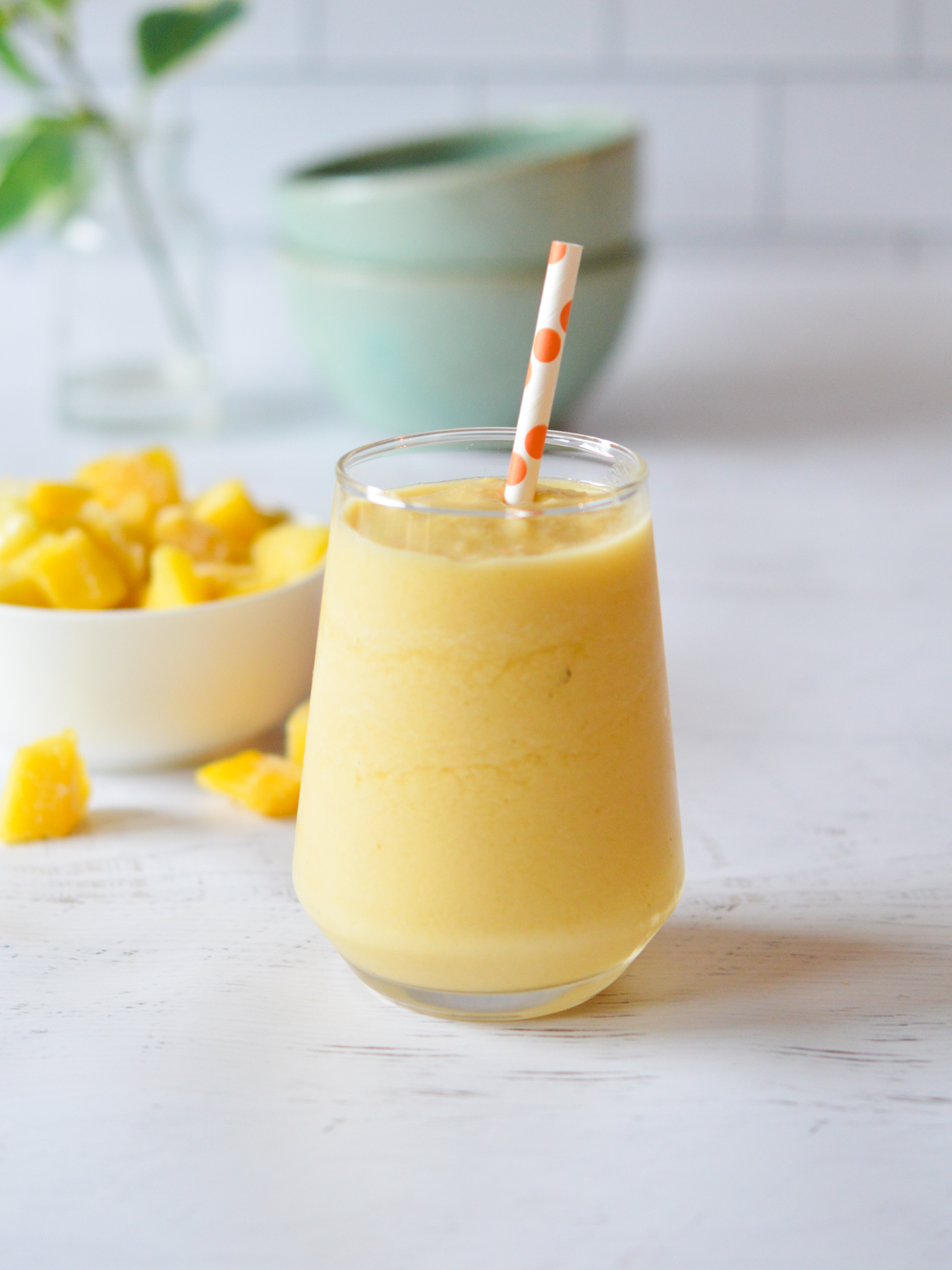 One of my favorites! Smoothie King's island impact is a tropical treat that features pineapple, mango, apple juice, and protein powder.
This homemade version tastes just like the original, only better! I don't add ice since the frozen fruit thickens it perfectly, which gives it a smoother texture.
You only need 4 ingredients and 5 minutes to make this refreshing pineapple mango smoothie.
6. Pineapple Surf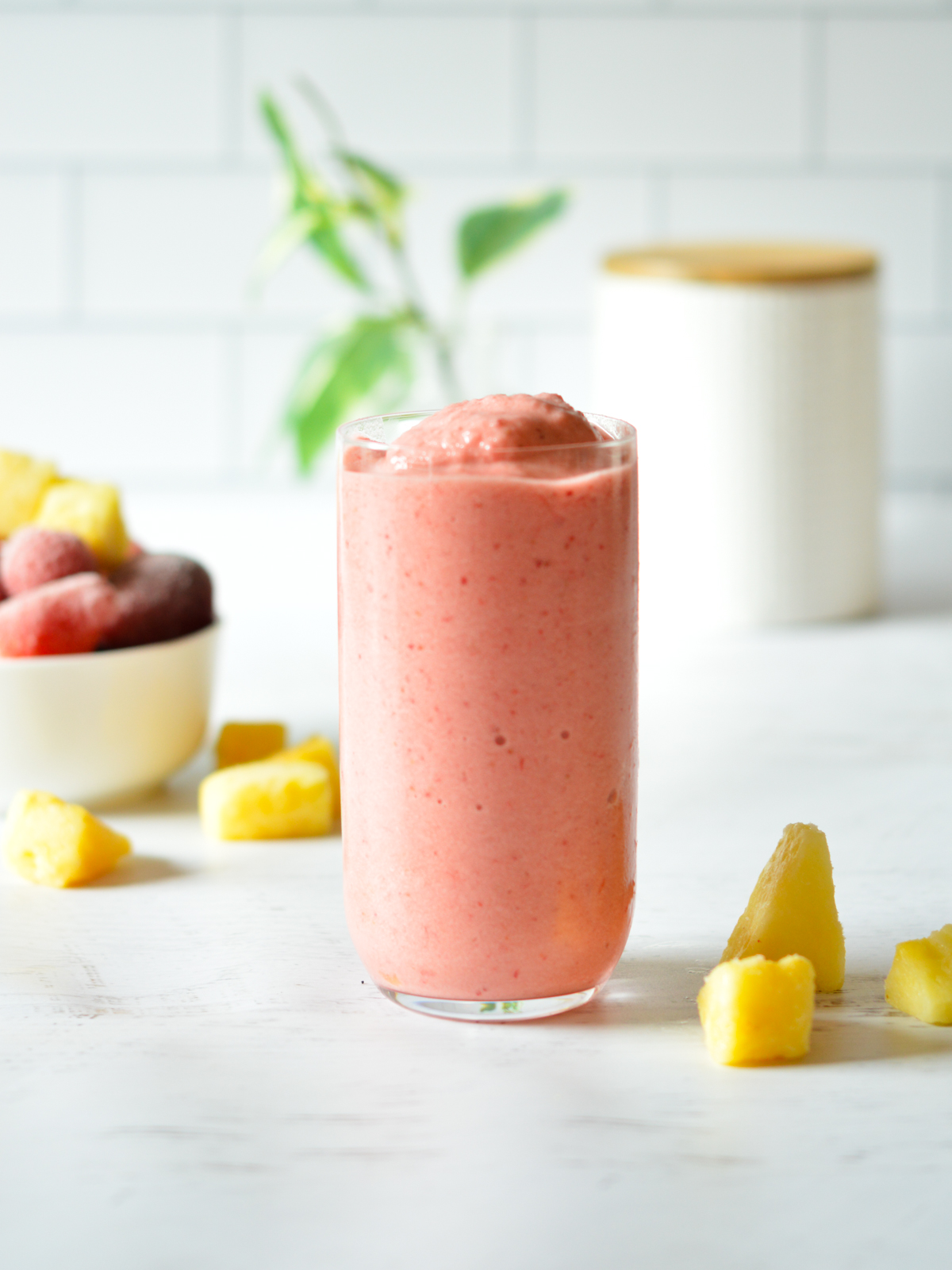 Dreaming of hot white sand on a sunny beach? Me too! This strawberry pineapple smoothie is the perfect summertime treat.
Smoothie King's pineapple surf is one of my son's favorites! It features strawberries, pineapple, juice, protein powder, and turbinado. It's one of their "Enjoy a Treat" blends. And it delivers!
7. Banana Boat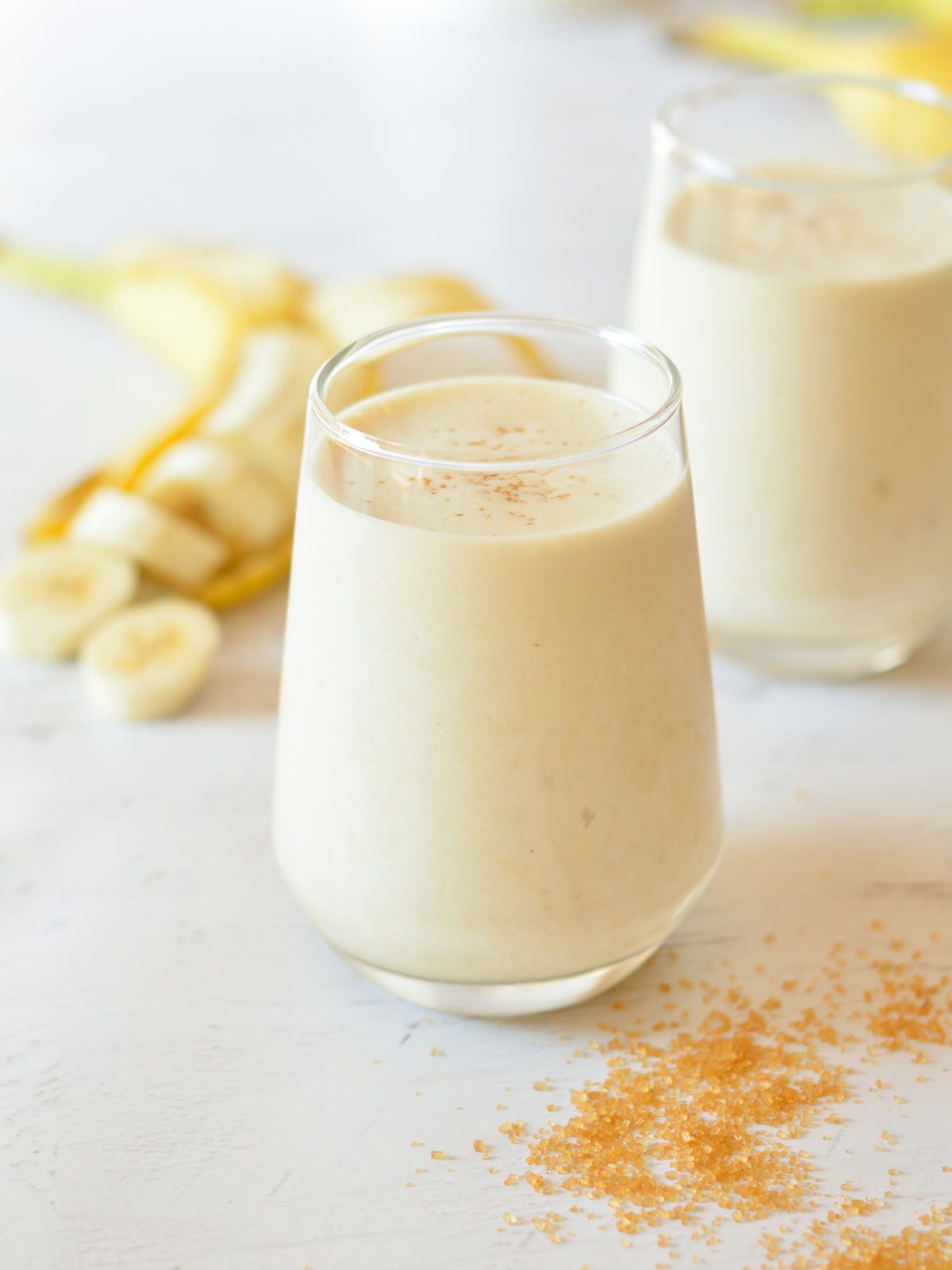 A smoothie all about bananas?! I was skeptical. But let me tell you, this banana boat smoothie is divine!
It tastes more like a milkshake with bananas, vanilla protein, vanilla yogurt, and milk. This is my daughter's current favorite smoothie at Smoothie King.
A must-try! Just remember to freeze a banana the night before you plan to make it.
8. The Hulk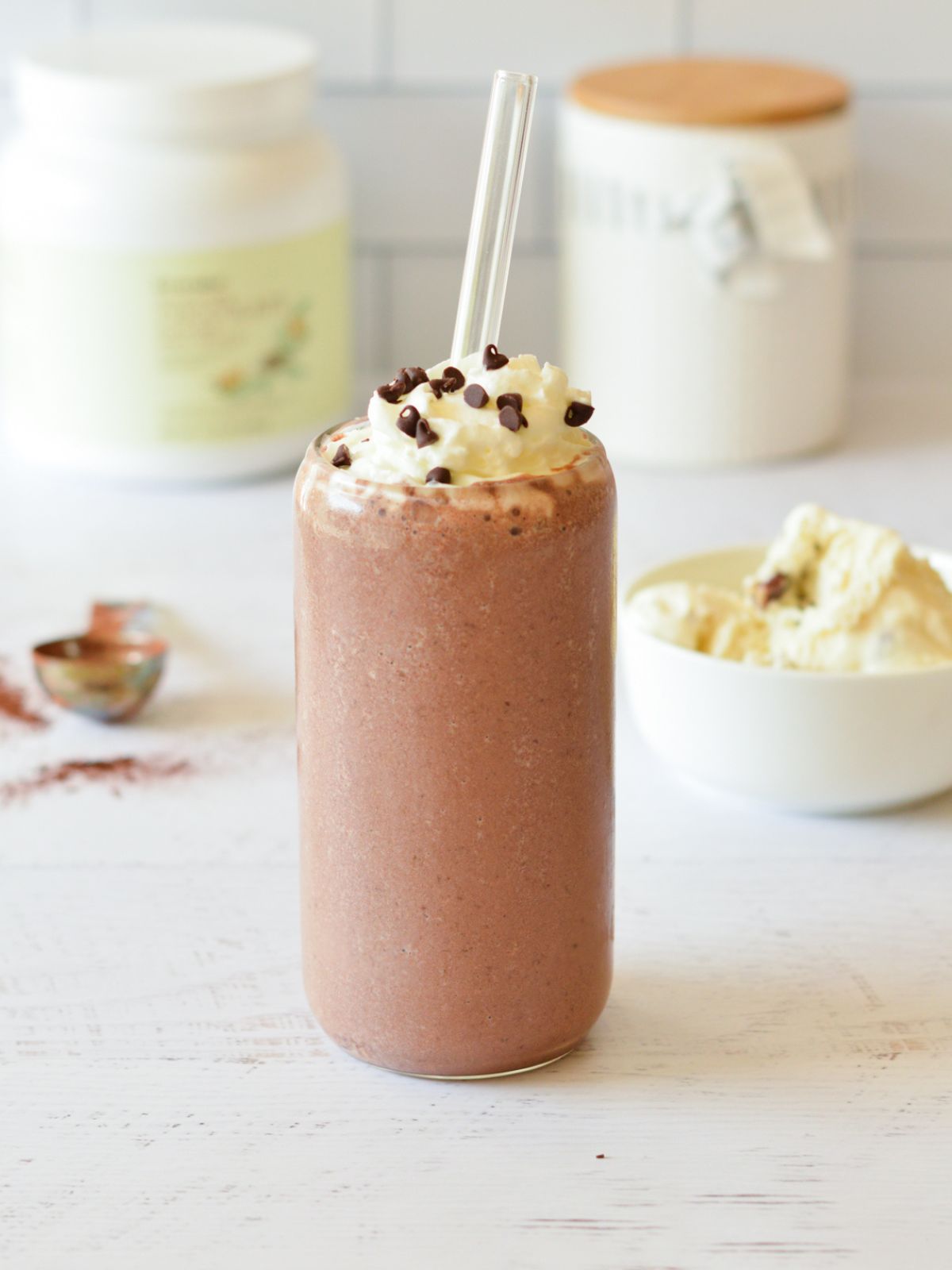 A weight gain smoothie that's worth the calories! This dessert smoothie is a copycat of Smoothie King's The Hulk. It comes in vanilla, chocolate, and strawberry.
It features bananas, butter pecan ice cream, protein powder, and cocoa powder. This smoothie defenitely belongs in the dessert category!
9. Caribbean Way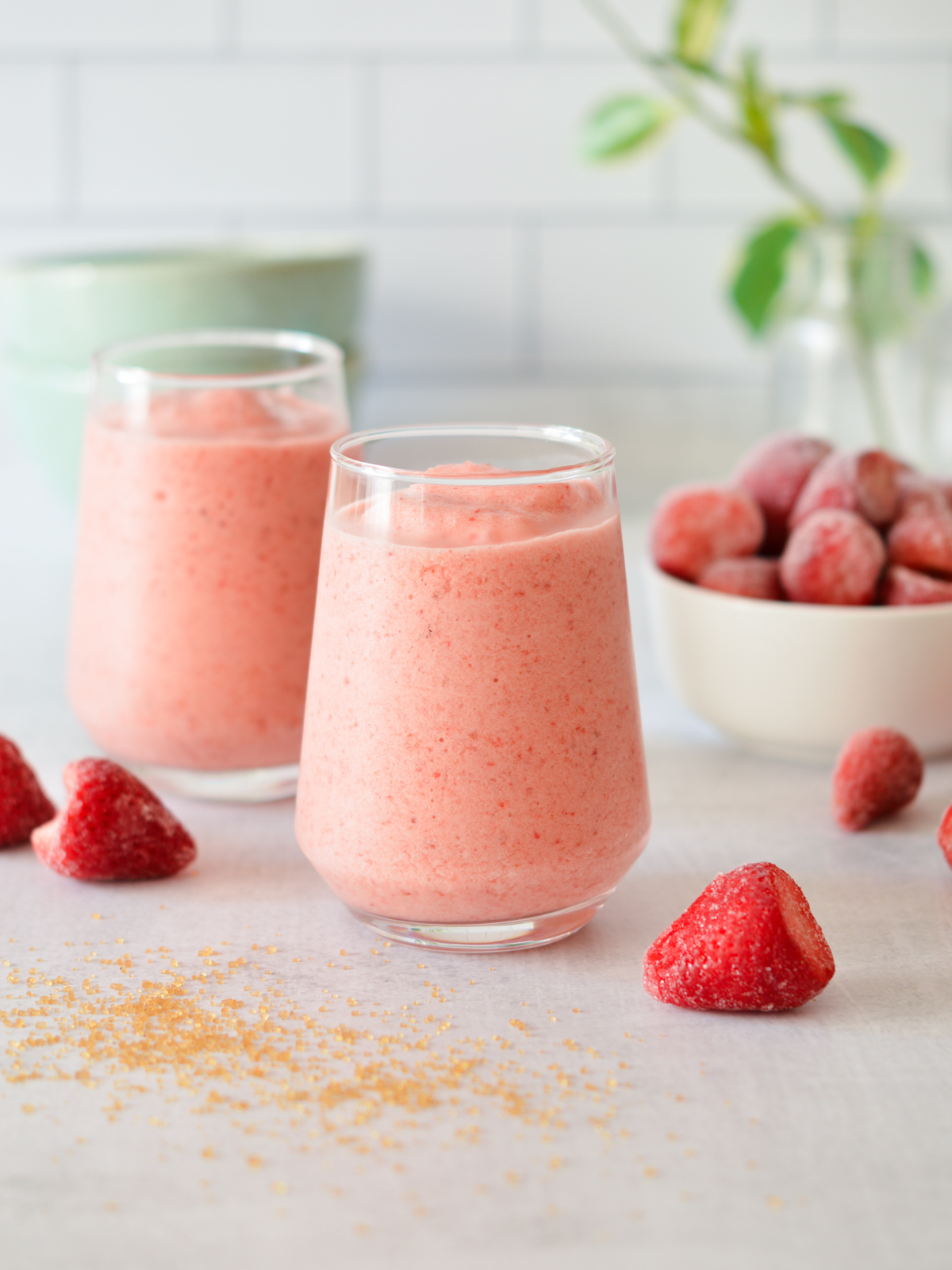 This strawberry smoothie tastes like Smoothie King's Caribbean way. Papaya juice is hard to find, so I used white grape juice in its place.
It's a refreshingly sweet treat that screams summertime!
10. Daily Warrior Smoothie Recipe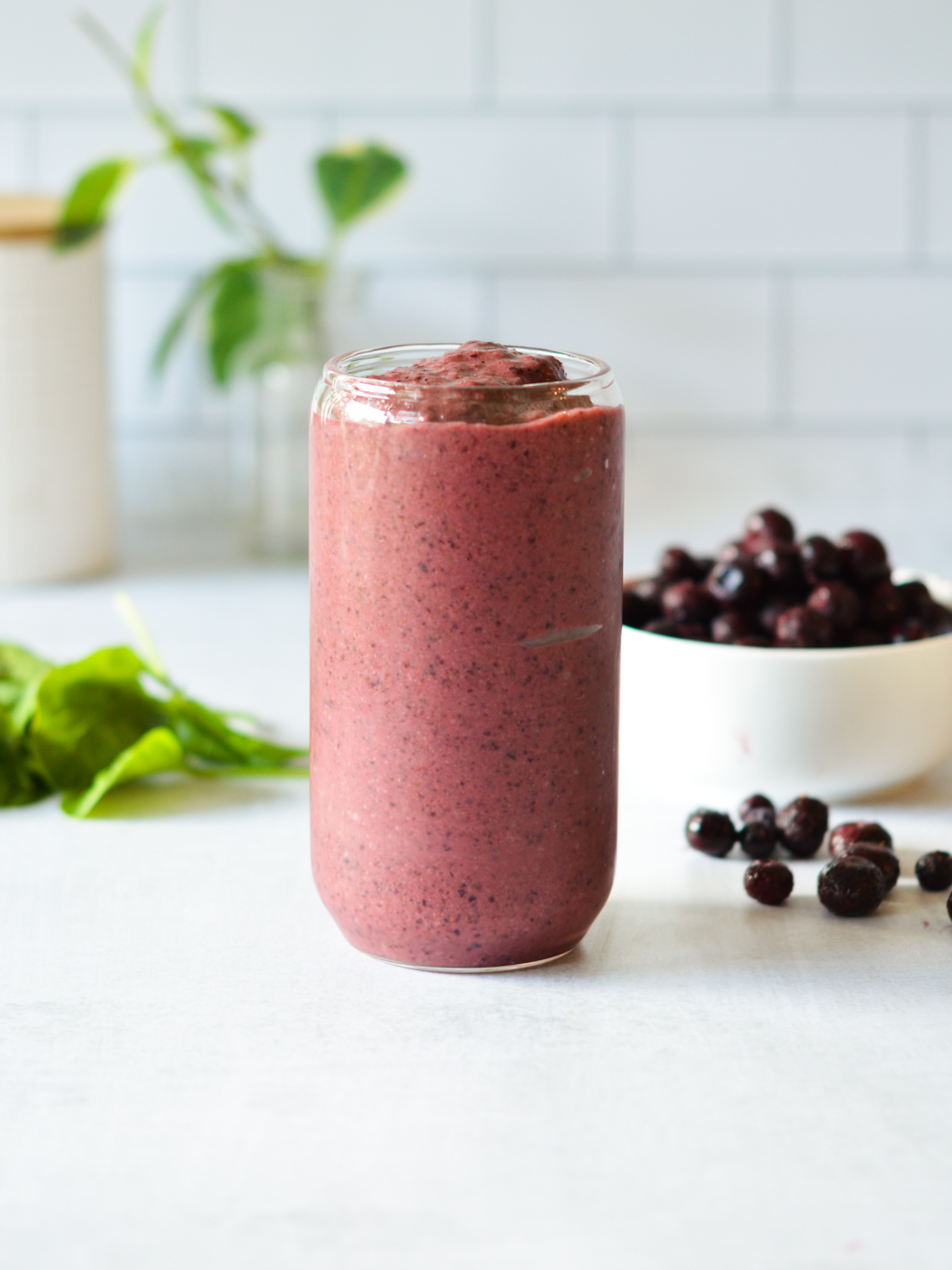 This blueberry smoothie features frozen blueberries, peanut butter, spinach, and stevia. It's got a little bit of everything and tastes delicious!
It makes a satisfying breakfast and it's packed with plant-based protein and antioxidants. A must-try!
11. Power Meal Cinnamon Banana Smoothie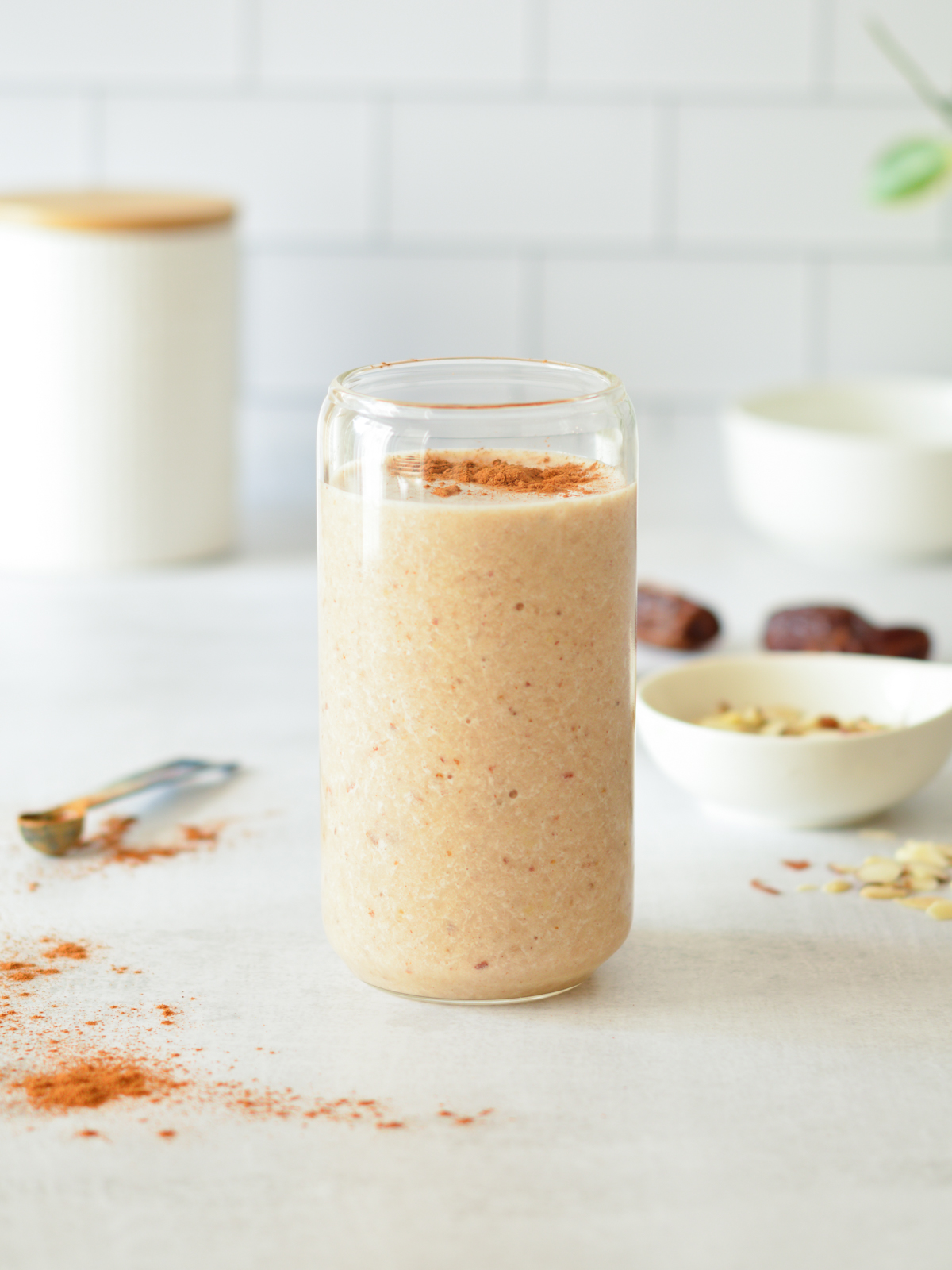 This cinnamon banana smoothie is ideal for a fall treat! It's one of Smoothie King's power meal blends because it contains a healthy combo of protein, fiber, and vitamins!
It makes a satisfying breakfast and tastes like cinnamon bread.
Are Smoothie King's smoothies healthy?
The short answer is it depends on the smoothie! A smoothie is only as healthy as the ingredients inside of it. Some of Smoothie King's smoothies are nutritious, but many are meant to be enjoyed as a treat.
You can see the ingredients in each smoothie on Smoothie King's website. Look for a smoothie that includes whole foods and no added sugar. Or ask them to omit the turbinado.
100% juice isn't considered added sugar, but it does add lots of sugar with minimal nutrients. Look for smoothies that use water or plant-based milk as a base and whole fruits for sweetness.